Career
13 industry insiders, from Nick Knight to Linda Fargo, on their professional epiphanies.
Ask someone if they got into fashion for love or money and the answer is almost definitely love. Let's be real: like other creative career paths, it's not the most practical of industries to aspire to be a part of post-high school or -college. And—we'll speak for ourselves here—if you find yourself pursuing a career in fashion, it's probably because you've been obsessed for a very, very long time.
 
Here's the proof: we asked some of the people we admire most in the industry—the HBIC types—when they first fell for fashion and the job that committed them for life. If an early obsession with playing dress-up and reading magazines is any indication, maybe we're not so different from the likes of Linda Fargo and Katherine Power after all.
---
"I always knew [I wanted to work in fashion]. I think because I grew up in a house of artists, [memories of] my childhood home have always been colored by my grandma's atelier, where I basically used to play all day long with clothes. At the age of five, I had my pink period—I could only use pink clothes or I couldn't leave the house. But my first real memory of fashion is my Louis Vuitton bag, which was actually my mother's bag. I still have pictures of me going around with the empty bag.
Before college, I tried everything to be part of the fascinating world that fashion seems to be. I started doing modeling jobs and styling jobs—I was feeling myself more than in any other place. My very first position where I can fully express myself is definitely with Attico—and now, more than ever, I'm completely sure that this is my path."
Simon Doonan
Creative Ambassador, Barneys; Writer
"When I was 16, I saw a demented movie called Smashing Time, starring Lynn Redgrave and Rita Tushingham, about two working-class girls who bust out of their industrial small town and head to swinging London. Even though this movie is a total piss-take of the trendy fashion scene, I was totally inspired. Me and my best pal, Biddie, jumped on the train and escaped to the big city just like Brenda and Yvonne. We lived in a squalid flat. I got a job in a trendy boutique. Bidde became a cabaret singer. We were broke, trendy, deliriously happy and often drunk.
In the glam mid '70s, I started dressing windows at a groovy tailor shop on Savile Row named Nutters. Tommy Nutter dressed all the 'beautiful people.' He made Mick Jagger's famous white wedding suit. The folks at Nutters encouraged me to create unconventional, surreal window displays. I dived in. Wacky windows became my passport to fashion fabulosity and creative satisfaction and are the reason I ended up at Barneys. (And the reason I won a CFDA award!)"
Veronika Heilbrunner
Cofounder, Hey Woman!
"I was a very introverted child, living in my own world and daydreaming all day, and reading my mom's fashion magazines fuelled those dreams. Very early on, I wanted to work with beautiful clothing.
I started working after school at 13 just to finance my wishes in terms of clothing. And I enjoyed it as I was very results-driven. I decided that I wouldn't study but instead work right away after finishing high school. When I finally started as an intern at a girls' magazine and my first job was to organize the chaotic closet, I knew this was what I want to do!"
Katherine Power
Cofounder & CEO, Clique Media Group
"I remember the moment [I knew I wanted to work in fashion] very specifically. I was working in the events industry, planning parties and building exclusive guest lists for Brent Bolthouse (a renowned club promoter-turned event producer in the '90s and early '00s who later found fame on MTV's The Hills). We were on a plane from NY to LA and I was reading every fashion magazine I could get my hands on. I realized how excited the content made me, and I thought I should find a way to take my skills, relationships and eye for trends and translate them into a new career. I was very inspired by teen fashion magazines like ELLE Girl, Teen Vogue and the idea of inspiring young people to express themselves through fashion. Now what I do is much more business-focused, and I have really grown to enjoy this side just as much.
After that trip, I contacted everyone on the mastheads of both ELLE Girl and Teen Vogue, and just a couple of months later I was West Coast editor for both ELLE and ELLE Girl magazines."
Fanny Moizant
Cofounder, Vestiaire Collective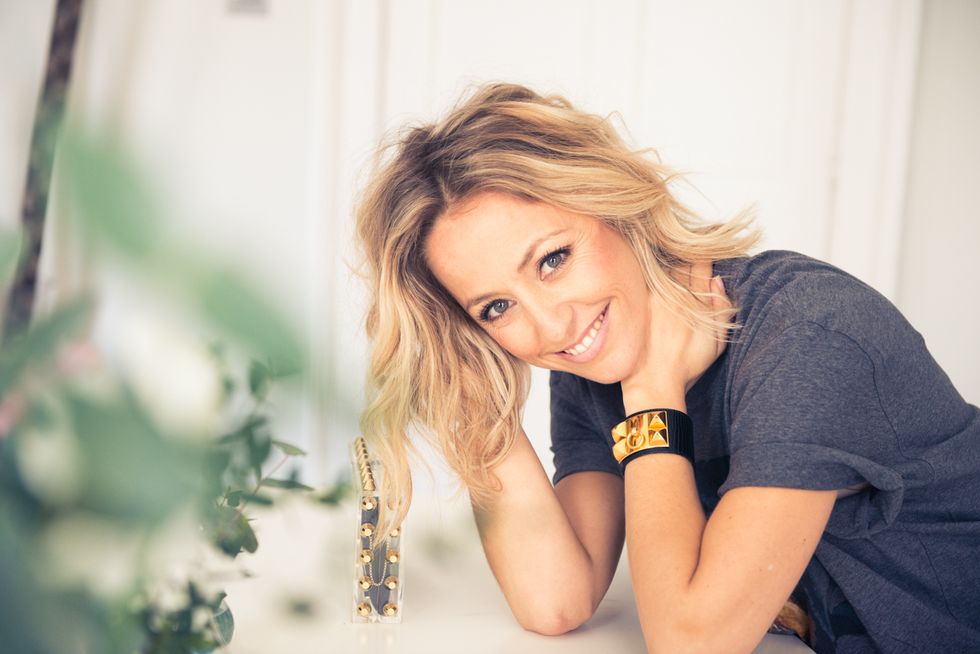 "I first realized I was interested in fashion when I worked in one of my mother's shops as a teenager. I used to help her with the product selection and merchandising, and it was then that I realized I had a passion not only for the product but also the business side of the industry. I spent a few years helping her, and when I stopped I realized that I missed that world and that I had to work in the fashion industry in some way.
I was working for John Galliano when he was preparing for one of his catwalk shows in 1999. I remember the creative team playing the Fugees track they were planning to use really loudly in the office. I loved the excitement and buzz, I think that was the moment I knew I had to work in fashion."
Nick Knight
Photographer; Director, SHOWstudio.com
"I have loved fashion for as long as I can remember. Whether it was customizing my school uniform, buying up army surplus clothes to paint on or just tearing the pages from Nova magazine in the 1970s, it has always been a part of my life. However, in 1979 I still started out on a path to be a doctor, but soon realized that it was not my calling and fashion photography was. I left after a year and took a place at art college. I haven't stopped since then.
Since my very first day at art college, I have never been in doubt. I guess when I first remember being sure was after I had stopped my degree in human biology at London University and was working in an off-licence stacking shelves—then I knew 100% I would pour my life into image making. To be totally frank, I love what I do and my love is getting stronger and stronger the more I do it."
"I always knew I wanted to work in fashion. There wasn't one moment I can pinpoint—rather, it was an instinct I always felt. My first job was with an Indian designer who shows in Paris, Manish Arora. It was that job that solidified my desire to work in fashion."
Kristie Dash
Digital Beauty Editor, Allure
"I grew up in a small suburb outside of Pittsburgh—it never dawned on me that it was possible to work in fashion. I was so removed from that world that it never even crossed my mind. When I moved to New York to pursue a dance career, I had a quarter-life crisis and switched gears. During my freshman year of college, I applied to a ton of random internships that seemed like they might be interesting and I kind of just fell into one in the fashion closet at Harper's Bazaar. That opportunity opened my eyes to so much, and it definitely made me kind of obsessed with fashion and the industry in general. Spending long hours in a huge closet full of designer clothes and accessories can have that effect on a young girl. Or anyone, for that matter.
I learned so much at Bazaar, but I knew I wouldn't be satisfied as a market editor. I wanted to work with words—writing essays was my favorite activity in high school. Nerd alert! It wasn't until I interned in the beauty department at Teen Vogue that I realized I wanted to be a beauty editor. Beauty editors have unique positions in that we have creative input on editorial shoots and write a lot. I saw how many facets of the brand my bosses had their hands in, and that appealed to me. It was the perfect balance of every one of my interests. I cried on my last day because I was so grateful for my experience. I also took home three huge shopping bags full of beauty products. What if I never had this kind of access again? I was a poor college student, after all. I must've looked tragic, but that experience seriously had a profound impact on the rest of my life."
"I wasn't really ever the kid who knew exactly what I wanted to be…. I just knew I loved clothes and photography and films and storytelling. Once I figured out what a stylist did, everything crystallized."
Linda Fargo
Senior Vice President, Bergdorf Goodman
"My route to fashion was rather indirect. I think it began more with a fascination with 'costume.' I had a cherished and constantly growing costume box that was filled with fashion, accessories and adornment odds and ends: a pair of sparkly, strappy evening heels, a tulle crinoline, a king's crown, a cadet uniform, a wig, an old chiffon peignoir, a feathered hat.... All I had to do was slip into one of these relics of style, and I would be immediately immersed in a fantasy. I learned early on that what you wear can be transformative and speak for you. Fashion can still do that for me.
I worked in a vintage store one summer. They let me rearrange things all the time and create tableaux for their windows and dress the figures. That set off a lifelong love affair with special clothes, windows and the resonance of antiques. To this day, I don't do a renovation in the store without including at least three vintage elements. I think it's important to fold history into everything we do, no matter how modern. It's often true—they don't make things like they used to."
Lori Goldstein
Stylist; Designer
"[I know I wanted to work in fashion] when I was born… I cannot remember a time in my life when I wasn't putting clothes together to wear. It really was from the very beginning. I loved prints and color and how clothes took me to different places in my mind!
My very first job was working in a stockroom for a proper women's clothing store. I steamed clothes, made the boxes, folded the clothes. I loved it and knew it was what I wanted to do. The fabrics and trims and designs—they made me imagine I was somewhere completely different than Tri County Mall in Cincinnati, Ohio!"
Leith Clark
Editor-in-Chief, Violet; Style Director at Large, Harper's Bazaar UK
"I tried to go to university. I tried to study journalism. But it was just so kind of…silly. I had an argument with a teacher and went back to my dorm room really upset and frustrated—a copy of Interview was lying on the floor. I turned to the masthead page, called the number at the bottom and asked for the fashion department. I moved two weeks later to New York to intern there, and I never went back to school. I think that was a defining moment: 'Can I have the fashion department, please.' I spent just under a year at Interview. I loved it. Then I was a fashion assistant at British Vogue. I was Kate Phelan's assistant. I was 21."
Jerry Lorenzo
Founder, Fear of God
"I first knew I wanted to work in fashion when I realized that there weren't the pieces I wanted—I had to make them. I realized they weren't available in the stores, I couldn't find them online, and if I wanted a short-sleeve hoodie, I had to chop the sleeves off and do some surgery to one of mine or I needed to build one from scratch. I kind of approached every piece like that: fulfilling a missing piece in my wardrobe."