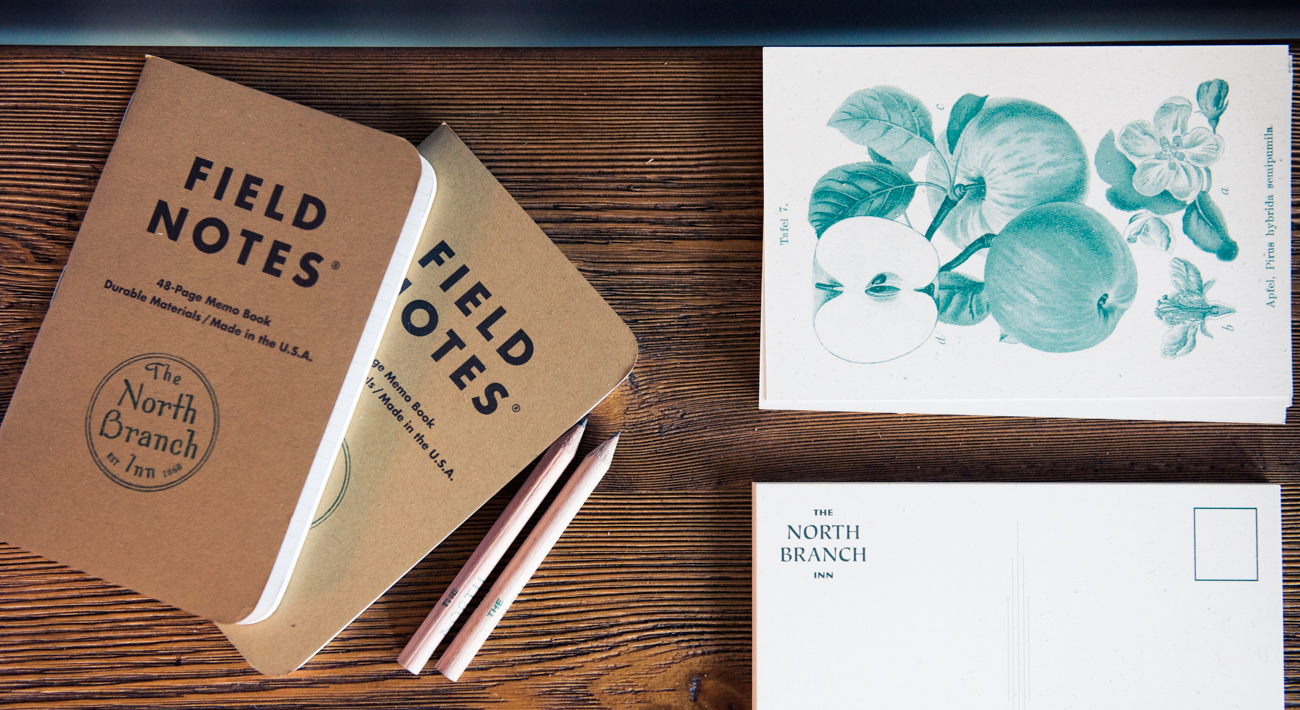 Editors' Picks: Welcome to Camp Coveteur
In case you didn't know: our team is real outdoorsy.
Abandoning the city mid-week for a few days of camping (just kidding—our collective stays at The Arnold House and North Branch Inn, the chicest upstate getaway options there ever were) in the Catskills was pretty lush. Especially when the entire Coveteur team gets to go together—which guys, considering our travel schedules, rarely happens. So you could say we were all pretty excited to get upstate.
After a major snack and '90s hip-hop-filled road trip, we arrived in the mountains to find freshly baked cookies and the coziest rooms stocked with on-point toiletries. Which was the perfect start to what we're deeming the best company retreat, ever (humble, we know). Herein, everything our editors packed in their weekenders. TBH, the dress code was very relaxed (more slippers, less shoes), which was totally fine, because no one really judges when you're hanging fireside wrapped in a wool blanket drinking Pinot with your friends in the middle of nowhere. #CampCoveteur over and out.
Let's just say I was so excited for this whole Coveteur getaway-and-recharge trip that I barely packed. So I'd be lying if I told you I wore anything other than sweaters (this oversized star print version is basically like wearing a blanket), off-white sneakers (for long nature-filled walks, duh) and super casual jeans. As for the beauty situation, it was minimal to say the least—(actual) no-makeup makeup and some multitasking skincare. But of course the Arnold House had gone ahead and stocked our rooms with all Malin+Goetz everything which made the whole situation, well, kind of perfect.
Noah Lehava
Senior Editor
If three days in the Catskills sounds like the best work/play scenario you can think of, well, you're pretty dead on. Our 9-to-5s consisted of cozing up under blankets in front of the fire at The Arnold House with unlimited popcorn and freshly baked, locally sourced cookies (UGH. I could go for one right about now) for top secret brainstorming sessions—which we promise, will come to fruition, just stay tuned. Our nights? Well, Bootlegger Gin—which also happens to be distilled in the area—made a big appearance... and may have made it home in our luggage. We'll just leave it at that.
Katie Boyle
Design Manager
What is Camp Cov? A 3-day getaway off the grid (to the Catskills!) to discuss business by day and let loose by night. No watermelon tossing over here though! Our team building consisted of some mildly competitive Shark Tank exercises and distillery tours during the day, followed by some aggressive karaoke jamming, and semi-competitive bowling matches by night (on a 100-year old bowling alley, may I add). Mix that with the quaint (albeit very stylish) cabins, and you've got 15 happy campers.
With our destination being spot on, it only seems fitting that our carry on should be too. This Row cashmere poncho is the perfect travel companion to snuggle in during the day or dress up while kicking some ass on the bowling alley at night. These Nixon speakers provided us with some Neil Young to work to and Princess Riri's Anti album to dance our faces off to post-dinner (but seriously, how good is that album?). And these Givenchy loafers…I don't care if we are in the woods or not, this is still business.
Emily Ramshaw
Senior Editor
To me, a "retreat" means two things. The first is getting shit done with no distractions, which, when beauty products and donuts are coming in and out of our office like it's Christmas, can be, uh, tough. The second is a chance to chill—chill over work. It sounds like a juxtaposition, but somehow, it works. Especially in the Catskills, and especially when you're staying at the Arnold House and the whole place looks like it's been decorated via and extremely extravagant mid century splurge on 1stDibs (hence my current obsession with this chair). Of course, it doesn't hurt when you're greeted with an all-natural Love Nature NYC candle and snuggled up in a Gucci sweater. Let's just pretend about the last thing, but you get the gist.
Meagan Wilson
Senior Editor & Social Media Manager
The trick to making everyone think you have it together when in reality you passed out with your contacts in after drinking the Catskills: fancy, silky, slouchy trousers, like these Jonathan Saunders ones. They're perfect for both throwing down a Powerpoint and taking a nap in one of The Arnold House's enormous, impossibly comfortable chairs. Ditto one of Mansur Gavriel's large leather totes: chic, but not so much so that it looks out of place. Plus, it fits basically everything you need for a few days away. And finally, the real star of our trip—The North Branch Inn's (The Arnold House's sister property) kale fettuccine. You know the gloating you do when you order the best thing on the menu? It's that, and then some.