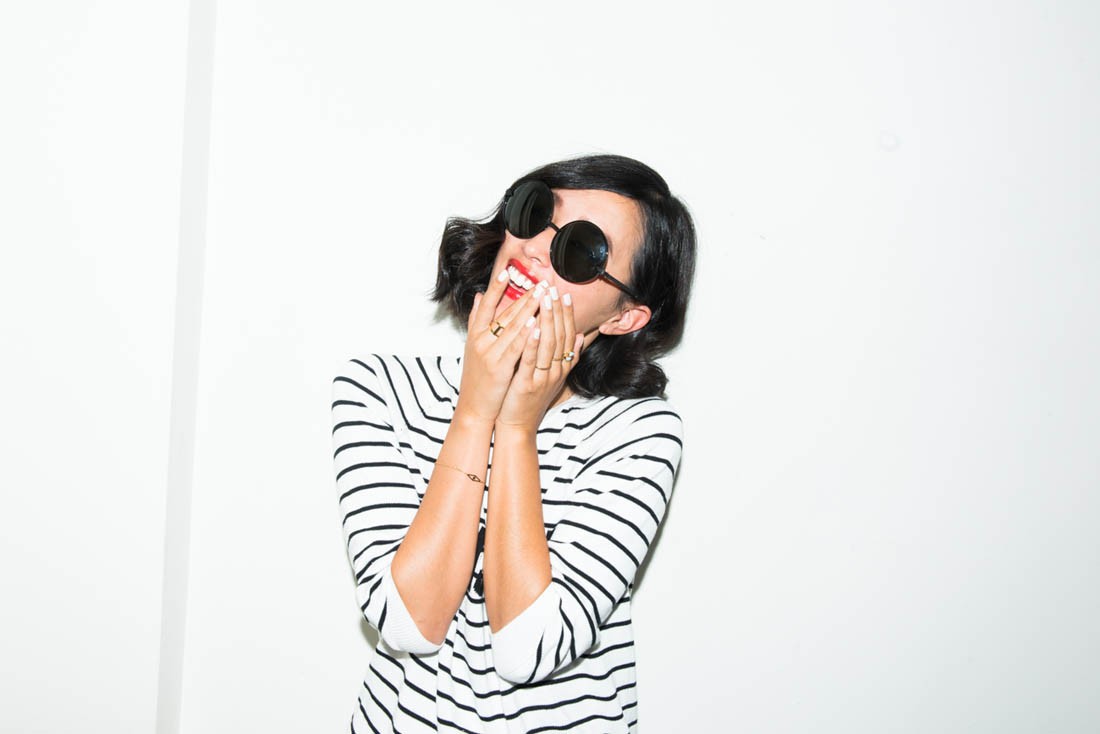 How to Grow out Your Lob 
And get hair-so-big-it's-full-of-secrets type volume.  
Our quest for Disney Princess hair is a time-consuming one, as evidenced here, here *and* here. Basically, there's nothing we lust after more than hair that's sleek but still bouncy and super shiny every single day—well, besides flawless skin and an all-YSL-everything kind of wardrobe, that is. But we really can wax poetic about how a good hair day makes everything better (even if you're wearing head-to-toe Zara and have one of those under-the-skin pimples forming smack dab in the middle of your face).
So in the interest of continuing the journey (and the impending slew of events, mostly in the form of weddings, showers and vacation photos), I've been on a mission to grow out my dry, damaged hair. Along with a regimen of vitamins and treatments, I've overhauled my drugstore shampoo and conditioner duo with more targeted versions and put the OG up against the latest and greatest in the hopes of coming out with shampoo-ad-worthy hair at the end. Herein, the breakdown, just in case you're trying to grow out your lob before summer.
The first step in a get-thicker-hair undertaking is to strengthen from the inside out. This is where vitamins play a crucial part, and while eating proteins and leafy greens is a must, there are specific supplements available that will expedite the process. Putting our favorite hair stylists' sage advice to use, I started taking Viviscal on the reg—which means one pill twice a day for at least three months. As someone with a really slow-to-grow kind of hair situation, I've definitely seen more growth than I normally would, meaning I'm now taking Viviscal basically forever.
 
Our co-founder, Stephanie, is pretty much convinced that the products in Phylia de M's all-natural lineup are magic. So I started drinking Fulphyl (more on their products below) daily mixed with water. It's a fulvic-acid-based supplement meant to remove all sorts of toxins and nourish cells, which in turn encourages healthy hair growth. You can also dab this on everything from cuts to bruises. (I may have used it on a particularly bad pimple, and it brought it down dramatically.) Kind of magical. Just saying.
 
If you've recently chopped your hair (blaming Jen Atkin and Kristin Ess for making this so damn appealing), cut bangs and immediately regretted it or are just looking for growth, Viviscal and Fulphyl should be go-tos.  
2.

Cleansers & Conditioners
Typically, shampoo and conditioner fall into the not-so-splurge-worthy category, so while the rest of my beauty products are valued at borderline-ridiculous prices I was still messing around with drugstore favorites like John Frieda and Pantene Pro V. That all changed when I was trying to grow and garner volume. I appropriately switched up my routine to include targeted products. I tried three ranges, including Phylia de M. Cleanser and and Conditioner (powerful stuff when you're growing out your hair), Living Proof's Timeless Shampoo and Conditioner and Ouai's Volume Shampoo and Conditioner for, uh, more volume. TBH, it makes sense to start in the shower when trying to achieve the kind of hair-flipping volume Miranda Kerr has perfected. I found that all three lines made my hair more manageable and soft, but I really noticed a volume difference with the Ouai duo.
My version of a hair treatment is usually in the form of a five-minute mask or post-shower Moroccan oil slathered on ends, but during this testing period I added in a—wait for it—*pre-shampoo* treatment from Living Proof's Timeless line, which is basically like retinol for your hair. And while their website recommends this line for those 40-plus, I'm taking a prevention-is-best kind of outlook starting now. I've also taken to obsessively spraying Phylia de M.'s Connect leave-in treatment (it's 100% organic, guys), all over my hair and roots. If (like me) you notice a lot of hair fall, these are smart additions to your routine—the fortifying, protein and keratin-heavy complex in the treatments help strengthen strands, which leads to fewer in your brush. On top of all this, I committed to slathering on a coconut oil mask once a week (because moisturized hair = happier hair). If you're low-maintenance, this is a more manageable addition.  
You all know (and most likely love) the OG Oribe Dry Texturizing Spray, but it's time to meet the newest addition, Thick Dry Finishing Spray, which is like the texturizing spray on crack. Let's just say I've been using it non-stop any time my dry hair needs oomph (and in place of dry shampoo). In addition, I've been spritzing R+CO The Dallas Thickening Spray all over my wet hair and scalp straight out of the shower. Both instantly add a TON of volume but keep hair soft. Then there's Living Proof's Timeless mousse... For me, mousse screams middle school (anyone else?), but the 2016 versions are much, much different and necessary for achieving volume as they add temporary fillers to hair. I found that using these two types of products gave major results and I finally got that whole "big hair" thing here.
Just hear me out here… it's time to put down the blow-dryer. Not only will you save your hair from heat damage (which will help it grow in the long run), but the air-drying method will help you maintain your natural texture. Which for those of you with wavy or curly hair, even if it's a bit frizzy, is a game changer. Just follow your usual routine (implementing the styling products above, duh), air dry and then go in with a curling iron to wave out a few pieces haphazardly—wrap the hair around the barrel instead of using the clip. Or you can go really old-school here and roll air-dried hair (no matter how crazy or flat it looks) with large hot rollers. Mist with hairspray, veg out for a bit (maybe meditate?), then take them out and brush. You'll be left with voluminous, Angel-esque hair—and so much more time.