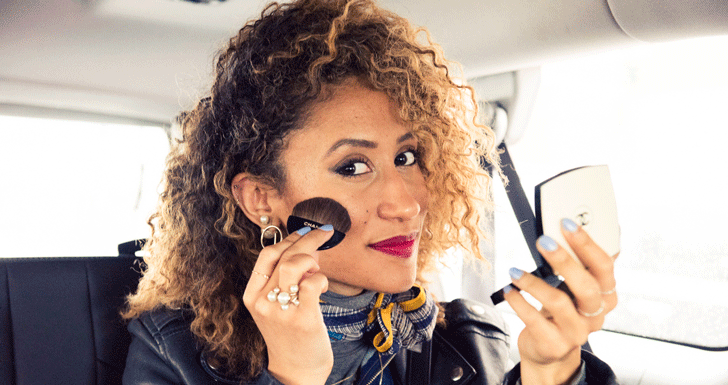 An Editor's Backseat Beauty Routine 
Elaine Welteroth's involves Starbucks, lots of Snapchat and a major red lip situation.
Friday mornings are already pretty great—we mean, the weekend has basically arrived and that is motivation enough to tackle a hefty to-do list and mountain of emails. But when your Friday morning involves eschewing all those things in favor of riding around in a car with Elaine Welteroth, Teen Vogue's Snap-happy beauty and health director, drinking coffee and discussing makeup, it's so great it almost beats whatever weekend activity we had planned.
So you could say we had a pretty perfect morning when our last Friday involved just that. After grabbing Welteroth from her West Village apartment, we proceeded to fuel up on lattes at Starbucks (because #caffeine) and then spy on her entire morning routine—or in her words, backseat beauty beat (which, TBH, sounds so much cooler). Being the social media-minded editor she is, Welteroth doesn't just do in her makeup in the back of a cab en route to work every morning: she does her makeup sans mirror on Snapchat in the back of a cab each morning. Major skills. And after watching her effortlessly fill in her brows and swipe on a matte red lip, you could color us impressed.
The rogue beauty tutorial continued as Welteroth took us through her eleven-minute routine (the approximate time it takes to get from her home and the Teen Vogue offices at One World Trade). While she balanced her products atop her lap and briskly applied products, using only her fingers (nobody's got time for brushes), we chatted about everything from how eye shadow is making a comeback to everyone's "mascara face" and the key Snapchat filters. Next time you sleep through your alarm and find yourself haphazardly applying liner in the back of an an Uber, consider Elaine your spirit guide. We only wish our morning commute could look like this everyday. 
"This morning I got a citrus green tea latte from Starbucks, I spent three minutes getting coffee but it was way worth it. I then have all of my seven essentials crammed into my purse—literally the same seven products every day. It's a mix of high and low, it's not all fancy. And I use the book I'm reading, which is currently Zadie Smith's On Beauty, as my little tabletop (a book as a beauty table is major key), so I set up my products and I literally have eleven minutes (it's kind of like a live video game) door-to-door between my apartment in the West Village and the offices down at the One World Trade. I use Snapchat as my mirror, because why not. Then I add the challenge of Snapchatting the entire process and adding beauty tips. The good thing about doing your makeup in the car for someone like me, or most women, is that you can sometimes get sucked into the process of doing it, it's a little meditative... if you don't have a hard cut-off you can look up and have been doing it for 40 minutes. So this means I have from point A to point B to get it done and then it just has to be good enough."
2.

RMS Concealer
(the hero product)
"My concealer is RMS, I'm obsessed, it's the only thing I use on my skin. I apply it with ring finger—always use your ring finger—it's your most delicate finger for the under eye space because you don't want wrinkles. I love it because it's coconut oil based and all-natural and it absorbs into your skin really well and leaves a nice dew but doesn't feel cake-y or too heavy. It's my jam."
3.

CHANEL Les Beiges Powder
(a necessity)
"Literally since this Chanel Les Beiges launched I've been using it every single day of my life. There's just nothing better. The brush is shaped in a half-circle so it makes getting into your contours easy. It's not too harsh—I'm not into seriously contouring but its nice to sculpt out your cheekbones a little bit—bring some color to your face. It's all about fast and dirty for me. Boom, this makes a big difference."
4.

Dior Eye Shadow Palette
(with fingers duh)
"Then, honestly who wears eye shadow anymore? Especially on a regular day to work but I feel like it's having comeback right now. Really neutral colors—I love this Dior palette because it's super natural and just a little bit makes you look more awake so I use the light color as a highlighter inside and I dab some on the outside under my brow bone and literally I use my fingers for all this because ain't nobody got time for brushes." 
5.

Rodial Glamobrow
(major :key:)
"I go through eyebrow pencils like crazy. I kind of date them, I don't marry them because there isn't one I love, love. Each one brings a different type of pleasure. Today we are using the Rodial Glamobrow. Although my main piece is the Dior brow stylo. This Rodial one is cool though because it has a little brush at the end. The key to doing your eyebrows in the backseat of a speeding Uber on the way to work is to just find a starting point on the brow, get that right and then go crazy as long as you have the right pencil that isn't too pigmented. Just go for it, you can always clean it up after. I go heavier than I would want my eyebrow to look—boom shakalaka. Then I flip over the brush and brush the brow up, which gets rid of the extra pigment and gives you slightly bushier brow than the one you were born with. Eyebrows are major key—the backseat brow game takes a long time to perfect but once you get it, boom, you're solid. You know if it's a good day or bad day depending on how your brows perform."
6.

Charlotte Tilbury Lipstick
(basically caffeine for your face)
"It's always a lipstick day TBH. I'm the person who gets committed to a lipstick and I wear it until my friends and co-workers have to stage an intervention. I'm not tired of this one yet though—it's Charlotte Tilbury Red Carpet Red. It's kind of like coffee for your face. It makes you feel more done and awake. I actually think I "think" better when I have lipstick on—there might be some science behind that. My lipstick takes two seconds to apply."
7.

Maybelline The Falsies Push Up Mascara
(drugstore FTW)
"Right now I'm using a drugstore gem, which is Maybelline The Falsies Push Up Mascara. I really don't stick with one mascara, I'm always trying out different ones. I used to be all about RMS Mascara but then I ran out or lost it in a cab somewhere and grabbed this guy out of the office and I'm surprisingly into it. It's the kind of mascara you can put on, jeuje a little from the base to the tip, just to make sure you get it everywhere on all the lashes. And when you wear it and you don't really need eyeliner, because it's pow, boom, bang, it's just *there*. Is it possible to put on mascara without making the grossest, weirdest face? I don't think so. I always ask people on Snapchat to show me their mascara face."
8.

Revlon Eyeliner
(sometimes)
"So I'm kind of over the cat eye so sometimes to get that shape without using liner, which can feel a little severe for an everyday look, I use a little bit of brown on the Dior Eye Shadow Palette and elongate the shape of my eye and give the cat eye effect without eyeliner. And it takes two seconds—you don't have to be precious with it. But today I'm going to use this Revlon Pencil Eyeliner, what is it about the face that you can't close your mouth when you put on eyeliner either? Everyone looks crazy, especially if you are in the car."
9.

Chapstick
(Burt's Bees = :raised_hands:)
"I love Burt's Bees Chapstick, it's my my jam—I'm such a hardcore fan, but I lost it recently in a cab, doing this, and so now I use Vaseline Lip Therapy from the drugstore. I like Burt's Bees because it's organic—and I feel like anything you are putting on your lips and eating off throughout the day is basically like ingesting chemicals."
"You have to share the keys with the kids: on Snap you have to get the right emojis. Getting my Snap right is actually what takes up 90% of my drive. Boom. The bright filter is always my go-to, it makes everything look prettier IMO. And then you have to add to the Snapchat New York Local story because you never know where you snap could end up."
:v: :v: :v: :v: