An Editor's Backseat Beauty Routine
Elaine Welteroth's involves Starbucks, lots of Snapchat and a major red lip situation.
Makeup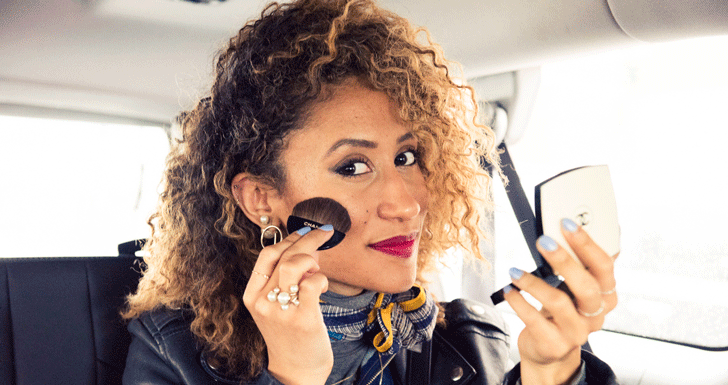 ---
The rogue beauty tutorial continued as Welteroth took us through her eleven-minute routine (the approximate time it takes to get from her home and the Teen Vogue offices at One World Trade). While she balanced her products atop her lap and briskly applied products, using only her fingers (nobody's got time for brushes), we chatted about everything from how eye shadow is making a comeback to everyone's "mascara face" and the key Snapchat filters. Next time you sleep through your alarm and find yourself haphazardly applying liner in the back of an an Uber, consider Elaine your spirit guide. We only wish our morning commute could look like this everyday. 
"This morning I got a citrus green tea latte from Starbucks, I spent three minutes getting coffee but it was way worth it. I then have all of my seven essentials crammed into my purse—literally the same seven products every day. It's a mix of high and low, it's not all fancy. And I use the book I'm reading, which is currently Zadie Smith's On Beauty, as my little tabletop (a book as a beauty table is major key), so I set up my products and I literally have eleven minutes (it's kind of like a live video game) door-to-door between my apartment in the West Village and the offices down at the One World Trade. I use Snapchat as my mirror, because why not. Then I add the challenge of Snapchatting the entire process and adding beauty tips. The good thing about doing your makeup in the car for someone like me, or most women, is that you can sometimes get sucked into the process of doing it, it's a little meditative... if you don't have a hard cut-off you can look up and have been doing it for 40 minutes. So this means I have from point A to point B to get it done and then it just has to be good enough."