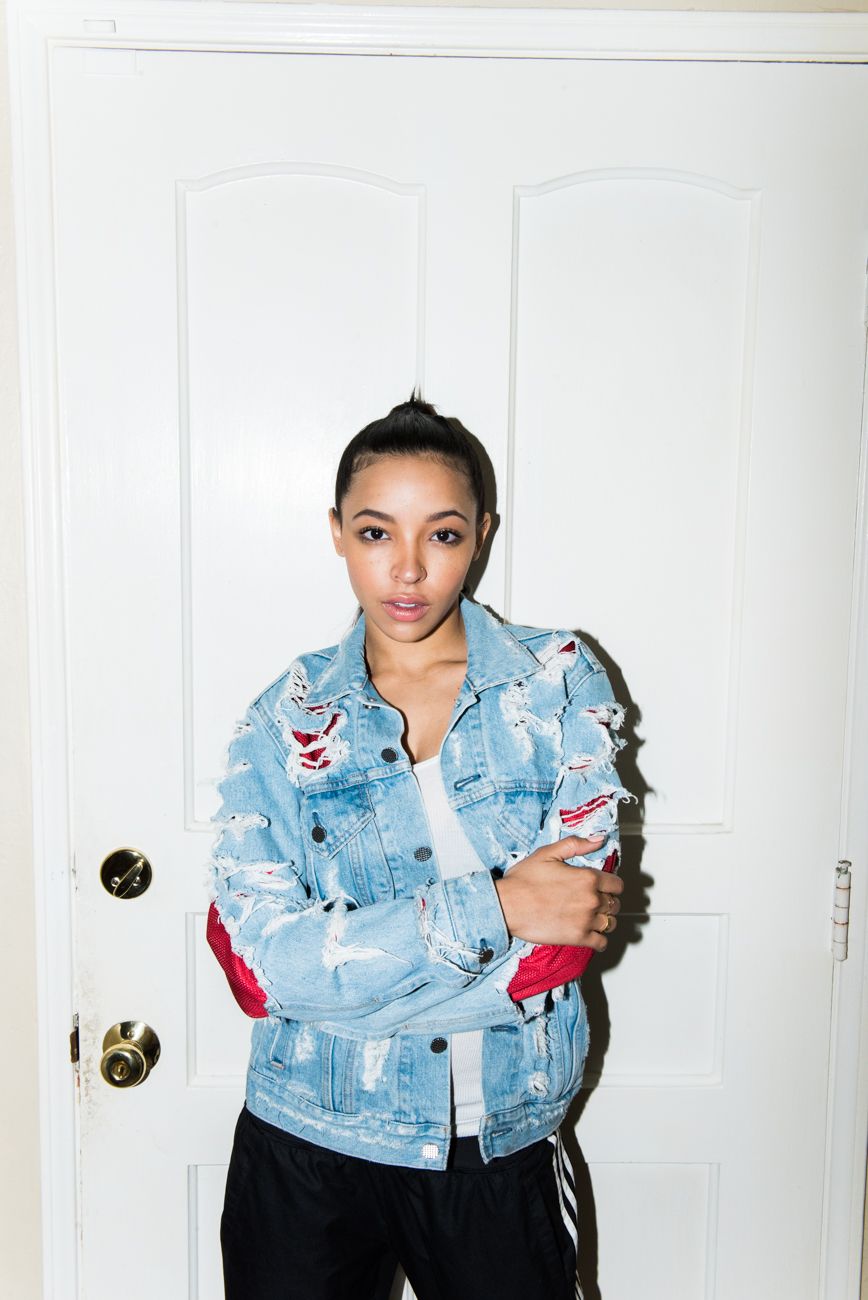 Closet
Singer; Songwriter; Producer. Los Angeles
Hanging out at
Tinashe
's family home, just north of Los Angeles, while the singer-songwriter-producer sits cross-legged in bed or plays in the backyard with her dog all feels totally
normal
. But why the surprise on our part? For starters, the singer's iCal ticks off items like "cover
Complex
in Moschino skivvies inside a giant martini glass," "collaborate with M.A.C," "be hand-picked by Janet Jackson to perform in a BET tribute," "tour literally all over the world" and "respond to millions of fans on social media." And yet there we were, after being led in by the singer's mom, sorting through her collection of hoodies and high-tops. That's right: Tinashe's wardrobe, despite belonging to the girl whose debut,
Aquarius
, received near-universal praise and prompted parallels to her idols (Jackson and Aaliyah), is as about as low-key as it gets—no "
All Hands on Deck
"-ish thigh-highs or sheer trenchcoats here. And she likes it that way. "My style is super chill, which I think translates to my whole life. I try to just not get too worked up." In fact, it's probably that same sense of perennial chill that allows for her laser-sharp focus on her career too—as a singer, songwriter, producer, and Jackson-level dancer, the girl's a bona fide quadruple threat. And, best of all, she's unabashedly open about not being recognized as such and how that needs to change: "It's really important to develop that respect among my peers musically, dealing with people who think they know better than I do what my sound should be and what I should be doing," she explained to us. But back to that closet. After sorting through, we precariously placed a gold
CHANEL
chain across her equipment (if you're as fervent a fan as we are of
Aquarius
, you'll know that the singer actually produces and records regularly out of her bedroom studio) and her fire-engine-red sneakers and
Louis Vuitton
bag just so above her collection of platinum records. Totally normal...
ish
.