What Every Model Has in Their Beauty Bag
Miranda Kerr & Hilary Rhoda open their medicine cabinets.
Makeup
As we close out winter twenty sixteen, we're finding that our skin and hair is in desperate need of some TLC. In the form of gentle exfoliation and then intense hydration. And now that we mention it... our routines, makeup bags and medicine cabinets are all looking a little worse for wear and ready for some spring-ish cleaning. Out with the dried up liners, flaky skin and damaged split ends (now is also about the time of year we're seriously considering a lob).
Sound familiar? Turns out that rooting through the bathrooms and quizzing some of the world's most depressingly beautiful, actually does the trick when you find yourself in a beauty rut. And so, we're revisiting the medicine cabinets and beauty hacks of a few of our favorite Cov-alums who just so happen to count strutting it out in front of Tom Ford and playing muse to the Proenza boys as their day job. No big deal, right? But seriously, who better to give advice than the girls who have spent countless hours in the makeup chair, three layers of fake eyelashes deep with some of the world's most talented artists working away on their mugs? (Answer: absolutely no one). Here's to a fresh start, guys.
---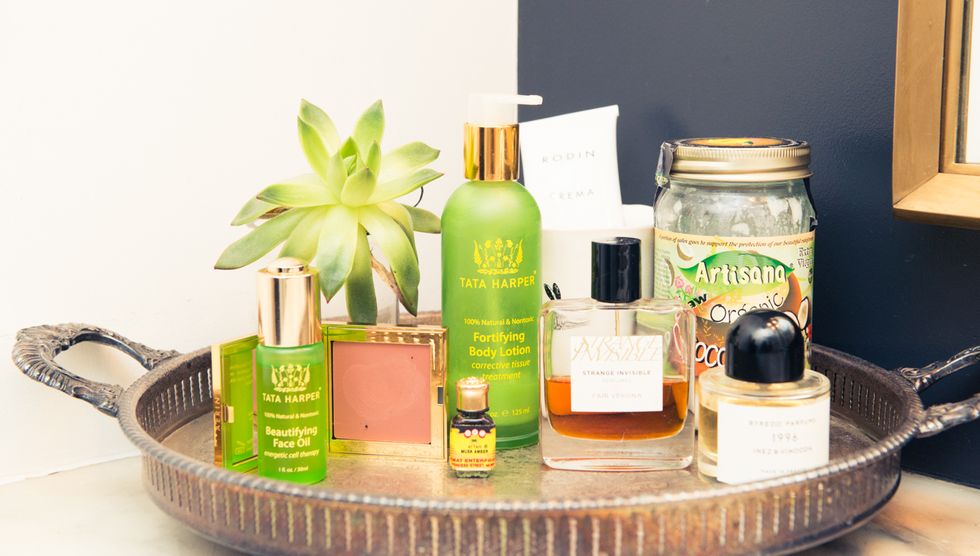 "I think the thing that is important for everyone is to keep your skin clean. I always have make-up and stuff on and especially now that I have bangs, it's really important and the best thing you can do is keep your skin clean." — Karlie Kloss

On everyday essentials:
"I keep Nars Pure Sheer Lip Treatment, Byredo Parfum roller in Blanche and Chantecaille powder compact in my bag" — E rin Heatherton
On in-flight and on-the-road beauty (a.k.a. how to avoid nasty airplane skin):
"Before a long flight, I like to remove my make up and apply KORA Organics Luxurious Rosehip Oil to keep my skin well-hydrated and protected throughout the flight. Just before touch down, I mist my face with KORA Organics Energising Citrus Mist to brighten my complexion, apply KORA Organics Tinted Day cream – a lighter alternative to foundation, which leaves skin with a fresh even skin tone. I also apply KORA Organics Vitamin Enhanced Lip Balm to my lips and as a highlighter on my cheekbones, curl my lashes (which helps open up the eyes) and apply two coats of mascara. This ensures I disembark [the plane] looking and feeling fresh." — Miranda Kerr
"I try to bring a neck pillow so I can get my beauty sleep. I usually pack my jump rope so I can do some kind of exercise—unless I'm in London, because the hotel rooms are too small; you can never jump rope there." — Suvi Koponen
On taking it all off:

"I never forget to take off my makeup at the end of the night. No matter what, I wash my face before bed. I put on extra moisturizer when I go to sleep to let the skin really soak it up. I use Estée Lauder Advanced Night Repair serum , which makes the texture of my skin feel like velvet. In the morning, I use Estée Lauder's Hydrationist moisturizer , which has some SPF in it." — Hilary Rhoda
On DIY beauty treatments:
"If I'm feeling tired I like to put cool fresh organic cucumber slices on my eyes to sooth and revive them. I sleep with organic coconut oil or olive oil in my hair once a week as a treatment – it nourishes the scalp and leaves my hair super shiny!" — Miranda Kerr
On the virtues of a routine:
"I am very regimented about my beauty routine. For skincare, I try to use products with the least amount of harmful chemicals as possible. I also love serums and scrubs. I am a big fan of Armani foundation , Dior mascara , and Nars for lipstick ." — Amber Valletta
On sitting in the salon chair for 10 hours straight (yes, really):
"We wanted to do long, silvery blonde, and the image I brought to Aura (Friedman, of Sally Hershberger Downtown) was of Kristin McMenamy by David Sims. It was near 10-hour process but the color turned out beautifully. Through the years I've had it tinted in varying colors, but right now it's mostly platinum blonde." —
On keeping it all in the family:
"My mother has actually used
Estée Lauder's lipsticks
since I was a little girl and I remember going through her vanity and playing with the gorgeous gold tubes. The products have been with me for a long time!" —
Hilary Rhoda
On drugstore beauty buys (add these to your shopping list):
" Revlon's Ultimate Liquid Lipstick in Top Tomato is a great shade of red that suits most skin tones. Its clever formula stays put so you don't have to worry about smudging or bleeding. If I could only spend $20 at a drugstore for my beauty bag, I would get: tweezers , a small magnifying mirror and Maybelline Great Lash mascara ." — Miranda Kerr
On astrology dictating your beauty routine:
"I have like 50 lip balms because my lips get really dry. I try to switch it up and I feel like if you use one product too much, it just kind of plateaus. I get bored with things that I used a lot. I'm an Aries: I get bored with everything really quickly." — Suvi Koponen