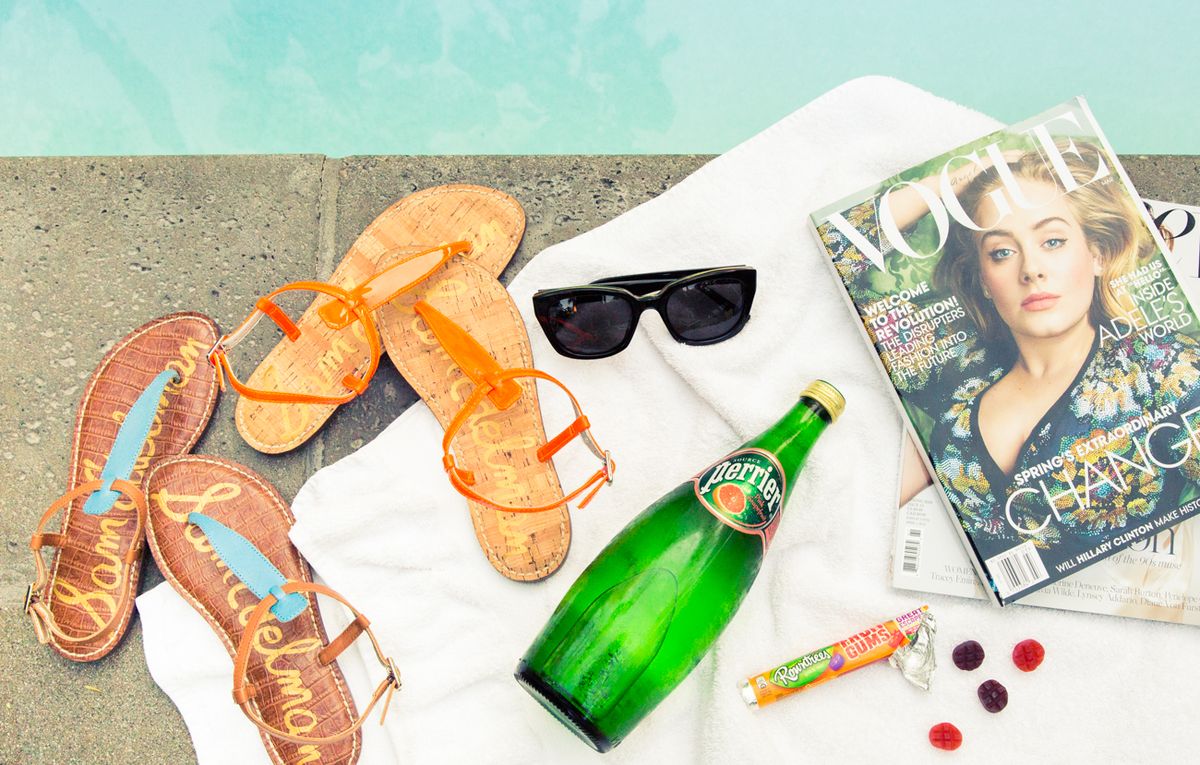 Fashion
Our last-ditch effort to get some quality vitamin D.
Renée Rodenkirchen
It's inevitable that juuuust as we have our sights (and credit cards) set on all the flowy dresses, pedicure-exposing footwear, and oversized shades, March will dump one last massive heap of snow right over our warm weather day dreams. Over it. And so, in our final, much needed, attempt to get the H out of the deep freeze, we're jetting off down south for a few days of salty air just as soon as we pack our bags. Inside, well, it all starts with the easiest go-with-anything sandals, breezy slip-on dresses, and some good reads in hand. So, coming with?
---
Besides a strapless (tan lines :no_good:) bikini, you'll find me in two things as I escape the remnants of everyone's least favorite season and head south to the sunniest state. 1. silver (the obsession will never end) sandals that can be worn with a myriad of outfits and 2. a breezy off-the-shoulder chambray situation. You can also find me lounging beachside with a part-comedic/part-dramatic novel or drinking wine and eating fish tacos, come sunset. That is all. In the immortal words of James Franco in Spring Breakers, "spring break forevaaaaaaaaa" guys.
Emily Ramshaw
Senior Editor
The nice thing about having parents that live in the tropics is that whenever it is that I need a break, I can fly down and join them in already prepared accommodations—which, when you desperately need to disconnect from your inbox, might just be the ultimate luxury. With the quick escape in mind, I like to keep it relatively barebones: a slip dress or five, a pair of face-covering sunglasses, and one pair of sandals I can wear with everything.
Meagan Wilson
Senior Editor & Social Media Manager
Real college-aged spring break is probably my worst nightmare, but like anyone faced with soul-crushing low temperatures and actual, physical snow on the ground, I can recognize the value of taking off for a little sun this time of year. Case in point: I just spent an extended weekend in L.A. and it was exactly what I needed to soldier through March with a brave face—knowing there's (sun)light at the end of the tunnel. The perfect accompaniments? An embroidered Gucci minidress, Rihanna's Anti and a pair of leather sandals. We're almost there, guys.
As much as this winter was a so-called breeze in comparison to last year's apocalypse, an escape for some vitamin D and (preferably) sand is much needed right about now. I can't wait to wear only ONE article of clothing, and this Geon J jumpsuit is practically made for my summer wardrobe dreams. I'll also take an ultra femme-y bikini in a very fitting pastel pink, and cork (because nothing says summer quite like it) and gold sandals. Now to book my ticket outta here...