Fashion Week
Adam Katz Sinding, of Le 21eme, shoots for W Magazine and backstage at Pucci.
This fashion month we wanted to take a closer look at how people working in all different parts of the industry experience the insanity, whether they're front row, behind the scenes, shooting on the street or working in the studio. We've already got the buyer, designer, fashion publicist and backstage manicurist's perspective. Here, Adam Katz Sinding, the photographer known for his site Le 21eme and shooting street style for W Magazine among other clients, tells us what it's like to live fashion month as a roving photographer.
---
For those of us who make our living sitting in front of a computer, fashion month is an especially happy time—if only because it provides endless opportunities for procrastination, mainly in the form of street style galleries that feel like they could go on forever. We can't pinpoint exactly when we first started following Adam Katz Sinding's photography via his website Le 21eme, but suffice it to say that it was a long time ago—before street style photography was essentially a contact sport outside the shows and every other person was stalking the Taylor Tomasi Hills of the world through Chelsea. And Sinding, despite supplying some of our favorite street style photos of the bunch to W Magazine daily, is the first to tell you that he isn't a street style photographer—he's backstage, too, and is in with some of the best brands and publications in the business. After photographing him at his apartment in Brooklyn, we asked him all about his sunrise to sunset shooting schedule (and then there's the editing), what he travels with, and what keeps him motivated.
On an "average" day during fashion week: 
"'Day' is a hard word for me. The days become night and then day again. We all work so hard. We wake up early and shoot the whole day, going to as many shows as we can before the sun sets. Once the light is gone, we head home and start the hard part: editing. Upload cards, shower, tag images, make selects, edit, send to clients, post on my personal outlets, check emails, reply as fast as possible. I eat food on my lap normally while I work. It's not glamorous, that's for sure. But I love my job very much, so I try to stay excited for the next day when I finally get to sleep a bit. The last day of PFW at Miu Miu is always a nice feeling, but a bit somber, as it means the season is over. As much relief as that gives me, I always wake up the next morning looking forward to the first day of the next NYFW."
On his travel essentials: 
"[I travel with] Lacie Rugged drives and tons of camera gear (backup body, various lenses, batteries, chargers, cables, card readers, etc). My Sacai leather jacket has been on my back nearly non-stop, and some Common Projects mids on my feet. I also always travel with running gear as I try to run in the evenings to maintain my mood and sanity. We run all day long when we shoot, but at night I need something a bit more cathartic. Oh, and Le Labo Santal to cover up the 'essence' of how hard we work."
On the shows that keep him motivated: 
"I just came home from backstage at Maiyet, which was really great! I am always hopeful to be backstage at Jacquemus, Delpozo, Pucci, Rick Owens and JW Anderson. I don't always get access, but when I do, I am very pleased. For shooting on the street, I'd have to say Dior, Céline, JW Anderson, Marques Almeida, Rick Owens, Louis Vuitton and Gosha Rubchinsky [are the best]. I love the smaller shows that draw a crowd you don't see at the big shows."
On his favorite show-goers to shoot: 
"I get really excited when I see Natasha Goldenberg, Sarah Harris, Jo Ellison, Christine Centenera, Hanne Gaby Odiele, Aymeline Valade, Isabelle Kountoure, Caroline de Maigret and Nadja Bender. There are TONS of people I love to shoot, but I cannot bring them all to mind now."
On how fashion week has changed:
"It's 'sponsored' now, so lots of the authenticity is gone. That being said I think I witnessed the end of the era, but it left very quickly. I don't mind it, honestly, as I have a built in filter for BS. But on the flipside, it can be aesthetically pleasing to shoot someone in something from next season that you've never seen before. I try to be ignorant to how much of what I'm shooting is likely gifted, otherwise I may fall out of love with the whole thing."
On how he keeps it interesting: 
"[My job is] super boring when you spell it out! I take photos of people coming and going from shows; not celebs, not stars in most cases. Just people in the industry and a few others. Sounds meaningless, yeah? But to take something so simple and try to turn it into an image which speaks to people is not always an easy task. I also shoot backstage at shows to try to avoid the monotony. Backstage is the polar opposite of street. It's always changing and I love that."
On his most stressful daily moment: 
"Leaving the last show and heading home as quickly as possible to start the hard part of the job—I hate that, it makes me so anxious."
On his favorite moments of the month:
"[I look forward to] sleep. But it doesn't really happen. Shows and editing really consume your day. I love leaving NYFW and landing in London. It's always a good feeling, knowing you're 25% done. Also nothing makes me happier than leaving Milan. I don't enjoy MFW and I love PFW."
On his fashion month habits: 
"I am a creature of habit for SURE. I have to do my #AKSForeheadSelfie in every city (178 of them already!). I also eat at the same places in each city and pop into the same stores. DSM and Machine A in London, Inner in Milan, and The Broken Arm, L'éclaireur Hérold and Colette in Paris."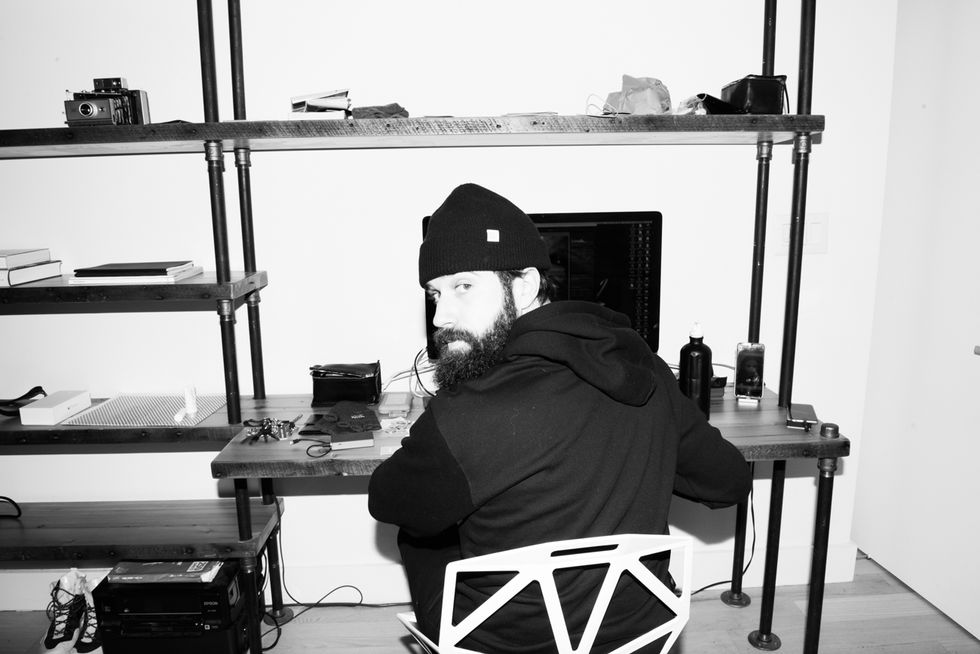 On the conclusion of fashion month:
"[I] sleep! Then go to the next fashion week! It's not just the four big ones for me. I also do Copenhagen, Stockholm, Moscow, St Petersburg, Kiev, Sydney, Montréal, Tel Aviv, Auckland, Oslo, Tbilisi, Almaty, and many more!"