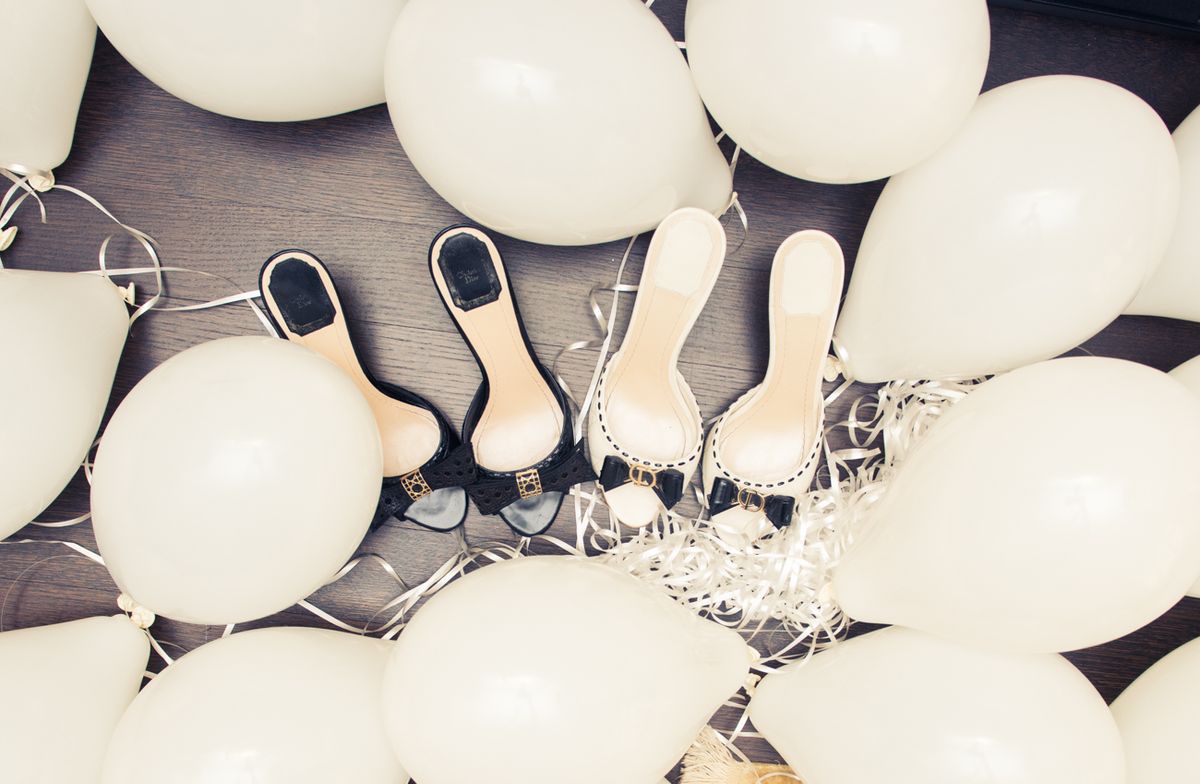 Fashion
Popcorn, champs & ballots at the ready.
According to the pro party planners, throwing a memorable awards show viewing party really depends on three things: décor, games and cocktails. If you were planning on hosting one in celebration of the Academy Awards this weekend, you have approximately 48 hours to get your shit together… which means you can either read this guide from us to you, or, as a backup plan, stock the fridge with champagne and tell your friends to arrive in pajamas with their candy of choice in tow. But if you're like us, just pull on your comfiest cashmere and watch Leo DiCaprio maybe not get snubbed for Best Actor from the comfort of your bed with a massive bowl of homemade popcorn. Solo viewing means you'll be able to concentrate on all the majorly entertaining red carpet Twitter commentary (which, let's be real, is kind of the best part).
---
Emily Ramshaw
Senior Editor
When you're watching a parade of immaculately made up actors walk a red carpet and then graciously accept awards while wearing demi-couture, well, the veg out isn't your average Netflix and chill session, as far as I'm concerned. Which is why I'll be getting out the good wine, eating my weight in overpriced charcuterie, snuggling under a seriously luxurious blanket (the fact that a blanket can be sold for this much is frankly outrageous, but, again, we're watching demi-couture here, so something's got to measure up), smelling some yummy candle, and wearing a very cozy Lou & Grey sweater (which, in my freezing apartment, is the most important part).  
My Oscar night goes exactly the same every year: truffle oil popcorn in hand (maybe a class of Malbec, too), cozy sweats like these Stella McCartneys, a lounge-y shirt like this Helmut Lang number, silky socks because it's still winter (UGH), and a friend on speaker from the time the red carpet starts until the Best Picture announcement. And I wouldn't want it any other way.
Meagan Wilson
Senior Editor & Social Media Manager
True life: I'm a social media manager and my awards season viewing parties involve less drinking games and more sourcing reaction GIFs as quickly as my fingers and keyboard will allow. I mean, obviously there's still drinking—and the tweets are more, say, divine inspiration than anything else. The dream cozy lounge situation most appropriate for the task is this Saint Laurent cardigan (which I could write missives on, TBH), these Simone Rocha slides and, predictably, an enormous, bougie candle. This Le Labo one is almost twice the size of my head and fits the bill perfectly.
My ideal weeknight includes a long bath watching movies from a laptop propped up on the toilet and at least one glass of Bordeaux. And then eating popcorn for dinner. I swear I'm more fun than this makes me sound, but naturally then I get pretty excited about live televised awards shows, especially the Academy Awards (and excuse to drink wine and eat popcorn). I mean, the red carpet is amazing, plus I get to play that fun game where I see if I can actually stay awake until Best Picture (usually, no). This year I'll be wrapped in cashmere, the softest cotton Lou & Grey shirt ever and these star studded slippers while rooting for J.Law and hoping she does something inappropriate during her acceptance speech.