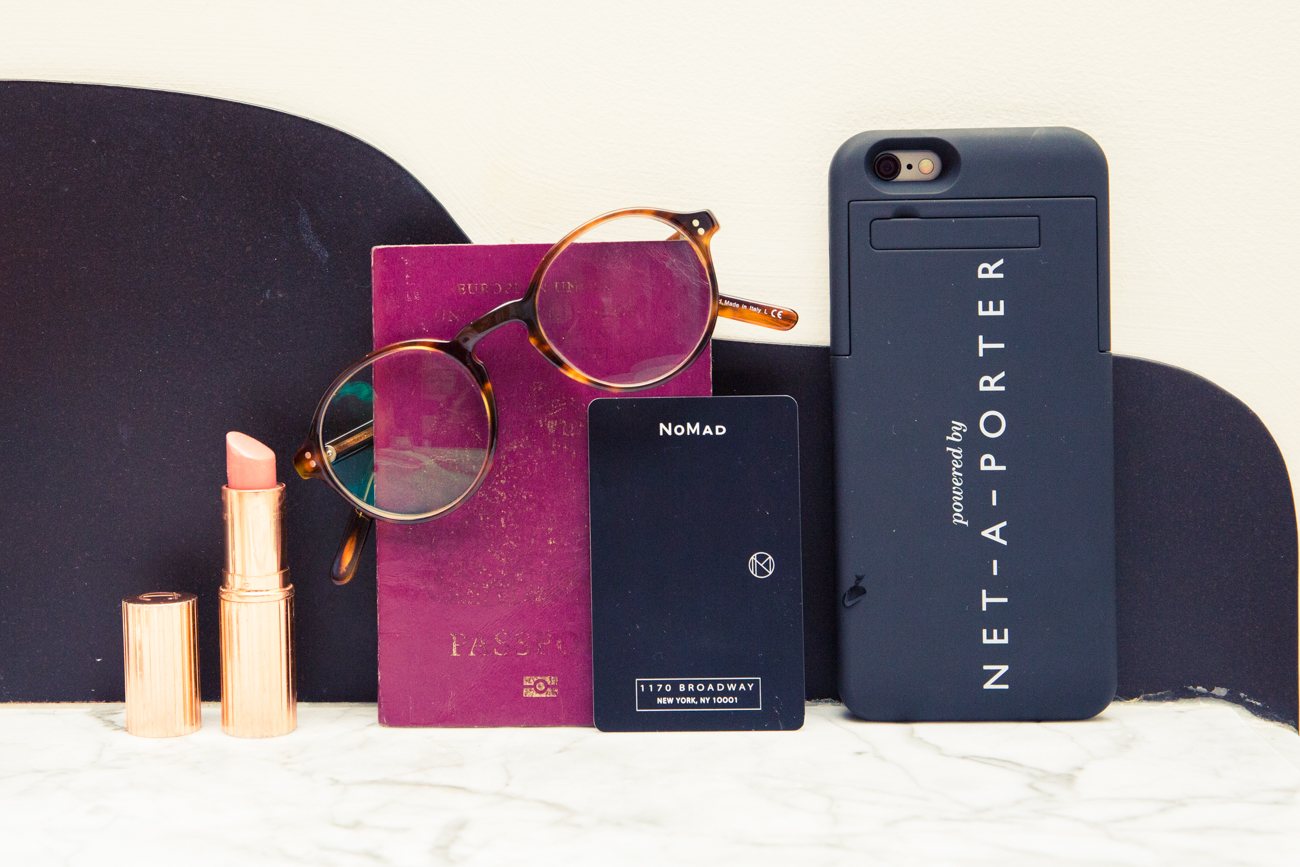 What Fashion Week is Like for a Big Time Fashion Buyer
She's responsible for your Saint Laurent stuffed Net-A-Porter wish list.
This fashion month we wanted to take a closer look at how people working in all different parts of the industry experience the insanity, whether they're front row, behind the scenes, shooting on the street or working in the studio. We already got the designer's perspective (courtesy OG Anna Sui), and Sydney Reising told us what throwing parties and curating guest lists all while running her own independent PR company is like. But there are many more to come…
Like Holly Russell, for example, who is a senior buyer at Net-A-Porter in charge of buying, as she calls them, "power designers" (that would be the likes of Saint Laurent, Stella McCartney, Prada, Miu Miu… pretty much everything currently on your wish list) for the online shopping mecca. Sounds like a dream job, right? But fashion month is non-stop work for Russell, who, on top of attending the biggest shows, gets to see the clothes up close and personal at a showroom, and then must send her orders out only a few days later. And that guys, amounts to a lot of late nights. When we photographed Russell in head-to-toe Givenchy in her room at the NoMad Hotel, her NYFW HQ, she told us that she always takes a vacation right before fashion week so that she can start energized. Now we understand why.
On what she's looking for during fashion week:
"With the nature of power designers, which is the department that I buy for ordinarily, we're looking to those brands for exciting units and where they are going to take us for the season. Power designers are Saint Laurent, The Row, Gucci… so we're going out and looking for newness and we're also, with those big power brands, looking to build the brands for the basics as well. From The Row, we have amazing knitwear and they're a great pant resource, and the same from Stella McCartney—they do amazing coats and blouses. So, we have to plan for that, but also, we don't know what the show is going to give us, in terms of fashion. Our customers are obviously so broad, so at the same time in the calendar, one customer may be in sub-zero temperatures, and then somebody else is in sunny climates, so in that sense we're looking across all categories."
On how she spends her time during fashion week:


"With power designers, obviously, the portfolio brands are quite set. We visit a lot of showrooms, but it's dictated really by when the brands are showing, which is always a couple of days after the show itself. So we're kind of chasing fashion week. It depends on the brand, but we can spend anywhere from two hours to a whole day at a single showroom, depending on size of it.

The priority is that we get to the showrooms because that's where we get to see the product and feel it. The show is obviously very important for us, for Net-a-Porter, because our customers are really fashion and trend-driven. Our customers are very driven by the shows and they're so fashion hungry. So, the show doesn't matter less, but it's important that I get to the showroom because that's where I select the stock. Obviously our fashion VP goes to the show for sure, and our fashion director, and if I can I will absolutely be there, but because I am kind of chasing fashion week, I'll be in New York while London Fashion Week starts, and I'll be in London when Milan fashion week starts. This week, I've got to make appointments with brands, meeting with some of the teams from the U.S. office, because I'm only over here four or five times a year. And then… mainly appointments, and appointments take priority."
On the fashion week buying process:
"We see the show, that kind of gives us a feel of the designer's direction for the season. Then we go into the showroom, we walk the rails, we pull out styles that we love, and, sometimes, there'll be things that the brands will also highlight for us. We always very much have our customer in mind. When we're in the showroom, we pull things out, we see it on the model, we get to touch it—that's a really important part, especially because our customers are shopping online. Customers are going to get it in the post, and if it's a weird fabric or texture we'll end up getting it back, so touching it is really, really important.
Sometimes our personal shoppers come, so that they can get a preview to their customers, especially when there's very high price point items. My VP and Fashion Director will sometimes come to the appointment as well.We make a selection, edit it down, and then I usually have my assistant with me, who will type up all the details with the pricing. With all the analysis that I've gathered before, and with the view of the overall collection, I will then quantify it and size it, and then we send it through to the vendor in an email. This all happens during fashion week, especially with power designers: to get the best deliveries, we have to get the order through as quick as possible, so that they can send them to production. It's usually about a three to four day turnaround on orders, from actually seeing it in the showroom, which happens two or three days after the show. We'll have the appointment, and then we have two to three days after that to get it all quantified and sized."
On her average day during fashion week:


"When I'm in New York I wake up super early because of the jetlag, which I quite like, because it means you'll have a productive day and you can get a lot of your emails out of the way in the morning. I usually get up, I always have a coffee and get ready whilst doing emails. I do some email orders before I go, and then we usually start the day at 9 AM, in appointments. This is in market [at fashion week]. It's different when I'm in the office.
Then we have appointment after appointment and hopefully I get fed at the appointments—it's quite good to plan which brand will give you food. And then in the evening, it's usually order reviews. The beauty of staying at the NoMad Hotel is it's so nice to sit downstairs with the rest of the team. We do orders en masse, so there's a nice space where you can get really good food and a drink. Then it's either a vendor dinner or a team dinner, or, because a lot of my friends are in the industry, but with different companies, I meet up with them for dinners if I have time. Usually that's only at the beginning of fashion week because by the end it's too crazy."
On how past sales inform her buying patterns:
"We try not to let our analysis influence us too much—it just gives you a gauge on price points and what kind of depths you sold at those price points. It's based on past information—so it pools information altogether and tells us what we sold, and it might be that with Stella McCartney, we had a great time with their coats, so it gives you an idea of how many different styles you want to get from the collection this time. It also helps us advise the brands, especially their commercial arms—for example, you've really missed out on blouses this season, you haven't got as many as you had last year, and we did really well with that, we sold heaps of it. Sometimes, they'll go away and put those things into their collection. It's lovely that our brands also look to us for that kind of guidance as well just because our customers are super important."
On what follows fashion month:
"For me, fashion month ends about a week after Paris ends. After Paris we have a week of appointments, and then about a week after that when we're tying up all the orders and getting everything complete. And then we go into things like doing presentations for the rest of the team. When we place an order, it has to get to the vendor on time, but we also need the marketing team to do their part, we need personal shopping to do their part with the customers, we have a content team who are writing all the content for us, so then all of that happens. It's very much an ongoing process and then you end up in the next market.
This season's fashion month buy you'll see that on the site starting in July, August and September—mostly in August and September."
On the value of pre-fall and resort collections:
"Quite a large percentage of our spend goes into pre-collections, just because that's where a lot of the bread and butter pieces are—the classic coat or blouse. And because you have a longer selling period for pre-collections. But, as I've said, our customer is so fashion-forward and is so fashion hungry, especially VIPs and personal shopping, fashion week is really important. It gives you the gauge of where the season's going and where the trends are and it usually evolves from pre-collection."
On how she packs for fashion month:
"The most important thing is that I get everything dry cleaned and everything hung up in my wardrobe. I start watching the site, looking for my favorite pieces. I usually already know when they're going to come in anyway—we have spreadsheets set up and I've kind of done my shopping list already. But I buy those key pieces, add in a few basics, and then I like to have it all hung up in my bedroom so I can just pull it all out and it's easier to pack. I already have my toiletry bag set up with all my travel stuff in it. I have my toothbrush, and off I go. It's now become something I don't even really have to think about it. It's just getting the wardrobe sorted before you leave and adding a few key pieces from the season.

This season I've bought a really beautiful The Row black maxi skirt. I wear a lot of black just because it's practical and I can put things together easily. I still have my Saint Laurent leather jacket that I always wear—it's timeless. I bought a beautiful Saint Laurent lace long-sleeved top; Vetements jeans. But there's still quite a few key pieces that I'm waiting to come in. There's a beautiful Saint Laurent coat that's just uploaded, but I have to wait a week before I can buy it. That's the rule.
For beauty, I use Eve Lom, and then a lot of Charlotte Tilbury makeup. I'm quite basic on the beauty front. When I fly I wear really nice comfy clothes—just jogging pants and trainers."