Career
It's the stuff beauty fairytales are made of.
---
We love beauty. You love beauty. We're constantly hungry for tips from the pros who know best and we're guessing you are, too. But we also want to know more about the people giving the tips—and the people behind Adele's perfect liner and Rosie Huntington-Whiteley's glow (and hair and lips and…). Enter, our brand new series, In The Kit, where we'll be interviewing some of the biggest hair and makeup artists in the game—the types who actually deserve their legendary status.
Serge Normant has a resumé that reads like a 'Best of' fashion moments of the past 20 years. Let's see… he got his first big break by getting called in to do a Dolce & Gabbana campaign with Kate Moss and Nadja Auermann by Steven Meisel. And then he went on to find his Hollywood match in Julia Roberts during her Herb Ritts hey-day; and now he's added Julianne Moore and Sarah Jessica Parker to his list of very loyal, on-speed-dial clients. And that's all while he continues to do editorial shoots for every Vogue title under the sun, along with opening a series of salons that are the kinds of places you actually want to spend to spend a whole afternoon. And then there's the whole product line thing, which is the kind of professional hair care only a man who's done the hair of every supermodel since the '80s could conceptualize. We got all the details over tea in Normant's private room (reserved for the Roberts and Parkers of the world) in his Chelsea salon. And he made all look so damn easy.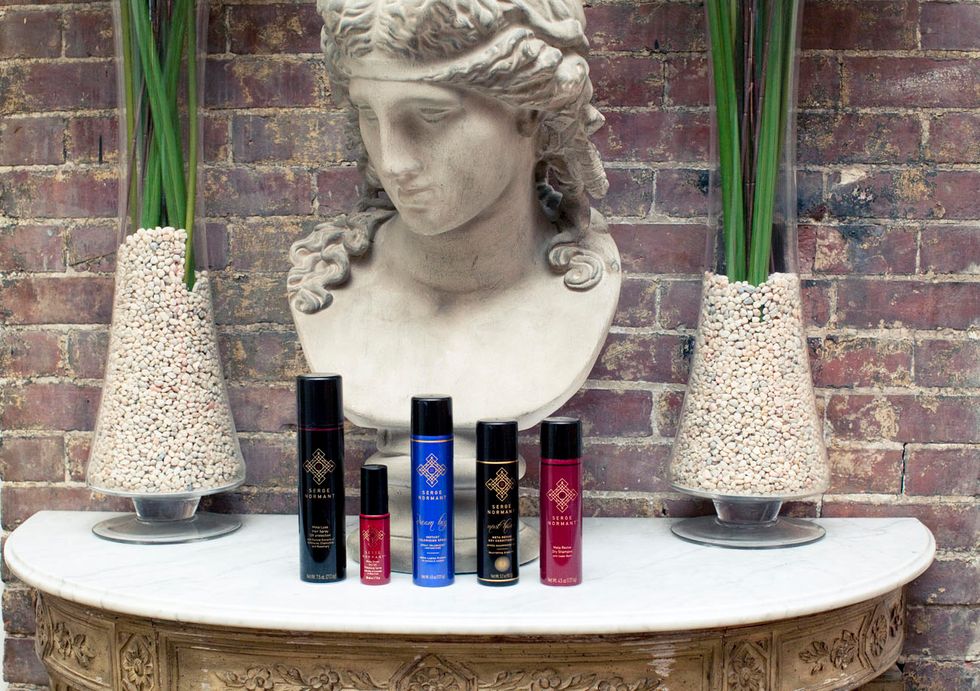 "I've always known I wanted to do hair. I started when I was really young and I just love hair. [When I was a kid] in the '60s, hair was always truly done; there was something very structural in everything that I was seeing—I was really intrigued by that. I love sculpting; I love shapes.
My mom was my first model when I was 13. I was getting her ready to go to work. That was the beginning of my career. I ended up working at the salon where I used to get my haircut there as a kid. I was there for a few years, then I moved to Paris and started working in salons and started doing shoots really early on—it was a fun time. The '80s were fun. It's not the most amazing references look-wise, but it was interesting.
I moved to Paris and did two years as an assistant; then I was in the army for a year. When I was in the army, I was back and forth on the weekends to do hair. I always wanted to work in New York, so I studied for months in Paris in order to get tear sheets with my name on it, so I could get paperwork to come here. I always loved, very early on, the idea of images and photographs and I came here when I was 22 for the first time to live. I went back and forth between New York and Paris—did fashion work in Paris for a year and ended up being based here a few years later.
The first big thing for me was to be hired to do a test—the fact that it was a few girls, with couture clothes, and it was my first shoot, I remember being so excited. I couldn't sleep the day before. When I finished the day, I was like, oh my god that was my first shoot! I still have those pictures—it's not great hair, but it's my first shoot. There was an emotional attachment to that day, because it was very fresh; I was completely raw, and green, as they say."
"When you're very young, you don't always recognize the breakthroughs. For me, being booked with Steven Meisel for Italian Vogue [was it]. At the time, he was working with Garren, who was working with Laura Mercier and I was living with her then. One day, Garren knew he had to be away for a few days and those were the days they were shooting Italian Vogue and a Dolce & Gabbana campaign. So, to replace him, he thought of me. I knew Steven a little bit socially, but not well, and of course I was living with Laura.
I remember showing up on the shoot and it was with big models from the '70s—icons from that time. And then we did the Dolce & Gabbana campaign, which was an iconic campaign with Kate Moss and Nadja Auermann. All the training had pushed me and I was already working for a year, and I would work with tons of other people, but for some reason, by association, people thought I was great. So I started getting bookings. That was my big break."
"A couple of years later, I worked with Herb Ritts and then I met Julia Roberts on a shoot. Then I met Sarah Jessica Parker. We had wanted to work together for a few years and there was an opportunity later on a TV show that we did, and we clicked. There are so many little connections and little things like that. When I worked with Julia, it's amazing to think of me back in Louisiana 25 years ago, and today I'm actually meeting someone who is going to be one of my best friends. You realize the relationship. That's the beauty of the business: people think things are very fickle and superficial, but I have to say, I met Laura Mercier through the business and she's my family; she's my sister. Sarah Jessica is the same.
I was lucky to meet amazing people at an amazing time. Michael Thompson had just left Irving Penn's studio—he was his assistant for five years—and he recommended me left and right. I ended up working with Julianne Moore because of him. I ended up in certain situations without planning it. People always asked me: was that your plan for a career? All I wanted, was to be part of an amazing team, whether it was a different team every day or not. You look back a year or two from now, and realize how amazing it was that you got to go through that, to meet all these people."
"There are a few people… I love to work with Michael Thompson, Dick Page, Paul Cavaco, Joe Zee, with Linda Evangelista, Amber Valetta, Shalom Harlow—for me those people are just amazing. And then you have Julia Roberts in the mix, and Sarah Jessica Parker… because everyone knows each other. Michael with Julia, Herb Ritts with Julia for me was magical.
 
Today, I'm as excited to work with Michael as ever. But there are also new people I work with, like Emma Summerton. I love the creative process and working with people who like you.
All the relationships that last work-wise, I care about these people. Michael Thompson is one of my closest friends—I've known his kids since they were born and his wife is amazing. Dick Page lives near me in Long Island, so we see each other regularly. He's someone, today, even if we don't see each other a lot, we are connected.
 
I don't work well with tension. I've worked with people in the past that were icons. I'm talking about photographers that I was dreaming of working with. And you know what? I was not really their style and I was bummed. I wish I had never worked with that person. The thing is, until you do it, you don't know. When you're young, sometimes it's hard to think that way. I can't be in that environment. I can't be on a shoot, with the same people over a long period of time that I'm not comfortable with. There's just no way."
"There's ton of things… like the moment when Julia Roberts won the Oscar and the process of that whole look. We didn't try to be modern and we didn't talk about the look until the day of. She picked the dress the night before, but I knew the dress because I was doing all the Valentino shoots at the time. I remember seeing her walking down the red carpet—those are the amazing moments in Julia's life, and as a friend, just to see your friend become a winner, that's amazing.
 
Then there was Sarah Jessica at the Met Ball with the mohawk. I was just afraid that it wouldn't stay, but looking at her getting out of the car with the mohawk, that was an amazing moment.
And also, just seeing editorial shoots when they came out. At the time we didn't have the screens on set where you can see all the pictures as they happen and it was always a surprise—you had no control over it. The photographer and the magazine had the control. I just remember my first Vogue cover with Carlyne Cerf and Arthur Elgort with the red long dress by Marc Jacobs at the time, with a cap. It was the very beginning of that. I was lucky to be with Carlyne—she used to be with me every Vogue shoot with Arthur Elgort—all these unbelievable people, that were already very established when I started. That was my lucky moment. Looking back on it, I can only be grateful."
"Now the salon is important; my product line is important. There's something about the business side that I'm very intrigued and excited by. I love looking at numbers. I love looking at what does well and what people react to. When I see numbers, it's the last thing I would normally think about, but as a businessman, you have to learn how to care about these things. 
I felt like if I didn't do it at the time I did it, I would never do it. I was always product savvy, meaning I loved going to stores and seeing things and once I found something it was hard for me to move away from it. For me, in order to switch what I've been using for years to something new, it must be great. So, that's what I said to the labs when I first started. I just wanted to make sure that those are the products I'm going to use. And now there's no way I'm going to want to use anything else but what I have. Right now, I want the best hair spray for me, the best dry shampoo for me. That's how I created the line. That's why I'm obsessed with it. I use everything that I have. It's been exciting."