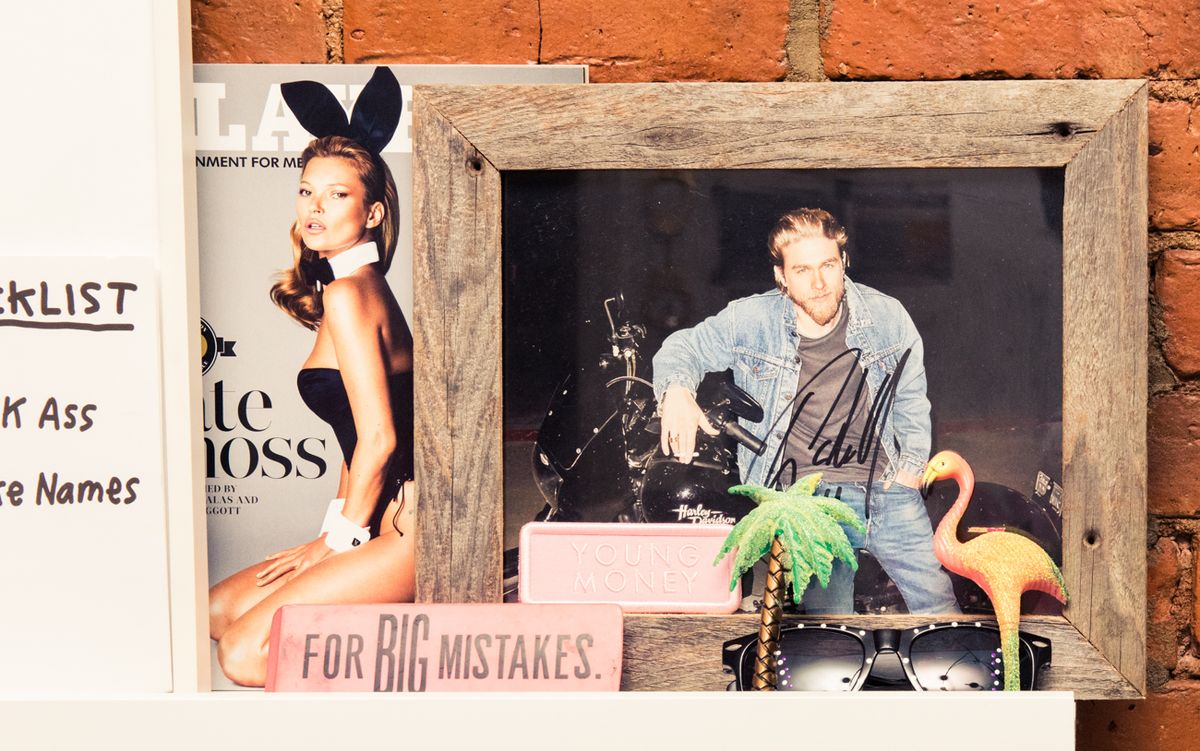 Fashion Week
Sydney Reising breaks it down.
We're just going to put it out there: Sydney Reising is an anomaly in the public relations world. She's completely unconventional, while still keeping etiquette in check; a rule breaker who follows her gut, not capital. Exhibit A: she scored her first New York City fashion internship by handwriting the designer and straight up asking for it. Following that she proceeded to risk everything and started her own public relations firm at the eager age of 25. You see what we mean by anomaly? 
 
So that's basically how Reising (aptly pronounced "rising") became CEO of her eponymously named company, which for the record is the most non-PR, public relations firm there ever was. In only its third (!) year, Sydney Reising Creative has taken hold of some of the coolest, Coveteur bucket list type brands and creatives. Her modus operandi being that who she reps isn't monetarily driven, but all about passion— something we can always get behind. Which is why her roster includes cult magazines, Rihanna's favorite vintage store, and snowboarding companies, alongside massive brands like Alice and Olivia and Diesel. 
---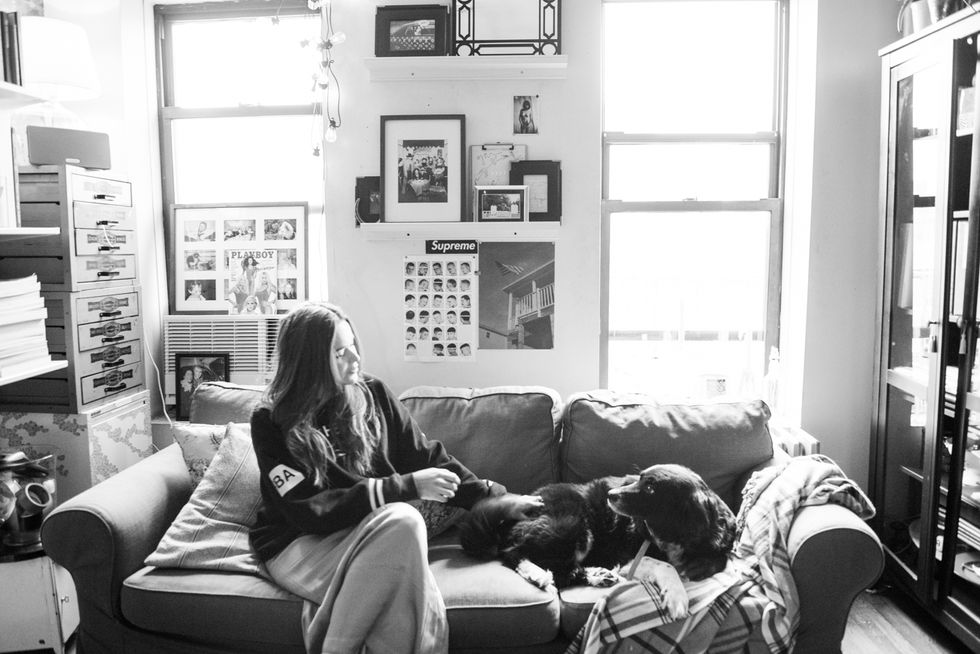 We've know Reising for a while, mostly because she represents a lot of the people we feature (great minds think alike, yknow?). But on the eve of NYFW, while she was busy organizing what are soon to be the week's most talked about parties, we popped by her East Village apartment-slash-office. While listening to Rihanna's latest on repeat (side note: we couldn't help but think about how "Work" was kind of made for Reising and her current life situation) she broke down everything from how to throw the perfect party (you really only need three things) to working your ass off to get ahead and writing everything down. Read on, guys, it's a goodie.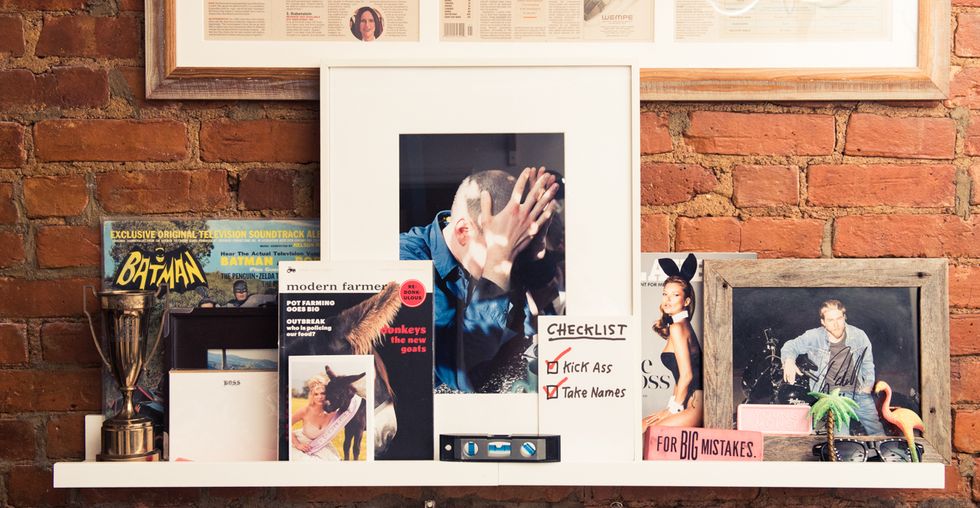 ON HER UNTRADITIONAL ENTRY INTO THE INDUSTRY:
"I moved here when I was 18 for a two week internship with Tracy Reese. I'd written her a letter and six to eight months later, she came back offering me a fashion week internship—which I came and did for a couple days and hated because I didn't like being on the design side. I happened to meet someone that was at Versace at the time and I got a job there—at the time they had in-house PR. I never went home and sort of hit the ground running. I parlayed that into PR girl career status over the past 10 years."
ON BREAKING (MOST OF) THE PR RULES:
"I opened up my agency and this is Sydney Reising Creative's three-year anniversary. It feels longer than that. I think people respect the fact that I'm not very rule-abiding or tradition-based. I do have a very traditional flavor in what I do in terms of manners, but in the non-traditional sense—I sort of don't follow the rules. I have adapted to marry both traditional PR and innovation of the digital world into one streamlined thing. I also happen to have really good party skills—so I throw good parties!" 
ON RISKING IT ALL FOR HER OWN AGENCY:
"I felt really passionate about working on certain things. Sometimes when you're working for someone else, they don't see the value in working on projects that don't have as much money, or any money. I wanted the opportunity to work on passion projects alongside things that are revenue-based. I feel like in building your personal brand, it's important to have it balanced. Also in terms of respect, for me, I want to love what I do so I just have a hard time having someone tell me I can't do something. I don't like it when people tell me I can't do something, so that's basically why I started the agency.
I always knew I made the right decision. I am a big believer in once you commit to something, you just stick to it. I wouldn't be happy just doing a 9-to-5—I like the hustle. I feel like every [client] win is a highlight, so it's hard for me to pinpoint one thing that's the biggest highlight. I let everyone else decide what those things are. I have a hard time doing my own PR—I'm the worst publicist for myself."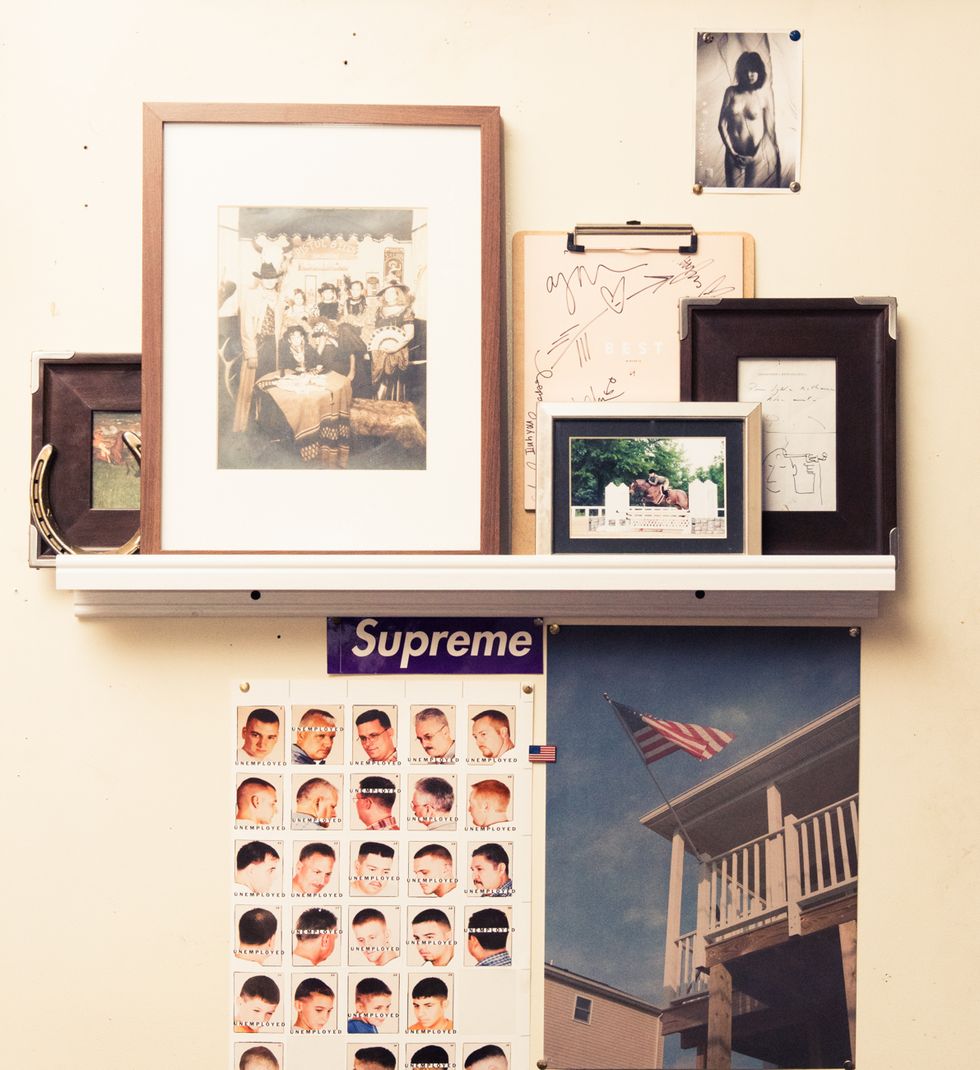 ON HER NOT-SO-AVERAGE DAY DURING FASHION WEEK:
"An average day includes managing all of the events we have going on. We stagger them for every other day. We basically make sure all the right people are coming to each event, all the journalists are coming to cover it, then we do the event, get all the coverage and just do the next one. It's hard for me to explain. Right now, the girls are coming in at 10AM, but starting tomorrow they'll come in at 9AM. We'll work all day and then, if we get all of our work done for our events, we'll start heading out and hitting up all the other events.
Luckily we're fortunate enough not to have to do damage control, because we did it right the first time. That's one of the things about having a small business—you're so involved in every stage of every thing that it's hard for errors to get through because you're not codependent on a massive team who don't know what they're doing. Right now, the most time-consuming is just the organization of all the events."
I'm very excited about the Richardson Magazine party. It is sort of a cult magazine by Andrew Richardson that covers topics from sex to politics—it's very punk rock. They just released the eighth issue with Blac Chyna—it's super exciting, Steven Klein shot the cover. We have a bunch of strippers coming to the party. And then we have a big Diesel event that I have been working on for seven months now. So that is all coming in and being realized after all this work, which is really exciting. Everyone's coming in from Milan—it's a pretty big deal. There's a flagship that we opened uptown on the Upper East side, which is sort of a juxtaposition for Diesel—you think of it as a very downtown brand. So we'll open there with cocktails and then we have a big after-party at a mansion around the corner, just to sort of celebrate.
Of course we have the fall/winter Alice & Olivia show and that evening we are also doing a screening for Unemployed Magazine, which is also another cult startup publication that I work with. It's all basically dedicated to bringing young talent, unemployed people, creatives, and spotlighting their work. It's a really amazing publication. So, we'll be doing a screening for one of their films that Roi Cydulkin directed for Unemployed. It stars Ruby Aldridge and Marland Backus—she's in the new Céline campaign and has a really rad jewelry line too.
We're also simultaneously about to release SZA's new album, which is exciting. And working on this Grateful Dead launch for late next month. It's a lot."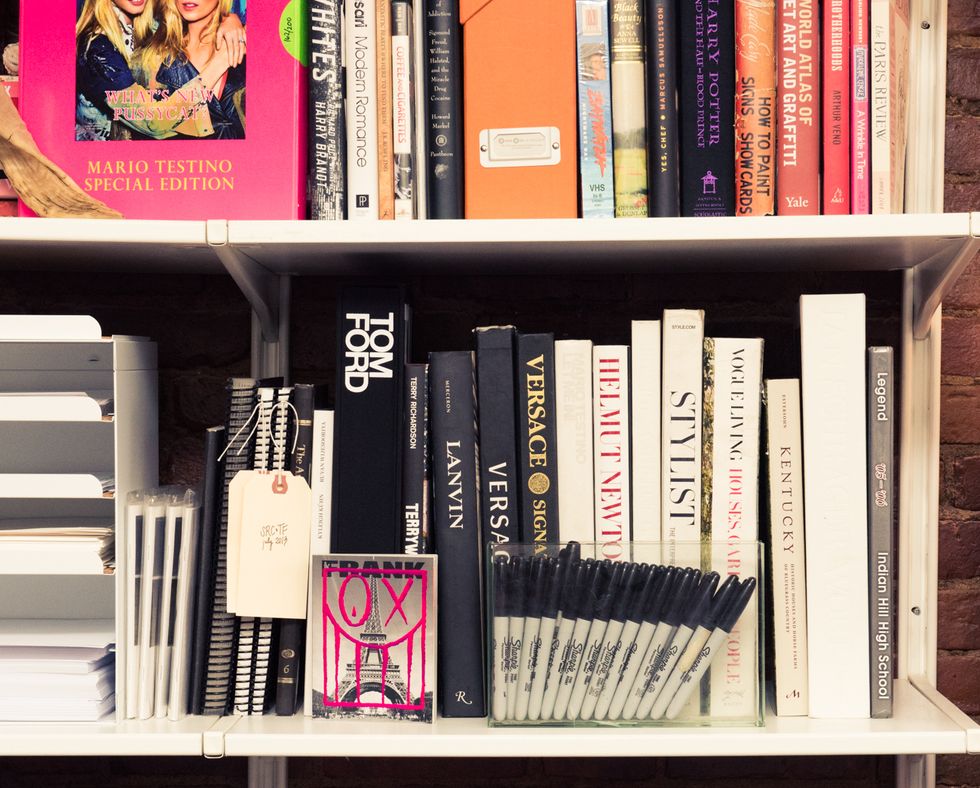 ON THE WHOLE WELLNESS AND BALANCE THING: 
 
"It's pretty full-on to be honest. I wish I could say there was more of a work-life balance. Fashion week is a pretty important week, normally I would try not to do so many events. But this year just happened to have a lot of good opportunities for us, so we had to commit. There isn't really a work-life balance this week. Although, I do try to take an hour squirrel break with [my dog] Ruby. We have this squirrel that we visit named Bear. That's about it in terms of exercise. 
This week's got a lot of Juice Press in it. I also swear by this Quantum cold and flu herbal dietary supplement, which is amazing. I put about 30 to 60 drops into a little bit of orange juice or water and just drink it down really quick. I get it from this little pharmacy on the corner that has a holistic section. It definitely keeps you healthy—a lot of the models use it and Martha Hunt recommended it, so that's how I found out about it. Models are doing three weeks at fashion week, so they can't get sick. To be honest, this week there's a lot of working late, so there's always pizza and stuff. I get a big salad during the day and just try to stay healthy."
ON WHAT'S IN HER FASHION WEEK SURVIVAL KIT:
"Mophies hands down. I always have two Mophies on me. Plus a disposable camera, money, cigarettes and lipstick. I love my Dark Sky app. And then obviously, Instagram. I do hand-written notes, because I'm old-school. I have a notebook, pen and paper, but I do use my Google Calendar. I take aggressive notes. It's pretty detailed, I write everything down. Because I have so much going on, I can't always remember everything. Unless I look back at the four pages of notes I took today, I'll forget what I did at 9AM because there's so much going on right now. I have to crosscheck everything at the end of the day. And I do a lot of sticky notes taped to the wall at my desk, basically, 'don't forget to do this!'" 
My staple thing post-fashion week is the Bliss Spa. I love to go to there and get a massage to get all the stress knots out of my back. Just take a day and have 'me' time. I might be going to Paris this season, so if that's going to happen, I'll be like in the airport getting one of those quick massages!"
ON THE :key: TO A GOOD PARTY:
"Lighting! Lighting is critically important. Guest list; a curated customized guest list is super important. The music to set the tone. An element of surprise. And obviously booze.
I feel like Unemployed Magazine's Funemployed Launch Party was pretty insane. It was on Lafayette Street next to Café Select at a sort of mansion/townhouse where Beyoncé shoots videos. It has an indoor pool in it so that was pretty amazing and fun. I mean, the Supreme party with Three 6 Mafia, back in the day… it's hard to pick one!"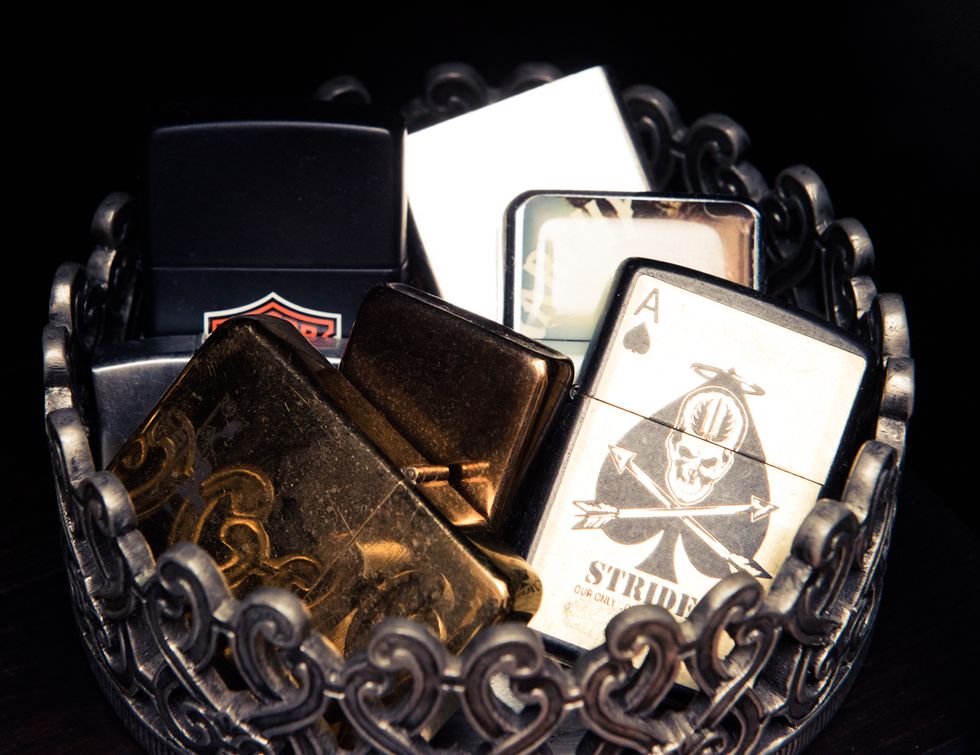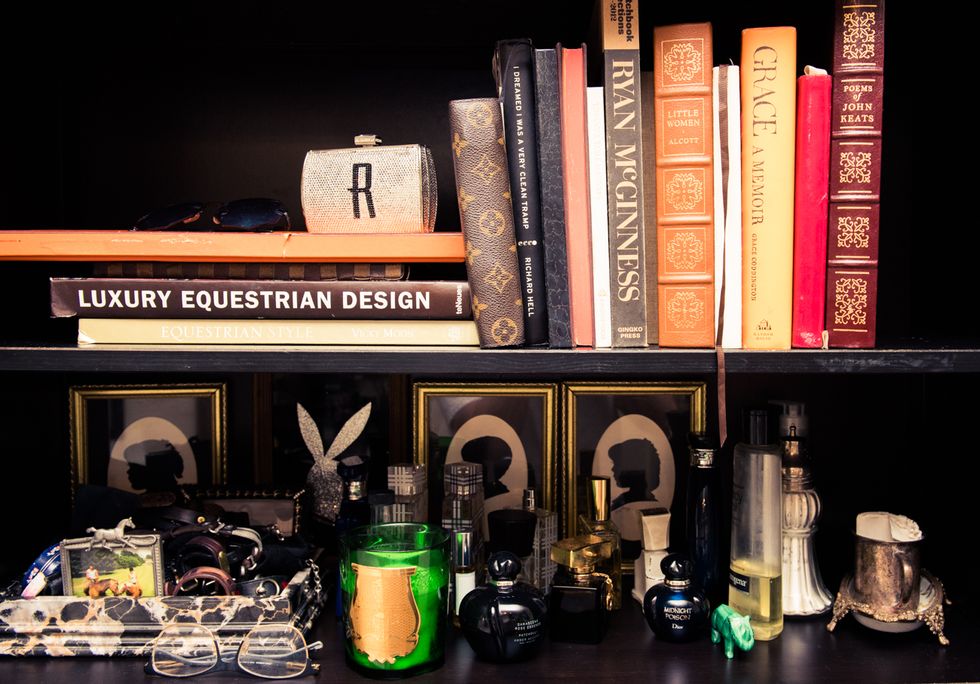 ON WHAT'S NEXT FOR THE PR MAVEN (IT'S NOT WHAT YOU THINK):
"I can picture myself living on a farm. That's the dream! I'm such a farm girl. I mean, I'm actually looking at shutting down the company for a month this summer and then living and working for trade room and board on this cattle ranch in Wyoming, which I'm super stoked about. It's just something I've always wanted to do, and if I don't do it now, I'll never do it. So I might just take off the month of August like everyone in Europe does, and just be like 'BYE!' Ruby and I will go be cowgirls for a month, live in tents, just slay like Beyoncé with her braids. 
I'm totally living in the wrong city for my cowgirl vibe. The nice thing about the city is that everything I live and breathe and my friends are within a five block radius. Everything's right here, unless I have to go to a meeting Uptown, which I do a lot (which is really annoying), but god bless Uber. Before Uber it was just a lot of me standing outside with Ruby trying to hail a cab."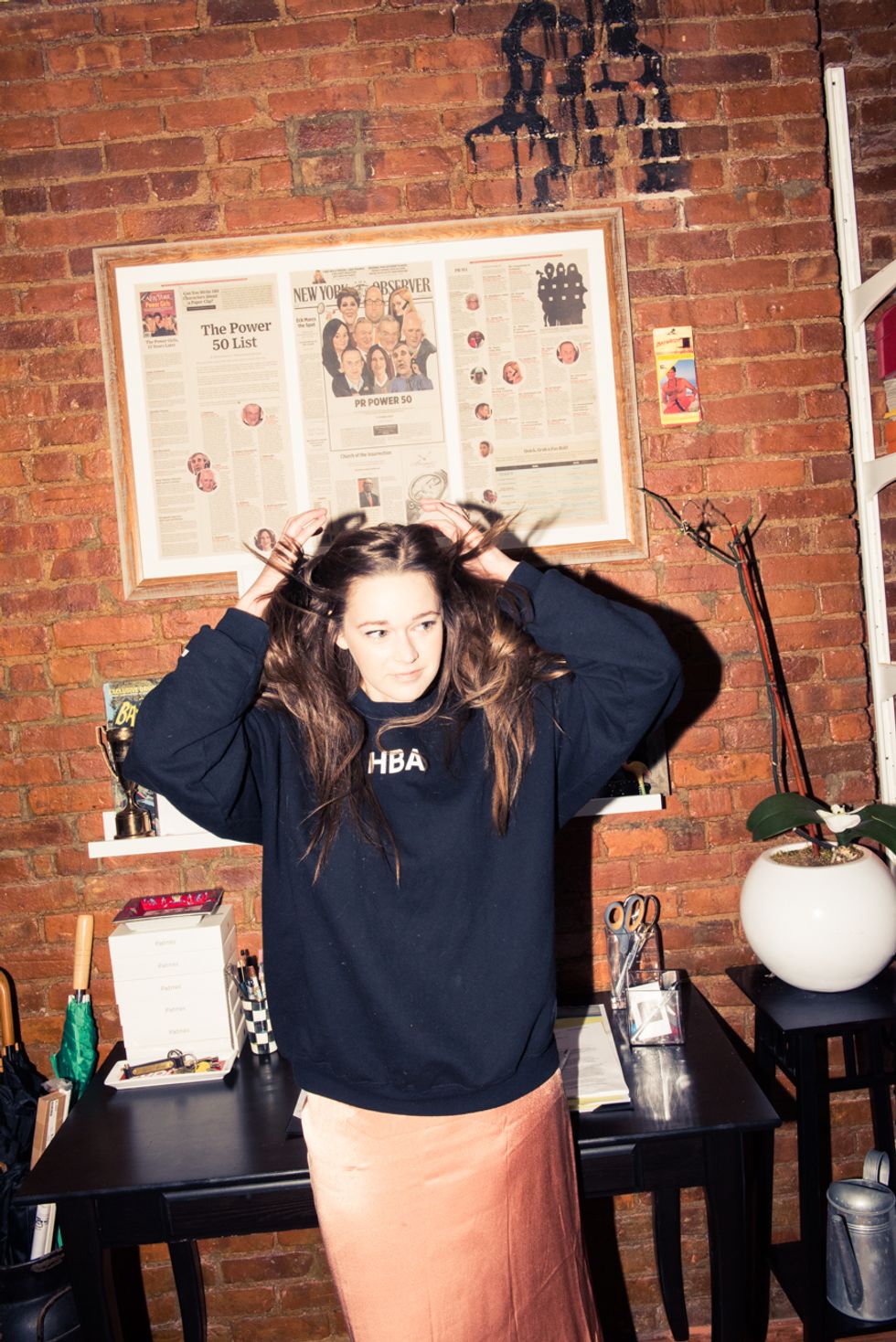 HER ADVICE FOR UP-AND-COMING PUBLICISTS:
"Just work really hard. Be really detail-oriented; be really committed; work 120%. If you really want it, there's a lot of work that goes into building up your reputation. You want people to know that they can count on you. It's not all very fun at the beginning, but it's worth it in the big picture. Just be willing to work really hard for it."
P.S. Check back this week for more one-on-one's with the people who make fashion week happen.