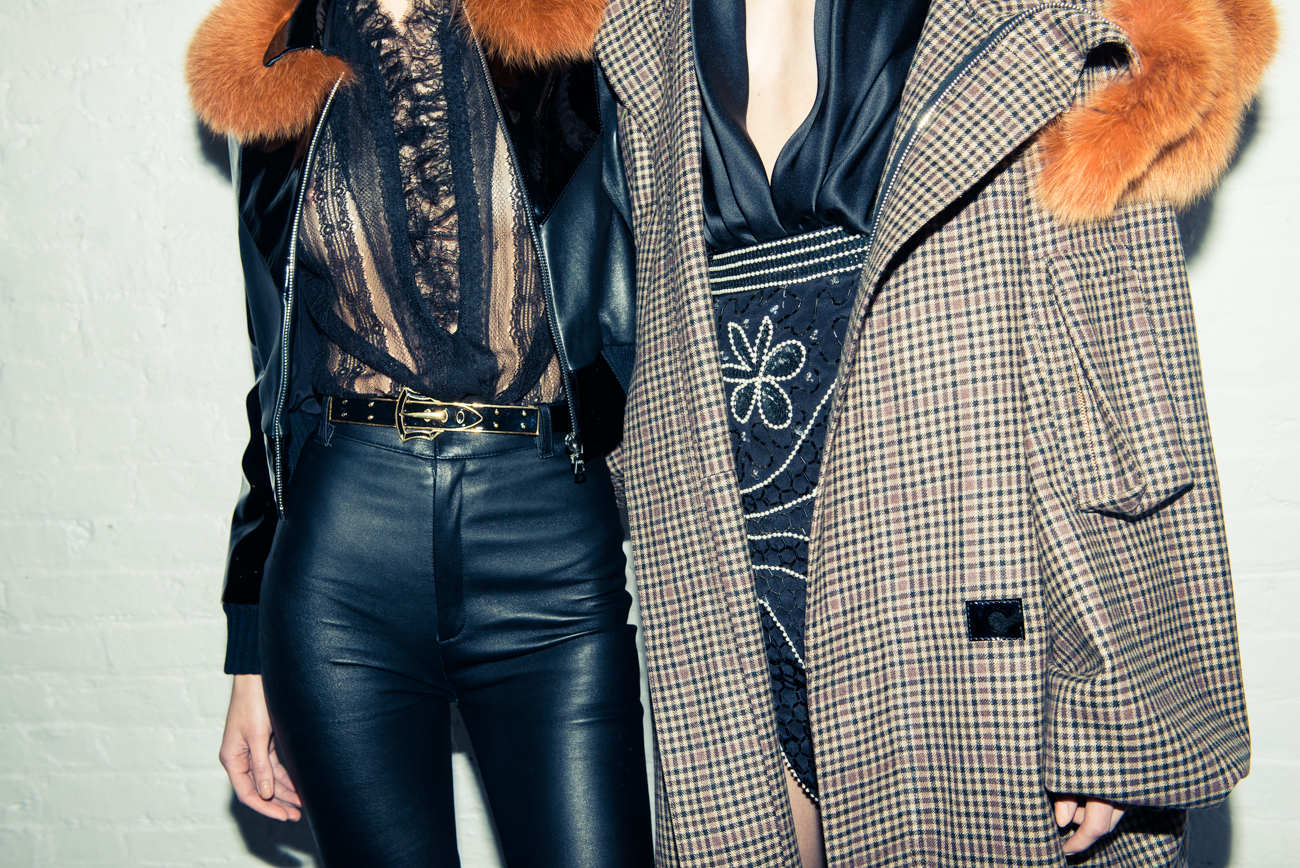 Editors' Picks: New York Fashion Week is Here!
And this time, we're ready.
New York Fashion Week: the beginning of the month-plus-long extravaganza that is the fashion month world tour when we can work our street style muscle on our home turf. Out come the embellished (yet practical shoes), but along with the fashion stuff (a.k.a. our biannual excuse for a total wardrobe refresh), there's also the survival stuff: skin saviors, tech must-haves and totally necessary soundtrack editions. This is the stuff (along with the shows themselves) that makes us excited for fashion week. We might be singing a different tune when you talk to us in March, but for now, the Gucci floral embroidered bag is half full.
1. Pierre Hardy Pumps: Can you tell I'm really into this current block-heel situation? Because I am. And having these in the fashion week lineup will definitely streamline things. As in I won't feel the need decide between "day" and "night" shoes when this wonderful middleman exists.
2. "What I Might Do" by Ben Pearce: Forcing all my Uber drivers to play this en route to shows. Just putting that out there now.
3. Proenza Schouler Dress: I also feel like having this silk Proenza in my closet will make dressing even easier (which is the goal, no?). Plus, I'll totally bring it along for that impromptu trip out of the city to a warmer climate that's bound to happen.
4. Heritage Rosewater Spray: I spray this on my face in the morning just to wake myself out of the REM stupor, and at 3 PM when my head's about to hit the keyboard, and... just all the time. It's one of those always-in-my-bag type scenarios.
5. Gucci Shirt: Pajama shirts worn as tops! For when you just can't anymore.
Emily Ramshaw
Senior Editor
1. Derek Lam 10 Crosby bucket bag: Fashion week means I need to lug my entire life around with me all day, all while looking totally chic and effortless (and how?). Mostly, though, I just really, really want this bag. It's perfect for this week and beyond. 
2. iPhone 6S: Literally my life when I'm not in the office. There's no other way.
3. Lou & Grey shirt: With all the peacocking going on, I tend to go in a more casual direction—which, honestly, when everyone else is in sequins and feathers, feels a whole lot cooler anyway. 
4. Fendi culottes: On that same normcore drag, denim is my uniform all the time. But I'll fashion it up a little with a culotte version for NYFW.
5. Nars lipstick: I usually reserve lipstick for nighttime—because I'm lazy, okay? I can step it up in at least this department, however.
Renée Rodenkirchen
Senior Photographer & Video manager
1. Converse sneakers: I live in my high top black leather converse. They're comfy and great when I'm spending a long day shooting around the city. Plus, I love how they look with a pair of jeans and a leather jacket. Trés simple.
2. Canon G16 Camera: When I want to be more discreet or have less gear than an SLR, the Canon G16 is a great point and shoot. It fits in your purse and you won't block others' view when you're at a show and want to take a snap. Side note: this camera is amazing at macro shots—so anything where you need to capture close-up details, this is your camera.
3. Lindt Sea Salt Chocolate: I LOVE this chocolate bar. Dark chocolate and sea salt? I'm already drooling. This will definitely be in my bag for little boosts of energy during NYFW.
4. Nanushka Rika Collarless Angle Vest:  I recently bought this vest—it's clean, simple and I love it under my black leather jacket. Perfect for winter fashion week outerwear.
5. WANT Les Essentiels de la Vie bag: I'm in need a new toiletries bag, especially for hotel hopping during fashion month.
Meagan Wilson
Senior Editor
1. Natasha Zinko pom pom slippers: Street style bait? Nah. Just my actual dream shoe.
2. "Don't You" by Wet: The perfect soundtrack to wherever you find yourself this fashion week.
3. Anethum earrings at Lou & Grey: Handmade, minimal, cool. I don't anticipate giving my ear real estate up for anything else anytime soon.
4. My Beauty Diary Hydrating Mask: I buy these by the box and they rule for sad, moisture-sapped skin.
5. Acne Studios wide leg pants: Perfect with sneakers, pumps, or my pom pom shoes.
Noah Lehava
Senior Editor
1. Acne Obin Leather Sandals: If you know anything about fashion month, it's that it consists of a lot of running around from show to show, party to party, and back to the office to make deadlines. For that, I need a super chunky heel that allows for a day's worth of said running around.
2. Gucci Floral Canvas Cardholder: Okay, so I have a tendency to get reallllly obsessed with one brand and one brand only for a span of a few months. Right now, I'm on a total Gucci kick (I still love my Dolce, but Gucci is effing killing it right now. Amiright?). This little card holder is perfect for sliding into any size purse I decide to wear this week.
3. Saint Laurent Pasementerie Cross Body: MAJOR. That is all.
4. SKII Brightening Derm Revival Mask: A deficit of sleep is pretty much a known fact of fashion month. SKII's Brightening Revival Mask helps fake a good night's sleep.
5. Tata Harper Volumizing Cheek & Lip Stain: I love me a good cheek/lip stain pot for quick touchups.