Weddings
A.k.a. everything you need to know post-proposal.
Did you guys know that it's engagement season? Because apparently it is. Prior to this year I didn't even realize there was a season for such things. Facebook sure knows, though, which is obvious every time you go for a casual morning scroll. Between the holidays, New Year's and Valentine's Day, 'we're getting married' exclamations are coming at our newsfeeds left and right. And, yeah, I'm only writing this story because the whole question popping thing recently happened to me, too. While on a bucket list type trip to Australia, my long-term boyfriend and I went on a sunset walk and while posing for a faux photo cliffside at the most easterly point in the country, he proceeded to get down on one knee and ask that question. Of course, I readily obliged, and, after blacking out for five minutes (actually though), we went off to celebrate with champagne and oysters. It was all very romantic, I'm not going to lie. But it was also an intimate moment shared between just us that (minus the blackout) I'll always remember; as much as I was overjoyed, I knew that my friend's friend I met once on a trip in college, didn't need all the details.
---
Admittedly, I had thought a lot about what would happen when the time came. I mean, we've moved around the world together, living in several countries for the last six and a half years, so I knew the proposal would be coming soon. What I worried most about leading up to the moment wasn't what he would say or do or what my reaction would be, but about etiquette—specifically because of the overabundance of context-free ring selfies and mason jar-heavy bridal content. It's 2016 and things are different than when our parents said 'I do,' but I'm also kind of old school. I knew that we wanted to spin everything from the announcement to the engagement period in a way that would keep it special to us, while still sharing with others. An old meets new approach, if you will. Which is why, after waiting patiently to contact our parents and siblings in various time zones (it took some serious FaceTime stalking), we both posted to our myriad accounts, breathed a sigh of relief and powered down our phones to enjoy the rest of our holiday. To be honest though, I did sneak in some Safari time to do a bit of deep bridal dive. It turns out there's more to do and think about besides staring at the newly placed accessory. With this in mind, I rounded up some things to remember after becoming betrothed. Besides, you know, celebrating with champagne at each and every mealtime.  
This may get overlooked in this ~digital~ age, but now is definitely the time to start making things a bit more special. First things first: after the proposal, make sure to share the news with your family and close friends—in person if possible. Second best, call them on the actual phone (no texting), before you even think about posting to Instagram, Facebook, Snapchat, whatever. Your well-thought-out social media announcement may be at the forefront of your mind (and I get it), but it's super important to tell at least your immediate family before blasting it out on Facebook to all your non-friends from high school. When my boyfriend and I got engaged we were many time zones away from our families back home in the USA—but we still waited through the night to get in touch with them before posting anything.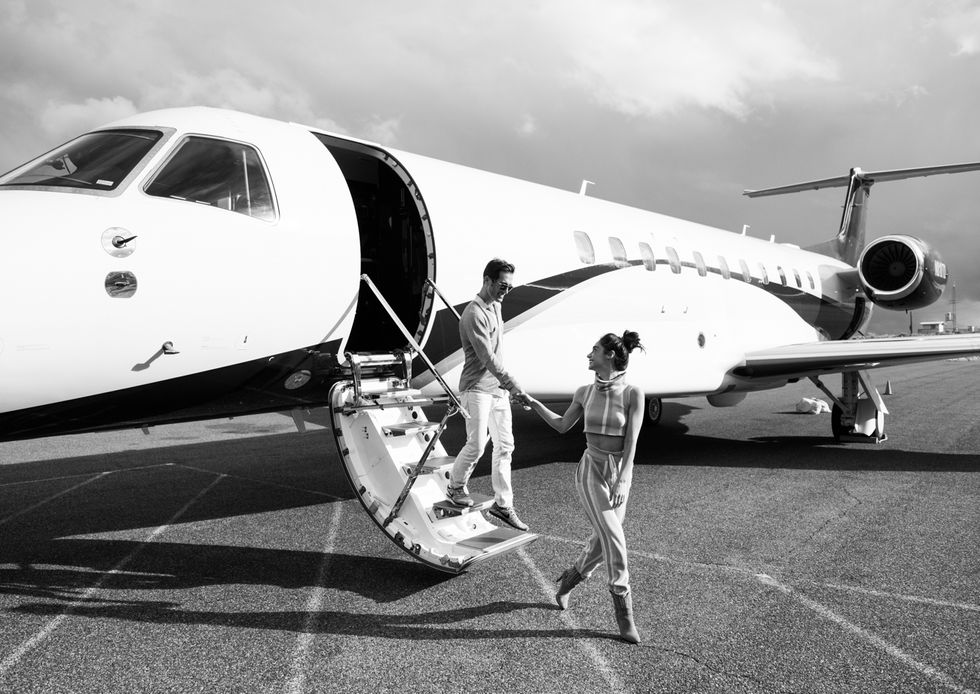 The fact that this is even a thing is kind of cringe-worthy, but alas welcome to generation overshare, guys. IMO, there's nothing worse than a context-free ring photo. So please, please remember: getting engaged is about a lot more than just that diamond sitting pretty on your hand (yeah, it's really pretty and I get that you're excited. I was, too). But an announcement photo op should be about you and the person you're marrying, not just your decorated left hand. If you really feel the need to share an up close and personal of the ring, leave that for subsequent posts and remember, a #humblebrag isn't really humble at all.
Or rather, tell everyone else to. Just putting it out there now: don't be afraid to tell your overly eager (it's not their fault) BFFs and aunts to relax. Even being 10,000 miles away, within days of getting engaged we were getting inquiries about where we were planning to wed and at which stores we were registered. Just a heads up: shit gets real. And fast. So take a hot minute to just enjoy your new status. You get to experience this period once (hopefully), but you'll be married forever (again, hopefully), so take time to appreciate it before delving into full-on bridezilla mode—or worse, letting your families take over.
And not for wedding things—at least just yet. This kind of goes hand-in-hand with the above :point_up_2:. Now's the time to coordinate a concrete time in yours and your significant other's calendars (in pen, not pencil) to go out for a nice meal (preferably with tons of wine) and just soak up being together. No wedding chat, no family chat, just you guys. Like old times, y'know?! I'm vowing to make this a monthly habit throughout the entire wedding planning process in support of my own sanity.
This is definitely the least sexy thing... but you're engaged now, so it's officially time to start acting like an IRL adult—if you weren't already. So make sure your ring is fully insured. And then double check. Because the last thing you want is to be constantly worrying amount the amount of money resting on one finger. Of course, you'll be super careful (and won't ever take it off to wash your hands in a public place), but life and shit happens, so better safe than sorry. It's a really easy process (like easier than renewing your license) and some homeowner and renter's insurance even let you file jewelry under that policy, so check with them first. And if you're reading this and still haven't insured your ring, shut down your damn laptop and get it done. Also on that note: purchase a separate ring holder and vow to always keep it there when you take it off at home.