Career
InStyle's Eric Wilson on rejection & the side of red carpet fashion you don't see.
Alicia Cesaro
In our minds, the very best kind of fashion coverage—whether it be a heart-stopping Tim Walker editorial or in-depth Business of Fashion long-read scrutinizing the nitty-gritty of the industry—is the kind that's able to maintain a very fine line. It offers a smart, nuanced perspective and reminds you why you chose the industry in the first place; all without sanitizing any of the glamour or shiny bits that are inherent to the whole thing. Something that walks the line between introspective and inspiring, or retains its fantasy while still refusing to be dumbed down.
With that spirit in mind, we can think of no one better to kick off the eve of fashion month than Eric Wilson, an industry veteran whose body of work to date embodies just that—the sort of capital "J" journalism that intellectualizes and completely turns upside down what could easily be another fluffy trend piece or celebrity profile. With a career that spans posts at WWD, The New York Times and now, InStyle, Wilson's seen it all—and we quizzed him on it accordingly.
---
ON KNOWING HE WANTED TO WORK IN MEDIA SINCE... FOREVER
"I grew up in West Virginia, and my grandfather published a very small newspaper there, called the Wirt County Journal. I was bitten by the media bug at an early age, and became a paper boy. I decided then that I wanted to come to New York and work in the media world."
ON CLIMBING THE RANKS; BOTH PAID & UNPAID
"I struggled my way through internships at local newspapers and managed to come to New York University, where one of the first things I did was call up Interview Magazine and ask for an internship. Fortunately enough, they were willing to let me work there for free, so I did that for more than a year of my college experience. I loved doing that. Out of college I took a full-time internship that did pay with New York Newsday, doing general [stuff], assignments, reporting. I got to try a lot of different things, from crime reporting to corrupt politics, to the tiny little bit of fashion that I did cover for News Day, which was the opening of Bryant Park venue for Fashion Week in '94. I remember how exciting that was."
ON BEING THROWN INTO THE TRENCHES & LOVING IT
"When I got to New York and did that internship at Interview, that just really showed me the fashion industry. I could also tell that something was really happening there at that moment, it was special. It was in the 1990s, when supermodels were roaming the earth, and designers were not yet parts of giant conglomerates. Competition was crazy. New York had lots of designers like Calvin Klein and Donna Karan, into the years when Marc Jacobs was ruling, Michael Kors... all those really great people were there, and it was this amazing creative moment when they were turning New York into a real fashion capital. Then, Helmut Lang came here and became something. It just kind of called to me, 'this is the story I want to be telling'. Of course, I loved clothes. It had lots of things that tied in with my other personal interests, be it celebrities or fashion or designers or the New York scene. I kind of fell into it." 
ON EXPERIENCING REJECTION (& HOW IT MADE HIM MORE PERSISTENT)
"About two years after I graduated from college, the internship had ended, and I applied for a job at Women's Wear Daily—but I didn't get it! They didn't like me. It was actually for a shampoo beat, and they didn't believe that I wanted to breathe and eat shampoo every day. So I had to take a boring job doing financial newsletters that I really didn't like. I wasn't cut out for it. I made it about 11 months there and I just kept calling Women's Wear Daily every month being like, 'hey, do you have an opening now? I like shampoo!' They finally gave me a job."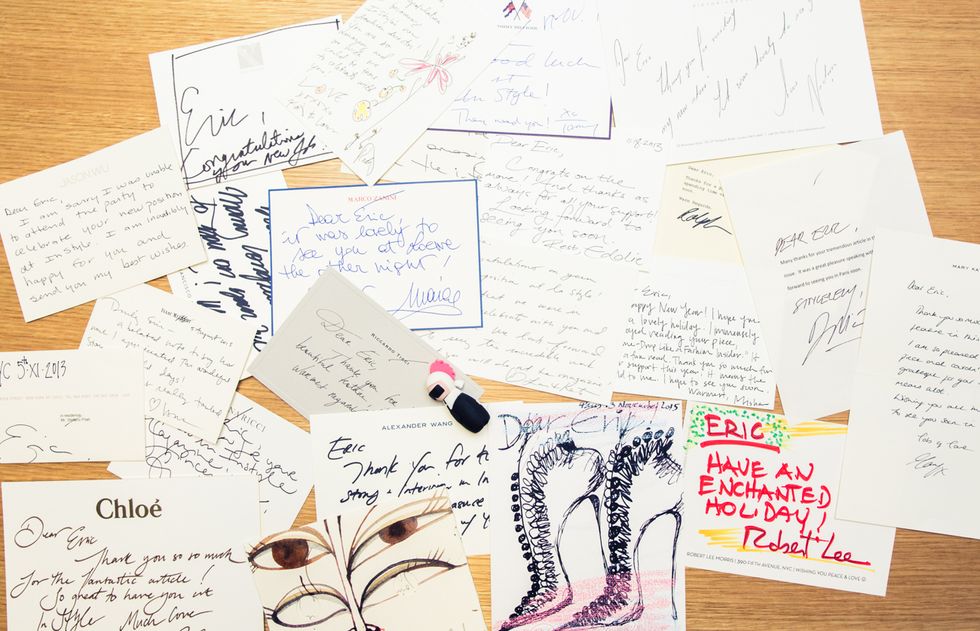 ON HIS FIRST BIG GIG AT WWD
"It happened to be the ready-to-wear beat, which is the perfect training ground for somebody who wants to cover fashion. I covered Oscar de la Renta, and I got to meet these people, spend lots of time with them. I probably interviewed those people [for the story] two or three times a month—this was before the Internet and the explosion of fashion week. Designers had the time to give those hours for even a tiny little story. I really got to know the business and the industry really well there. I worked there, [at WWD] for eight years, then I was at the New York Times, where I worked for nine years, and then I was brought to InStyle, where I've been for just over two years."
ON COVERING RED CARPET FASHION & STILL BEING A SERIOUS JOURNALIST
"I'm obsessed with red carpet fashion—I have been since forever—like the Oscars. I'm watching just for red carpet moments, and talking about it for days afterward. All the little details and work behind it. I still consider myself to be a serious journalist. InStyle has a long, 20-year history, bringing all kinds of interesting and serious approaches to celebrities and fashion, but there wasn't really that fashion industry analysis, or an explanation of what happens in the business of fashion and how that actually goes on to affect how people dress every day."
ON MOLDING HIS GIG AT INSTYLE (AND WHAT BEING A FANBOY HAS TO DO WITH IT)
"What's amazing about this job is that they let me figure out the things I want to be doing for the magazine. They gave me the chance to create a column in the magazine that addresses that every month. In addition to being a fanboy over celebrity red carpet things, I absolutely love doing the 'look' pages, where we go through and pick the best looks of the month and putting them together in ways you may not expect, so it's fresh. Four weeks later when it comes out in the magazine, I like to add a little newsy element to it too, picking up on the trends that came out on the runway and seeing how quickly celebrities have picked them up. The designer interviews have always been very insightful and more revealing than you might guess. I've also worked online. It's a synthesis of all the things I like doing. Sometimes there's so much stuff I like that it's hard to decide what to do."
ON HIS CAREER MENTORS
"At Women's Wear Daily, there was Arthur Friedman who was my editor when I started there—he was extremely patient and showed me the inside of the business. We covered things that I didn't even expect—things like the union negotiations, the status of manufacturing jobs in the city, so he really brought this incredible wealth of knowledge to me that I'll be forever grateful for. There was also Amy Spindler who I met at Women's Wear Daily and she was always very helpful in suggesting things to read, learning about who was legitimately an amazing designer or how to take advantage of a really flashy moment in a fashion story."
ON HOW HE STARTS HIS DAYS & DAILY READS
"Every day is a little different, but in the last year, I've been much more disciplined about going to the gym. Now my routine so far has been to get up and basically put on the outfit for the day, get on the Citi Bike and go straight to the gym. I work out, change there, and then head to the office. I get there pretty early. I'm also looking at the news. The first thing I scan through is the Women's Wear Daily PDF. I check Twitter, I check the Business of Fashion emails, and often I get up in the middle of the night and browse FashionREDEF between 3 and 5am, whenever I have my strange waking hour. The Times website to make sure I can know more of the news of the world, and also to see if there's anything that may have an actual impact on fashion, or fashion should be taking note of. It's nice to be in one space and actually have the time to read stories. The most exciting thing about the office is that I get to bike to work every day and it gives you that little jolt of energy to keep going."
ON HOW HE MAINTAINS A SENSE OF WORK-LIFE BALANCE
"There's a Pilates place on 14th Street called Flex Pilates that is great on the weekends, so I try to go to that. It's really good for something different than the usual gym routine, which can be a little bit boring. I also read a lot of books. I'm always reading something in the evenings when I get home. Usually I pick up a book and start reading a little bit before I turn the TV on, because you get sucked into it. I read lots of magazines. I love cooking on weekends—my favorite meal to cook would be some variation of oven-roasted chicken. There's lots of fresh produce upstate so everything is very fresh and exciting."
ON HIS FASHION MONTH ESSENTIALS
"I bring my little digital recorder, a small notebook—the smaller the better. I used to bring a fancy notebook around, but the sad truth is, I don't think anyone can possibly read my handwriting. I like to keep a small journal of trends I see developing. There's nothing more fun to me than doing a connect-the-dots piece, professionally. Six people suddenly show butterflies in a week, and you want to grab the designer really quickly and ask why. Then, I keep a spreadsheet of my notes from the collection and relevant words that might turn into a trend, so I can go back to and grab them."
ON NOT BEING AFRAID TO LOOK STUPID
"Something an editor said to me at Newsday is that, 'you need some adversity in your life.' I thought he was insulting me at the time, and it hurt my feelings in a strange way. It felt like some sort of challenge. But then life happens, and you go through all kinds of challenges. It makes you a stronger person. So, not to be afraid of it and face adversity. Don't go coasting through life making things easy for yourself. I would personally say 'don't be afraid to look stupid.' It makes people remember you."
ON HIS ADVICE FOR ANYONE ASPIRING TO WORK IN FASHION OR MEDIA (LISTEN UP!)
"[For them to] be truthful with themselves. I understand the excitement about it—finding an opportunity and you just talk yourself into any job. But you have to ask yourself, 'is that really what I want to do, is that what I'm good at?' Maybe it's not. 
It's okay to try it, and fail, but some people just get so excited about the idea of fashion, the celebrities in the business and the personalities, that you talk yourself into going and doing it, and it turns out that maybe you're not cut out for it, or it's not where your skill set is. Maybe you're too sensitive, maybe you're going to be miserable, but you keep doing it and you just make yourself unhappy. Make sure you are having a good time, with stuff that you're really passionate about and love. 
Once in awhile, it happens with magazines and newspapers where an intern comes and leaves after a day and you're all shocked. But, it's probably the right choice for them. Why waste their time, why waste other people's time, why be unhappy? It's a tough world and we all have to deal a lot with adversity, but if you can't find a reason to be excited about your work, you're probably doing the wrong thing."