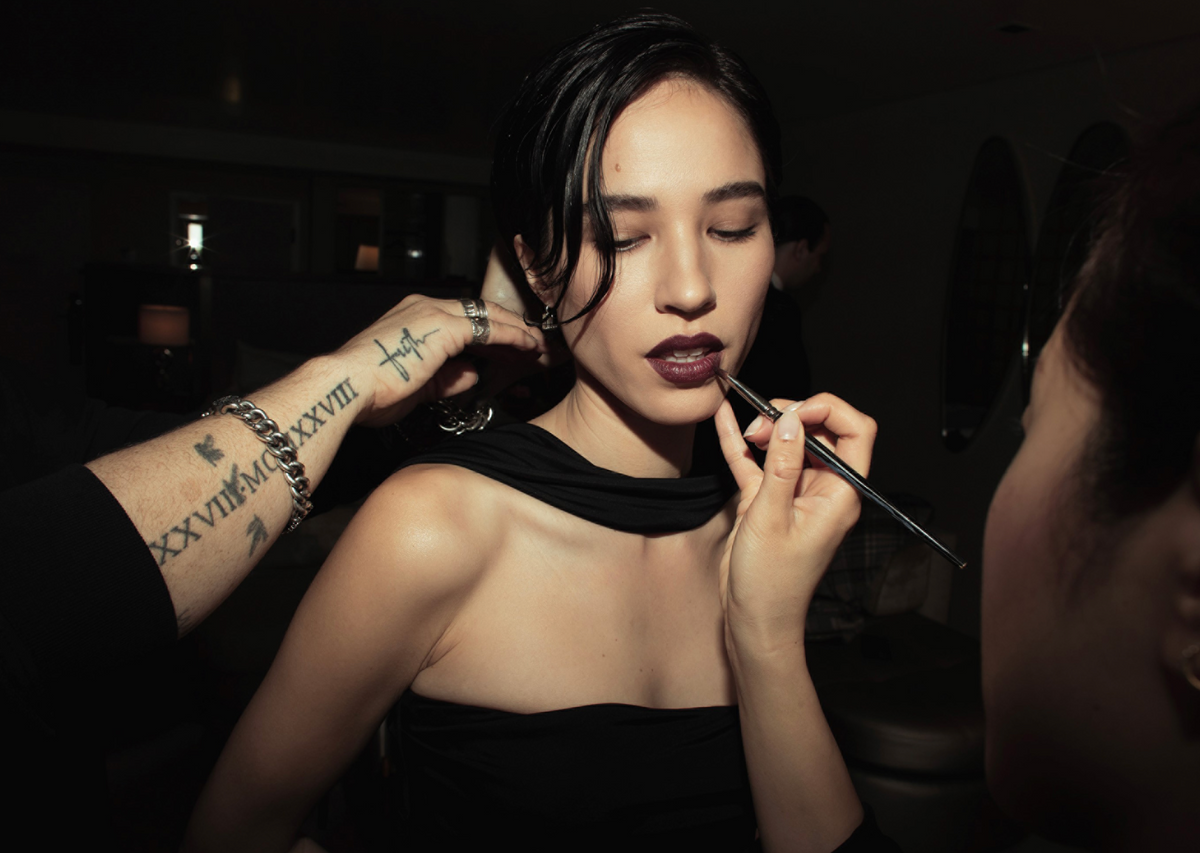 Photo Courtesy: YSL Beauty
Makeup
The Ultimate Guide to Nailing a Bold Lip
Makeup artist Emily Cheng shares all the details behind Kelsey Asbille's beauty look for the Critics Choice Awards.
On Sunday night, Yellowstone actress Kelsey Asbille walked the Critics Choice Awards red carpet in a black, skin-cloying Saint Laurent dress whose hem skimmed across the red carpet but all eyes were on her stunning, bordeaux-toned lip. Her gown was the starting point for the makeup inspiration behind the look. "We got the look last week [and] everyone unanimously had a bold, deep lip instinct," says makeup artist Emily Cheng. The goal was to go beyond the traditional red carpet look and create "an effortless yet edgy feel to the makeup," adds Cheng. To do this, Cheng focused on creating soft depth across Asbille's face to allow the lips to be the focal point of her face. There was also an emphasis on imperfection, something that's rare in Hollywood, especially when it comes to award shows. "We decided to not fully conceal under eye darkness to preserve some of that natural shadow to add to the overall effortless feel of the makeup," says Cheng.
Whether you're walking down a red carpet or heading out for the night with friends, a bold lip remains a classic makeup look for a reason. The only downside is the multiple reapplications that are typically required throughout the day. However, this scenario can be averted with a little prep work and a makeup-artist-approved formula. Below, we spoke with Cheng about exactly how she created this striking look for Asbille's, the best long-wear lipstick, and how to recreate a long-lasting lip at home.
Actress Kelsey Asbille at The London Hotel in West Hollywood, California.
Photo Courtesy: YSL Beauty.
Line and Fill
"Whenever I am creating a bold colored lip, I do it in layers so there is dimension and ultimate long wear," says Cheng. For best results, use a lip liner in a similar shade before applying lipstick.To keep the color from fading, Cheng gently buffed YSL Beauty Crushliner in Brun Universal all over Asbille's lip and along the lip line to add definition and create shape.
YSL Beauty
Apply and Blot
After applying lip liner, Cheng swiped on three layers of YSL Beauty The Bold High Pigment Lipstick. In between each layer, she blotted the lips with a tissue to lock in color. Blotting helps to remove excess oil and color from the lips so you're left with the color that has stained your lips, increasing the longevity of the lipstick. Finally, Cheng took YSL Beauty Rouge Volupté Candy Glaze Lip Gloss Stick in Burgundy Temptation and patted it over top to "lock in moisture, creating a rich saturated color."
YSL Beauty
YSL Beauty
Keep the Base Natural
Cheng recommends keeping the rest of the face simple and clean to give the classic bold lip a fresh and modern take. "Apply your shade match of All Hours Foundation starting out of the center of the face and blend outward," says Cheng. "Follow with one or two shades deeper in All Hours [Foundation] and apply it on the edges of the face, jawline, and hairline to create a soft halo dimension. Next, dab on a little bit of Touche Éclat to color correct and brighten. "We decided to not fully conceal under eye darkness to preserve some of that natural shadow to add to the overall effortless feel of the makeup," says Cheng.
YSL Beauty
YSL Beauty
The final look.
Photo Courtesy: YSL Beauty
Softly Define the Eyes
Cheng applied Crushliner in Noir Intense smudged in between the lashes to fill in the lash line before applying Crushliner in Brun Universal right above the upper lash line to create soft and blurred definition. "This method is [called] halo-ing the eyes," says Cheng. Then to finish off the look, she swiped on two layers of Lash Clash Mascara in Black onto the top lashes. For a more dramatic look, Cheng applied a third coat on the outer edge of the lashes "to further accentuate [an] elongated shape."
YSL Beauty