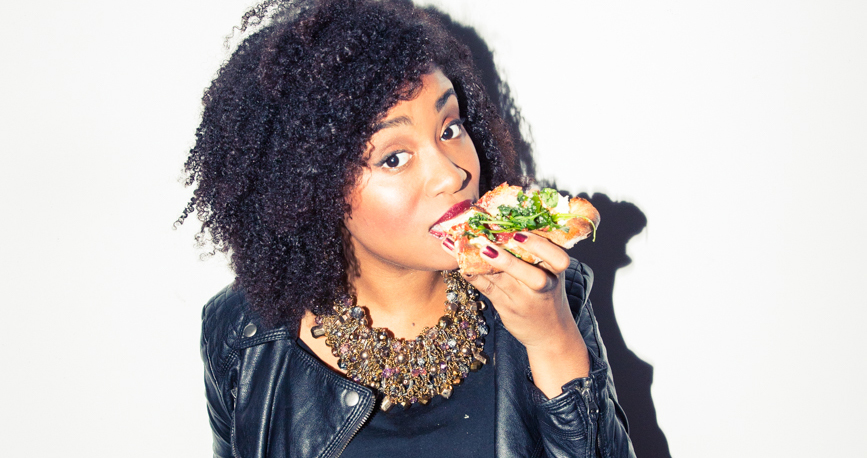 These Are The Best Long-Wear Lipsticks
As road tested during a truly epic date with @h0tgirlseatingpizza.
If we're being totally honest, besides converting our closets to a minimum 60% ratio of Acne and Céline, there are two steadfast things we really care about in life: lipstick and pizza. Actually though. The questions we most frequently ask Coveteurs (and strangers on the street), include what lipstick shade they are wearing, followed closely by a query about their favorite pizza spot in the city. Because even if you've had the workday to top all workdays, you know those two are ready in the wings to lift your spirits. If there's a lipstick index that defies any socioeconomic situation, there's also a pizza one. Because recession or not, everyone loves a good pie.
Which is all basically how we found ourselves at G.G.'s Pizza in the East Village with Marta Freedman, the genius (and kindred spirit) behind @h0tgirlseatingpizza, and these babes (:point_down:) road testing all the best long-wear lipstick formulas. Because if you can make it through slices of burrata and prosciutto without a reapplication swipe—or worse feeling like it's all over your face—then you know it's a good one. So behold, their reviews and favorite formulas in an array of shades to try out next time you need something that will last past a glass of Pinot (so, like, everyday?).  
— Lipstick breakdown —
"I wore Kat Von D Studded Kiss in Coven—it is moisturizing but also dries matte. It held up pretty well, but the color wasn't as vibrant by the time I got to crust so I did reapply."
— Favorite lipstick color? —
"Coven has actually been my signature color for a few months. It's a pastel purple that somehow makes me feel more confident when I'm wearing it."
— Favorite pizza in New York City —
"I have a rotation. For slices: Best Pizza, Joe's, Two Boots. For pies.. GG's, Emily, Motorino... I can go on and on!"
— If you could only pick one… —
"I never get sick of Roberta's—it's so hard to pick one pizza place though!"
— Favorite toppings? —
"I don't love mushrooms, but I really like truffle oil. Burrata is also essential."
— Which lipstick is always in your bag? —
"Usually one of the aforementioned lipsticks—a red, a pink and a fun color!"
"My favorite long-wear lipstick brand would be Nars or Nudus. I love all the matte reds/browns, especially the one I wore for this shoot as they last longer and don't move so much if used with a lip liner—that is the trick. I also like how you can layer dark lipsticks to make different shades so if I'm going for a daytime look I use my finger to lightly press the lipstick on my lips to even out my natural lip color. If I want to go darker for the evening I'll use the same lipstick but just apply it on my lips with the lipstick tube itself!"
"My go-to shade is Bauhaus by Kat Von D. The liquid is a little drying at first, but that also helps it stay put all day, so adding a little Vaseline once it's dry seals it in and helps prevent the cracked desert mouth look that no one is ever going for."
"I chose Bette by Nars for the shoot. I have a few really great shades from Nars and I also love how they make your lips look professionally done without the necessity of a lip liner. I usually go for pinker shades, but I was feeling dark and mysterious for some inexplicable reason and it jumped out at me. Also, I wasn't sure if it was pronounced "Betty" like Bette Davis or "Bette" like Bette Middler, and that conundrum intrigued me enough to put it on my face. I'd say it wore pretty well through the pizza and drinks, but would have worn better if I didn't scrum on pizza like a marinara-crazed maniac."
"Usually my #1 go-to is Nars. I am obsessed with their lip crayons, but I've been super into the pure matte lipstick in shade 413 BLKR. My #2 would be Make Up For Ever's Rouge Artist Intense in #28. Both are the warmest yummiest shade of brown and the wearability is awesome, I can eat, drink and even kiss, without constantly having to reapply!"
"The two lipsticks I wore for the shoot (which I also have not stopped wearing since, they are totally incredible!) are both Charlotte Tilbury. I wore the shades Bond Girl and Birkin Brown together and not only did they wear incredibly well while I ate and drank, but I only had to reapply once!"
— The Favorites —
1. Charlotte Tilbury Amazing Grace
2. Kat Von D Studded Kiss Coven
3. Nars Bette
4. Charlotte Tilbury Bond Girl (mixed with Birkin Brown)