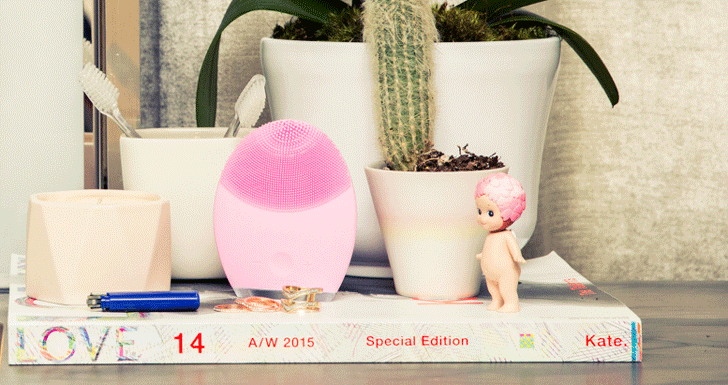 Skin
Vibrating sea anemone or game-changing cleansing device? We investigate.
When it comes to skincare, it's all too easy to slide into a groove once you find something that works for you. And while that's all good and fine,when new concerns (ahem, WTF, wrinkles?) start cropping up, it's time for a change. Which brings us to this week's resolutions: introduce new, science-y, clinically-informed skincare solutions that can go toe-to-toe with professional procedures and treatments, into Team TC's beauty routines with a little help from our friends at Sephora. Here goes nothin'!
---
— Meet —
Kelly McLeod
Analytics & Ecommerce Manager
"My current beauty routine is pretty basic, TBH. I splash my face with cold water in the morning, and wash my face at night with whatever cleanser I have lying around—just preferably one that does double duty and removes make-up, too. I moisturize like crazy and exfoliate once a week... when I remember. 
My skin usually verges on the "sensitive" side of normal, and by that, I mean it gets red and irritated really easily, so I've stayed away from any high-tech devices for fear of blotchy face syndrome. BUT, when I tried the Foreo LUNA 2, I was pleasantly surprised. Well, at first, I was actually a little intimidated by it—it's basically a vibrating sea anemone that's actually a super high-tech cleansing device, but it was really easy to use.
"It's basically a vibrating sea anemone that's actually a super high-tech cleansing device, but it was really easy to use."
I charged it up by plugging it into my laptop while working in bed (crazy, I know) and just applied my usual cleanser to my face, wet the LUNA, and ran it over my skin for 60 seconds. It wasn't harsh or stiff the way I thought it might have been, thanks to the itty-bitty silicone touch-points that vibrate, rather than scrub. You can also control the intensity of the vibrations, too.
It exfoliated away all of my flaky winter skin and didn't irritate my face whatsoever (crisis averted). After I rinsed, I ran the reverse side, which has thin ridges designed to smooth fine lines over my still-wet face, especially around my forehead and under eye area. I didn't exactly notice anything disappear before my eyes, but my skin felt firmer and my moisturizer soaked in really well. I also appreciated the fact that the LUNA 2 is waterproof, so you don't electrocute yourself in the tub or shower :thumbsup:. The end result: squeaky clean, baby soft skin.
FOREO'S LUNA 2
vs.
A Traditional Deep Cleansing Facial
— COST —
$200-$800 monthly vs. $199
— PAIN —
1-2 versus 0
— DOWNTIME —
1-2 hours versus None
— REDNESS —
4-5 versus None