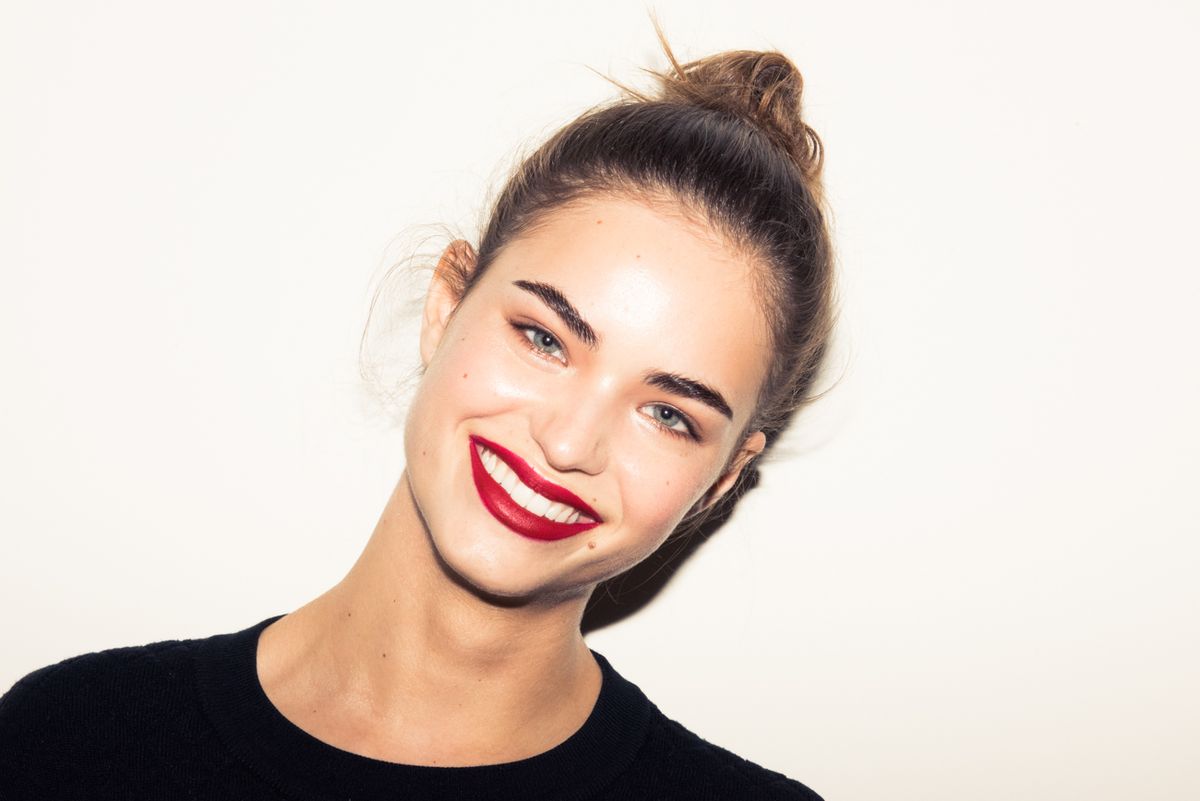 Makeup
According to Sir John Barnett, who does the technique on the regular for Chrissy Teigen & Karlie Kloss.
"I was in L.A. and we shot Beyoncé for a shoot, and this was like the exact look we did." This is Sir John Barnett chatting to us in a suite at the New York Edition as he executes the perfect strobing technique on a model from The Society Management. Everyone paying attention now? 
---
We're guessing that by this point, if you so much as follow a Kardashian on Instagram, you've heard of strobing, which, as the makeup artist tells us, is pretty much the same as highlighting—like contouring but without the scary war paint-like before picture. It's that healthy, glowy, no-makeup makeup look you've seen on every other runway and Calvin Klein campaign—a.k.a. the perfect effortless, non-basic New Year's Eve look (how handy!). "This isn't so much of a 'look,' as it is a staple," Sir John declared. In that case, we'd better get to learning.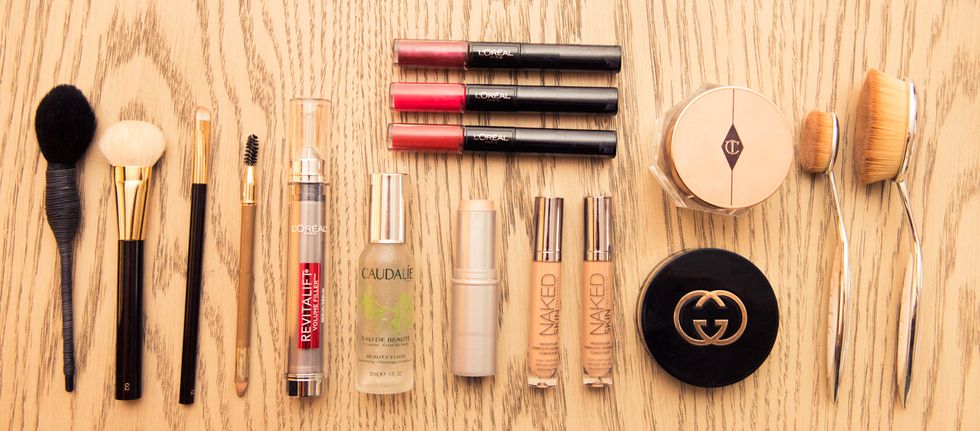 L'Oréal Paris Infallible Pro-Matte Gloss in Shanghai Scarlett
L'Oréal Paris True Match Lumi Cushion Foundation
L'Oréal Paris True Match Lumi Liquid Illuminator in Rose
L'Oréal Paris Voluminous Superstar Mascara
L'Oréal Paris La Palette Nude
RMS Beauty "Un" Cover-Up
RMS Beauty Living Luminizer
1. "If you want to make sure that your skin is super luminous or glow-y, have an anti-inflammatory diet. Get rid of or keep at bay refined sugars and salt intake—all that stuff that draws water: it makes you puffier and you lose all the natural contouring in your face. Anything that has an inflammatory property is definitely damaging for your skin. An anti-inflammatory diet includes juicing and things like kale. Kale is great because it increases circulation, which has everything to do with dark circles or sluggish complexion. And beta-carotene—carrots or anything with orange or yellow coloring. Jump rope or do anything that elevates your heart rate for at least thirty minutes a day—what that does is it increases circulation and cell turnover as well. It's a really good way to energize your complexion or skin. And then you want to go into exfoliating or using some kind of chemical exfoliator—glycolic peels or some kind of fruit enzyme. I like to use REN from Sephora."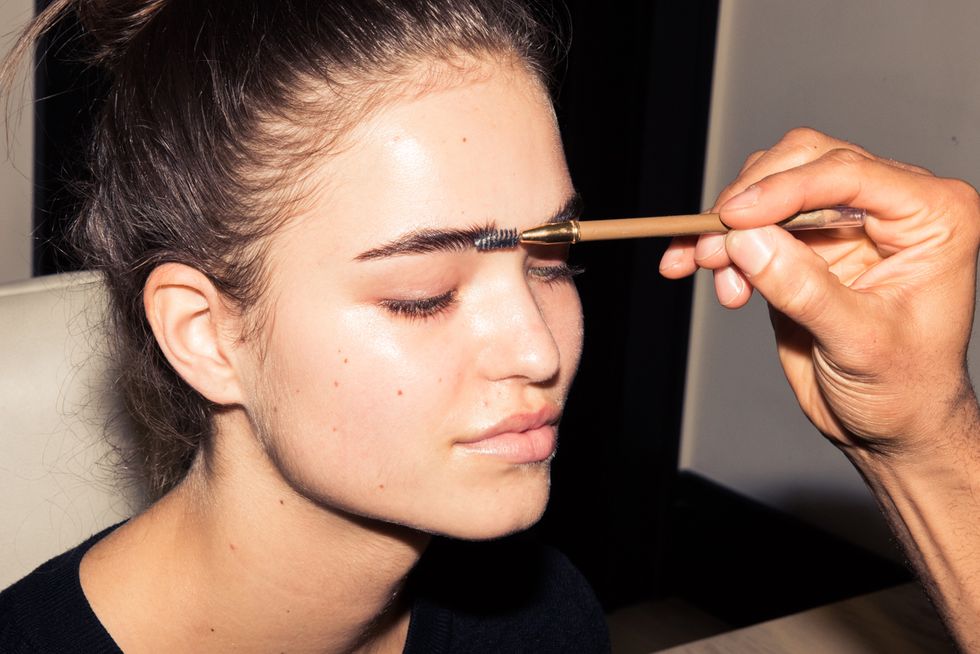 2. "Use a very sheer amount of foundation and concealer. Then give yourself spot treatment where you need it. No one has perfect skin, so we all need a little bit of love from time to time. Use a very sheer tinted moisturizer mixed with a little bit of moisturizer on slightly damp skin, which will allow the foundation goes on easier. The goal is not to have anything masking your skin—winter or summer. Use a concealer that is lighter than your complexion very minimally. I like to use concealer to highlight and strobe as well.
When you're buying foundation, buy a color that's a little more yellow than pink. Anytime you have a yellow or olive foundation, it neutralizes the redness. But when you're looking for concealer to cover dark circles, you want a pink undertone because it will cancel out any blue under the eye."
3. "Brows add contrast to the face and give youthful, luminous skin. As we get older, we lose that contrast that brows give us. For a quick youthful pick me up, either tint the brows or make them a bit deeper. Use a pencil, which are great because they give you a nice definition. I also like to set them with a powder sometimes, too, so that they don't look too waxy. You can have these brows on at breakfast and they're gone by lunch if you have oily skin, so it's good to go in there with a powder."
4. "I like to do sculpting before highlighting. One accompanies the other—you need the contrast of low lighting. A good rule of thumb is whenever you're going to contour or sculpt is to use a cooler color. You can't get a sense of depth with a warm color. A lot of people will contour with bronzer, but you won't get that depth that you will with a gray—like a taupe, matte blush. And since it's matte it's going to absorb light not reflect it. Sculpt the temples, the forehead, the sockets of the cheekbones, the sockets of the eyes, underneath the jaw line, and the sides of the nose. Take a little bit of taupe and sculpting the lip."
5. "Take a little bit of powder, just something translucent and super sheer, and matte down the t-zone just a little bit. Under the eyes to set your concealer, use a loose powder. If you use pressed powder on the eyes, it's going to weigh your eyes down and even if you're twenty-five, you're going to look like you're fifty-five."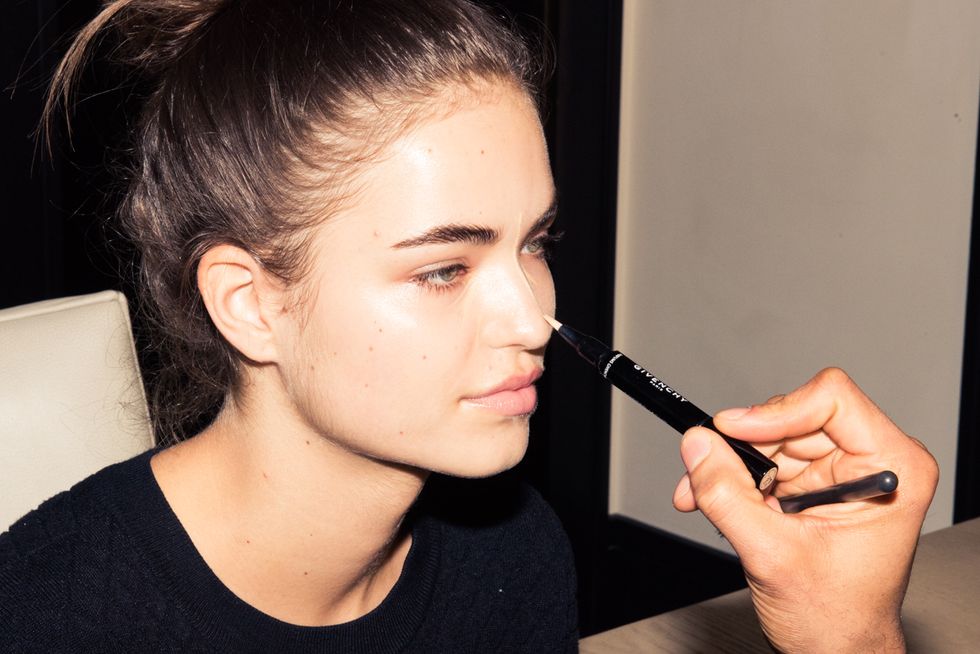 6. "For strobing, use your ring finger. The ring finger is the weakest finger, so it's going to pick up the lease amount of product. The index finger is where we naturally feel comfortable, but it's too aggressive—it picks up too much product, and it's too hard around the eyes. Highlight on the high planes of the cheekbone. Keep shimmer away from the front of the face. Even if I had a shimmery blush, never do shimmer on the front, only on the sides, otherwise it starts to look oily. It doesn't look like a glow; it just looks greasy. I like cream highlighters because they look more organic on the skin. If you use a powder highlighter it looks chunky or you can see particles and it doesn't photograph well. Creams are really good because as soon as you go and put them on your face, the texture changes.
If you're really fair, your highlighter should be silvery or rose gold. If you have a medium to olive complexion, you can use gold. And if you're darker, like from Kerry Washington to Lupita, use only gold or bronze."
7. "Also apply blend highlighter right down the center of the nose, between the eyes, and in the middle of the forehead, as well as on the Cupid's bow and bottom of your lips and chin."
8. "For blush, when you smile, wherever you have the most volume on the cheeks is where your apples are, and that's where you should apply blush. Put blush in the middle of the highlight and lowlight."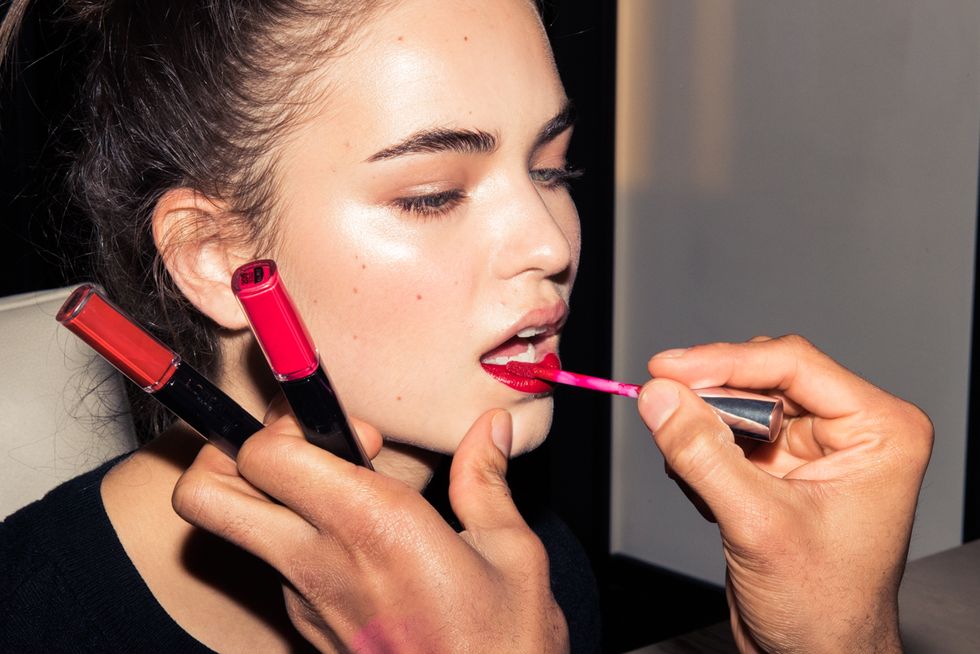 9. "For lips, do a light reflective lip with just tinted lip balm and lipstick. Or you can totally throw it off and do a matte red."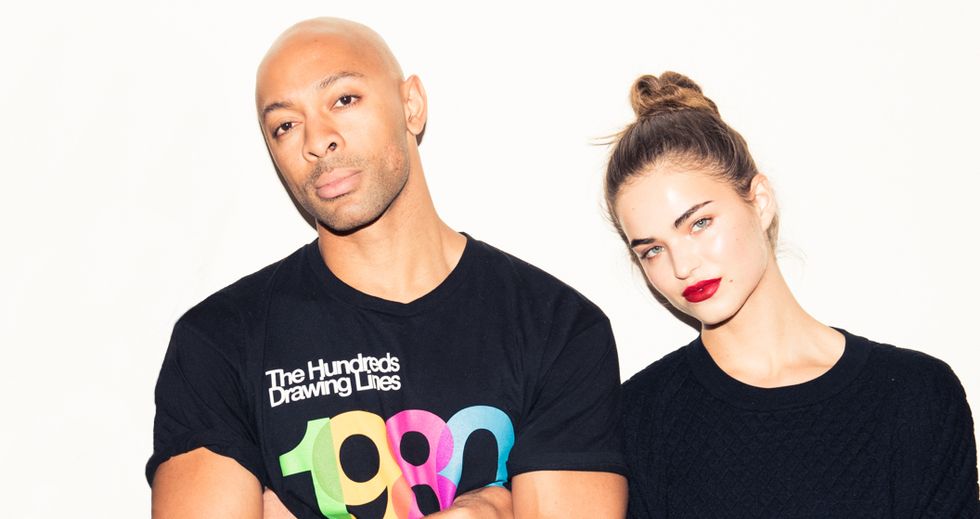 If you're as obsessed with Sir John as we are (and if you're not, you should be, so, like get on it already), check out his closet and his favorite holiday beauty look, which we'll be honest, is among our personal #goals for NYE.