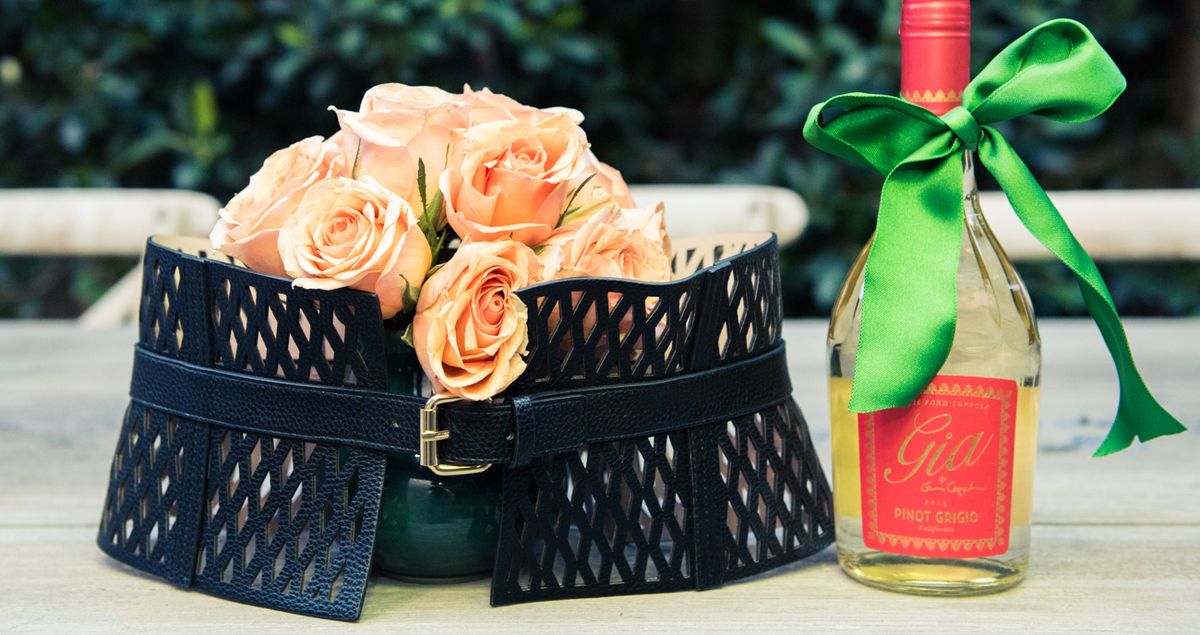 Fashion
Do like Jacqui Getty and get out of dodge. In collaboration with BCBGMAXAZRIA.
It's the most wonderful time of year… to get away. Seriously, though. Being home for the holidays is all well and good. But what if, instead of being cooped up in your childhood home with nothing but eggnog and your 15-year-old cat for company, you could pack up Mom, Dad, Great Aunt Irene and everyone else that makes up your holiday dinner table and jet off for a week in the sun? Well, if you're Jacqui Getty, you can. And do. You fly to Morocco with the whole clan (which, admittedly, is a far cry from ours in terms of both general glamor and Hollywood power rankings), for a week in Marrakesh. Yeah, we'd take it.
But since we will actually be home with Mom, Dad and the cat, we decided to do the second best thing and head over to Getty's rambling Hollywood Hills home for a little packing party complete with glasses of her daughter Gia's namesake wine (yes, that would be Coppola). Of course, the stylist and producer's North African adventure isn't the only thing that separates her from us (her Hollywood connections run so deep that Tom Ford borrowed her jewelry for Julianne Moore's A Single Man character). For one thing, there was her vintage Goyard suitcase filled with an entire resort collection's worth of BCBGMAXAZRIA, which looks to have been made with Getty's trip in mind (we honestly wouldn't put it past her influence). So while she folded and packed her printed pajama pants and embroidered dresses, we asked her for her myriad packing tips. We're using them for our trip home just for the illusion that we're joining Getty at the casbah.
---
Take the whole family with you (but take some time for yourself, too)
"I'm going to Morocco with my family. My family is so much about spending a lot of time together. We'll be having all sorts of dinners in different places; it's never the obvious with him. And they're very much into the culture, the art, so we're going to absorb a lot of that. And then I'm going to sneak out when I can and do some shopping and send a crate back of pillows, blankets and lots of rugs. But, a lot of presents are coming with me because I'm a big Christmas shopper."
Don't forget about presents
"I send a lot of presents to my friends. This year, a lot of people are going to get my friend Derek Blasberg's book, Bizarre Models. And a lot of people are going to get my daughter's wine, called Gia. There's a funny thing that I found, too, a stocking stuffer and it's called the Damnit Doll. It's this little doll I found on Amazon and when you get mad you can hit it—it looks like a voodoo doll—when you're mad when you're waiting in line at the airport. I also love the Polaroid cameras with the new film. And I'm going to get all my little nieces and nephews amazing costumes. Every year I buy them new costumes for their costume boxes. I think my family will get a lot of books this year because otherwise it's hard to pack. The presents are going to go in completely separate bag and they'll already be wrapped—probably a duffle bag."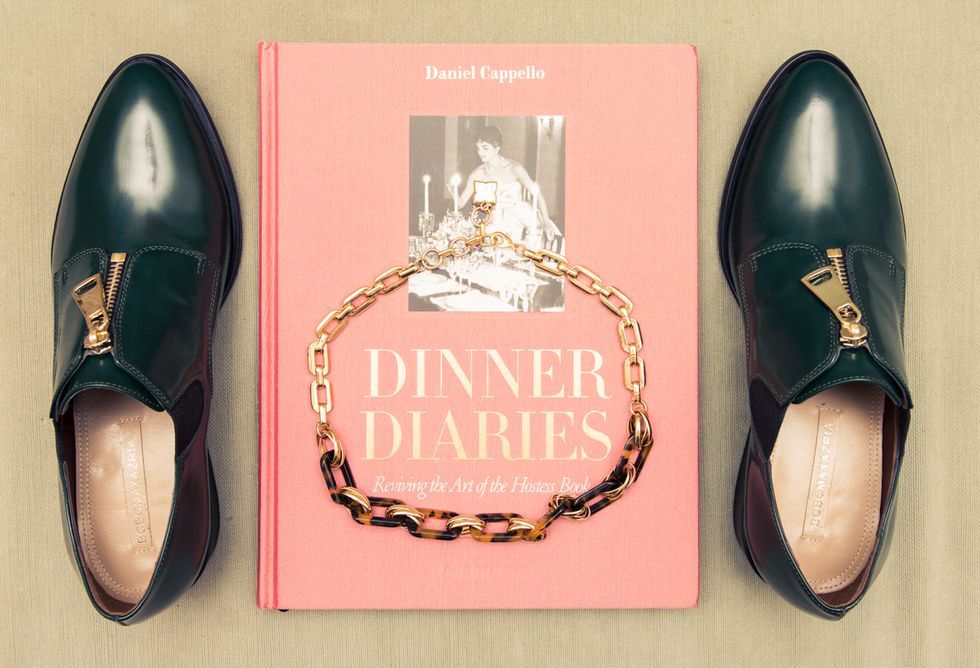 Pack according to destination
"We're going to Morocco, so you need to take color. I'm really excited about what I packed this year. Sometimes you can't get it right, and this year I know I got it right. I really decide ahead of time what I'm going to bring. For Morocco, you want to experience it with your clothes as well as your family. I do a little shopping and take some new things with me always. And then there's those great basics that I take. I live in sandals because I'm 5'9"—I'm not too much into heels. I'll take a few sandals and ballet slippers for the house. I take one pump—just one, I don't take a ton. I like dresses and pajama pants are very Marrakesh. I bring one clutch and one casual bag I can throw on. I carry my Birkin or Roman Coppola's new Pacific Tote Company bag on the plane—it's surfer-style canvas. I can throw my books and my computer in there. I like color when I travel."
Never put your jewelry in your bag
"I fold my stuff very carefully. These little Hermès bags come with me—my underwear goes in one, my bras go in one. Toiletries have their own case that gets shoved on the side. When you're packing your toiletries, make sure the caps are really on tight because the air pressure opens the caps and then everything goes on the clothes and you can't have that. My jewelry I carry on me always. Never put that in your bag. I always wear this one pair of diamond earrings—I wear them to the gym, to evening black tie events, to dinners, to shorts and t-shirts at the beach in Malibu. My Bulgari watch I always wear—it's my favorite thing. And I love bracelets and rings. And you just wear it all together with everything. All of this is consistent with my look."
Scent your luggage
"When I'm packing I always use this spray, Green Grab—it's my favorite thing. It's not bad for the environment. It's a house spray, but I spray it on all my fabrics and sheets, in all my clothes before I leave in my suitcase. It goes through the airport and picks up smells underneath the plane, so when I unzip I spray it. It's very similar to the scent that I wear, which is Egyptian musk. I like everything to smell clean. When I get there, I spread my bed, too."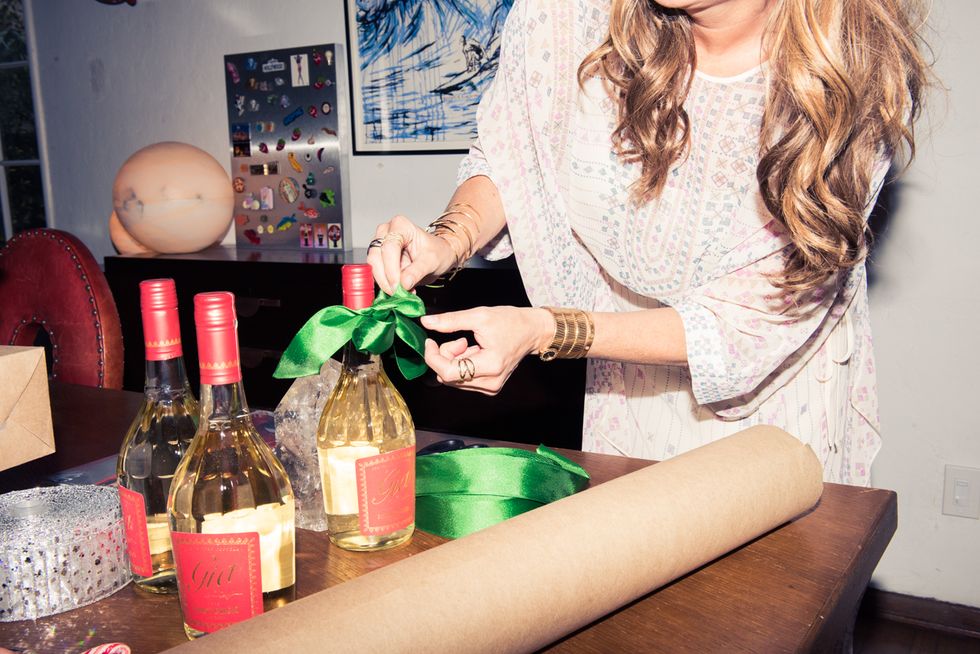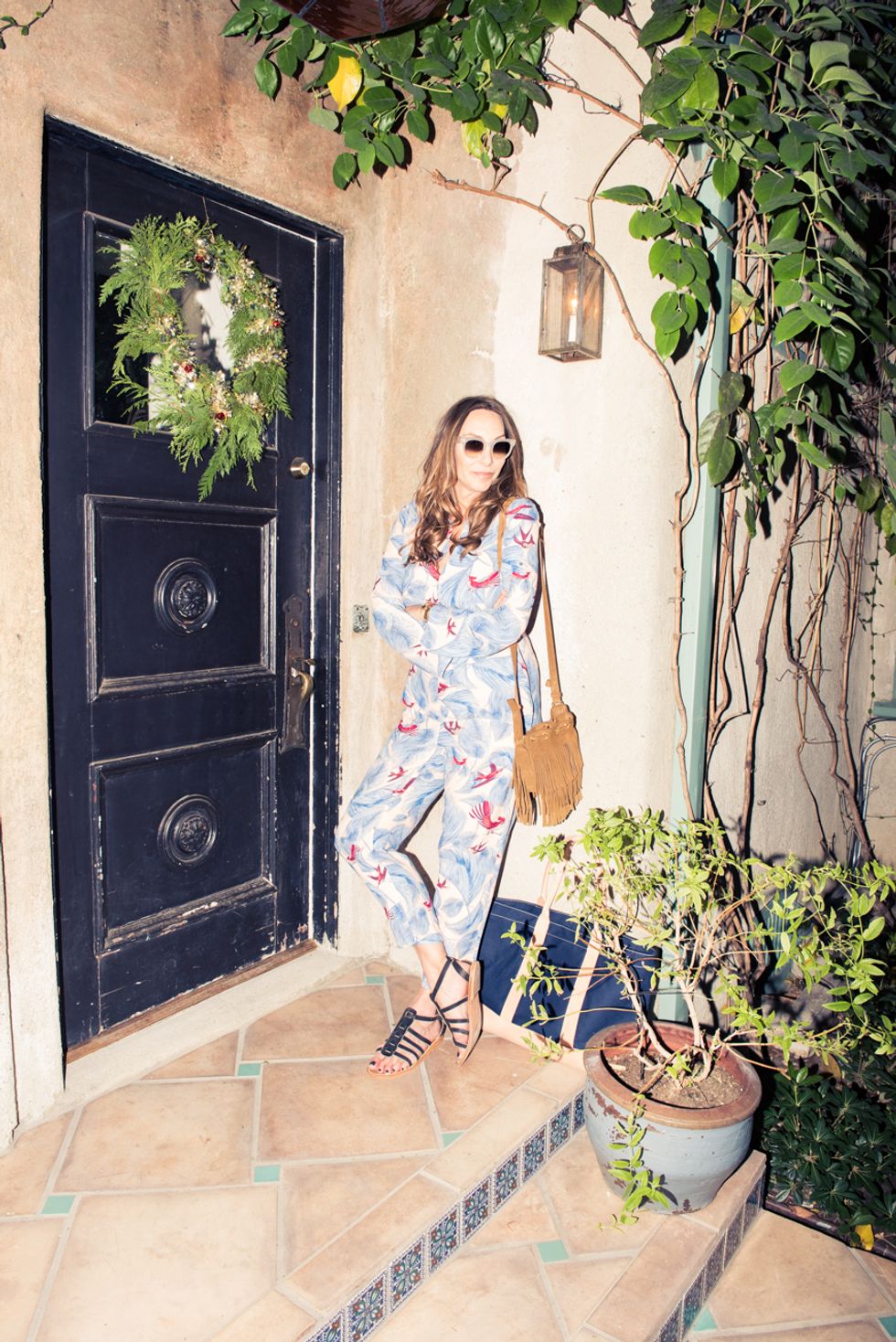 Bring the extra things that will make you feel at home
"I always pack my crystals so I can meditate with them. I pack a lot of books—I'm a big reader. I am bringing Lonely Doll—I'm rereading it. I'm going to bring the new Joan Didion biography. And the I'd like to read Purity [by Jonathan Franzen]. I also like self-help and spiritual books. When you're away and in a beautiful place I think you can center yourself—I think it's important to have spiritual reading when you go anyway because you have to always keep that with you no matter where you go. I also bring a candle—I'm using the Dyptique Santal candle. I'm a gypsy. In my bag, is my home, so wherever I put my bag is my home instead of my hat."
Get away so that you can actually relax

"I just love being with my family—that's what Christmas is about. And my daughter is born on New Years Eve, so we'll have her birthday together with the family, which is really special. I love going on adventures, learning something new and absorbing things and being in the culture. Los Angeles is pretty tough from October 1st to Christmas Day—it gets really busy with so many things going on that I can't wait to just be with my family. It's something you don't have to do, it's something you want to do. In LA you have to take your mind out of your environment sometimes and come back to you. You can get into such an energy whirlwind here if you don't focus back in."