Living
Wherein we pass the mic to some honorary "editors." In collaboration with Vince.
Sometimes we get tired of hearing ourselves talk. We mean, it's not to say that we don't have plenty to say (there's a lot of opinions to be heard within the walls of TC HQ), but we can also recognize that it might be nice to hear a slightly fresher point of view. Especially when, rather than hibernating in our parents' basement as is our winter escape plan, we're passing the proverbial editor mic to some friends who have slightly more exciting things to talk about. Like chef Sam Talbot, actress Jamie Chung, and our very own co-founders, Jake Rosenberg and Stephanie Mark, all of whom have two things in common. 1) They're all embarking on truly envy-inducing vacations in the next few months (win your own fantasy trip here!). And 2), they share a natural affinity towards Vince's dreamy cashmere, leather accented outerwear and easy essentials. As we said, we're not one's to give up our soapboxes easily, but with this crew, it kind of seemed worth it.
---
Jake Rosenberg
Co-founder, Creative Director & Photographer, The Coveteur
Destination: Kulm Hotel St. Moritz, Switzerland
"I like to spend my escapes with my family—that's what makes it special no matter where we end up. The first thing we'll do when we arrive in St. Moritz is hit the slopes! Being comfortable is always important and nothing is better then some cozy sweater and sweatpants on a ski trip during the day when on the slopes and especially relaxing by the fire at night! I'll also bring headphones, my camera, sunglasses, an electric toothbrush and have a solid playlist to listen to."
Stephanie Mark
Co-founder & Marketing Director, The Coveteur
Destination: The St. Regis Aspen, Colorado
"I've never been to Aspen before, but have only heard the most amazing things. Upon arrival, I'll check into my hotel, get into my robe and order room service—in that order. I love all of these pieces. They are perfect for a chic weekend getaway. I'll be able to mix them with other pieces, dress them up or down and curl up by the fire. They are so versatile. Along with these staples, I'll also bring chargers, travel candles, face masks for after flights, healthy snacks and magazines."
Destination: Como Shambhala Estate, Indonesia
"Bali is all about the great surf, wonderful people and beautiful shrines. That and being submerged into Indonesian culture is why I'm going to Bali. My Vince t-shirts and shoes are essentially my uniform—they are what I put on daily. The tees are form fitting and breathable and I wear them on the boat, beach or in the kitchen. They look great and are lightweight. My Vince shoes are great for travel, too! I'll bring my all black high tops with white soles, my low tops and my leather boots just in case I need to step up my game while on the road. I always travel with my sunnies, my utility knife, Maui Babe suntan lotion (the best ever), and loads of free space on my memory card for my camera—I can't leave home without these."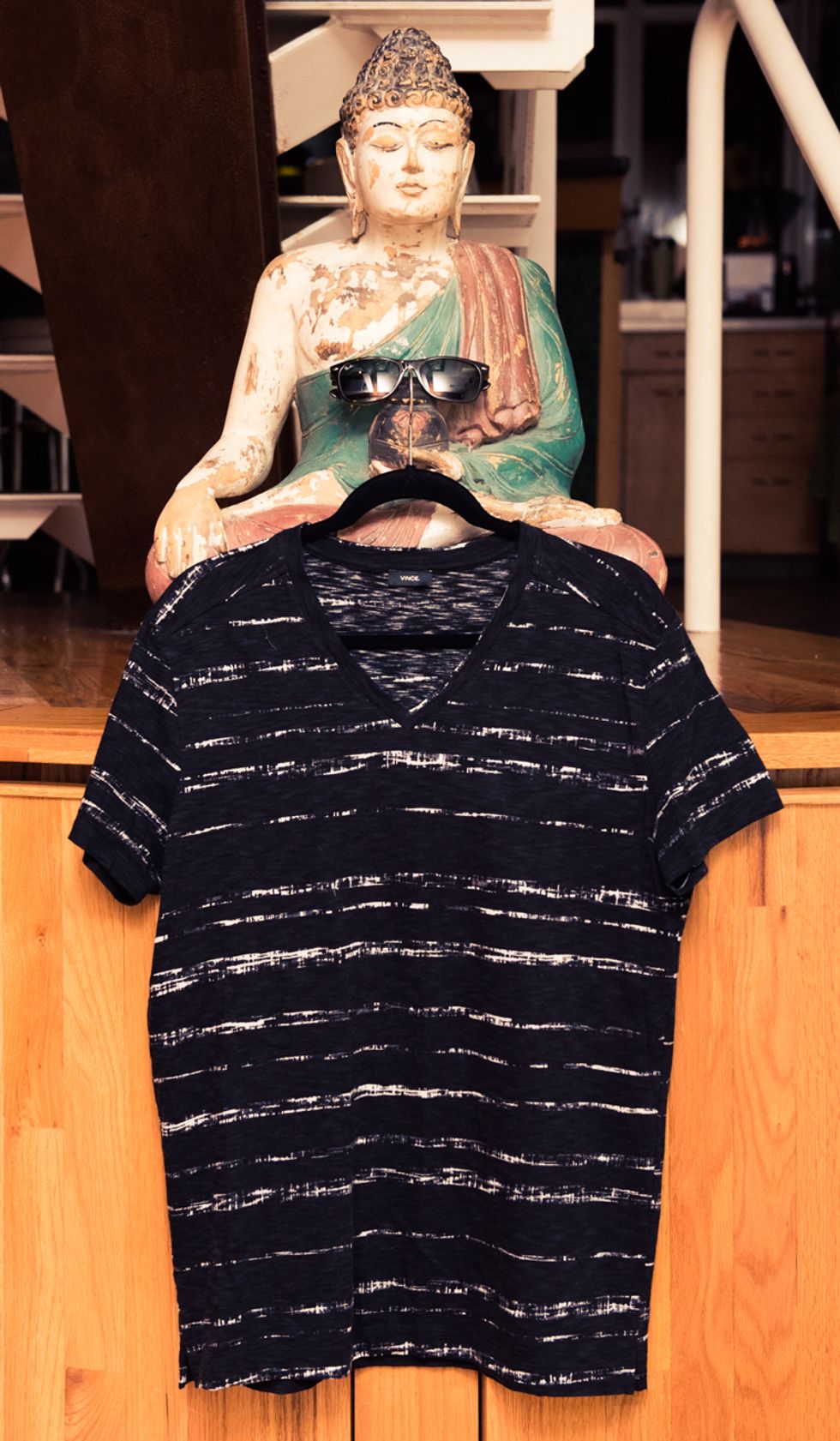 Destination: Grand Hotel Convento di Amalfi, Italy
"I've always wanted to go to Italy. Friends who have gone have told me that the Amalfi Coast was their Le Dolce Vita moment. It's breathtakingly beautiful. I read a novel recently called Beautiful Ruins that's an easy fun read. There are various story lines, but the one that spoke to me the most was about a man trying to turn his small little fishing town into the next Amalfi-like sea destination. These Vince pieces are perfect for daytime adventures and casual outdoor dinners along the coast."