Entertaining
The Best Hidden Holiday Cocktail Gems: New York Edition
Drink up.
Illustration
Meghann Stephenson
Because candy cane martinis are truly disgusting, we've enlisted Remington Guest (the man behind The Cheap, The Best & The Hidden) to put together his guide to the best bi coastal spots for holiday dranks. Here goes nothin'.
Fam, I'm real tired of all this BULLSHIT *super Chris Tucker voice from either Rush Hour or The Fifth Element*. So many holiday cocktail stories, so much BS flying around. Stock images, no one's actually tried anything they're recommending, and they're lists based on favoritism.
I ain't doing you like that. I'M NEVER DOIN' U LIKE THAT, FAM-A-LAM. This is a holiday cocktail list, yes, but not every bar I'm writing about even has a holiday cocktail. These are places I think you should check out for cocktails, AKA DURING the HOLIDAYS. You know how many times I was very, very, very lit around noon trying all these damn drinks for you guys!? I had, like, three charcoal pills a day just to stay alive. I don't know where you might be when you read this, or hell, even where I might be, but just think of me, and know I ended up on a bus deep in Brooklyn, slightly drunk, with vegan donuts for this story.
---
Fancy Nancy
1038 Bedford Avenue Brooklyn, NY
Guys, news flash. Virgin is out, Jet Blue is IN. They've got free wifi, mad legroom, and PINEAPPLE JUICE. :rotating_light::rotating_light::rotating_light: Back before I stayed in bed, listening to Elliott Smith, eating gluten-free frozen waffles with coconut ice cream, raging at the inability to find something on the 'flix every night; I had my spree of going to clubs or whatever. I remember responding to promoters' texts being like, "I can't come unless there's pineapple juice for me." And shit, IT WORKED. Then I'd show up with bags and bags from Bed, Bath and Beyond and Trader Joe's because I always shopped at weird places really late at night.  Basically that entire story was to tell you that Fancy Nancy has a sherbet punch with pineapple juice and it's not a club, so you can bring any purchases from Bed, Bath and Beyond with you, NO COATCHECK REQUIRED.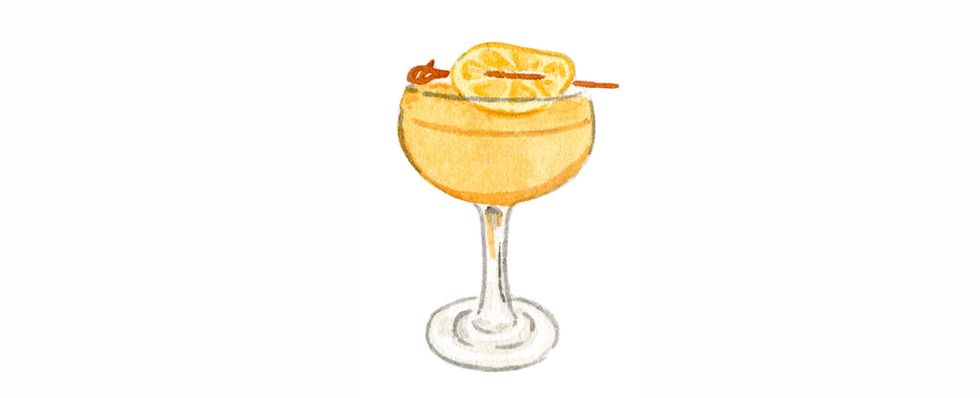 Drexlers



9 Avenue A
I like this bar. I also really like the fact that they have a downstairs that's sort of like a mirror of the upstairs. I bet when people get too drunk, they have trouble remembering whether they're upstairs or not. Wow, how dope would it be if the biggest problem in your life was keeping track of what floor of a bar you're on? Tip: The English Milk Punch is about as holiday as it gets. But I wouldn't be upset if you opted for the New York Sour.
Garfunkel's
67 Clinton St
I feel like I'm back in New York at a super weird time. It's 50 degrees everyday, and the scaffolding has dramatically moved around. But I do love that it's pretty empty as I'm writing this because everyone is at Basel. i think I'm going to plan around all cool cultural events, ensuring I'm never in attendance, thus never waiting in line at posh coffee establishments ever again. Also, Garfunkel's is great for when people are in town bc really no one knows about it and it's super hidden. Safe travels. :pray:
The Lodge at Gallow Green
542 W 27th St
I remember going to Sleep No More last year. What an experience. Though I was surely the only person that tried to avoid all the action, I was more about discovering empty rooms. I had a weird obsession with the candy shop. I'd empty all the drawers, then go out to the bar for a drink, then back in. I don't know what the plot line was or is at all, so you can imagine my confusion at the finale, but you can SKIP all of this and just go drink cocktails on the roof. The choice is yours, mi hermosa.



Slowly Shirley



Downstairs, 121 W 10th St
If you're looking for the opposite of a holiday cocktail, go here and order a Cleopatra. This is for the people that would rather spend the holidays somewhere warm, which does weird me out to the max. You're most likely the 'creative director' of your own 'brand' and you get your friends to model weird, over-conceptualized creep shoots. Also, did you guys know they don't limit how many snacks you can have on JetBlue? I just had nine bags of chips.



ZZ's Clam Bar



169 Thompson Street
Oh damn, I just read Kim K gave birth WHILE I WAS WRITING THIS. That makes this post especially relevant. It would be pretty cool if I was at ZZ's one night as Kimye brought their kids to the bar and they saw me wearing Yeezys then we became really good friends. They'd invite me over to chat about design and how unfair
in-app purchases
are on kids games. What parent wants to deal with all those crazy expenses?! Tip: get a punch bowl. It's been on the menu for a few months, but what's more holiday than sharing a bowl of liquor with friends and family?



Mace



649 E 9th St
The 'chamomile" cocktail with brown butter and fat-washed cognac had the opposite effect that chamomile tea has on me. I had a few of these looking to end my night, chill, simple, easy, to walk two blocks to my apt, maybe watch some Master of None. NBD. But chamomile cocktails and chamomile tea are two very different things. Needless to say, I signed up for Amazon Prime, sent a good majority of my friends a lifetime supply of hot sauce; then drank a bottle of prosecco with a friend in the back of a McDonald's with a large fries, before going to that bad new club behind the pizza place in Murray Hill. Tip: Mace is one of the best new bars in the city. Go before everyone catches on.



The Up and Up



116 Macdougal St
The Up and Up has these dope things called 'Halfies'. It's a half-sized cocktail. This is the move for when your friend with the weird stomach issues forces you to get a drink instead of dinner, but you don't really want to, so you get a halfie because you're tired of talking about the gluten content of seitan. Tip: How can you not order the Watching Cool Runnings? Plymouth gin and pear brandy...



King Tai



1095 Bergen St
I actually took a bus to get here. A BUS. IN BROOKLYN. I was sending pictures to everyone, waving, like i was at the goddamn Coliseum in Rome. It was a real moment in time for me. Thank god I had a friend with me, because I was straight lost and really consumed with the donuts I had picked up from Dunwell. The holiday cocktail is super fire and should be considered heavily for this month. Tip: The holiday cocktail is for this month only. It's called the Coquito and tastes like island Christmas. You've gotta try this one.
The Garret East 
2nd Floor, 296 Bleecker St.
I love the name and overall flavor of the Apricot Bandana. I instantly see this being a really cool Pixar film. Imagine a young apricot. He's super cute and wants to be a bandit. He always wears his red bandana around his eyes, with eye holes cut out. He rides a banana horse around, doing chores and one day travels to New York City and successfully robs the World Bank on Wall Street. Then he drives his banana to somewhere chic, like the Swiss Alps or Patagonia and cooks amazing food like Francis Mallmann for the rest of his days.



Featherweight



135 Graham Ave
Featherweight is everything. It's small, it's romantic, it's 2016. The future is now. But what I can't decide is whether or not this ski jacket from Supreme is the move. I feel like I can just throw it on, casually, over everything and just SHOW UP. I'll just cruise in like the boss in this sort of clearance rack model's jacket in this very 80's aqua color, warm and dry. My pockets full of paraphernalia and iPhone cables. Can you guys see it? I'm probably going to have bought it by the time you see this, but I'm really feeling this Eddie Bauer side of me for all situations going forward. The contrast of me sipping on a "firelight" cocktail in a dimly lit corner of Featherweight with
this huge aqua coat
on give me such feelings.



The Eddy



342 E 6th St
Wow, this guy next to me has been working on his newspaper crossword puzzle the ENTIRE flight. We're on hour five. I mean, are people really committed to crosswords like that? I feel like if you can't get it done in an hour max, it's really time to just watch Keeping up with the Kardashians or something. Though it could be really cool if I started going to places to review them alone, with super old newspaper crosswords. Like, papers from 20-30 years ago. Tip: the ricotta gnocchi is perfection. The Mulled Cider Reunion is my favorite cocktail in New York right now. Brown butter, bourbon, apple cider and spices? :rotating_light:
Mas
39 Downing S
Mas is the kind of place people go to pop the question. It's basically THE reason you go there. If I ever dated I would always have my first dates here because it's so extreme. I'd be in some Gucci suit, laced up like to the max. I would always take people here I didn't even know very well. Like, how cool would it be if you meet someone on Raya, and date one, boom, Mas. The only issue is if someone buys into your creep scheme, you're going to be wifed up. At least you can drink their seasonal Irish creams and ride off into the proverbial sunset like Clint Eastwood. He's dope. 



Musket Room



265 Elizabeth St
The Musket Room is very 'cool couple takes parents here to meet cool girlfriend/boyfriend for the first time'. That's a huge compliment. I was with a weird Swedish friend of mine when I said this, and it turned out he took his parents here to meet his 'cool' girlfriend at the time. I envision one day taking my parents here to meet The One. I'll be wearing a custom turtleneck, with a rare and unusual hemline with a very unique and hard-to-source fabric. Both my girlfriend and I will have on cool tinted sunglasses. Hers will be cateye, obviously. Musket Room is also one of the best places to go for drinks during the holidays. It has that vibe that makes you feel it. Do you want to feel it? Of course you do. Tip: the Queens Punch. That's all I'm saying. You'll find some of the best drinks in Manhattan here.
Bourbon Springs
425 Graham Ave
The Appellate Court Cocktail is really quite good. So is the movie Jury Duty with Pauly Shore. Most question my taste in movies, but then again I question most people and the world overall. So whose side you gonna take!? And what's more holiday vibes than Calvados? I wonder what it would taste like if I added Calvados to Martinelli's? Yo, Thug Kitchen, can we make something happen here? 
Choysters Raw Bar
214 Greene Ave
I think my favorite Yelp review for this place started with, "let me just start by saying I'm not into oysters…". How did you end up here? Unlike some people I know, you can't convince me to go someplace I don't want to go. My friends are kind of the same way too. My friend Nick didn't come to my birthday one year because it was raining. I mean, I almost didn't go. Anyway, they've got four seasonal cocktails at a time, all insane. Tip: they have a $1 oyster of the day until they run out. Tip: the rest of the food is fantastic as well.
Oleanders
160 N 12th St
I used to love hotel bars. But now they're so trendy and cool, I wanna check into a Holiday Inn and Postmates myself Trader Joe's brand-liquors and beef tartar from Wildair. Though, Oleanders being a hotel bar, is really worth it. The burger is on an english muffin which elates me. I kind of want to say get a Long Island iced tea just to creep out your family. Maybe I've been writing about food for too long, but mentally, I feel that would be a tragic blow. Everyone's in the holiday spirit, it's cold out, Christmas is coming, and you post up with a Long Island iced tea? That for sure is a freak move; a move I heavily, heavily endorse. 



Fancy Nancy



1038 Bedford Avenue
Fancy Nancy has an incredible school lunch, too. Its a cheeseburger, deviled egg, and tater tots. I used to get the dopest school lunches. Everyone else either got a packed lunch or the school lunch, but nah, my mom would custom cook something for me daily and drop it off at lunch time. It was like Uber Eats or Postmates, but back in '05. Everyone would be in the lunchroom waiting in line for weird Subway sandwiches while I'd be posted outside waiting for my gourmet situation to arrive. Life was dope ten years ago. Tip: Please go get a school lunch, duck wings, and The LEGENDARY Hustle to drink.
Babu Ji
175 Avenue B
I'm actually in love with Babu Ji. Definitely one of the best new restaurants for me. I think about their naan on a daily basis. Any time you think I'm not paying attention to you when you're talking, I'm probably not. I'm most likely thinking of the naan at Babu Ji. You're important to me, but so is dope naan.



Bruno Pizza



204 E 13th St
So your girlfriend or boyfriend wants to go out to eat. You suggest pizza, then they come at you with Tijuana Picnic or something of that level. You suggest another pizza place, they suggest something even trendier. It's cool, go to Bruno. It's semi-bougie, farm-to-table trendy AND they have pizza. Then immediately dump that GF or BF because they're not on the same page as you ever, and I just made you realize how annoying they really are. Tip: They source a ton of stuff from the Union Square farmers market. You have to get a pizza, but try some other things too.



Timna



109 St Marks Pl
When I came into Timna, they tested out their new ravioli on me. I was the first person to have it. If you want me to like you, give me ravioli, even experimental ravioli. Tip: Mediterranean at its best. The menu is ever-changing which is the way it should be. If you're there and the octopus is on the menu, order it. And of course the ravioli. The soup is shockingly good here too.
Avant Garden
130 East 7th Street.
Whoa, whoa, whoa, whoa. This is SO Coveteur material. Like, finally, New York has a Gracias Madre, Cafe Gratitude, Crossroads type situation, except it's like none of those, other than the fact that it's vegan. They've got all kinds of toasts, like carrot toast. If you're with the kind of person that can't make decisions and orders everything like a psycho, prepare to eat at least 3-4 toasts. Tip: Sit at the bar, it's really entertaining to watch them cook here.
Yunnan BBQ
79 Clinton St
Does soy get you really, really excited about life? My mom and sister were really stoked about the coconut milk option at Starbucks. Now they're off it. I tried going to Starbucks with them the other day, but they wouldn't go, because now they only like almond milk, and Starbucks doesn't have it. If you're the kind of person that likes soy in their cocktails, Yunnan has dope street-inspired food, and a holiday cocktail called the Smooth Operator. 



Wildair



142 Orchard St
I can't explain this sensation, but there are times things just feel so New York to me. Like having lunch at Bergdorfs, or being at certain restaurants. it feels almost like a movie. Like an episode of Sex and the City, which I've never seen, but can imagine the vibe. You're carrie or Samantha and the wine is super good, and there's relevance in the air. Soon as people see that 'gram you're about to pop off, you know it's getting triple digit likes and mad heart emoji comments. Wildair does this for me. I had the best wine I've ever had there, and some of the most creative, yet simple, food. Tip: One of my favorite restaurants in the city. Things to order: beef tartar, pilctahio salad, tuna, and the dessert. Going for a glass of wine and any one dish is a strong move as well.
Oleanders
160 N 12th St
HOLD THE PHONE. Oleanders has a BAKED ALASKA. You know how hard it is to find a baked Alaska these days? I'm currently in Portland at the unveiling for Nike's new high tech football garms; the vapor untouchable uniform and cleats. I don't play football, but it would be very dope if I was able to secure one of these vapor uniforms and wear it to Oleanders under a nice Thom Browne trench coat. I would be comfortable and cool in the restaurant, thanks to the thermal regulation and laser cut perforations. I could casually sip Grasshoppers and order multiple baked Alaskas while I annoyed all of my friends and enemies by adding them to random group texts.
Mountain Bird
251 E 110th St
Mountain Bird. It's back. You may not have been aware it left, but that should be a telling sign of how desperately you need me. So when you're living and loving life super hard at a v. relevant restaurant in Spanish Harlem, throw out a toast to the kid with a pear champagne cocktail.
Tip: Foie gras dumpling consomme? Yeah.
Oficina 1000 Miglia
371 Broome St
I think my greatest fear in life is spilling my coffee. Or even worse than that dropping one of the iced plastic cups and having it explode like a an atom bomb. Like a shockingly massive detonation, leaving a wake of destruction. Then you're that guy. You're the guy with the strange desktop computer keyboard you got at Comp USA and its curved for some weird reason. When you get to this point, you should just sell your iPhone, get a 'droid and start wearing khakis everyday. You're now that guy. Oficina 1000 Miglia might seem like that Italian place, especially because of the location on Broome, but it's not. You'll be an all star when you take people here, because they're going to think you're a mega goober taking them to an Italian spot in Little Italy. Note: This part of Broome is the new new. A lot of sick spots are opening here so you can call that, too, and throw it in your friends faces, if you're into that sort of thing.



Leyenda



221 Smith Street, Brooklyn
Do you know how hard it is to find a restaurant that also has an incredibly good bar? HARD. It's like finding the perfect food to bring on an airplane. I'm definitely not eating anything from an airport unless it's Shake Shack, so I'm limited. I tried taking sandwiches from this place Lardo in Portland. I picked them up the night before because I was flying out early the next day. They wrapped them up and deconstructed them so the bread wouldn't get soggy. I have never felt more pressure in my life. I had to carry around this shopping bag of sandwiches for the rest of the night, and in the back of my mind I knew I had to construct them the next day. It was simply one of the greatest burdens I've ever experienced. In closing, sandwiches from Lardo are amazing, and Leyenda has some of the best food and cocktails in Brooklyn. Tip: the holiday cocktail, the Noche Buena, is one of my favorite holiday cocktails on this list.