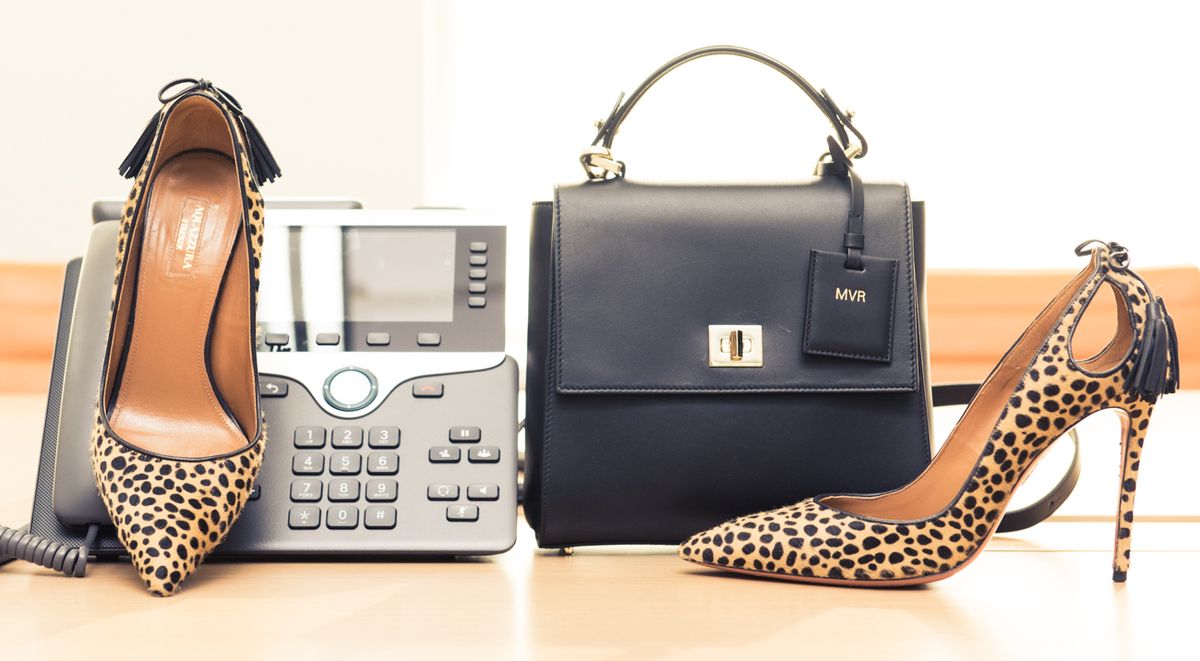 Career
The Cultivist's Marlies Verhoeven co-founded club that everyone (including us) wants to be a member of.
Emily Ramshaw
Generally speaking, the idea of a club doesn't give us the warm-and-fuzzies—something you have to pay to be a member of and for what? But then we heard of The Cultivist (free entrance to more than a hundred global museums—and no lines!—premium access to art fairs, intimate dinners with artists, and we reconsidered our track. Mostly because if you pay to be part of this club, well, as demonstrated, you get a lot. So, in our usual fashion, we pursued its cofounder and CEO, Marlies Verhoeven, who, when it comes to the art world, is something of a HBIC.
She welcomed us into The Cultivist's new Manhattan office dressed in a Dior jumpsuit (we don't have to tell you we fell in love), and we got to talking. About changing career tracks (she went from finance to art), finding work-life balance (home by six, always), co-founding a company with another woman (contrary to popular belief, they're not best friends, just two women who respect each other and like working together), and everything a club like The Cultivist can do for us, er, you. For example, say you were at Basel in Miami right now and (key) a member… You might be having breakfast and getting a private tour of Design/Miami with Rodman Primack, or having a private tour of Anselm Keifer exhibition at Margulies Warehouse with Marty Margulies. And just like that, we're sending in our applications.
---
ON SWITCHING CAREER TRACKS:
"I didn't [always know I wanted to be in art]. I figured it out in my early twenties. I actually have a Masters in Finance, and I started my career in finance… and did not like that at all. Then I went and worked for the United Nations for a little bit, but [I] always had a passion for arts and was always involved in a collecting capacity. I always went with my parents to art fairs and museums, and it was always a passion. Then a family friend said, 'Oh, you should think of maybe working in art, and by the way I know at Sotheby's they're always in need of more people with business backgrounds.' So I started at Sotheby's and worked there for eight years—that has been the largest part of my career.
 
I changed my career early on, and I think that's the important part. You have to make sure you don't keep thinking about it, and three years later you find yourself still not having done it, because I think at that point it's hard.
 
When I hire people, I care about the fact that they have a degree because they've shown a certain capacity for thinking and perseverance, but I don't necessarily care about what degree they have—at least not in my field. So for me, it's more important they have a passion. The same thing applies when you go to work in your early career, it matters that you have an education in some way, but I've actually found that unless you're in law or finance, people don't really care about what type of degree you have, and that you can make a switch really easy, because you're still at entry level at that point, or even a junior manager level. My advice would be to do it early on. If your gut is telling you something, just do it, because it's just going to get harder."
ON HER SPEEDY RISE AT SOTHEBY'S:
"I was in the marketing division the whole time, but I changed jobs [within that department]. To be honest, I went up the chain quite fast—maybe because I had that business background. I started as a trainee trying to figure out what part of the business I wanted to be in, but I never really left my rotation. I became a marketing manager, senior marketing manager, then I became the head of marketing department. I became AVP of marketing, VP of marketing, and then I became global VP for loyalty marketing. So when I left, I had a global marketing job where I oversaw all of the loyalty marketing for Sotheby's—and that includes sponsorships in America.
 
I did a little stint in the London office, but it was mostly based in New York. I did travel quite a bit, because we had a team in Hong Kong, New York, and London that was part of loyalty marketing. My job entailed marketing the brand and generating awareness amongst a very affluent community. What was great at the time is that it also involved launching new brand extensions, so we were sort of trying and testing new products, and gauging awareness for it. We did a few really interesting projects. Some of them did not work out, but it was a great learning school."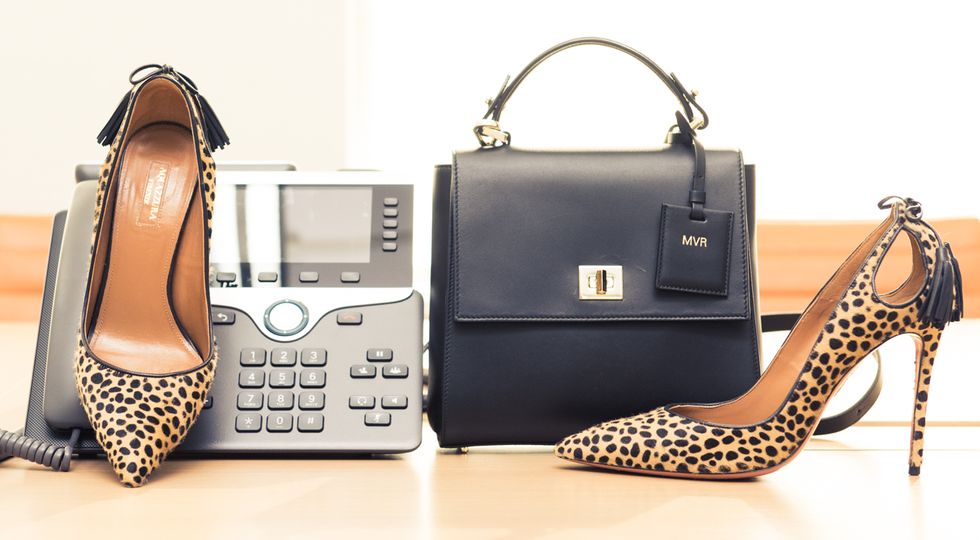 ON WHAT SHE LEARNED AT SOTHEBY'S:
"I learned that basic common sense and hard work is not to be underrated. And that being nice and building relationships is always going to pay off in the long run. In the end, I was able to be a good manager because I was considered fair, and I think that's important."
ON THE INSPIRATION FOR LAUNCHING THE CULTIVIST:
"Daisy, my business partner who's based in London and who was my team leader in London at Sotheby's, experienced in Europe the same thing that happened to me in America and Hong Kong. [And that was that] we used to get phone calls from people every week saying, 'I am not a Sotheby's client and I went out to lunch with my friend and she was talking about this VIP Program that you have and that you have this museum card. I don't buy with Sotheby's, I buy at Christie's or I buy elsewhere or I don't meet your thresholds, or whatever the reason was, but I'll give you money because I want to have this card. I'll pay you for it.' But we couldn't do that obviously. That was sort of the first half of the idea.
 
The other half was that we wanted to push the boundaries a little bit after having run a program like this for six years and do more with contemporary artists. That was really hard within the confines of an amazing, but traditional luxury brand. So those two [ideas] combined made us think that there was space in the market and a need to bring a global community of art lovers together and provide them with seamless access. There's clearly a demand for this within the art world. It exists in every other industry. It exists in luxury—there's people who do everything around watches—and it exists in travel with black cards. It even exists in education, if you're trying to get special access into education, there's clubs for that. But it doesn't exist in art. There's people who do parts of what we do on a local level, but nobody who does everything we do—bringing together museum access, art fair access, art events, the concierge element, and travel support, and then doing it on a global scale. So we realized that there was a demand for that, and then raised money, left Sotheby's, and started The Cultivist. We were lucky that we had a great response to it. We didn't really have to sell to our members. It was all word-of-mouth, and it came together really well and really quickly."
ON WHAT'S SO SPECIAL ABOUT THE CULTIVIST:
"There are four key elements: the first is museum access; the second is art fairs; we have events; and we have travel support.
 
So the first, [with] museum access, we have a membership card that gets you access to 104 museums where you skip the line, you go straight in, and you don't have to pay. If you're going to museums these days, often there are really long queues, and it takes a lot of time and more effort than most people have time for. So that in and of itself is the reason a lot of people join.
 
For art fairs, we negotiate art fair passes for our members on their behalf. For some of the satellite fairs, we'll negotiate for our members that they can get in an hour before anyone else; we provide support surrounding the art fairs; we provide itineraries so that they know what the best and most fun things to do during Art Basel or Frieze or FIAC. We do even the little things; [for example,] we try to always think about what our members actually care about, and we know that at the fairs, their phones always run out of battery, so this year we have charged battery packs for them and we will be handing them out to all of our members at the fair when their batteries run out.
 
And then the third thing is events, which really sets us apart. We do really different things. Two days ago, we did a tour of the Picasso sculptures at MoMa when the museum was closed and the lead curator was taking us around. It was a very special and unique experience. We always try to find the different hook. So in this case, our members wore gloves, and basically went on a touch tour where they were touching the sculptures. And it was incredible to see how much more of a connection you can make with the art, once you're touching something. And not only because of the touch, but because when you're touching something, you're actually getting up close and personal. So that was an incredible experience. In Paris last week, we took people to the John Giorno exhibition, which was amazing, and had a cocktail in the Palais de Tokyo Art Club, which is this sort of little room on top of the museum that overlooks Paris. And then the week before that, just to give you a range, we had breakfast at the Goya exhibit, which is a more traditional show, but it was very popular and everyone wanted to see it, so we had a beautiful breakfast, and the museum was closed. That same week, we also took people to a studio in North London where the artist was cooking dinner for us in his studio, and you were sitting amongst the paint swatches. It was the complete opposite of the pretty Goya experience. We do both.
 
And then to finish off, the fourth element is travel support, which is much more popular than we ever thought it would be. We don't do hotel or restaurants—there are so many people who do that really well. But what we add is a layer of art insight for people who want art access for when they travel that they could probably get on their own, but it takes a lot of time and effort and they may have to call in favors that they don't want to. With us, it's just easy. So for example, if someone goes to Mexico City and wants to know what to do, we'll put a whole itinerary together of what shows are on, what the hot things to see are at the moment, or little hidden secrets that we know about that they should definitely go and see, and then if they want to have more, we'll put together a private tour of a private institution or even hook them up with a local artist they can go and see in their studio.
 
The last layer—it's not really a service element, but I think it sort weaves through everything—is the sense of community we have. It's a club; it's by application. People meet each other at the events, and it's been really great to see how our members love sharing their different passions with each other. It's also a community that kind of feeds itself where at Frieze we had four of our own events, but then we had four additional private tours with artists and things that were offered through members of the club, and that's great—to see that once a member has joined and they see the quality of the people, the quality of the access, they often come up with their own [ideas]. [They'll say], 'Hey, I'm involved in this project, and I think you should bring people to this, and I'll make sure that the artist is there.' It's incredible to see the community aspect of what we've been doing."
ON THE DRIVE TO BE AN ENTREPRENEUR:
"I've always wanted to have my own business. I loved my career in a big, corporate, publically listed company—it taught me so much, and I'm eternally grateful. But I knew I was always going to have my own business at some point. I think the difference is, when you're a start-up, and you're down and dirty getting everything done, you get so much done in a small amount of space, and you can be so incredibly creative and responsive, and that's exciting. I knew that that would be something I would want at some point."
ON THE BIGGEST CHALLENGE SHE'S HAD SINCE STARTING THE CULTIVIST:
"Trying to convey the whole breadth of what we do in an easy way is not possible in a way. We do so many things, and you can summarize it or tagline it that we're the only global art club—and that's true—but everyone has a different interpretation of that. And even for the members that have joined for one reason, as they use the services they [say], 'Oh wow! I didn't realize you did this and this!' They love it, which is great, and that's also why we're getting so many referrals and why the business is growing in an organic way. But trying to convey that to someone that's new, that we know is the right fit… There's so much out there now, and people have become a little bit jaded, so explaining all the different elements is not easy."
ON WORKING WITH HER CO-FOUNDER, DAISY PEAT:
"We have worked together for seven years now—running the Preferred Program [at Sotheby's] for six years and doing this for almost a year now. Even though we didn't really launch the business until March, because we were on a non-compete for six months, we were obviously in it together. It's funny because we're women, people will say like, 'Oh, you started the business with your friend.' And I'm like, 'No, that's not really how it is.' We started the business as two colleagues that both respected each other very, very much, and we felt that we had qualities that could complement each other and that we could be successful in running a business. It's funny how people can go to that for women very quickly. Daisy has a background in advertising. She worked for M&C Saatchi. She is an amazing brand developer. So she's done the development of our website, our branding materials, and the clever touches of when you join—you get a portrait. She also runs the team in London, while I run the team in New York. I have more of a CEO role in terms of making sure everything's happening, making sure that we're meeting our goals and our targets, and that we're organizing teams in the right way. Sort of the 'Okay, what should we be doing next year to ensure that we're always ahead of the game?' That was my role at Sotheby's in running that program as well, so it's a natural fit."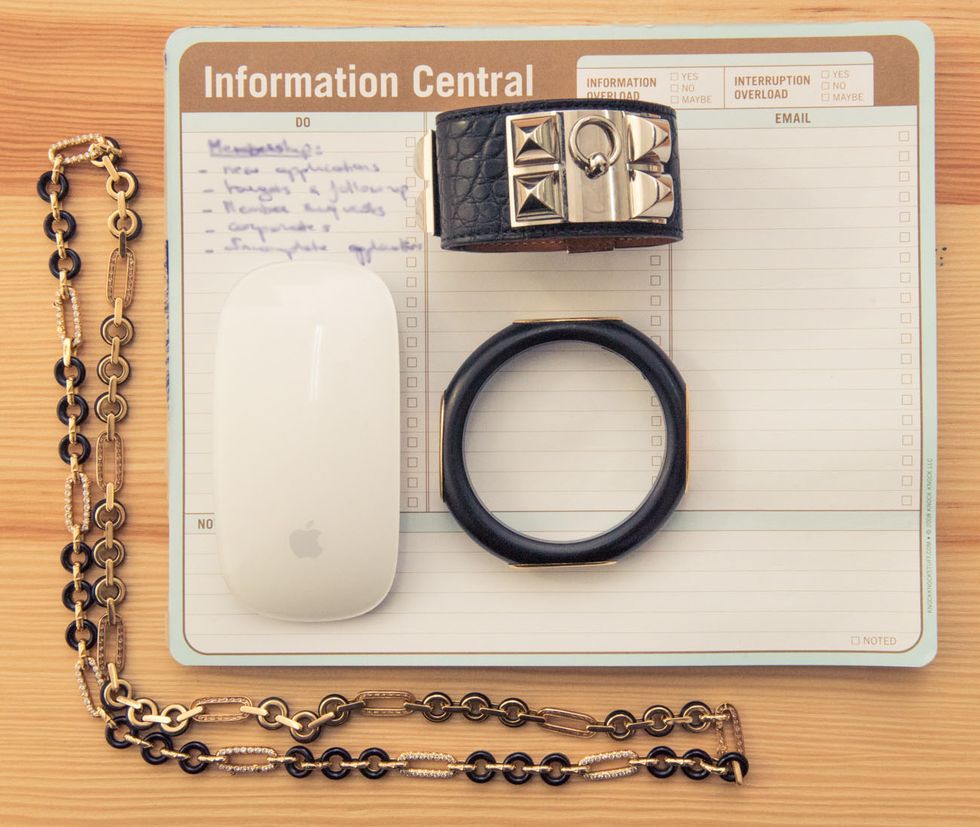 ON AN "AVERAGE" DAY:
"I usually get to the office at 8:15 after I drop off my kids. It's great because the rest of the team doesn't get to the office until nine, so I have a little bit of time to catch up on my emails and answer questions from the London team, who have been waiting for answers for a few hours sometimes. It allows me that space to get settled so I can start my day not feeling behind. Then I have usually a day chock full of meetings with the team, with partners, with people that want to do things with us. We do video conference calls with the London team everyday. We have this sort of permanent video link between our two offices to make sure that we are always in contact, because our members are traveling. Even if a member is mostly based in New York, and they're in Paris, it needs to be very seamless service, so we're constantly in touch. I spend a lot of my time on our Google Hangout—we have a big screen in our office. And then I often will leave the office around six to go back home, see my kids, be there for their meals, even if I'm not necessarily eating with them, put them to bed, and then I go out and do the various openings and art world happenings! And if I'm not, I cherish a day on the couch with my husband, who has been amazing and supportive during this whole thing. That's usually my day if I'm not traveling. And when I do travel, I try to do really short trips so that I can keep a balance between work and family life."
ON THE BALANCE BETWEEN WORK AND FAMILY:
"I think for us, it works, because we have very consistent moments that we're always there for. Of course, [sometimes] I'm travelling, but one of us is always there for our kids for waking up and for bedtime. We're there for dinner and bedtime routine. They know that anchors their day and one of us is always there; most of the time it's both of us. And that's important to me, and I will always—even if I have a lot more work to do—I will go home to do that, and then continue working. And I think that is what, for me, works. If there's ever an event that starts early that I have to go to, I get really angry! [Laughs] I think both of us are really committed to those moments."
ON WHY SHE'S STILL IN LOVE WITH THE ART WORLD:
"What I love about the art world is that it's creative and new, and still really quite sincere in that you can discover new things everyday. Yesterday, I was sitting at dinner with Bosco Sodi, who is one of our artist members, and having a conversation with him, and he's just really real and loves his art, and he was saying, 'My paintings make a lot of money, and it's crazy to me that they are making this. I don't understand it, because to be honest, even if I had to pay to paint today, I would do it. If I had to pay someone to be allowed to do my job, I would do it.' And that was amazing to hear. Meeting people like that—that's why people join the art world. It's transcending; it's incredible; it's more than and bigger than life. It's the one thing that is true history. People will always go back to the arts. That allure hasn't changed, even though there is obviously a lot of commerce—people will think that I'm naïve for saying that it's so real. Of course, there is a lot of fakeness in art world, but for me, the basis is still real and it's amazing. And that's why people are drawn to it, even with all the commerce that exists."
ON HOW TO GET INTO THE ART WORLD:
"In terms of young women starting out, working for one of the big players cannot be underrated. That is an amazing learning school to know all the different aspects. Whether that be [for] a large museum or an amazing organization or a big dealer or one of the auction houses, it gives you an incredible breadth and depth of experience, even though it's obviously a very competitive place to start. But I think for starting out, it's obviously an incredible opportunity."