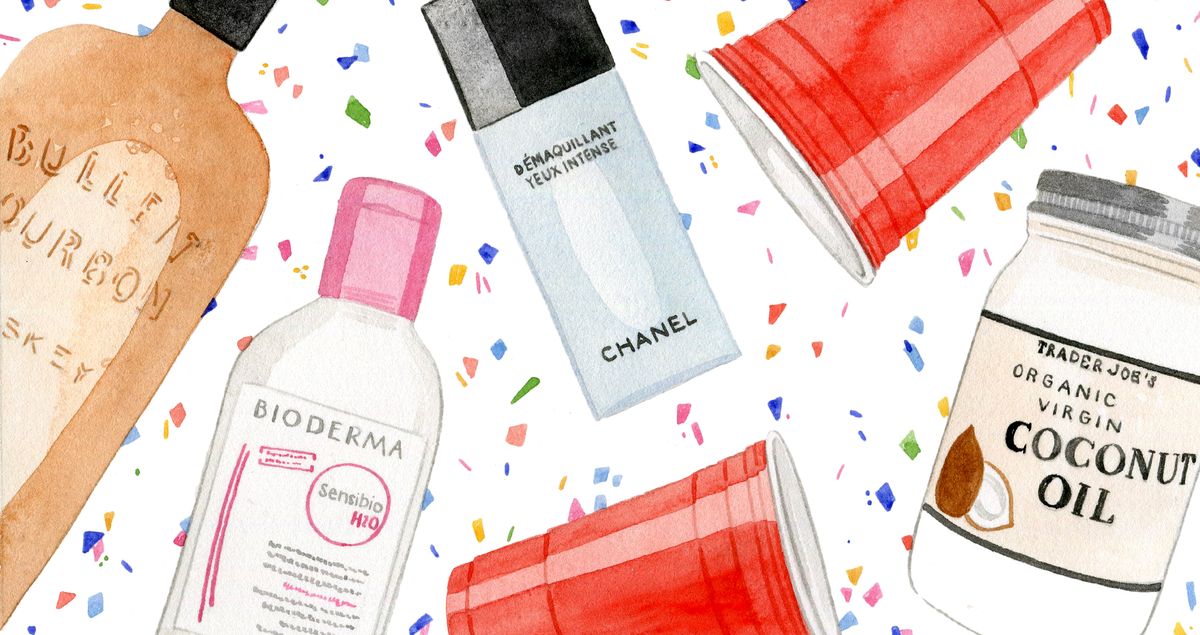 Skin
When falling asleep in full makeup is your Friday night M.O.
Illustration
Meghann Stephenson
If we're being honest, no, we did not wake up like this. We woke up with a bronzer and lipstick-smeared pillowcase and a complexion resembling Ben-Day dot artwork. But next to our bank account (perennially overdrawn) and the booze-sodden texts we sent our ex at 4 AM (denial game strong af) having lost half our eyelashes is NBD, right?
Still, in the interest skin preservation, we sat down with celebrity facialist Aida Bicaj—whose A-list clients include Jenna Lyons and Sofia Coppola—and NYC dermatologist Dr. Neal Schultz, host of DermTV.com and creator of BeautyRX by Dr. Schultz, to get the scoop on what's actually at stake (hint: flawless, dewy skin) when you snooze wit 'cha face on—plus, all the products you need to get fresh-faced in a matter of minutes.
---
The reason sleeping in makeup is (still) bad for your skin
"Falling asleep with makeup on is a recipe for disaster. You'll age prematurely and your skin will breakout because your pores will be so clogged with bacteria and all the external aggressors you were exposed to that day, like smoke and pollution. The everyday cleansing, exfoliating and moisturizing of the skin is essential for a glowing, healthy-looking complexion. There's no other way"- Aida Bicaj
Why your bf may be to blame for your breakouts
"If you put your makeup on at 7 in the morning and take it off at 10PM at night, you'll have worn it for 15 hours whereas if you fall asleep with your makeup on at night, you'll probably have it on for half that amount of time. So why is sleeping with your makeup on so much worse? When you're sleeping there is the opportunity for things to rub against the skin like a pillow, someone else's shoulder, your own arm, or even the covers. This pushes the makeup into the pores, causing pimples, blackheads and whiteheads"- Dr. Neal Schultz
The telltale signs you're an offender
"If a client comes in the day after having slept in her makeup, I can always tell—even if it was a one-time thing. If you look at the skin under a bright light, it looks patchy, grey and lifeless and pores will be enlarged. The top of the skin will be covered in a slick of oil, while underneath it will be severely dehydrated"- AB
On the products you should never, ever wear to bed
"Primers and foundations—especially the kinds that are oil-based—are the worst culprits, because they cover the most surface area and, for that reason, have the potential to cause the most trouble"- NS
What European women are doing that you aren't
"In America, women want to put in minimal effort and see immediate and dramatic results. My American clients are always so shocked when my Russian clients start bringing in their daughters to come see me at age 14. This is because European women know how much damage you can prevent when you're vigilant about your skincare. No woman should be spending less than 15 minutes prepping her skin before bedtime."- AB
Best for sensitive skin:
Bioderma Sensibio H20
Go backstage at Fashion Week and you're bound to see bottles of this French cleansing water at every makeup artist's station. A favorite of Karlie Kloss, Gwyneth Paltrow and Malgosia Bela, this gentle, fragrance-free formula removes face and eye makeup without altering pH or stripping skin of its natural oils.
Best for removing eye makeup:
Chanel Démaquillant Yeux Intense
Chanel's bi-phase eye makeup remover is known to take off even the most stubborn waterproof mascara and liner without irritating the delicate skin around the eye. Formulated with highly purified cleansing oils and rose and cornflower waters, models Fei Fei Sun and Karmen Pedaru are among fans.
Best for taking it off on the go:
Garnier Refreshing Remover Cleansing Towelettes
Perfect for the gym or a long-haul flight, these lightly scented towelettes are made of a durable cloth-like material. Keep them bedside and you'll never have an excuse for sleeping in your makeup ever again.
Best in green beauty:
Trader Joe's Organic Virgin Coconut Oil
Miranda Kerr raves about coconut oil so readily that we're starting to wonder if she's getting paid to do so. In addition to using it as a hair mask, an exfoliant and a minor burn remedy, Kerr uses it to remove her eye makeup, proving you don't have to spend mad $$ to get the skin of a supermodel.
Best makeup-melting cleanser:
Biologique Recherche Lait VIP 02
Bicaj swears by this lightweight cream cleanser made by cult French product line Biologique Recherche. "I don't believe in soap-based cleansers," she says. "Twice daily I use Lait VIP 02, which is an oxygenating cleanser that brightens as it cleans."