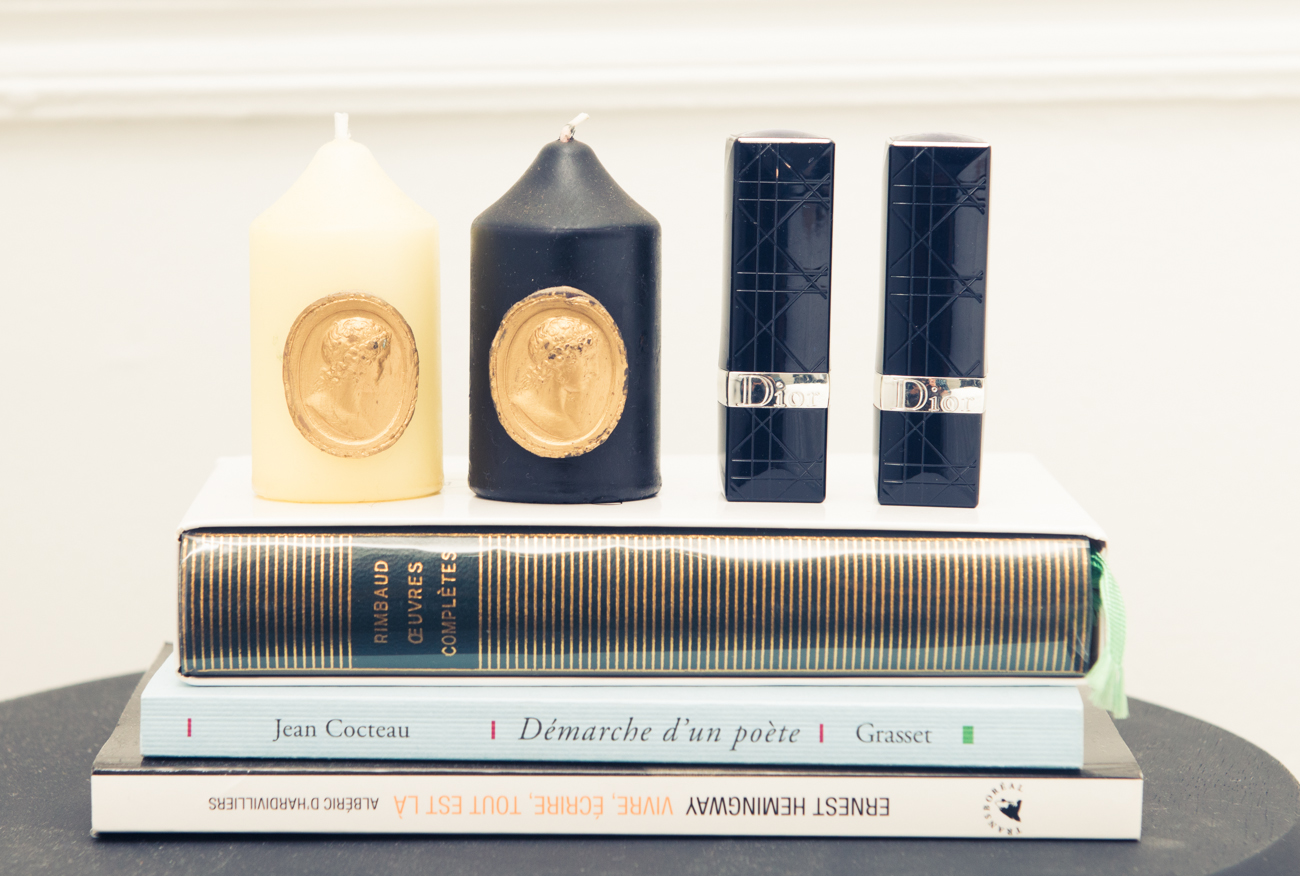 Where to Find Out-of-the-Box Gifts (According to Stylists, Editors & More)
All the stores to hit up in New York and Los Angeles.
Here's an idea: when it comes to finding gifts for everyone on your list, put away that top-anything-of-2015 list and use your imagination. Okay, fine. That already sounds hard. You swear your mom liked the latest Margaret Atwood for the past three years—why wouldn't she love it this time around? We know, we know: finding notable gifts at a time when you're being barraged by ads for Sweaters for the Whole Family! while simultaneously feeling around in your wallet for loose change seems near impossible. But not when you have our Rolodex! Because we don't know in quite the same way they do, we called up some of our favorite people in NYC and LA to find out where they get their most out-of-the-box gifts. Now you're ready for the holiday season.
"I love going to the 1st Dibs space in the NY Design Centre (200 Lexington Avenue). It's great to see pieces in person and you always find special small items that are perfect for gifts. Dover Street Market (160 Lexington Avenue) is my go-to for interesting jewelry pieces. I love to give friends and family something special that they can hopefully keep forever!
 
I love to go to Anya Hindmarch (http://www.anyahindmarch.com/) because she has great gifts, from personalized notebooks to trinkets and leather stickers. It's nice to give something fun and different!
 
Flowers are nearly always appreciated, as are candles. Le Labo (lelabofragrances.com) and Diptyque (www.diptyqueparis.com) are my favorites to gift."
DANIELLE PRESCOD
Accessories Editor, InStyle
"When I am not shopping online, which is almost never, I like to go to this rubber stamp store in the East Village. (Casey Rubber Stamps, 322 East 11th Street.) They have every single kind of rubber stamp you could ever want and they are able to do custom designs, too. I love to give these out because they feel really personal and I can always pretty much guarantee that, unless I have already given them one, no one I know already has a rubber stamp. I've given out everything from initials, to emojis, to things that reflect my friend's hobbies like horses and sailboats. I, myself, have a ballerina.
 
My favorite budget friendly gift to give is a bracelet from Ryan Porter (www.shopryanporter.com). You can make them say anything you want, but they also have stock bracelets that are fun, too. They start at $25 and it's great because you can keep making them over and over as you think of more fun things to say.
 
I am going to give my friends Bow and Drape (www.bowanddrape.com) custom t-shirts this year. I have one with the smiling poop emoji on it, but you can get anything you want, even sayings. I'm going to give them ones with my name—you know, so their other friends are not confused about who the best friend is."
"The best gift is a train ticket and admission ticket to the Dia Beacon (www.diaart.org) in Beacon, New York. It is one of my favorite close getaways from the city. The contemporary art and architecture is not to be missed.
 
And I am most excited about giving my mum tickets to the Broadway show Hamilton (www.hamiltonbroadway.com). We both share a love for history, so I thought it would be perfect. I have heard wonderful things about this show and can't wait to surprise her."
SUNHEE GRINNELL
Beauty Director, Vanity Fair
"No matter how you slice it, people just love food. So I love to shop at Eataly (200 Fifth Avenue). They have everything there, from super fancy imported olive oils to gorgeous looking dried pastas and everything in between that is cooking oriented. I get inspired to cook just being there!
For a last minute gift I get a Ten over Ten Nail Salon (www.tenoverten.com)—they are open until 10 PM! Or, gift cards to Dry Bar (www.thedrybar.com), and they are open until 9 PM. I'm always a sucker for gorgeous candles because there's nothing better than a good-smelling room and everyone looks beautiful in candlelight. Some of my fave candles are: Francis Krukdijian Mon Beau Sapin (smells like Christmas!), Lubin Paris, Aedes de Venustas, anything by Fornasetti, Belle Fleur's Indochine (new!), Bella Freud's Loving, and Frederic Malle's Cafe Society! Well, my list goes on, so I will stop there..."
"The best gift is a Christmas ornament from John Derian (6 East 2nd Street) and a bottle of champagne."
PUNCH HUTTON
Deputy Editor, Vanity Fair
"I love William & Wayne (40 University Place; 846 Lexington Avenue) when I'm looking for home accessories. I think Barneys (www.barneys.com) has something for everyone—from clothing to books. And ABC Carpet and Home (888 Broadway) has perfect one-offs. I love the hurricane vases and 25" blue and white geometric jars at William & Wayne. I want about 12 different Madeline Weinrib carpets from ABC—and this exquisite pair of antique gold and glass earrings from the vintage jewelry display. And from Barneys—where to start? How about with a long black cashmere shawl collar jacket from The Row?
 
For a hostess gift, I go to Bergdorf's (754 Fifth Avenue) or Barneys to pick up some of Kim Seybert's myriad festive tabletop accessories (coasters, napkin rings, candle holders). I also think vintage coffee table books are a chic hostess gift. For more affordable coffee table books, Assouline (assouline.com) is perfect. And any type of match holder and striker, like the Shagreen one we showcased in this year's gift guide from Aerin (595 Madison Avenue). Also a mini macaroon pyramid (about 20 macaroons for $90.00) from Ladaurée (398 West Broadway; 864 Madison Avenue) is always a crowd pleaser—it's pretty to look at and fun to eat (note: you have to order it four days in advance). Any type of magnifying glass with a handle—like the type Sherlock Holmes used; it has many uses from helping eyesight to functioning as a paperweight.
 
Every Christmas, Max Mara sends a big chunk of fabulous Parmesan cheese and a bottle of Italian olive oil—I think this is a perfect gift. John Derian has great little plates and trays for odds and ends. And my go-to for kids is Roberta Roller Rabbit (www.robertarollerrabbit.com).  The pajamas are perfect, as are the blankets and printed tunics. 
 
I'm most excited about giving my sister-in-law a monogrammed Edie Parker clutch (edie-parker.com), and my father-in-law a gift certificate to Ship Sticks (shipsticks.com), a company that ships golf bags and clubs to your destination so you don't have to schlep them. I'm super excited to give my colleague, Cat Buckley, an amalgam of various gifts to help get her ready for her upcoming wedding—including a makeup run through with Vênsette (www.vensette.com). For my husband, I have a weekend trip planned (but I can't say where). And for my daughter and son, every bit and piece of the holiday season—from their Elf on Shelf and new railroad tracks for Thomas the Train, to the four goldfish they are hoping Santa delivers."
JORDANE CRANTELLE
PR Professional
"Burro (1409 Abbot Kinney Boulevard) has great books, candles and great cards. They basically have everything you need for a good gift. Sibella Court's books are my favorite to gift and candles from Maison Louis Marie. My friend Elodie Bouchez told me about OK The Store (8303 West 3rd Street) years ago. I have got myself some nice very delicate rings, which I still wear. They also have great home accessories, lighting and more. It's a really well curated little store.
 
I go to Diptyque for a candle. My faves are Figuier for summer, Myrrhe for autumn, Feu de Bois for winter and Rose for spring. Mercado 1788 (mercado1788.com) is my favorite florist in LA. They do beautifully put together, delicate and elegant bouquets. Héritage Fine Wines (9400 South Santa Monica Boulevard, Beverly Hills) is great for a good bottle of French wine. And Matson + Palmer (www.matsonpalmer.com) has amazing cashmere blankets. I'm obsessed with their new pillows!"
JAYNE MIN
Designer; Creative Consultant
"Mohawk General Store (4011 West Sunset Boulevard; 26 Smith Alley, Pasadena) is always a good bet. Whether you want to go big on some Dries or just pick up an Astier de Villatte candle, there's something in every price range. A new favorite is Formerly Yes (954 West Broadway). I love everything from Craft Design Technology (craft-design-technology.com), especially the pens."
 
For thank-yous, I usually go to Clementine Floral Works (3936 Sunset Boulevard) for a beautiful, greens-heavy boutique (I usually opt for a giant bundle of eucalyptus). Arcana Books (8675 Washington Boulevard) always has one billion things I would buy if my bank account allowed. Art books always make great gifts."