Career
How to Make a Holiday List Like a Celebrity Stylist
Tara Swennen shops for a living, so she knows what she's doing. In collaboration with BCBGMAXAZRIA.
Emily Ramshaw
How daunting is your holiday shopping list? Have you even made one yet? Who's on it? How much are you spending? Who gets what? Who doesn't get anything? Arrrrgh!!! It's enough to make you want to skip the festivities all together, no? We might be pros at trolling Yoox and eBay for ourselves, but when it comes to organizing ourselves around the holidays and finding that perfect little something for everyone else in your life, it's time, for us at least, to call in the big guns. Like say, Tara Swennen, who admits to "shopping for a living." Sounds exactly like what we need. So maybe the Los Angeles-based stylist doesn't really just shop for a living—as in she shops and then styles everyone on your best-dressed list, from Kristen Stewart and Kirsten Dunst to Emily Ratajkowski and Heather Graham. Again, she's exactly who we need.
---
It took us literally no time to start drilling Swennen for tips when we arrived at her Studio City home. Wrapped up in head-to-toe BCBG coziness she patiently led us through the ropes, from year-long planning (seriously, though) to quick, go-to gifts. Do yourself (and your stress levels) a favor and read on.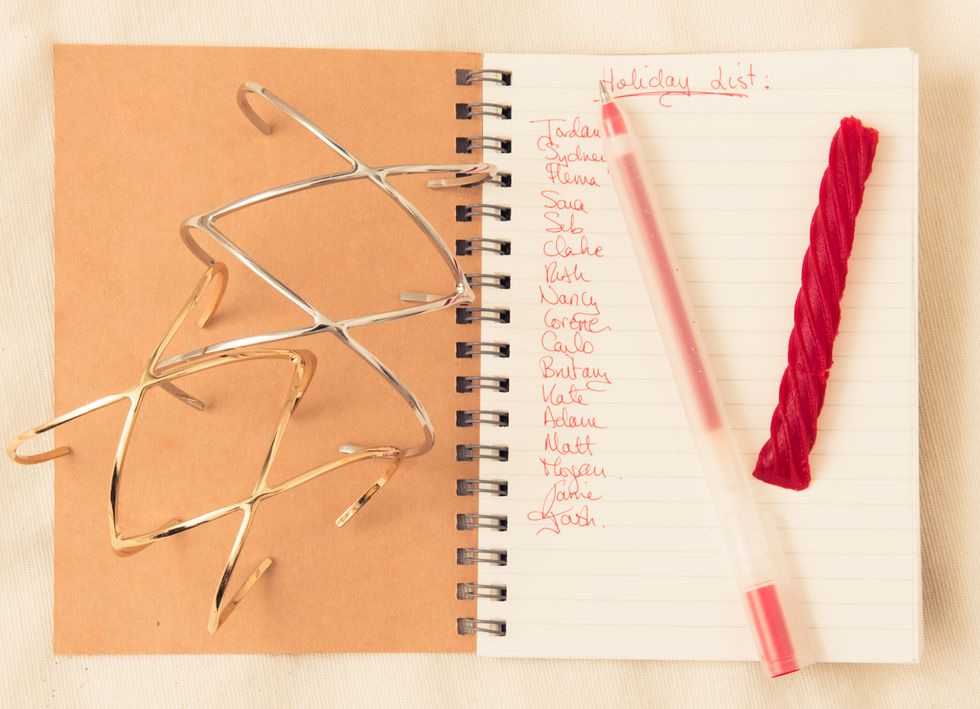 Make a list all year long
"Christmas starts the day after Christmas for me. It's a holiday that I love, so I really start planning very early. I'm in a unique position in that I shop for a living. I start peeking at things—and we obviously do this for ourselves as stylists—when I see something at the beginning of the season and you've got your eye on it, and then you just keep your eye on it until it goes on sale, and then you nab it. So, I start pretty much right at the beginning of the year; I start accumulating stuff and store it up in the attic (I'm such a dork this is ridiculous, but this is actually how I do it). Then around Thanksgiving I take it all down and I start wrapping it up and figuring out where the loose ends are and that's when I shop for the last bits and bobs."
Have a standardized list
"I generally have the same crew on the list: family, best friends, the people you work with, my agents. Those are my regulars who I look out for all year long. If you make a new friend, or something like that—have another kid—they get added to the list."
Collect great last minute gifts
"The best last minute gifts for guys and girls are candles for the house and cologne and perfume. You kind of know that you're safe either way and it's a thing that everyone can use. If you're going to a party, champagne; always bring the bubbles."
Have a favorite
"My friends get one or two presents and then my daughter has a pile that's to the ceiling. And I can't stop. It's actually a problem—I think any parent can empathize with me—but you literally just go, 'Oh, she'd like that; Oh, that's awesome.' And then you end up walking out with bags the size of trees. My younger sister, too. There's something about your baby sister—you want to spoil them.
The special gift for my daughter is we got her a bunk bed for Christmas and we're actually going to build a castle front so that she can have a castle and be a princess."
Tackle the person-who-has-everything gift
"Photos and memorabilia of that sort is really the best thing you can do and even if you have a million material things, a memory is so precious, so that's generally what I tend to go for. I'm a big fan of going to framing stores and finding cute stuff like boxes and cubes that you can stick a million pictures in; and frames for family pictures."
Have go-to (stylist approved) gifts
"For guys, eyewear, ties, even pocket squares—accessories are always the easiest for fit reasons. I love giving fun socks to guys—I literally just gave my trainer a pair that had cheeseburgers all over it just because I had to. For girls, jewelry."
Treat yourself
"Selfish as it is, every other Christmas I like to give myself a big trip—like an Eat, Pray, Love trip. Last Christmas I went to Laos, Cambodia and Thailand and that was amazing. Treating yourself is key. It's the gift that keeps on giving."
The best gifts give back
"I do like, around this time of year, doing something for people you don't know, whether that's giving to charity or doing some volunteer work. That is the best feeling in the world. Having someone that really needs something or really appreciates it is truly the best."
Re-gifting isn't always bad
"I'm in a very unique position where I get stuff because some people think I'm sample size, which I ain't. So I get to re-gift those to my little friends. I'm not opposed to re-gifting—it's the thought that counts, so it shouldn't matter. There's stuff I've been gifted that I would never wear, I'd never put it in my house—it's not for me, but if you're going to love it, I'm happy to pass it along."
Bring a bit of humor to the gift-giving situation
"Always think about the things that your friends love, but also think about the quirky things. I love adding a little bit of humor in there or a personal joke. If they love red, buy them a ridiculous red hat with pom-poms on it. And even though it might be a Secret Santa gift, those always bring a little comedy to the holidays."
When it's finally time to go Christmas shopping, dress appropriately
"Obviously, when you're shopping, comfort is key. I tend to like wearing flats or flat boots. I throw on a great skinny jean and tuck them into your boot, a cable knit sweater and a great warm coat. Right now, wide-leg pants are in and those are super comfortable—just pair them with a pair of Chucks or a ballet flat. You don't want to wear anything too constricting."