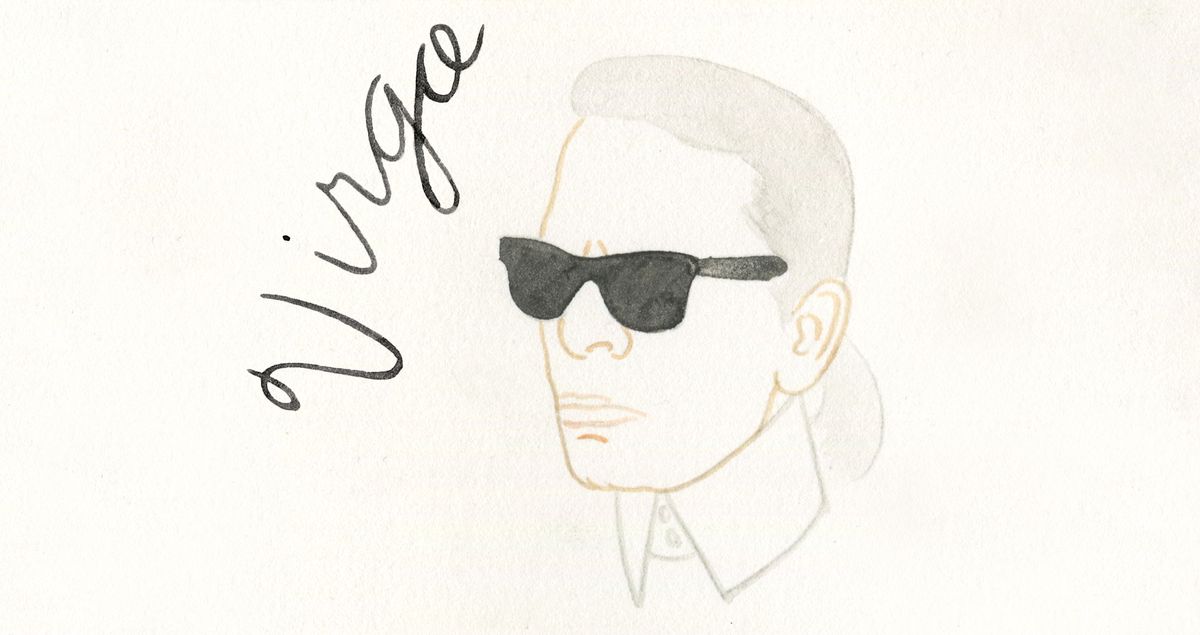 Horoscopes
August 23 to September 22
Illustration
Meghann Stephenson
---
Virgo is one of the most misunderstood signs for some mistakenly assume Virgo to be a prissy sign. Make no mistake: Virgo is a sexy, warm and devoted sign that believes in keeping private things private. There's an earthy sexiness about this sign that makes them approachable, warm and funny....memorable too.

If there is only one thing you remember about this sign it's that to Virgo, details matter. She or he knows that we reveal our character through the many small things we do and choose, and Virgo pays a great deal of attention to those details. Her eagle eyes spot flaws in things easily, which gets Virgo a reputation of being critical, but in fact, it's more of an indication of his or her idealism, always reaching for perfection. Why accept things as they are when they can be so much more?

Whether male or female, Virgo feels that it is not appropriate to indulge in public displays of affection or to dress in a flashy way. For this modest sign, keeping private things private is important. Virgo is a master communicator, too, and will always go the extra mile to make sure the right message has been received.

Mercury rules her sign, making Virgo particularly dexterous, which is why this sign often has hobbies that involve handwork such as fashion design, illustration, sewing, tailoring or carpentry. Not surprisingly, Virgo rules French couture.
Star Sign:
IRIS APFEL
August 29th
Would you like to get your Virgo love a jewel? Make it the peridot, the gem with a beautiful velvety light green color and one of the favorite gems of Cleopatra. The name peridot is derived from the Greek peridona meaning to provide with abundance, and is said to be reminiscent of the harvest, a time of celebration and productivity. The stone is also said to aid in healing and health. All these qualities are associated with Virgo, born at the time of the harvest, and considered the most productive of all signs.
Her sign rules jade, so a ring or pendant of this stone might toughen her heart and bring her luck, too.

She loves to use her hands so treat her to lessons in calligraphy and when you do, provide her with the tools she'll need. If anyone can excel at this art, it's Virgo. If you don't feel calligraphy is her special interest, then surprise her with 10 piano lessons or a portable sewing machine with many features. Gifts like these will help her develop her special small motor skills and agility of her hands. If she loves needlepoint, surprise her with a custom needlepoint kit. She might like to bead, knit or crochet too. If so, get her materials.

With all the work she does with her hands, they can at times feel cramped. Give her a year of manicures, one per week, to keep her fingers feeling and looking top notch. Virgo, of all the signs, puts a high premium on being well groomed.
Analytical at heart, she would be fascinated with a handwriting analysis of her personality. Give her a full report. In Europe, handwriting analysis is taken very seriously. Genuine experts run this business. For more information, go to: GraphologyConsulting.com

Since she is likely to spend many hours at her desk, a unique desk accessory would be appreciated.

Give her 10 visits of a personal trainer—Virgo wants to be fit and is happy to work at it. Buy her a bikini, for she has the figure to show it off.

If she is overworked, give her a real live personal assistant for a day, a week or a month. Or give her a weekly housekeeper to help her with her workload for six months.

Want to send her flowers? Send her a tiny but jewel-like nosegay bouquet of several small, delicate flowers for her desk at the office—Virgo generally does not like large displays. Her sign rules small flowers that grow wild, including forget-me-nots, buttercups and veronica. In the spring, you might want to send her a pale pink or blue hyacinth plant—the fragrance will delight her for days. Send it in a beautiful basket with a ribbon, and promise her that her plants will arrive after the snows of winter have melted.
Star Sign:
TOM FORD
August 27th
Virgo is a highly productive sign. Give your Virgo man a laptop computer so he can work on the run, or a new desk lamp for his study at home.

He also likes to stay healthy, so give him a 6 or 12-month membership at a good gym. If that's too expensive, give him a gift certificate for new Nike sneakers. Get him the ones he can design and make to his custom specifications. Or buy a duffle bag to carry his gear to the gym and surprise him with new workout clothes to put inside it.
Since he enjoys working with his hands get him an electric drill, or to clean up his car (Virgo likes things neat), a portable vacuum cleaner. For home, get him the Rhumba.

The Virgo man loves books and intellectual puzzles. A paperback book of crossword puzzles might be very welcome or a stack of interesting board games such as Trivial Pursuit and Scrabble (if he doesn't have the games). These should be fun, especially if you promise to play, too.

If you don't know him well and want to stay away from gifts that are too sexy, he might like smoothies and health shakes. In that case, get him the NutriBullet so that he can make his own smoothies at home.
If he is not typical of his sign, and therefore not a health nut, how about a professional martini stirrer to gently blend and not shake, just like 007?