Fashion
All the ball gowns! In collaboration with ELIE SAAB.
Renée Rodenkirchen
What happens when you bring together fashion week fixtures and street style darlings from Sao Paulo, London and Paris right in the middle of Paris Fashion Week madness and plop them in the brand new Elie Saab boutique at 31 Avenue George V with permission to, ahem, "go crazy?" Things escalate quickly. Not that we can blame them, of course: have you seen the designer's delicately embroidered evening dresses and bright red evening gowns?
Thing is Helena Bordon, Noor Fares and Anne-Sophie Mignaux kind of know what they're doing when it comes to dressing for an occasion, because on top of ruling the front row, they are also pros when it comes to doing it all (we know it's a bit of an overused trope at this point, but we're pretty sure you'll agree when you begin to understand what these women are about). 
Take Bordon for example, who jetsets around the globe while promoting local Brazilian designers and launching a new sunglasses line. Or Mignaux, who tries on diamonds in her role as jewelry editor for Citizen K, consults for the Vestiaire Collective among other clients, is an ambassador for children's charity L'Association Rêves, and is also mom to two young kids. (Are you exhausted yet?) And then there's Fares, whose jewelry designs we obsess over and who founded fcancer.org, an organization that supports other philanthropic efforts by offering free services. And still they manage to pull it all together and look flawless (pretty sure Queen B would approve) for a big night out—not that the ELIE SAAB gowns hurts in that department. You know #thatgirl in high school who was pretty much perfect in every single way? Yeah. Except this time, we talked to them. It was about time we got in on all their secrets.
---
If anything, getting dressed up with Bordon, Mignaux and Fares (and taking over the halls of the Four Seasons in the process) was an apt preview for the two months ahead—or winter gala season, if you're serious about this stuff. As promised, we had to ask how these women (who you'd better believe participate fully in the aforementioned "season") actually get ready on an "average" evening prepping for a big event. You know, like when they don't have the run of the ELIE SAAB boutique.. 
Helena Bordon
@helenabordon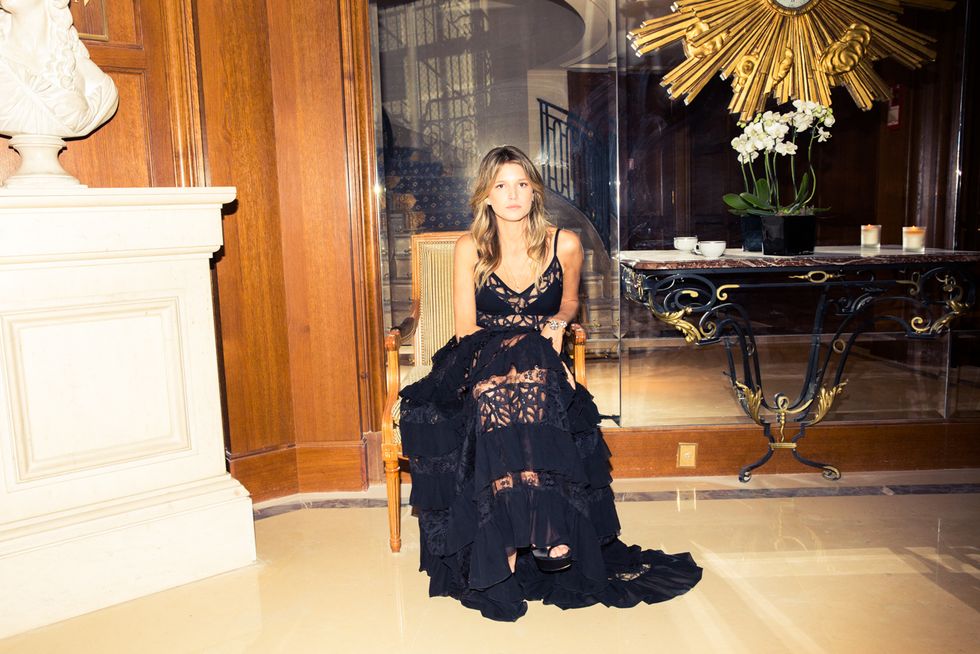 "If possible, three days before a big event I try to go to my dermatologist to do a facial or a laser treatment to give my skin a sort of extra boost. On the day of I use under-eye patches from Bliss for about 10 minutes and a Glam Glow mask, and then I always use Shiseido Glow Enhancing Primer. I love a glowy and bronzed skin—it's always a perfect healthy look. Also, a good black smoky eye for big impact—it makes the color of my eye pop when paired with a nude lip. For my hair I love a really sleek ponytail or a natural wave à la Gisele Bündchen.
I like to get dressed with my mom and my stylist; they are like my saviors. The embroidered dresses from Elie Saab are always a win-win paired with super high heels. With an embroidered dress I prefer to keep jewels minimal to keep the impact on the dress itself.
I like listening to music that makes me want to dance! Right now I'm addicted to "What Do You Mean" by Justin Bieber. I drink tons of water and Veuve Clicquot Rich. I eat light snacks—I love carrots and cucumber with sea salt
 
This season I'm excited to attend the Victoria's Secret Fashion Show."
"Before a big event, I do Kundalini yoga. For a big party, it's always nice to get ready with friends! You can exchange accessories and advice. I also like my friends to wear my jewelry. I love getting ready with my friend Eugenie as we have so much fun together.
When I'm getting ready, I listen to Indian or meditation music and drink ginger tea, green juice and healthy snacks such as vegan cakes.
Before an event I do a Cellcosmet Anti-Stress mask and get a good night's sleep. I love any hairdo with braids (I use Moroccan oil to protect the ends) and red lipstick. I love long dresses with embroidery or twin sets and wedges and platforms and a clutch by Nathalie Trad or Sarah's Bag. I'd wear this long red dress by Elie Saab for New Year's Eve. I'm also excited to celebrate my thirtieth birthday party."
Anne-Sophie Mignaux
@annesomgx
"Honestly, I don't really prepare myself. I get ready in 30 minutes max. I take a shower, brush my hair and do my makeup quickly before dressing up. I work a lot and I have a son, so I'm always in a rush! 
I like to get ready alone! But I always ask my boyfriend if he likes my outfit. His opinion is important to me. I turn on my Spotify list, and I listen to "Come Back to Me" by Hollysiz or "To Let Myself Go" by The Avener.
I don't have a specific treatment. I daily use my Clarins and La Prairie skincare and that's enough. I always wear my red CHANEL lipstick and Cherie-Cherie from Parfum Sur Mesure by Stephanie de Bruijn. If it's a big event, I go to John Nollet, who always find a solution for my hair. He has some amazing hair accessories handcrafted by Les Metiers d'Art de Chanel that are precious, beautiful and can make every haircut fantastic!
I love dresses from Elie Saab—they always fit perfectly. I do wear smokings from Pallas or Racil. For the shoes, I'm addicted to Jimmy Choo, Christian Louboutin or Giuseppe Zanotti. My clutches are from Elie Saab. For a ball or big event, I'd wear a long black lace dress, otherwise a short dress."
There's plenty more big night out prettiness where this came from over at thelightofnow.com.
Photographed on location at the ELIE SAAB boutique, 31, Avenue George V and the Four Seasons George V in Paris.