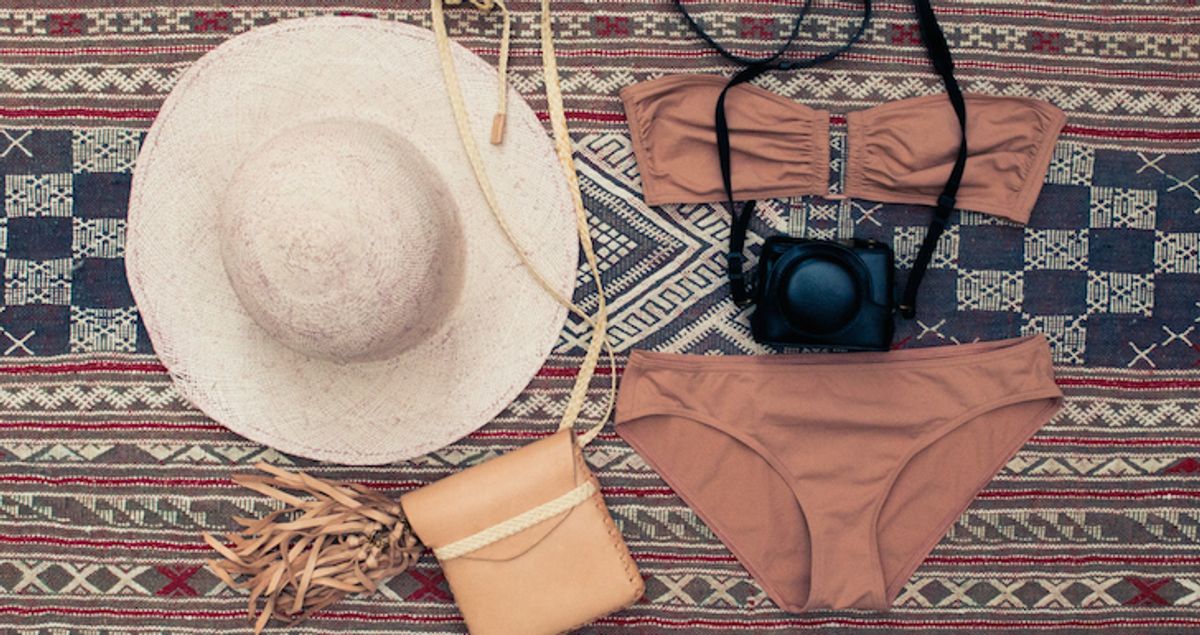 Fashion
We already packed our bags.
The lull between now and the real start of the holidays is kind of a buzzkill. Like, it's cold, but not cold enough for snow, ski cottages, or really cozy coats. And although we're being bombarded with gift guides and over-the-top store decorations, we're not exactly the super-organized types who start their shopping this early (life goals, guys). So the things we're semi-excited for right now are thoughts of Thanksgiving cocktails (thanks, Oprah!) at home with childhood friends and of course, our upcoming vacation plans. Okay, we lied; we're so excited. We may have already started packing. In our luggage: Zimmerman bikinis for the Australian summer, heavily-beaded clutches to shop the markets of Argentina, a Grecian-inspired dress made for lazy wine-filled lunches and go-with-everything champagne sandals (the only pair we're packing, we swear!) Turns out, we're all escaping to somewhere warm. I mean, can you blame us? We'll send postcards, promise. :wave:
---
Meagan Wilson
Senior Editor & Social Media Manager
I've been dying to make it down to Cuba—yes, before Rihanna's VF-spread—so here's everything I daydream about packing for it: a breezy, off-the-shoulder Peter Pilotto sundress, buttery cognac-hued Loewe Flamenco bag that'll (hopefully? Maybe?) fit everything and the kitchen sink, and not-white-for-long Aquazzura flats in the lace-up style everyone and their mother either wants or already owns. Dream warm weather wardrobe, sorted. 
A trip to Australia has been on my bucket list since, well, forever—but I kind of thought it was a pipe dream. I mean, it's literally the farthest place ever and includes sitting on a plane for a whole effing day. Butttt it's finally happening (and with my boyfriend + best Aussie friend, nonetheless). In celebration, I'm stocking up on key pieces from TC's favorite Australian designers. Like this breezy white Ellery dress for a warm Christmas day, Poppy Lissiman's Miss Sunshine bag (all her stuff is :boom:) and a Zimmermann bikini (because, of course) for beach-y days in Bryon. Oh, and I may or may not have dedicated a whole carry-on solely to sheet masks and heavy-duty moisturizers. That in-flight air, y'know?
Emily Ramshaw
Senior Editor
The first thing to know is that my parents live on a sailboat and spend their time floating around in tropical locales. So, when I have some time to get away, especially when the mercury dips up here in the north, I make it my business to visit them wherever they happened to be anchored (I know, I know, it's so hard to have your parents move away). Our next reunion is happening in Barbados—and if my mother's email updates are any indication, we're spending a champagne brunch or two at some hotels that are straight out of James Bond circa Sean Connery. My outfits on these visits typically range between sun-bleached bikini and Bali-sourced wraps, but considering a dress code is in effect, I might as well go all out nautical classic-cum-Jackie O: a navy blue shirt dress, XXL shades and some very non-seaworthy sandals.
I CANNOT wait for my holiday vacation. I'm getting as far as hell away from the snow and flying down south to visit my family in Buenos Aires. I'll be spending my days by the pool and weekends on the river in Le Tigre—which is what this She Made Me crochet bikini was made for. The rest of the time I'll be sitting on sunny patios with my cousins and friends drinking mate, eating facturas (think sweet croissant with a side of dulce de leche :heart_eyes:), and having the best damn white chocolate ice cream, ever. Like I said, I can't wait!!