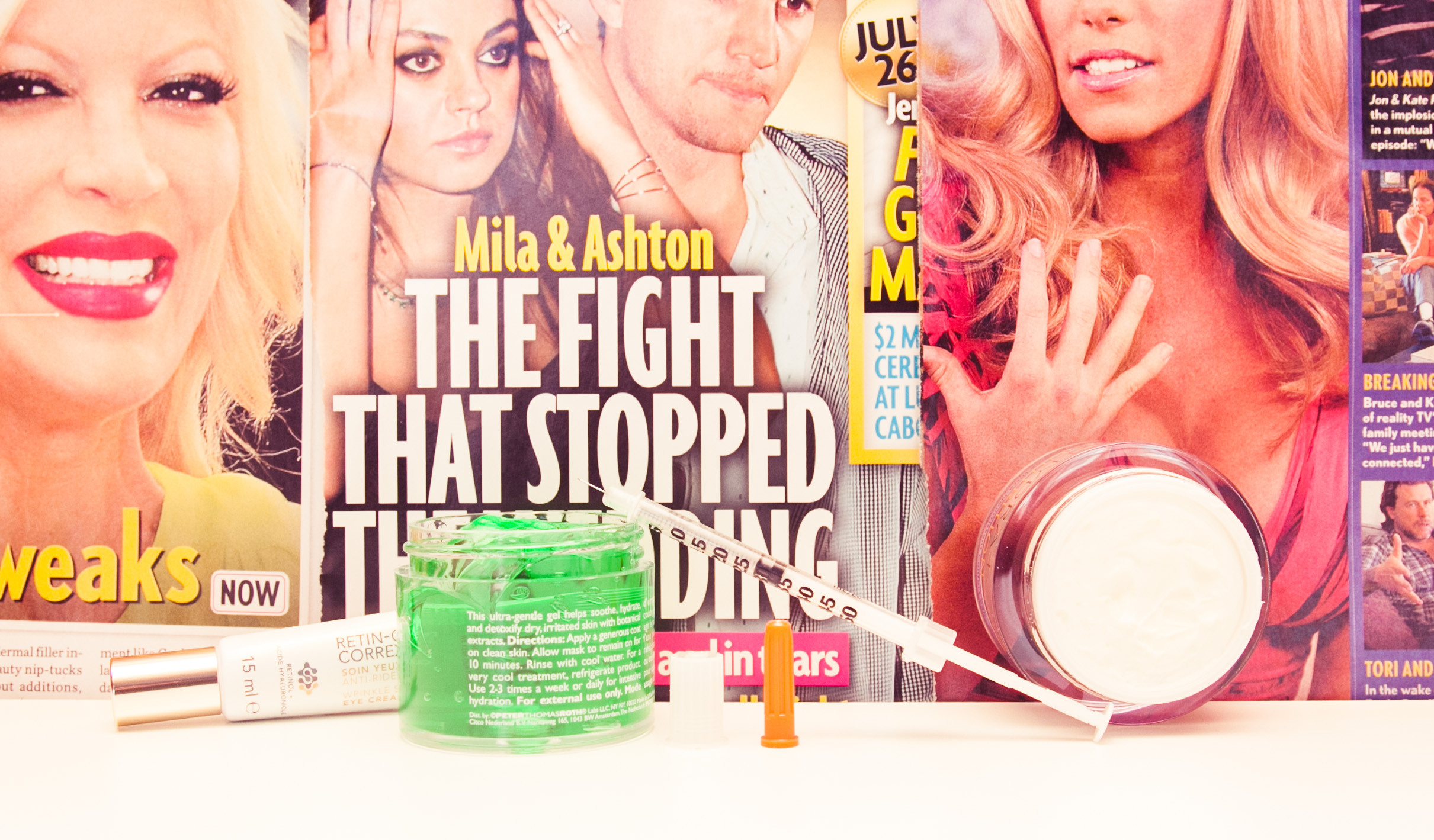 Skin SOS: Baby's First Procedure
Docs and derms on when to start skin self-defense (answer: yesterday)
When it comes to anti-aging procedures, we'll admit it: we're among the group who're holding out for a) the imminent discovery of a Benjamin Button pill, or b) a miraculous immunity to wrinkles and sun spots (come on, genetics!).
We're perpetually putting off the dermatologist in favor of the winning combo of Kiehl's serum and unending optimism that our skin will continue to look mid-twenties good. What, we even slather on the occasional facemask claiming to contain Amazonian youth-fountains—is that not enough?
Stop reading here if you'd like to continue on in aforementioned blissful ignorance.
When it comes to your first time, the experts we talked to (and a lot of them have their names on various miracle creams, so probs a good idea to listen) say the earlier the better. From lasers to peels to—gasp—Botox, let the derms break it down for you.
On the first procedure to get...
"It is never too early to start investing in your skin. When you start young it is like starting a savings account at the bank—you are saving your skin for the rest of your life. A great first procedure is doing the Clear and Brilliant Laser. It will help regenerate collagen, even out texture and help with pigmentation. It will also improve the overall radiance of your skin. A bonus with this treatment is that there's minimal downtime—the redness goes away after three hours."
On the skincare regime to start, like, now...
"I believe women should always use a sunscreen with a minimum of SPF 30 every day. Make sure it has UVA/UVB protection. In the morning, I recommend that women use an antioxidant moisturizer such as my Xtend Your Youth (XYY) Face Cream, to help protect against free radical damage generated from UV exposure, internal stress and environmental aggressors. At night, I highly recommend a retinol cream, such as my Glow Overnight Resurfacing Serum, to help regulate collagen production, stimulate cellular turnover, soften the appearance of fine lines and wrinkles and help keep your pores cleaned out."
On when you start aging (it's scary young)...
"Women should begin being proactive about anti-aging in their 20s. Research shows that as early as age 25 our skin's two structural proteins—collagen (which keeps it firm, taut and resilient) and elastin (which gives skin its flexibility, enabling it to stretch out and then snap back into place)—decrease. Cell turnover slows, antioxidant protection diminishes, and natural defenses and skin healing abilities decline. Also, wearing sunscreen is something everyone should be using well before they hit their 20s. It's an anti-aging tool that should be used 365 days a year to prevent sun and free radical damage."
On the first "in-office" procedure you should consider...
"There are plenty of in-office procedure available to women who are looking to prevent signs of aging. A popular one in my practice is the Alpha Beta Professional Peel. It helps to firm the skin, increase cell turnover to reduce the appearance of fine lines and wrinkles, while giving the skin an immediate glow. Another popular in-office procedure include non-invasive lasers which have no downtime involved. Syneron Candela's Gentle Max Pro laser technology of Collagenesis stimulates collagen with heat to smooth, firm, and prevent the future appearance of fine lines and wrinkles. A series of 3 is recommended for optimum results."
On the skincare you need now (a.k.a. eye cream. Also, Retinol)…
"Every 25-year-old should be using an eye cream at this age. The periorbital skin around the eye area is prone to a phenomenon called solar elastosis, which a breakdown of collagen and elasticity. Because skin in this area is so thin, there is a paradoxal need for a specially formulated cream that is both strong yet gentle.
"Anyone who is serious about anti-aging should have Retinol in their everyday skincare regime. Retinol stimulates the production of new skin cells and inhibits the body's natural enzymes that break down collagen. It also helps to fade dark spots resulting from photo-aging, hyperpigmentation, hormonal changes and blemish scars. The latest skincare breakthrough our brand has developed is actually in Retinol. Our Ferulic Acid + Retinol Brightening Solution is a unique product because of the synergistic effect of Ferulic Acid and Retinol. Both Retinol and Ferulic Acid have many of the same anti-aging benefits, but their mechanisms of action are different. I found that the effect is greater than the sum of the parts when used together (1+1=3). By combining Ferulic Acid with Retinol, I have managed to take the effects of both ingredients to an even greater level of benefit than either can achieve on its own. For instance, Ferulic Acid, a natural antioxidant derived from fennel, artichokes and cherries, actually boosts the anti-aging benefits of Retinol. In addition, this product evens skin tone, adds radiance and minimizes pores."
On the fact that it's never too early...
"When women start to see lines and wrinkles at rest it's almost too late to start—it's better to be preventative and start sooner!"
On going for the needle first thing...
"Botox is the absolute best first procedure. You just need to get a consultation with a board certified aesthetic dermatologist or plastic surgeon. Botox is super preventative for aging."
On what exactly you should be looking for in your skincare...
"Although more women are using SPF at an early age, skincare should be started as early as the late teens. This could be as little as SPF 30, 365 days per year, as well as an antioxidant to capture free radicals and prevent long term sun damage such as laxity, large pores, uneven pigmentation and wrinkles. Products containing Retinols, MMPi, coenzyme Q10 and green tea are examples of ingredients to look for."
On what to expect from your first Fraxel treatment...
"Frequently, the first signs of aging are from sun exposure. Treatments can range from having professional peels (glycolic, TCA, or combination peels) to fractionated resurfacing (such as Fraxel Restore or Dual), which will return skin to a pre-damage, luminous appearance, tighten pores, reduce scarring and even pigmentation. Fractionated resurfacing involves using a laser to stimulate new collagen and replace old damaged cells. Each treatment takes 15 minutes of actual laser time, leaving the face slightly red for several hours and has no recovery the day after. Several treatments are needed for full effect. The face feels slightly warm after the procedure. Others complain of expression lines such as the 'Elevens' between the brows or crow's feet. These should only be treated if visible! Not to prevent their appearance. Volume loss is usually not an issue with very young women."