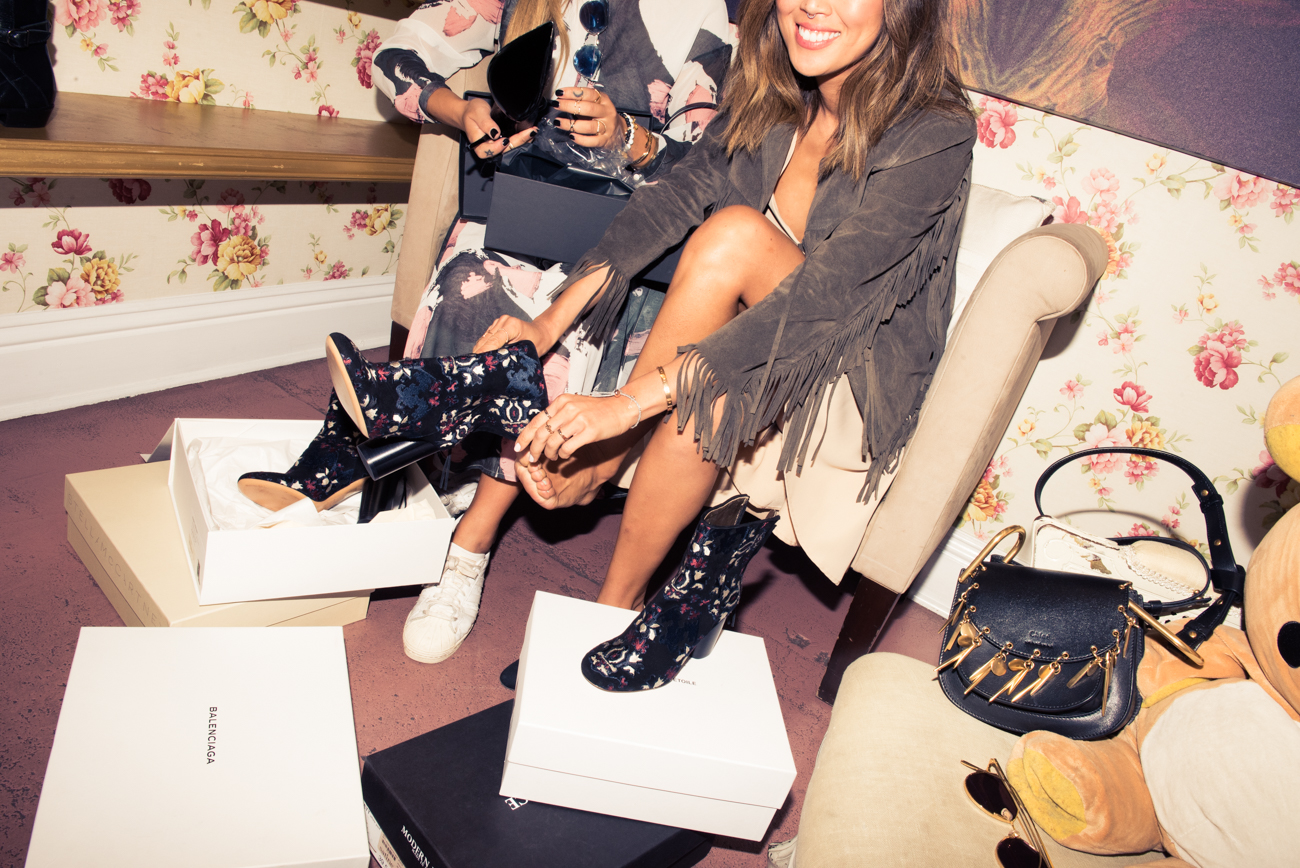 How Aimee and Dani Song Do the Most Indulgent Day Ever
It involves a shopping spree, personal Flybarre session, and three sides of chips and dip. In collaboration with La Mer.
Remember when, like two days ago, we crashed Aimee and Dani Song's suite at the Peninsula Hotel in Beverly Hills to spy on their morning routines? Yeah, it was kind of amazing. But the whole reason we were there, aside from seeing their entire glam ish go down, was so we could tag along for the entire day. With their Snapchat stories as bait, it was only a matter of time before we'd make it our business to catch up with the Songs.
Okay, so it's not like we haven't had our fair share of requisite shopping and juicing around LA, but doing it with Aimee and Dani is that much better (trust us, you'll get what we mean shortly). You see, when you call the City of Angels your hometown, you pretty much know how to pack a day off from your regular 9-to-5 full with what we like to think of as the best ways to treat yo self. Necessary first stop? Why, play some grown-up dress-up at Satine Boutique, of course! And you know, possibly walk out with a pair of brocade Balenciagas. A few credit card swipes later and we were off to work on our fitness (okay, so more like we sat on the sidelines and let Aimee and Dani do all the hard work—we're on the clock, guys) for a private Flybarre class. An hour long sweat sesh comprised of V-sits and planks demanded a quick de-frizz (cue stashed La Mer The Renewal Oil) and essential refuelling: we went straight to Pressed Juicery for all the vitamin-y deliciousness.
Such a jam-packed day of goodness ultimately requires a midday refresher. So we followed the sisters to their fave salon, Anh Co Tran, for tandem blowouts before their dinner date. And if you know anything about us (and Aimee and Dani) it's that this last bit is hands down our favorite part—especially because it involved trout meunière and three sides of chips and dip (not that we're counting or anything—and, yes, they killed it). And just like the day began, it ended, at the sister's suite where they let us overstay our welcome just a little longer to snoop on their nighttime beauty routine including a cameo by that magical little bottle of oil for a late night in-suite facial and cuticle treatment. 
Flywheel Barre
— 8599 Santa Monica Blvd, West Hollywood —
Dani: "I usually don't like working out but I love FlyBarre! The instructors have so much energy and they're so encouraging, which keeps you up and going. Their playlists get me in the mood to turn up!"
"An hour long sweat sesh comprised of V-sits and planks demanded a quick de-frizz"
Pressed Juicery
— 8714 Santa Monica Blvd., West Hollywood—
Aimee: "Pressed Juicery was probably one of the very first cold-pressed juices that I ever tried. I really like it because the quality never changes, even from that very first time. They also have amazing cleanses."
Anh Co Tran 
— 8912 W Olympic Blvd, Beverly Hills —
Dani: "The team at Anh Co Tran treat their clients like kings and queens and I always feel very special. They thoroughly inspect your hair to find out what's wrong and recommend the most relevant treatment. They're very quick with their hands and they finish it off like pros. The atmosphere is great."
Aimee: "Not only is Anh's salon the nicest and most well-decorated salon in Los Angeles, but the people who work there are just absolutely amazing. I love working with Anh. I've been working with him for a few years and no one can recreate his cut. All the hairstylists there really know what they're doing. It's not just about creating cool hair, but about the whole experience. And it's not so chaotic, despite their completely booked client list."
Terrine
— 8265 Beverly Blvd., Los Angeles —
Aimee: "Terrine has the best French food hands down in Los Angeles. Everything I've ever eaten there, since their opening, has been amazing whether I'm there for lunch or dinner. And I really love the atmosphere."
The Peninsula

Beverly Hills
— 9882 S Santa Monica Blvd, Beverly Hills —
Aimee: "Peninsula is so luxurious and you kinda feel like you're at a beautiful resort or spa with all the plants that they have everywhere. The decor is gorgeous."
"Their nighttime beauty routine included a cameo by that magical little bottle of oil for a late night in-suite facial and cuticle treatment."