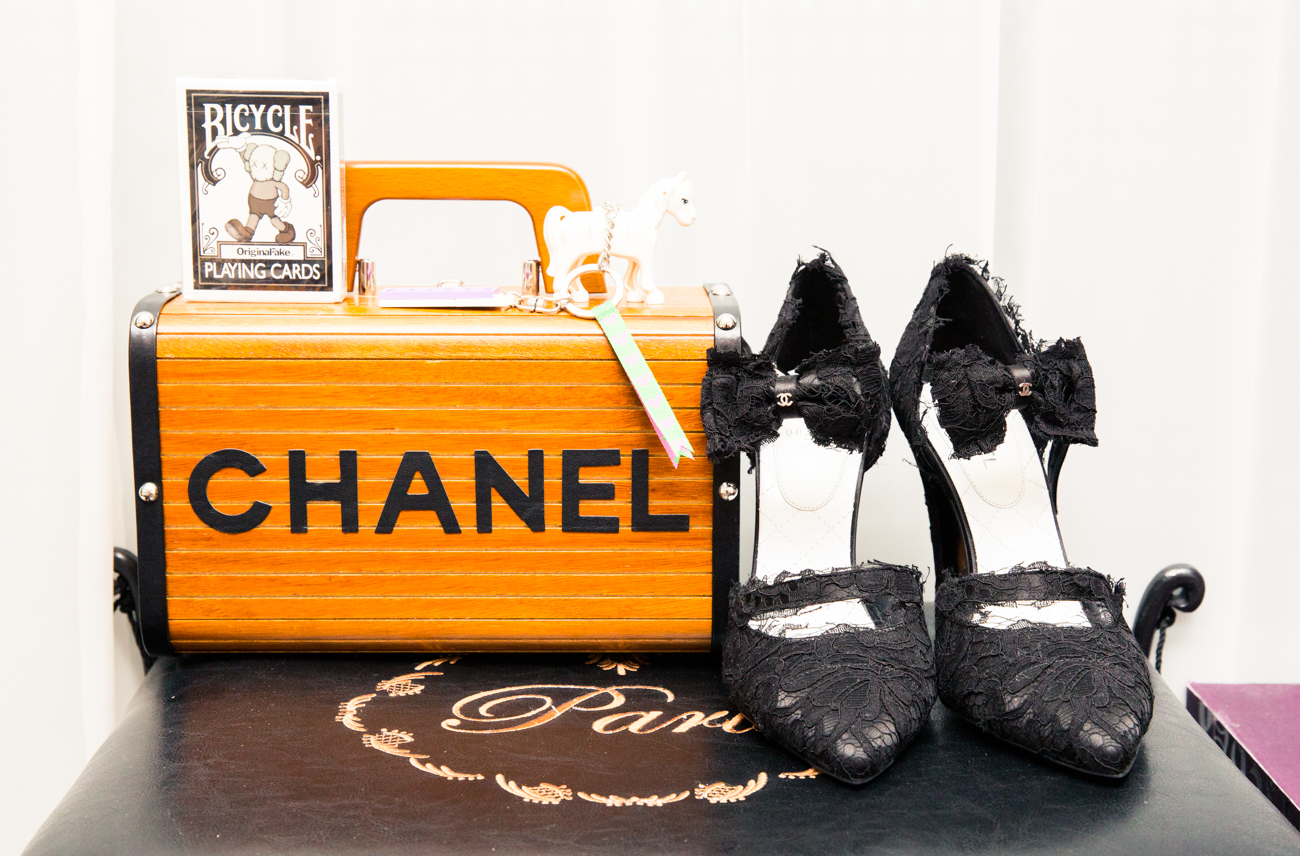 Editors' Picks: Fall Styling Staples
Wherein we summon our inner stylists.
It's no secret that we have a shopping problem. I mean, just ask our UPS delivery guy—he knows about allll the packages. And by problem, we mean we hoard all sorts of things in various digital shopping carts across the Internet and then on about the third glass of Cab Sav, hastily press checkout, even when we really didn't need another striped sweater or those plum velveteen booties (they're beautiful and we swear we'll wear them all the time). So we're taking on a bit of an inter-office challenge where instead of purchasing anew, we're restyling pieces we already own (we'd <3 for our closets to be straight RTW, but it's just not realistic, okay?) all while, y'know, making what we have feel fresh and almost 2016-like. In kind, it's also no secret that we spend way too much time on our iPhones, so when one of our editors downloaded the Covet Fashion app, we all followed suit and proceeded to waste a whole afternoon eating popcorn and virtually shopping. Turns out it's almost as fun as IRL shopping, and doesn't come with haunting credit card statements. (Scroll down to join us on the app—there are even special games dedicated to dressing just like yours truly.)
Noah Lehava
Senior Editor
I love fall but adjusting to the dropping temperatures, well, I straight up can't deal. My usual transitional cold-weather wardrobe consists of the warmest materials in existence, a.k.a wool and leather. Good thing for me, these also happen to be both cozy and pretty to look at. Cue this totally interesting, extra chunky and fringe-y knit from Yigal Azrouël, and these ever-so-slightly flared J Brand leather pants. Oh, and I'm obsessed with chokers as of late, so this Jenny Bird version needs to be in my life.
Alicia Cesaro
Editorial Assistant
File under things I'd buy today if a) it was payday and b) I wasn't trying out this whole no shopping / save money / eat dinner at home thing. 1. This fantastic (only appropriate adjective for things involving Italian cashmere) Veda wrap coat complete with subtle leather detailing. 2. A perspex clutch in a leopard (pink!) print for when I need to ditch my shoulder-pain inducing work bag and majorly downsize. 3. Wear all-the-time denim to add to my current 26 pair rotation in a very similar wash and fit. Orrr I could just not and throw on my jeans, black coat and leopard bag and save myself a cool $1800. Which sounds a lot like that "fiscal responsibility" thing my boyfriend keeps harping on... 
Meagan Wilson
Senior Editor & Social Media Manager
Daria Werbowy told me that her leather jacket collection is verging on "ridiculous." In the sense that it's a sort of sickness, actually. I feel her—the hunt is kind of never over, and this Veda one is just the thing to satiate me for now. How amazing is that merlot-y color? It would wear well with this midi-ish Zimmermann skirt and a pair gold Frends headphones. Daria approved? Maybe? :heavy_check_mark::heavy_check_mark::heavy_check_mark:
Kelly McLeod
E-commerce & Audience Development Manager
My style is, for lack of a better word, boho. But as much as that word makes my face look like this :confounded: I don't mean it in a running through a field of sage spreading peace, love and happiness:v: kind of way. It's about laid-back luxury, so mixing in more refined pieces and avoiding the haven't-showered-in-weeks hippie look. Let me break it down for you: this plum-y red leather Frye tote—anything fringe is a must; a floaty dress like this Veronica Beard beauty (keeps things easy-breezy) and a merino wool hat to hide those dirty hippie waves and pull it all together (ok, so maybe I don't always wash my hair).
Emily Ramshaw
Senior Editor
When in doubt (and when my credit card has been declined one too many times in a row), I go for what I like to think are the Emmanuelle Alt classics. It's the simple stuff that's always in my wardrobe: high-waisted denim (like these from J-Brand), a leather jacket (how cozy does this Veda one look?), and a clean-lined piece or two of jewelry like this A Peace Treaty ring. And then I put on a pair of dark glasses and feel completely pulled together—even if my bank statement says otherwise. Emmanuelle Alt totally feels me.
Do you guys love our editors' picks? Now you can actually style them yourselves in the Covet Fashion app! Install Covet Fashion (it's the number-one fashion game that lets you style complete head-to-toe looks using over 150 of our favorite brands) and enter our Coveteur editor challenges from October 30th - November 6th. Hint hint: For the first challenge (Noah's!) you need to include her fall must-haves to win the challenge, a white Jenny Bird Necklace and a white wool crew-neck sweater. Install now and come play with us! xo