When Vegan Meatballs Are Actually Delicious
Comfort food that's good and good for you.
Entertaining
When comfort became a trendy thing to serve up at trendy restaurants, well, we were overjoyed. Yes, we'll take a grilled cheese and creamy tomato soup and lasagna any day. But comfort food that's both, ahem, comforting and healthy (as in packed with ingredients like lentils, carrots, mushrooms and walnuts)? Well, that's kind of the modern menu dream, no? Good for your soul and your body, or something like that. Or so we discovered when we sat down to the Meatball Shop to feast on their new vegan meatballs (it's a juxtaposition, but trust us, it works) from a recipe crafted with the help of the vegan geniuses behind Thug Kitchen (you'll find this, and a whole lot more veggie goodness in their new cookbook, Thug Kitchen Party Grub). Mostly, though, they're just really, really delicious.
---
Vegan Meatballs
Makes about 2 dozen 1½-inch meatballs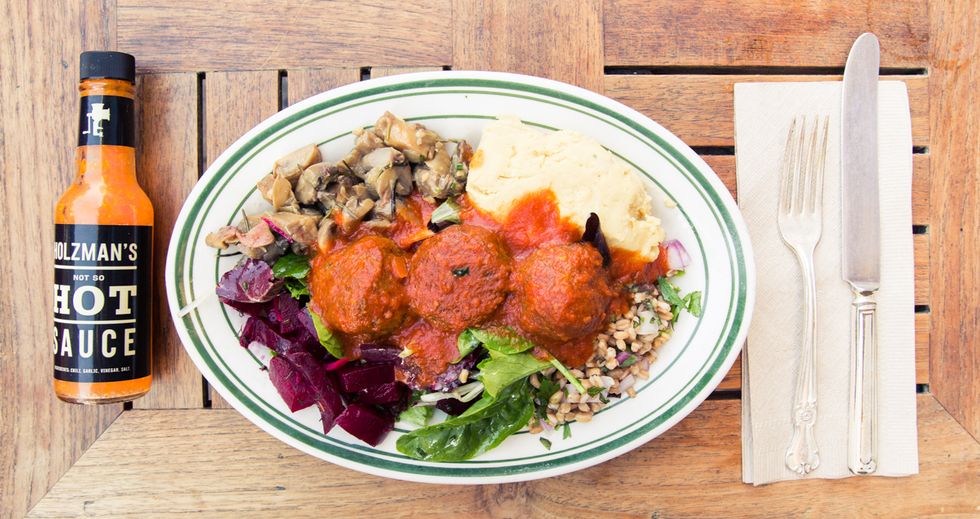 INGREDIENTS
2 cups lentils
¼ cup plus 2 tablespoons olive oil
1 1/2 large onion, chopped
3 carrots, chopped
3 celery stalks, chopped
1 garlic clove, minced
2 tablespoon chopped fresh thyme
2 teaspoons salt
5 tablespoons tomato paste
10 ounces button mushrooms, wiped clean and sliced
½ cup bread crumbs
½ cup chopped fresh parsley
¼ cup finely chopped walnuts
ONE >> Combine the lentils and 2 quarts water in a medium stockpot and bring to a boil over high heat. Reduce the heat to low and simmer until the lentils are soft (but not falling apart), about 25 minutes. Drain the lentils and allow to cool.
TWO >> Add ¼ cup of the olive oil to a large frying pan and sauté the onions, carrots, celery, garlic, thyme, and salt over medium-high heat, stirring frequently, for about 10 minutes, until the vegetables are tender and just beginning to brown. Add the tomato paste and continue to cook, stirring constantly, for 3 minutes. Add the mushrooms and cook, stirring frequently, for 15 more minutes, or until all the liquid is absorbed. Transfer the mixture to a large bowl and allow to cool to room temperature. When cool, add the lentils to the vegetable mixture.
THREE >> Add bread crumbs, parsley, and walnuts to the cooled vegetable mixture and mix by hand until thoroughly incorporated. Place in the refrigerator for 25 minutes.
FOUR >> Preheat the oven to 400 degrees F.
FIVE >> Drizzle the remaining 2 tablespoons olive oil into a 9 x 13-inch baking dish and use your hand to evenly coat the entire surface. Set aside.
SIX >> Roll the mixture into round, golf-sized meatballs (about 1½ inches), making sure to pack the vegetable mixture firmly. Place the balls in the prepared baking dish, allowing ¼-inch of space between the balls and place in even rows vertically and horizontally to form a grid.
SEVEN >> Roast for 30 minutes, or until the meatballs are firm and cooked through.
EIGHT >> Allow the meatballs to cool for 5 minutes on the baking dish before serving.
You know what's also yummy? Vegan wraps. Seriously though. Oh, and if you're looking for the best vegetarian and vegan restaurants in New York and Los Angeles, you came to the right place. They're here.