Career
The real stars of Instagram, c/o two of fashion's most influential.
As we trek through our first ever official Social Media Week (have you seen Baddie Winkle's closet?!) it was only right that we had a chat with two fashion industry types who have pretty much adapted their living around its come-up. No, we're not talking about a blogger or self-made meme curator this time. We mean the ones who have actually upped their IRL professions (and full-blown companies) around the ways in which the photo sharing app has disrupted our lives—which goes way beyond well-lit selfies, BTW. The other thing they have in common? Their fondness for scouting and snapping the wall murals spotted daily in your feed.
For starters, there's Eva Chen. Who embodies all things Instagram. Like she straight up eats (donuts, ice cream, various fruits galore), sleeps and breathes it. And it's now part of her 9-to-5, as the former editor-in-chief of Lucky Magazine, handles all things "Fashion at Instagram" (more on that later). It makes a ton of sense—she's been our favorite account to stalk follow since, well, forever. Between the daily accessory-filled #evachenposes, #beautifulempties (her in-depth beauty reviews are :ok_hand:), and #saturdaybookclub posts, we were just a little bit excited when Eva launched a brand new account. One solely dedicated to the colorful and selfie-worthy graffiti murals sprinkled around the city. And who better than a tried-and-true New Yorker like Eva: "Growing up in New York City in the '80s, it was all about a good graffiti wall." See what we mean?
---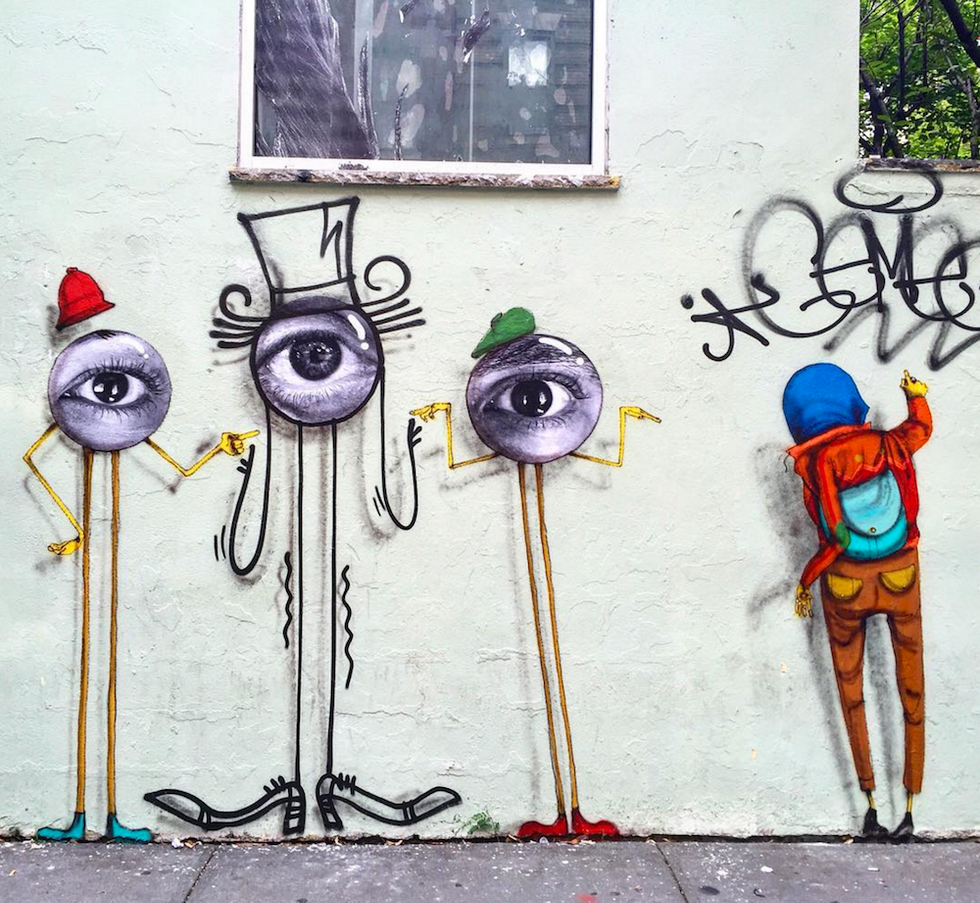 Then there's One Management's president who was rallying for his agency's talent on his Twitter wayyyy before Instagram marketing was even a thing. So when Scott Lipps saw firsthand how talent was actually getting booked—as in booked for major magazines and campaigns—as a result (their being drop dead gorgeous doesn't hurt either), he knew he was on to something. Hence, the birth of One.1K, the first agency to have a specific division just for aspiring models making a name for themselves solely on social. You know that babe with Ks on Ks of followers? She's now securing gigs with the likes of, Vogue and Ralph Lauren. And her followers have a lot (a lot) to do with it; "Advertisers look at girls, they compare their numbers, and sometimes they'll take a girl who specifically has a higher following." You guys can do the math.
Herein they share how everything's changed since the app's inception, the insta-worthy murals around the city (the Love Wall is a fan fave) and tips for snapping the best shot (guys, there's selfie tips from Jenna Lyons). Consider it all inspiration for your next weekend 'gramming adventure. Happy hunting!
Eva Chen
Director of Fashion Partnerships, Instagram 
On launching @photogenicwalls

"I launched [the account] @photogenicwalls as a side hobby. When I was at Lucky Magazine back in the day, we used to do a ton of street style shots, and I would always think, 'It would be so great if there was one place where I could go to and just look at pretty walls to know where we could do shoots.' And it's funny because obviously with Instagram, there's an account for everything. There are 400 million users, and they all create amazing content in different ways. And I was like, "I don't think there's a wall account yet! Someone should aggregate all the walls.'

Whenever I posted a picture of myself in front of a wall, there would always be bloggers, or students, or fashion-obsessives, who would be like, 'Oh my God, I want that to be my profile picture for my Instagram page. Where's that wall?' So it really, really started kind of on a lark. Me, walking around New York with my daughter on the weekends snapping pictures of cute walls or pretty walls or grafitti'd walls. I love a graffiti wall. Growing up in New York City in the '80s, it was all about a good graffiti wall. So, the first wall I posted was near the intersection of Nolita and Chinatown. Artist James Goldcrown does these awesome graffiti hearts, his Love Wall, I think is my favorite, just because it's happy, it's pretty—and who doesn't love, like, a graffiti wall of of bleeding spray-painted hearts?"


Finding the best walls
"I try to geo-tag them to the exact location, and then I also put it in the caption as well. That way, people can go and find it. And also, if you look at the Photos Tagged Of, a lot of people actually post pictures of themselves at walls to nominate them as photogenic walls. So at some point, I'll probably switch it so that it's more crowd-sourced, so that people can tag it and I'll possibly re-gram it. It's taken a very mini great life of its own—a resource for photographers and Instagram fashion girls alike.
People tag walls around the world. So I say, 'We need to find this wall and take a picture in front of it.' So it's so great. I'm in L.A. this week and here, especially in Venice, which is near the Facebook and Instagram offices, is the land of, like a million photogenic walls, where you're, seeing them every three seconds. I'm like, 'Wait! Wait! I need a picture!' So I'm hoping that my travels take me to more photogenic walls around the world."
On her first & favorite wall 
"My all-time favorite wall of history does not exist anymore. There used to be a DKNY logo wall right at the entrance of Soho. It was on, Houston and Broadway, and it was DKNY against a black logo—against a black wall—with the New York City skyline in the letters of DKNY. If you Google it, you'll see it. Growing up near Soho, basically on the weekends I would go to Chinatown for instance with my parents, and we would always, always pass that wall. And it's no longer there, but that wall is the wall of my youth and childhood, without sounding melodramatic. So that's probably my favorite wall of all-time, just because it reminds me of growing up in New York City and of an iconic New York moment. Bring back that wall DKNY! My dream would be for Maxwell [Osborne] and Dao-Yi [Chow], the new creative directors of DKNY to bring it back. You have to bring that wall back! At the next show—recreate that feeling."
On sharing everything

"My goal with the account [@photogenicwalls] was really to inspire people to have fun, and take pictures. I love seeing the pictures that other people take and post. So I think one of the best things about Instagram is that it's so democratic and egalitarian. Whether you're posting pictures of your shoes, or food, or a behind-the-scenes process of your latest collection if you're a designer—I think that feeling of open access is really important.

That's what I love about Instagram. So I keep no secret walls. But I will say that the Facebook and Instagram offices are super, super wall-y, photogenic wall-y, and, you know, there's a lot to take pictures of, but then I don't post those because it's not open to the public. I wanted to only post ones that people can go and participate in to really have it be interactive."


Taking the perfect photo

"If you're taking a selfie—actually Jenna Lyons taught me this—always ask the tallest person and the person with the longest arms, which is why anytime she takes a selfie, she's the tallest person and she admits to having long arms. So if it's a selfie, always have whoever has the longest arms, unfurl those arms. Have that person take the picture. Always, obviously, face the light, so no backlighting. I mean, thanks to all the tools on Instagram, it makes it easier to eliminate the backlighting—using shadows, you can tweak that. But in general, facing the light is always better. And I always try to have the picture be full bleed, which means, the wall takes up the entire frame of the shot, whether nowadays on Instagram you can post square, you can post landscape or portrait, so it's nice when the wall takes up the entire background. And I will admit to asking my husband to take the picture, for me, of the wall. Literally, I'll be like, 'Actually, I'm sorry, can you retake it, because the wall doesn't match the whole frame?' So if someone else is taking the picture, have it fill up the whole frame. And just have fun, you know? Make sure the picture channels your personality or whatever you're feeling that day and be authentic."


On her new role at Instagram
"I joined the Instagram team just a few months ago, and I went straight into Fashion Week and had an incredible time working with everyone, from models to magazines to brands to designers to stylists, the list goes on. I was really working with them to create cool and amazing content. So similar to all the users on Instagram who are creating the best content—and I'm always so, so inspired by the users out there, and the community, and the amazingly creative ways they use it—just really helping elevate the storytelling profession on Instagram.
My favorite thing about being at Instagram, is working with the community and learning about these crazy new accounts that are out there. The team here actually introduced me to an account called
Chili Philly
. He's a guy in Melbourne, Australia, who hand-crochets food hats. It's literally ridiculous, but the best account you will ever see in your life. So learning about these amazing gems of creators and designers and just people who have such a specific and unique voice on Instagram, that's definitely the best part.
Pat McGrath also did something super cool in Paris, where she did a beauty InstaMeet. And just about a hundred people showed up to the Jardins des Tuileries on a specific day at a specific time that she announced on Instagram. Imagine being a twenty-year old and literally seeing on your Instagram feed that Pat McGrath is doing makeup application in Paris, just stumbling upon that, and then getting a portrait taken by Patrick Demarchelier, who's the coolest. I love things that involve these amazingly, just really inspiring users of Instagram. That's definitely my favorite part."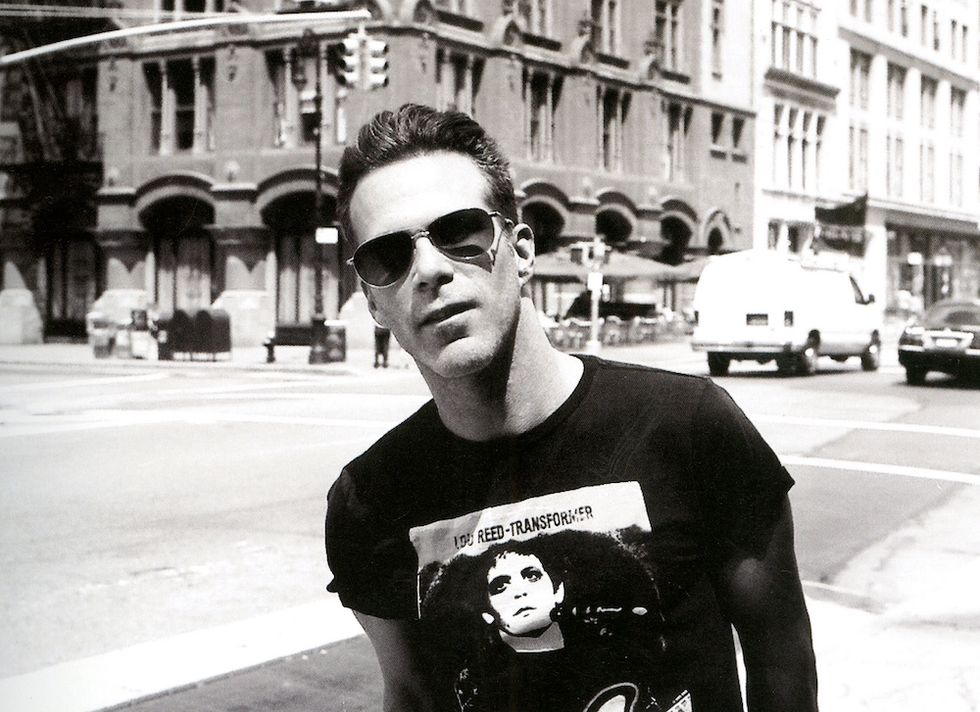 On launching One.1K
"I started to see shifts a lot in the business, more and more people were doing more digital-based campaigns and less traditional print-advertising campaigns. We started to have a bunch of models that were doing quite well, you know, in social media—whether it be the iconic names we have like, the Poppy Delevignes, or Bar Refaelis, and Karolina Kurkovas, and all those girls. I think that we were the first modeling agency to have a specific division for this, based on aesthetics and models, and things like that. And now, the division has really grown, and we represent, as you might know, everyone from The Fat Jewish, to people like Pia Mia and Madison Beer. And, girls like Rocky Barnes, and Kyra [Santoro], and Carmella [Rose], and all kinds of people. There's a couple guys we have now in the division. And so the business has clearly evolved a lot, and that's something we wanted to be on the forefront of. I personally have been just shooting pictures of the girls for years and blogging and Tweeting and promoting them and trying to market them a little bit different. When there's so many agencies, you have to do something a little bit different to stand out.
That's how the whole One.1K thing came about. We've been getting a ton of great press on it, and a lot of the girls have been able to secure great things. We have girls booking everything now from Ralph Lauren campaigns to some of the biggest magazines in the world, features in Vogue. Just really great stuff. For me, there was some interest in seeing if there was a way to almost reverse engineer part of this business, in the sense of, could you take girls that were really beautiful, that had great social following, but weren't big in fashion, and get them campaigns, and great editorials, and stuff like that? And, you know, it seems to all be working. So it's pretty exciting to be a part of it."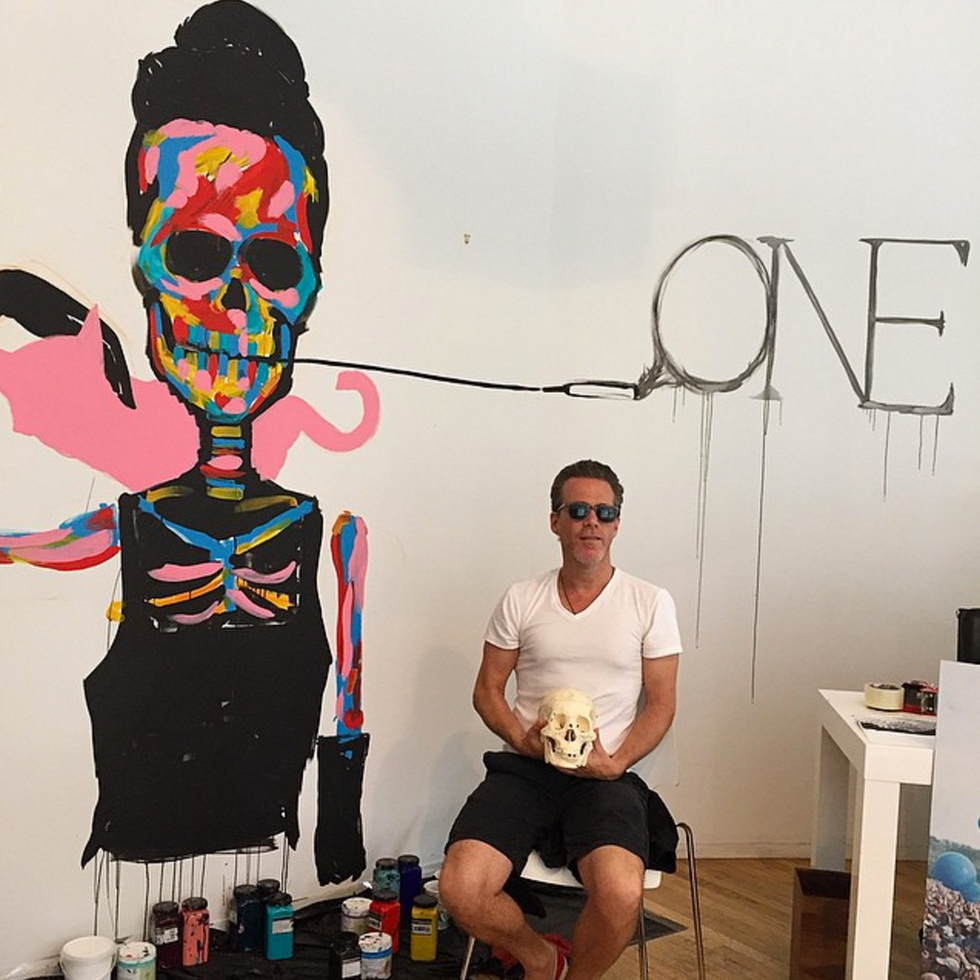 How social media is part of the modeling equation 

"[Having a strong social presence] is definitely a big part of the recipe now. Girls are literally getting booked now via their Instagrams, or they're literally up against other girls and when advertisers look at girls, they compare their numbers, and sometimes they'll take a girl who specifically has a higher following because they know they'll get more marketing dollars out of it. Yeah, there are always going to be girls who can work solidly without it. But does it add to what's going on? A million percent. And I personally now, even when I promote girls on my own Instagram, I have of a lot of great clients on there, from photographers to ad agencies that see it and sometimes girls get work because of it."


His Instagram-worthy murals

"Bradley Theodore, who does the Audrey Hepburn mural, and James Goldcrown, who does the Love Wall, have recently painted those murals in our office. I think they know, obviously, how great it is to have all the celebrities and models putting pictures of those things up.

I like Bradley's work and Goldcrown's Love Wall. In terms of buildings, I'm always drawn to, like everyone is, the iconic imagery of New York—like the Brooklyn Bridge, the Flat Iron Building, the Freedom Tower, the Hudson River. There's only so many pictures of the same thing you can take, so I've been trying to mix it up a little bit and shoot a lot of the girls.

I've actually recently started shooting a bunch now because of social media. A couple of years ago, I shot for Spanish Vogue as a photographer, and I just recently did a shoot with a really big celebrity for the cover of a magazine called Humanity, which is from the jeans brand, Citizens of Humanity. I shot their cover with Courtney Love, about a year ago. And I shot another really big celebrity for their new cover. And I did something with them for another magazine they're launching a as part of their AG jeans. So I've been shooting a lot and a lot of it is because of the whole social media stuff. I really enjoy the creative outlet. I think it's great and I think it's exciting where it's all going."


Finding the perfect walls 

"I definitely do go exploring. I mean, recently one of the Instagrams that, for me, did one of the best I've ever done, picture-wise, is because I went to Bushwick. And I definitely went to Bushwick—and I only go to Bushwick—on my 'walking tours' to see what's cool and new in the graffiti world. I definitely don't go to Bushwick all the time, but I'm there like once every two months, and I go there specifically to take pictures. So it's not like I go strolling around Bushwick, and I stumble upon a picture. It's definitely, you know, there's a reason why I go there and it's primarily to photograph stuff."


On getting the most likes

"I definitely think beautiful girls seem to do well [on Instagram]. And also very scenic shots, I try to have a nice mix of travel, food, and obviously great looking models and celebrities. I guess everyone has their thematic thing, and that's sort of my thing that I've been focused on in the last few years."