Move Over Kale: Jack's Wife Freda's Zucchini Chips
They're crunchy, healthy (!) & already all over your Instagram.
Entertaining
As far as our favorite NYC brunch spots go, Jack's Wife Freda kinda takes the cake. Or eggs benny. It's basically the way we would start every single Saturday morning if we could. But if you look past the avocado toast, you'll become just as obsessed (as we did recently with their kale-filled quinoa bowl) with the Soho eatery's lunch and dinner offerings as well. Case in point? These savoury, crunchy, zucchini chips with a perfectly smoky dip accompaniment (because anything + dip = deliciousness really). In our opinion, they are the ultimate comfort food to serve up this time of year. A cross between vegetables (we mean, they're fried, but in olive oil, so it's totally healthy, right?) and your favorite chips. Plus it's one of those recipes you can whip up anytime and look real adult-ish. Full disclosure, we've been making batches of the paprika aioli to spread on everything as of late, it's just that good.
---
INGREDIENTS
4 to 5 Small Zucchini
2 cups All Purpose Flour
3 cups Seltzer Water
¼ cup Corn Starch
Panko (Japanese Bread Crumbs)
1 teaspoon Salt 
½ teaspoon Pepper
3 cups Olive Oil (or vegetable oil)
ONE >> Cut zucchini into half inch slices.
TWO>> Make a batter by whisking the flour, corn starch, salt, pepper and seltzer water in a large bowl.
THREE >> In a food processor with the blade attachment add panko and grind down for 1 minute and transfer to a clean bowl.
FOUR >> Begin the breading process by adding the zucchini to the batter until each chip is coated well, transfer  to the bread crumbs until the zucchini is covered completely.
FIVE >> Lay out all chips on a sheet pan.
SIX >> In a large pot add oil, using a thermometer bring temperature up to 350 degrees; turn down heat to maintain the temperature. 
SEVEN >> Fry chips on each side until golden brown in color. 
EIGHT >> Transfer to a paper towel and salt.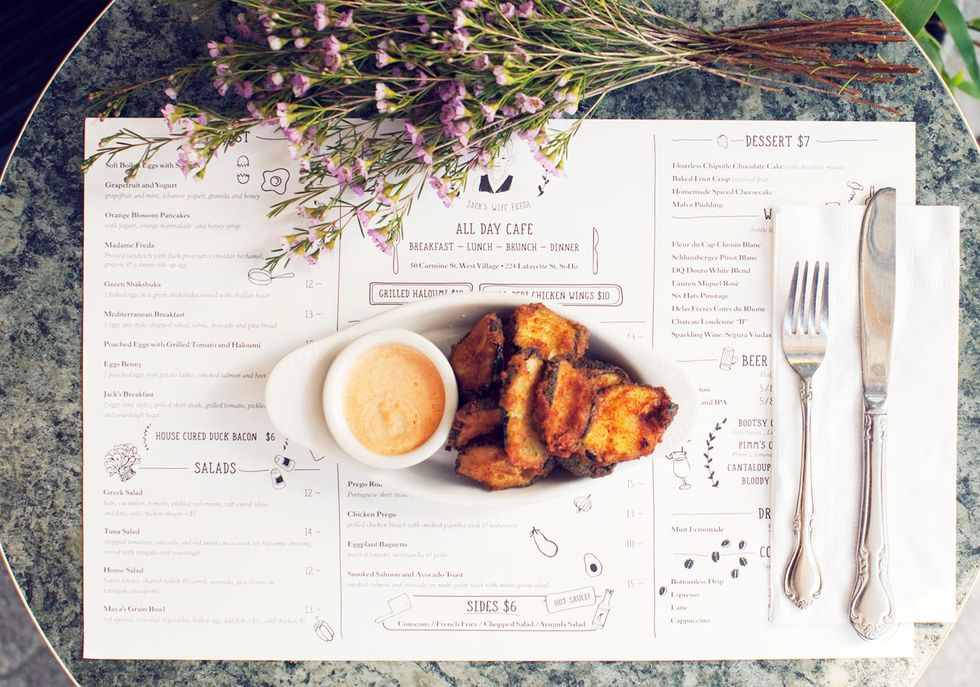 INGREDIENTS
1 cup prepared Mayonnaise of choice
2 Tablespoons Lemon Juice (fresh if possible)
1 Tablespoons Smoked Sweet Paprika
ONE >> In a mixing bowl add mayo, lemon juice and smoked paprika. Stir to combine.
TWO >> Serve smoked paprika aioli with the zucchini chips.