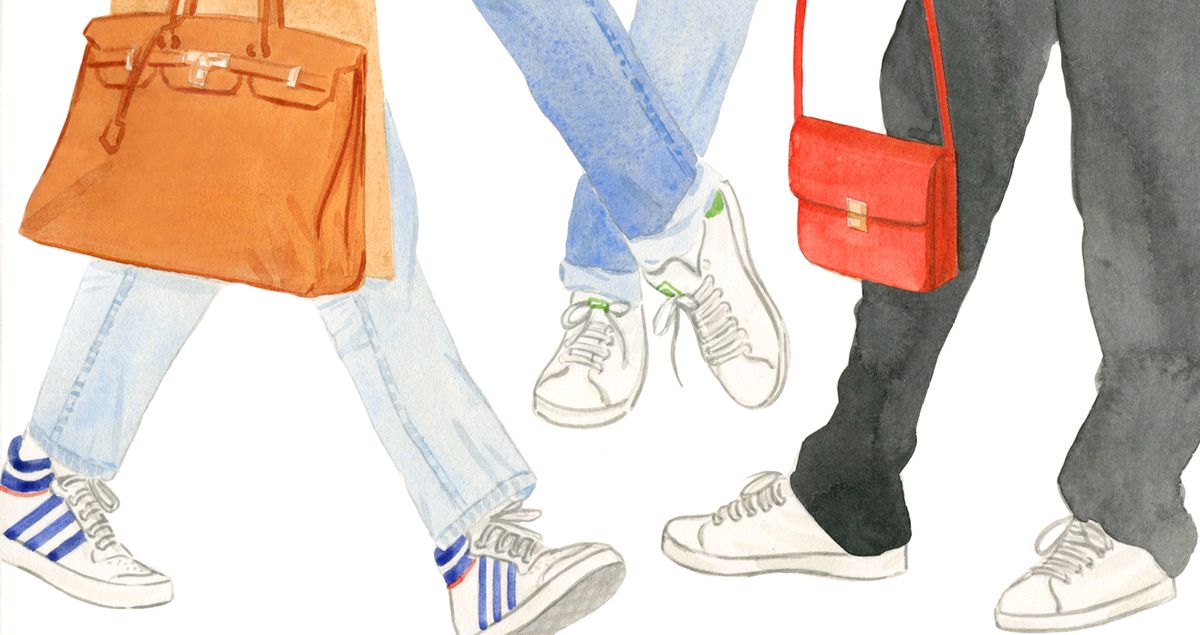 Fashion
We're calling it now: the days of peacocking street style is over. Here's why.
Illustration
Meghann Stephenson
---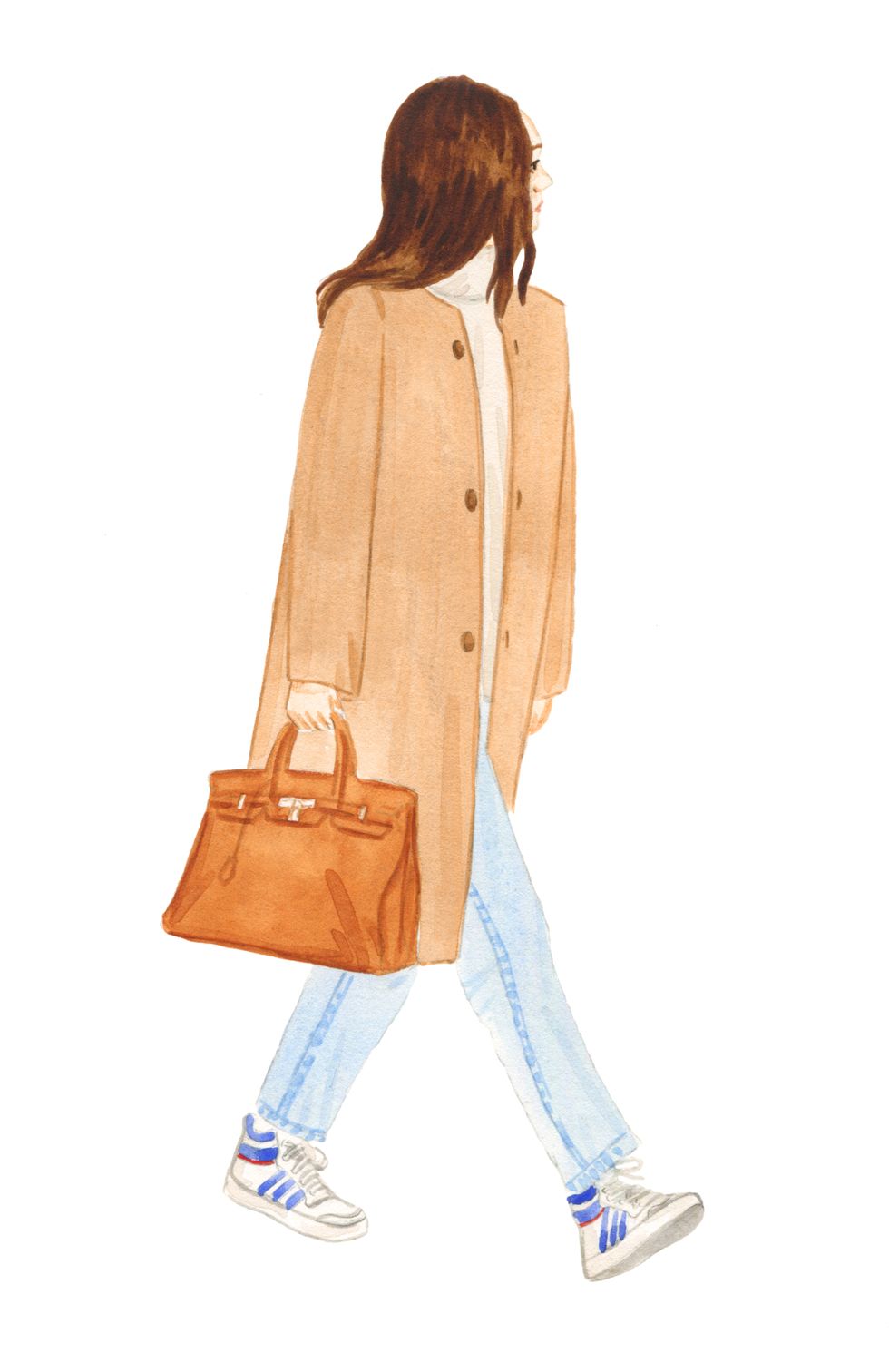 The behemoth that is fashion month is over, and we've returned back home to detox, decompress and remember what living without room service and a mini bar feels like. Oh, and click through slide after slide of every street style gallery on the entirety of the Internet. We mean, we guess we saw a fair portion of these looks first hand, but there's something much glossier about seeing them through Tommy Tons' lens—we totally missed Chiara Ferragni's fourth furry Fendi bag charm IRL, anyway.
We'll be honest: even after Marc Jacobs shamed us all for putting so much value on street-born-and-bred fashion (he's tired of the influence, ICYMI) and despite the associated circus that happens outside each and every show, we still analyze those galleries endlessly. And after this year's study we've come to one long desired, finally true conclusion. The show pony—that put-on-for-Phil-Oh's-camera peacocking, where the clothes look more like costume than, well, clothes—is, if not dead, than certainly over. (And over in the sense that sneaker wedges are over: O-V-E-R.)
And, if you'll bear with us (it'll only be like two more minutes, we promise), we'd like to take this chance to celebrate... a little. But first, we'll explain. Here's how we see it. When Tumblr, Instagram, Jak & Jil, Facehunter, Streetpeeper, Scott Schuman (we could go on and on… and on) made people on the street and in the front row (instead of on the runway) the stars of fashion week and the names we needed to know, dressing up for the shows took on a whole new meaning. And we swear that for a long time, the crowd looked more like they'd undergone costume changes (a new multi-print look complete with designer bag, key chains and lace bunny ears for every attended show) than gotten dressed at 7:30 that morning prepared to brave a twelve hour day of shows. That head-to-toe designer look taken straight from the previous day's runway… despite the glamour, it all became just a little bit expected and straight-up, well, impersonal.
Before you're quick to point out our hypocrisy—this very site's inception was inspired by street style once upon a time—we're not saying that we don't love the people who truly pull it off.
Before you're quick to point out our hypocrisy—this very site's inception was inspired by street style once upon a time—we're not saying that we don't love the people who truly pull it off. The real eccentrics, if you will. Michelle Elie, for instance, is light years from what anyone would deem reserved in her style—and yes, is often head-to-toe in wares bearing but one label, but it's still a look that's entirely her own. Anna Dello Russo and Susie Lau are still a kick to see on the street because they actually dress in fresh-off-the rack Saint Laurent (Dello Russo) and a hodge-podge of DSM's greatest hits (Lau) even when Tommy Ton and co. aren't snapping at them. We're the first ones celebrate a great street style star, after all. But when Leaf Greener, she formerly known of the head-to-toe Moschino and Piers Atkinson headbands, finally made her long-awaited appearance in Paris after skipping the preceding fashion weeks wearing a caramel trench coat, cuffed blue denim and tortoiseshell ankle boots, we knew something was up.
Blame it on the return of Stan Smiths as footwear staples and normcore as an industry accepted trend, but that pared-down look was pretty much everywhere—key markers include high-waisted denim (Reduns are our personal favorites), the ubiquitous Adidas, long, slouchy coats and a Céline sweater thrown in for good measure.
Okay, so maybe it's just as constructed, calculated and trendy as the over-the-top maximalist looks that feel so tired now, but take a look at the shots of Rachael Wang, Sarah Harris, Jayne Min and Gaia Repossi—even Russian couture collectors like Ulyana Sergeenko wore faded Levi's. Forget our pinching stilettos, those were the people we wanted to epitomize.
The winners of this season's street style games (judging panel: us) upped their relatively simple basics with some well-placed accessories (Anya Hindmarch has never had such good advertising) and a few genius styling tricks. And that's all they needed to show that they know what they're doing when it comes to getting dressed—kind of like the sartorial equivalent of the humblebrag. We're calling it now, guys: not to get all after school special, or anything, but we're pretty sure dressing for yourself and wearing what makes you comfortable is the key to personal style anyway. Not that we'd ever say no to a pair of Maison Michel animal ears. Just putting it out there.