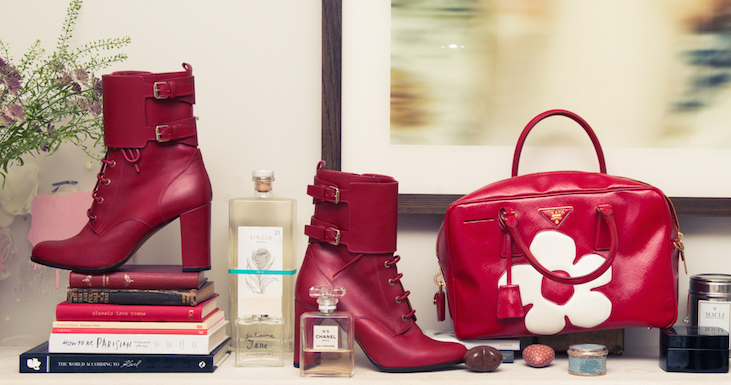 Editors' Picks: Milan Fashion Week Edition
In honor of Italy's sartorial best.
Guys. It's fashion week month! Have you heard? And, for this column, we're repping our favorite designers who are showing in Milan this week. Okay, so this week's spree wasn't all that hard. As in, it was pretty damn easy, because when you're limited to Dolce & Gabbana, Gucci, Prada and Marni, well, you're not really limited at all. Scusa, lei sta occupando il mio posto in prima fila.
Alicia Cesaro
Editorial Assistant
You guys, I'm totally channeling all 50% of my Italian heritage for this week's editor's picks. This Marco de Vincenzo piece is first on the list. It's adorned with the best kind of rainbow-hued piping, it's A-line, it's navy, it's kind of an amazing choice for when you have *nothing* to wear (um, hi, fashion month). I could go on and on. Cobblestones and stilettos are a hard no in my book, so if I was gracing MFW with my presence, I would most definitely be team loafer the entire time (also, Gucci in Italy, duh). The Marni bag because, well, I prefer something that can fit my iPhone, wallet, lipstick and little else. Plus the glossy bubblegum pink pairs well with the aforementioned patent loafers and coat so I'm basically set. All I need is a chic moped and an Italian boyfriend.
Renée Rodenkirchen
Videographer & Photographer
Viva Italia!
I love Italy for a number of reasons. The first being pizza; the second, red wine; and the third, the women who consume both these things, but who manage to look as classy as Sophia Loren :dancer: :dancer:.
Last time we were in Florence, I tripped from jet lag into the arms of a Vivetta dress and soon fell in love. Their floral patterns and quirkily detailed collars made this brand an instant fave. It's fun, yet chic. Sign me up.
I need these three items. Just throw in a pair of jeans and Bob's your uncle. Love love love.
Noah Lehava
Senior Editor
I really, really tried not to pick Dolce & Gabbana again for the hundredth time. But shit, it's hard. I'm just a sucker for encrusted anything and these boots are...everything! Anyway, I also love femme-y silhouettes, which BTW, Dolce & Gabbana does :ok_hand:, but this Marni yellow blossom dress is about as not-so-saccharine-girly as you can get. And come on, a Fendi Peekaboo is pretty much as essential as a leather jacket.
Meagan Wilson
Senior Editor & Social Media Manager
Milan Fashion Week? Admittedly not my favorite. In any case, I'm not one to obsessively stalk the shows (R.I.P. Style.com), save for Prada and Stella Jean, it mostly flies just under my radar. When it comes to shopping, though, I'm an equal opportunist and those Italian designers get plenty of play—in my head, that is. Lately, I'm a sucker for an itty-bitty bag, and this gold Prada camera bag is the perfect ratio of a little '90s and a lot metallic. The Stella Jean jacket is my answer to a blazer or business-y jacket, and I'd like to think I'd live in these Dolce & Gabbana booties that are business in the front, party in the back. And side.
Emily Ramshaw
Senior Editor
No one does leather goods like Italian designers and I want it all, always. But I'd settle for these insane Aquazzura platforms (which would make me six-foot-massive, but I'm into it), the perfectly shaped snakeskin Marni bag (that whole fall collection could be my wardrobe this season and I'd be out of this world happy), and this suede Gucci coat. It's almost $10,000 alone, so I'd probably have to be buried in it, but I swear I'd never need another coat, ever.