Career
Founder, Chantecaille. New York
Renée Rodenkirchen
Renée Rodenkirchen
By now, you know we're suckers for a story about a woman founding her own company and shaking up her respective industry. But to do that three (count 'em: three) times over, the first of which was co-founded with Diane von Furstenberg? Well, we'll put it this way: we're kind of in awe of Sylvie Chantecaille, the founder of Prescriptives (remember when your mom took you there for your first cosmetic, well, everything? Yup. Thank Chantecaille) and the namesake jewel in her crown, Chantecaille. If you're somehow not familiar, we'll catch you up: it's the intensely luxurious beauty brand that utilizes the crème de la crème of natural extracts (their rosewater spray is the only one on the market made from 100% $$$$ Rose de Mai) and marries them with up-to-the-second cutting edge science. Case in point? Their latest, greatest, brand-spanking-new Bio Lifting Cream+ is infused with 10 million plant stem cells (!) to plump, lift and smooth. To celebrate its launch, we sat down with Chantecaille in her Soho offices to chat Chinese medicine, only being a virgin once (it'll make sense soon, promise) and remembering to be nice.
---
ON HOW SHE GOT HER START IN THE BEAUTY INDUSTRY WITH DIANE VON FURSTENBERG:
"I grew up in Paris as the daughter of art collectors, I studied art history and theater. When I came to New York, I started a company with a girlfriend of mine, Diane Von Furstenberg, since we were both crazy about beauty. We started a small company that was very successful, and Estee Lauder approached me to start a new company for them. This was the beginning of Prescriptives, and we launched in 1979. I spent 18 years with Prescriptives and eventually left to create my own company, again."
ON THE BIRTH OF CHANTECAILLE:
"Chantecaille first started as a fragrance company in 1997. Within a year and a half, I realized that my passion for great skincare, natural products, Chinese medicine and aromatherapy were bursting to be created into a line of beauty. This is how is really how it all began, with the ultimate desire to make products that were great for women, healthy and technically very advanced."
ON WHAT SETS CHANTECAILLE APART FROM EVERY OTHER BEAUTY BRAND OUT THERE:
"We are very unusual as a company, because we work around the world, with different scientists and technical labs chosen for their strengths in particular aspects in our business. For example, we do most of our foundations in Japan, our skincare in Switzerland and all of our fragrance in France."
ON HER WORK DAY ESSENTIALS:
"If I don't start with a good Earl Grey tea, I'm not happy. I like fresh juices throughout the day. I like a green juice and carrot, apple and ginger juice. I'm making an effort to try to go out for lunch because if you have lunch with someone, it really helps break up your day. After all, I'm French–we always have lunch in France!"
ON WHAT HER AVERAGE WORKDAY LOOKS LIKE:
"Each day is different, because I am dealing with all the different aspects of the business. We have offices in Asia, we have offices in England, and we have distribution in Middle East, in Russia and Australia. All of these require attention every day. Dealing and communicating with our international offices take a large part of the day. The most wonderful part of the job, which happens very often, is sitting down with people and creating new campaigns, new products, and new stores. Our job is very varied because we do so many different things. It's not just creating a beautiful eye shadow or beautiful cream which is why it's so much fun."
ON WHAT MAKES THEIR LATEST BIO LIFTING CREAM+ A TOTAL GAME-CHANGER:
"This is a product that we've worked on for a long time. The original cream, Bio Lifting Cream, was a very successful cream to start with, because it was one of our richest creams for anti-aging. Now, new science has developed. We worked with new plant stem cells, including Bionymph Stem Cell Extract, Plantago Stem Cell Extract, Caffeine Free Coffee Stem Cell Extract, Daphne Stem Cell Extract and Raspberry Stem Cell Extract, with anti-aging and lifting properties. We've incorporated in this cream, up-to-the minute, the most powerful science to give the face a real 3-D lift. Lifting the face isn't an easy thing to do–but accomplishing it with a cream that is suitable for most skin types is a true feat."
ON THE INTENSE R&D PROCESS BEHIND THEIR LATEST AND GREATEST (THEY CREATED ACTUAL STEM CELLS, GUYS):
"In the last two years, there have been incredible new developments in the world of science, and we have been on the forefront of using these discoveries. We have worked in our lab, creating new plant stem cells that are targeted to getting results on lifting and protecting the skin. The R&D process was all about working with new technology and gathering new research from all around the world, using new plant stem cells clearly directed towards collagen enhancement."
ON THE PRODUCT SHE JUST CAN'T LIVE WITHOUT:
"That's impossible to say! Every Chantecaille product has to be my favorite, otherwise, the product wouldn't exist. But, I can't live without our Pure Rosewater–I can't fly on the plane without it, I can't wake up in the morning without it,and I can't go to bed without it. This is the only rosewater that is made from 100% of the very, very rare Rose de Mai. There is nothing else in it but the extract from 1,000 petals in each bottle."
ON HER DAILY BEAUTY ROUTINE:
"It depends where I am–my beauty routine is different whether I'm in a warm climate, at home, or on a boat.
I always start my day with a great generous spray of our Pure Rosewater. Right now, I am using a couple drops of our Bio Lifting Serum and our new Bio Lifting Cream +. 
If I get drier, because my skin is wind chapped, I will add a couple of drops of our Rose de Mai Face Oil into my skincare routine. At night, I always use our Nano Gold Energizing Eye Cream. In the morning or on my way to work, I will use our Nano Gold Energizing Eye Serum–the rollerball makes it easy to apply to on-the-go and I can use our Le Camouflage Stylo brightening under-eye concealer right over it.
I'm a Future Skin kind of girl. If I wear Foundation, I wear Future Skin. But when I was in Africa recently, I used our Ultra Sun Protection SPF 50 and then a few dabs of Just Skin SPF 15 on my nose and around my mouth for a bit of extra protection and to look smooth. When I use mascara, I am addicted to Faux Cils Longest Lash. For a neutral lip, I love our new Lip Chic in Patience for fall. I also love wearing a bright lip. Sometimes, all I need is a quick sweep of our HD Perfecting Bronze powder."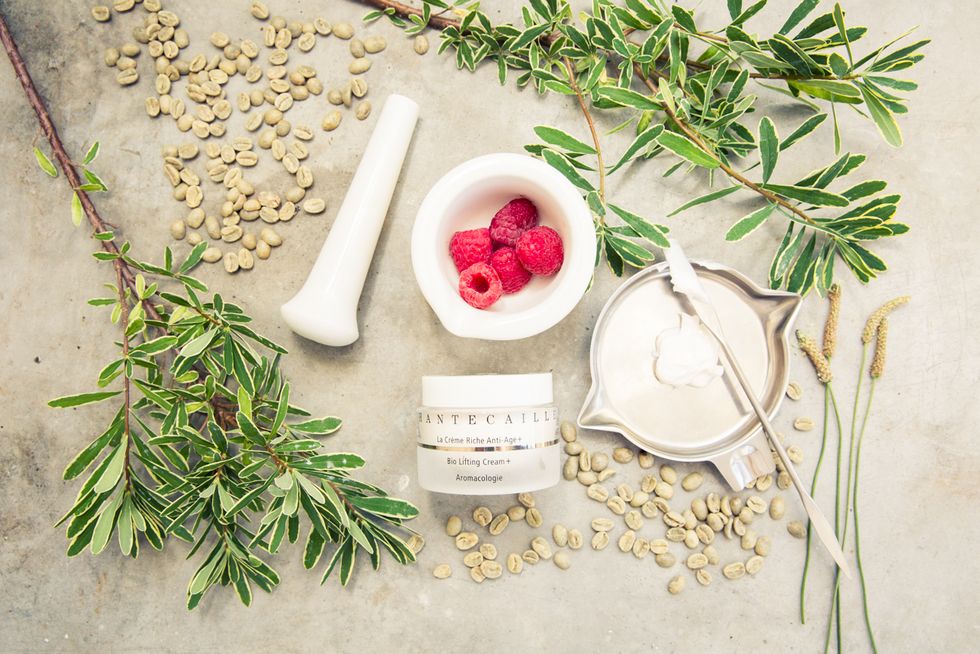 ON THE BIGGEST LESSONS SHE'S LEARNED IN GROWING THE BRAND:
"Be true to yourself. Trust deeply into your own star. Be enormously grateful."
ON HER BIGGEST SUCCESSES (AND HOW THEY HAVE TO DO WITH BEING FRENCH):
"Foundation was always a huge success for us. We built our brand on highly neutral and natural looking skin, and this was a new type of foundation. Because I am French, I believe in natural skin and I don't like heavy coverage. Future Skin and Just Skin are completely innovative types of products that we revolutionized and created a huge customer following.
Skincare has been enormously successful for us. People are amazed at the quality and the results. We have developed a huge cult following for our skincare all over the world. The other thing that is always very successful for us is our eyeshadow palettes, which are the base for discussions on problems that are extremely urgent in the world. They are always focused on an endangered species with particular stress at the time or an issue within our planet that needs to be explained and highlighted. We feel very fortunate that our business can be the spokesperson for those who don't have a voice. For me, more than anything, it is what gets me up in the morning and makes me want to continue working as hard as I do."
ON THE STRUGGLES OF HEADING UP YOUR OWN BEAUTY BUSINESS:
"The only struggle in running your own business is the multi-faceted questions that arise everyday. It is very complicated being a manufacturer, a seller, a voice and a distributor all at the same time. Most people who start their own company usually give up, or sell it within the first 5-7 years, because of the sheer overwhelming quantity of work that comes with owning your own business. It will soon be 17 years and I'm not bored yet!"
ON THE BIGGEST PERKS OF THE JOB:
"The biggest perk of my job is that I can make my own decisions."
ON HER APPROACH TO AGING (& THE BEAUTY INDUSTRY AS A WHOLE):
"Aging is a surprise. It's something you don't understand. Why is it happening? Frankly you don't believe it and maybe that's the best approach. It simply should not be relevant. I believe in doing what you can to make yourself happy but not putting too much energy into the concept of aging. Beauty has to be healthy and good for you. It has to be who you are, just a little bit better. It should allow you to feel amazingly good about yourself."
ON RELEVANCE:
"I stay innovative by constantly reading, traveling and asking questions."
ON HER DAILY, WEEKLY & MONTHLY READS:
"I'm always reading 2 or 3 books at the same time. Right now, I'm reading West With the Night by Beryl Markham. It's an extraordinary piece of writing. I also just read Circling the Sun by Paula McLain, which is written about Beryl Markham and just came out recently. I'm also reading my friend Carl Safina's book, Beyond Words, which is about what animals really think and feel.
I go through many magazines. I read The Economist and I get BBC News on my iPad everyday. I literally run through all of the fashion magazines, like Harper's Bazaar and Vogue, along with their International editions, on a regular basis."
ON HOW DIGITIZATION IS CHANGING THE BEAUTY INDUSTRY:
"It's changing our world. It's connecting all of us constantly. However, in a funny way, it's not really changing the beauty industry. The beauty industry is still based on human contact. It's one of the only businesses where the relationship between the person who sells you a product and yourself is key. The digital age hasn't replaced that–it can inform you about products, but it can't make the decision for you. The human relationship is still extremely important."
ON THE BEST CAREER ADVICE SHE'S EVER RECEIVED:
You are only a virgin once. When you launch a new store or new product, remember to do it right. If you don't have anything nice to say, don't put it in writing. This isn't a piece of advice, but I always practice this: be nice."
ON HER ADVICE TO ANYONE ASPIRING TO WORK IN BEAUTY:
"Be curious. Try to learn about the people you are interviewing before you meet them. Do your homework. Come with knowledge."
ON WHAT WE CAN EXPECT NEXT:
"This holiday we will transport you to the Himalaya's. Stay tuned!"