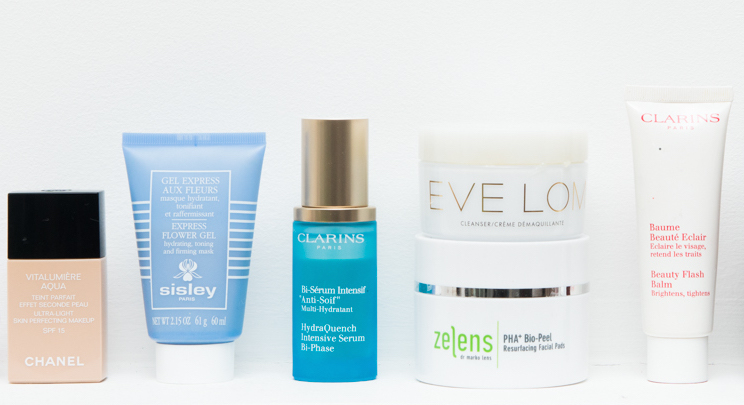 How To Give Yourself A Facial in 60 Seconds
A flash facial in the comfort of your own bathroom.
While a DIY facial sounds like about the most frightening thing ever, truth is we don't have really have the budget or the time required to have a running weekly appointment at the derm's office or spa in the way that some of our very beautiful and privileged Cov subjects do (#skingoals). But we're not ones to let a little thing like a lack of :money_with_wings: and hectic schedules get in the way of having poreless, glow-y skin.
Lucky for us, beauty brands prophesied such dilemmas and local Sephora shelves are stocked with instant peels, exfoliators, and treatments that do a pretty damn good job at mimicking that transformative skin experience we'd only ever experienced at the hands of professionals. Oh, and as a little extra (because we :two_hearts: you guys) we had Alicia Yoon of Peach & Lily break down how to actually do that illusive face-lifting massage.
Dry flaky skin is the bane of our skin's existence. Seriously. It goes a little something like this: a) you get too much sun = peeling skin b) the cold crisp air = a reptile-resembling texture c) salty water = parched to the max. Oh, and the myriad of skin drying instigators between. But guys, we're determined to put an end to this perpetual skin drama with some damn good at-home exfoliators (like dr.brandt's Microdermabrasion Exfoliating Face Wash, which gentley buffs away dead skin cells and Radical Skin Care's exfoliating pads soaked in alpha hydroxy acids to wipe away dullness) that are gentle enough to use at your own sink but work just as hard as a personal aesthetician in, like, under a minute. Dry skin meet your effing match.
Okay, so it seems like glycolic acid is just about as common in skincare products as coconut oil these days. Especially when we're talking Holy Grail ingredients that practically revolutionized the whole market. And just like most beauty discoveries, it had its start in the derm chair. Now, for our own skin-repairing pleasure, it's made it's way into our beauty cabinets. So, yeah, anything with 'acid' still sounds a bit intimidating, we get it. But trust us, products like Peter Thomas Roth's cleanser and this Caudalie Glycolic Peel are about to change up your entire skin game.
 
Let's be real, nothing is as luxurious and indulgent as a facial mask (uh, you've likely caught on to our sheet mask obsession by now). Masks that work in less time than it takes to brew our morning coffee? Count us so in.
Facial oils and serums rife with vitamins, acids and complexes have become the hallmark of an average beauty arsenal. (Uh, and if you haven't caught on yet, well, what the eff are you waiting for?) Mix, match and layer on for a tailor-made skin treatment that will feel like you just walked out the spa.
Okay, so yes, this sounds terrifying. We feel you. But guys, thanks to Ole Henriksen, at-home peels are about the furthest thing from the harsh chemicals we're petrified of. As in, you'll completely overhaul your skin texture and luster with zero time commitment. Be prepared to re-evaluate your whole skincare situation.
Just like the final step in any profesh facial, you're going to seal in all the hydrating, vitamin-y goodness of the serums you just slathered across your face with a moisturizing (and extra vitamin-y) cream, that's a given. But let's just say, if you want a little extra lift (think of it as contouring without makeup), it's all about the application. But don't listen to us, we'll let Alicia Yoon take it away.
 
—The Facial Massage—
"Take the middle joint of the back of bended thumbs, and apply moderate pressure to the following areas:
a) Hollow space between under corner of inner eyebrows and nose. Hold down for 3 seconds.
b) Temples. Hold down for 3 seconds.
c) Along the bottom of the cheekbones—moving from closer to the nose out towards the sides of face (I usually do around 4 points under the cheekbones, going across the face and hold down for 3 seconds).
 
Repeat two times, AM and PM"