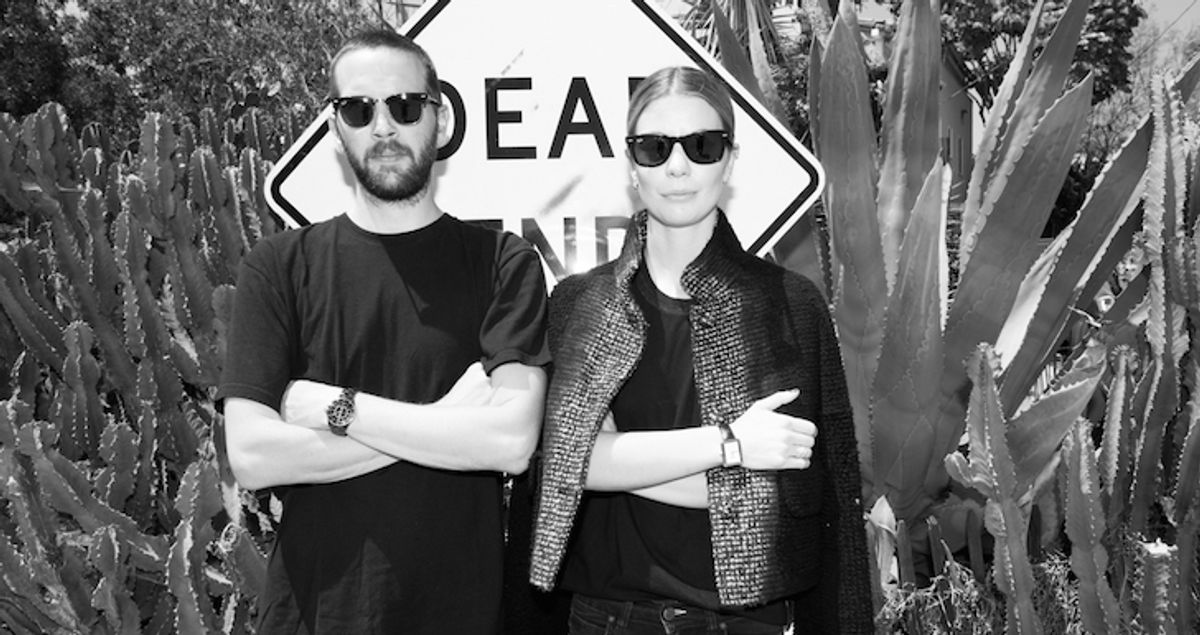 Career
Annina Mislin & Patrick Hill are probably the most adorable (and best-dressed) twosome we've ever met. In collaboration with CHANEL.
---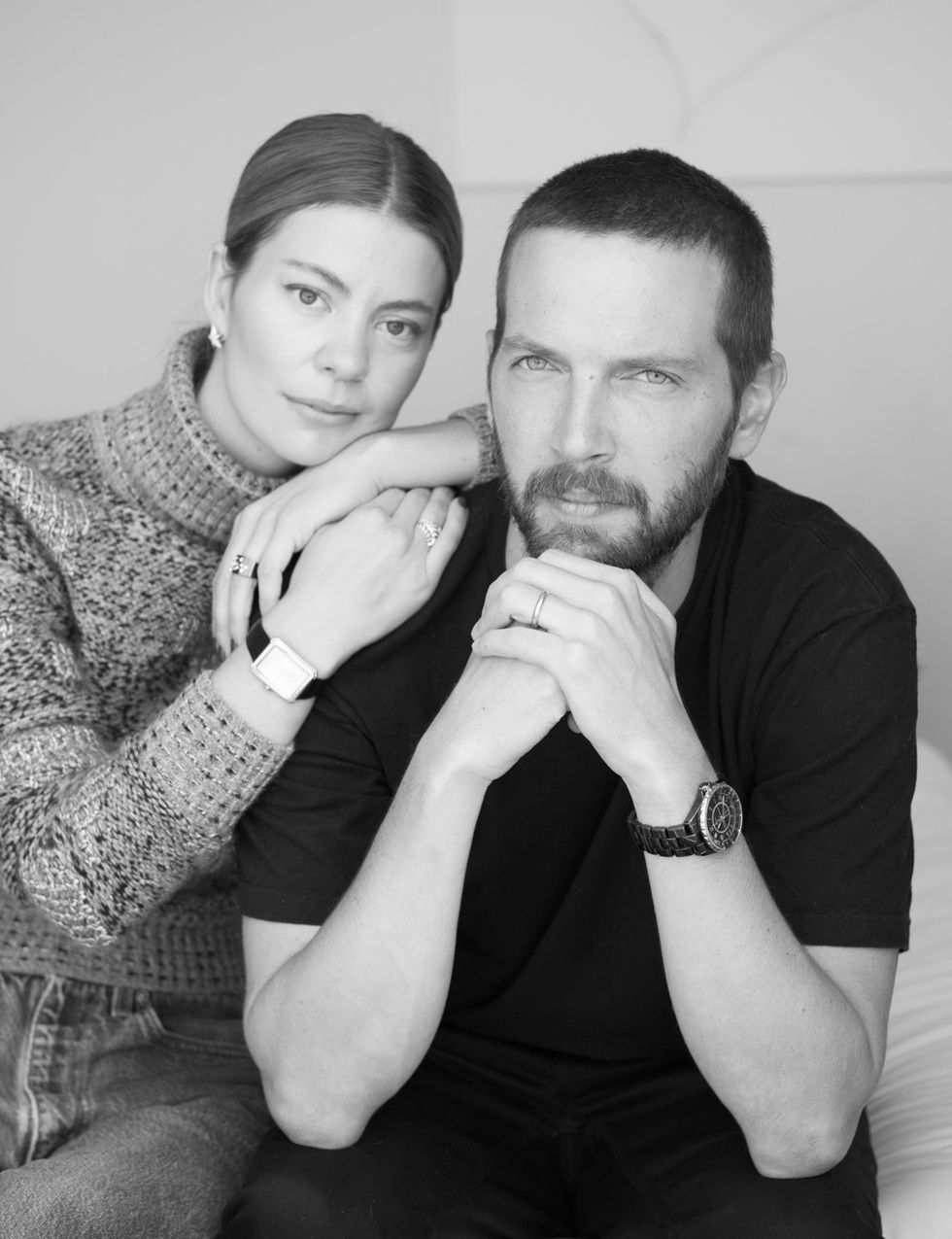 We first met Annina Mislin when we barged in on her minimalist and totally zen Silverlake home a few months ago to ransack her closet—you know, after stalking her street style pictures for years, we couldn't not get in there, and she kindly obliged us. Suffice it to say, we've kept in touch. And when we were back in Los Angeles a few weeks ago, carting a few choice pieces from CHANEL's fall collection (nubbly tweeds; cozy, kaleidoscopic sweaters) and their Boy.Friend watches, we showed up at her door again (you can't say we're not persistent).
 
This time, however, Mislin's husband, Patrick Hill, greeted us. And we persuaded him (are you getting the picture that we're kind of pushy people?) to join in the, um, fun. Then again, we didn't have to work that hard: Hill and Mislin really, genuinely enjoy spending time together; they're kind of one of those couples who's club of two you're dying to be a part of. And even though we dressed her up in CHANEL (and gave Hill a watch just so he wouldn't feel left out), in the end, it felt less like a posed photo shoot and more like we were just following them around as they lived their adorable, couple-y lives. After they shared a tart and took us on a kale-buying spree at their local market, we sent them off (separately) to complete a little quiz. Let's just say, we'd be the third wheel any day. 
HOW DID YOU MEET?
Her: "Patrick was the manager at a surf and skate shop where I worked… That was 10 years ago. I was only 18!"
Him: "We worked together at a retail store in Vancouver."
WHAT WAS YOUR FIRST DATE?
Her: "We skipped out on a movie early to drink wine and listen to music at Patrick's cute Victorian-style apartment. I still miss that place."
Him: "We went to see a movie and walked out after 20 minutes, got a bottle of wine and listened to music on my living room floor."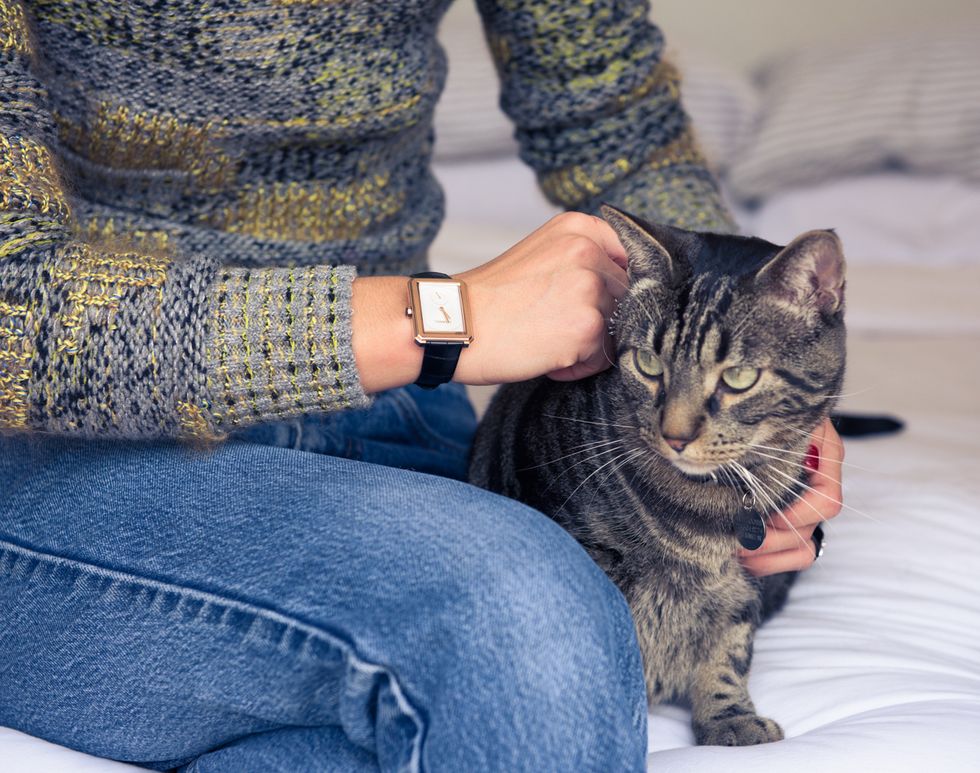 HOW LONG DID YOU DATE UNTIL YOU GOT MARRIED?
Her: "Nine years."
Him: "Nine years."
WHAT IS YOUR FAVORITE WAY TO SPEND TIME TOGETHER?
Her: "We both appreciate the outdoors having grown up in the Pacific Northwest, but the beach has always been our favorite spot."
Him: "At the beach."
WHAT IS THE BEST GIFT THE OTHER PERSON HAS GIVEN YOU?
Her: "He surprised me with a trip to Big Sur…where he proposed."
Him: "Annina loves me—there's nothing she could give me that is better than that."
WHAT'S THE BEST GIFT YOU'VE EVER GIVEN THE OTHER PERSON?
Her: "A new tent and camping trip on the beach just north of Santa Barbara. I'm not exactly the best camper, but it made him so happy!"
Him: "She always gets a kick out of the funny gifts I bring back from Asia when I'm there for work."
WHAT IS YOUR FAVORITE PLACE TO TRAVEL TOGETHER?
Her: "Going back to Canada to my parents house in Victoria or my family's farm and vineyard on Salt Spring Island in British Columbia. We swim, boat, drink rosé and eat home cooked food."
Him: "Home to Vancouver Island and Salt Spring Island."
WHAT IS YOUR FAVORITE LOOK ON THE OTHER PERSON?
Her: "Patrick has consistently worn the same thing since I met him: a white or black tee, Acne Studios jeans and Vans—my favorite look on him."
Him: "I like what she wears to the beach: white tee, old Levi's and leather sandals."
WHAT'S ONE THING YOU WISH THE OTHER PERSON WOULDN'T WEAR?
Her: "I don't really like when he wears baseball hats because it covers his light green eyes."
Him: "I like everything Annina wears."
WHAT WAS YOUR BEST-DRESSED MOMENT AS A COUPLE?
Her: "Our wedding day."
Him: "Our wedding day."
HOW ARE YOU OPPOSITES? HOW ARE YOU THE SAME?
Her: "I'm a busy body and Patrick is lower key. We both value family and close friends."
Him: "Annina likes to get up and going and it takes me a bit longer. We both put family and friends first."
WHAT IS YOUR FAVORITE MEAL TO HAVE TOGETHER?
Her: "I'm not much of a cook, but I know he loves when I make a rosemary roast chicken dinner for us."
Him: "Annina's roast chicken dinner with roasted garlic and potatoes."
WHAT ARE YOU FAVORITE PLACES TO GO IN LA TOGETHER?
Her: "Malibu (a lot of our friends hangout and surf there), Griffith Park (to play tennis, hike or to eat at Trails Café), the L.A. River can be fun on hot evenings—we like to go there with friends to drink a bottle of wine."
Him: "First Point, Malibu; Griffith Park; L.A. River near Atwater Village."
WHAT IS YOUR FAVORITE MEMORY OF BEING TOGETHER?
Her: "The dinner after our wedding. We rented out a little Italian restaurant in Santa Barbara and shared a meal with everyone we love."
Him: "Anytime we are together with our families."