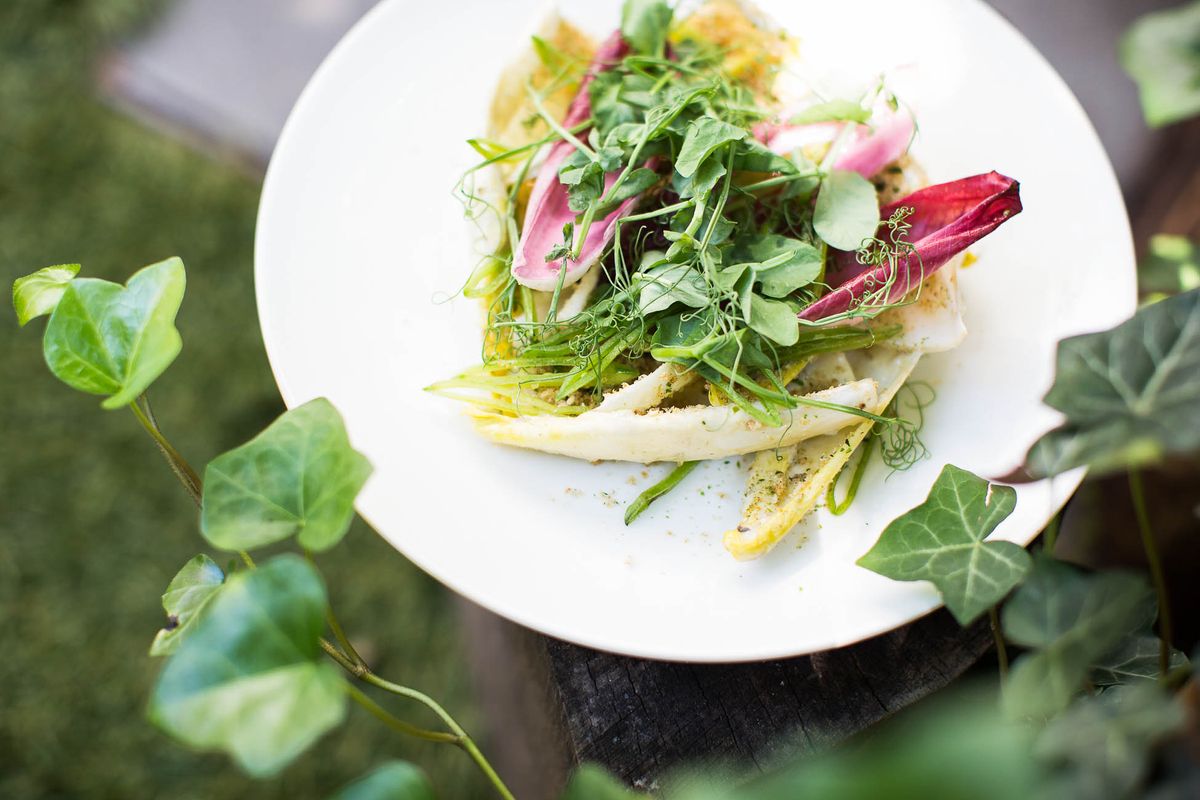 Food
Yes, there are croutons.
Masha Maltsava
So, we've noticed you guys really, really like healthy recipes. And we feel you! Taking in fresh, clean foods that make you feel like you could beat Usain Bolt AND kick a conference call in the ass beats calorie counting and obsessing over bikini season one hundred times over. Welcome to Off the Menu: our new series, dedicated to begging our favorite places to eat for the recipes behind their most delicious, good-for-you dishes. 
---
Hands up if once upon a time, you too actually thought caesar salad, in its purest, most dressing-drenched form, was healthy. If you're anything like us, this was roughly around the same time you could be found clad in neon terrycloth sweats and thought the more the swipes of your astringent facial pads stung, the better. Ah, youth! 
But back to that Caesar: after all, it is technically a salad, right? Iceberg lettuce virtually void of vitamins, creamy white dressing, croutons, bacon... yup, this definitely isn't the salad equivalent, nutritionally, of a cheeseburger. And while we'll always have a place in our heart for OG Caesars, just the way they are (shoutout to suburban steakhouse chains), it was during our last visit to Narcissa that we learned there is, in fact, another way. We saw the light, and it had kale. Cue us devouring the restaurant's Vegan Caesar Salad—a rendition we can safely say is miles away from the original we know and love but every bit as delicious—without a single feeling of deprivation. And now you can make it home. Its hard work, but someone has to do it... 
Narcissa Restaurant, 25 Cooper Sq, New York
---
NARCISSA'S VEGAN
CAESAR SALAD
Vegan Caesar Dressing 
1 cup olive oil
3/4 cup lemon juice
1/3 cup soy sauce
1/4 cup soaked kombu
2 tablespoons blanched garlic
1 teaspoon capers
1 teaspoon Dijon mustard
1 box pressed tofu
Salt & Pepper, to taste
Combine all ingredients except for olive oil in a blender. Puree until smooth, slowly add olive oil. Have a bit of cold water on hand to loosen if necessary. 
NORI BREADCRUMBS
2 cups panko breadcrumbs
1/2 of 1 jar of Nori Fume Furikake rice seasoning (can be purchased at most Asian grocery stores)
8 tablespoons olive oil
METHOD:
Toast panko breadcrumbs in olive oil until golden brown. Once golden brown, add nori rice seasoning. Combine thoroughly. 

SALAD

2 heads of yellow endive, ends trimmed
1 head of red endive, ends trimmed

12 snap peas, julienned
Agromato lemon oil
Pea tendrils to garnish
Vegan Caesar dressing
Nori Breadcrumbs
METHOD: 
Toss two heads of yellow endive in 1/4 cup dressing, place on plate. In clean bowl, toss red endive and snap peas in agromato lemon oil. Place on top of yellow endive. Garnish with breadcrumbs and pea tendrils. Yields 4 servings.