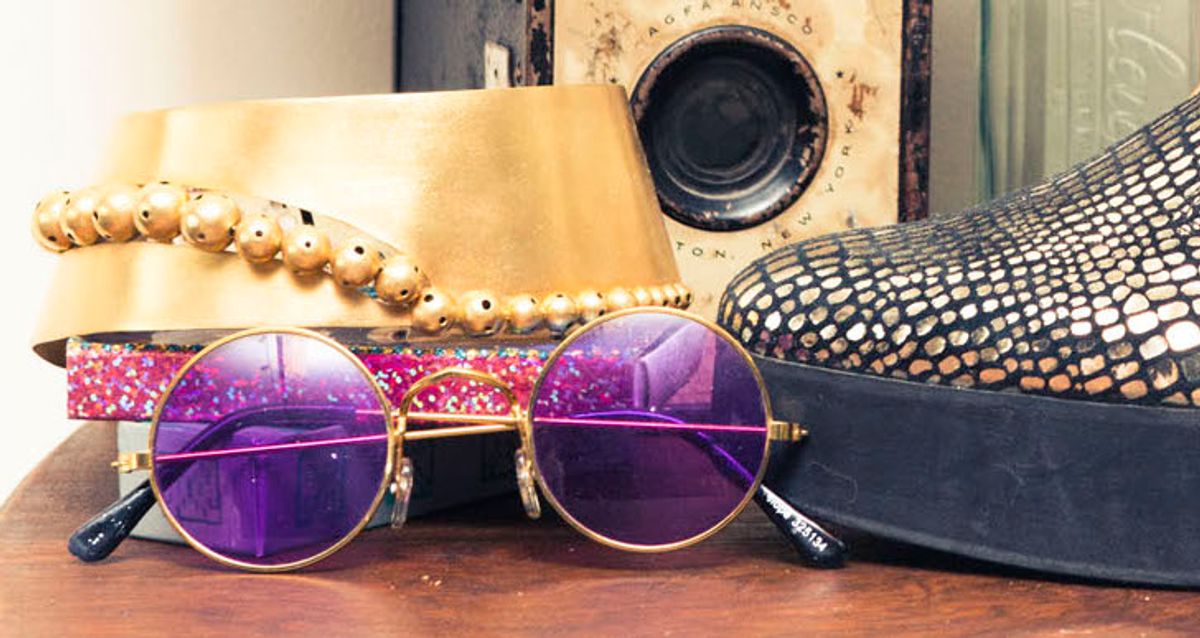 Fashion
Literally, though. It's the never-ending trend.
As much as we're all for the classics (a simple white t-shirt has never failed us), we're far from immune to trends (moon boots circa 2000, anyone?), and this '70s thing, well, at this point it kind of feels like a classic. And we're fully in. The group of us have been wearing micro-florals, flowy dresses, peasant blouses (vintage, though!) and high-waisted denim cut-offs to the office all summer long. And now, that fall is pretty much upon us (in retail land at least), well the fringe and shag fur just won't stop.
---
Meagan Wilson
Senior Editor & Social Media Manager
Worn together, these pieces would basically equal a costume-y nightmare; separately, and mixed in with cleaner pieces, they're actual magic. This Chloé shearling is a fluffy, dreamy cloud of a jacket and the outerwear equivalent of a hug. Thanks to the help of every blogger ever, the brand's Drew bag has earned a place on my mental wish list, too—and in an itty-bitty, metallic gold iteration, it's like one of little gold-wrapped candies for old people in accessory form. Since I'm really on a roll with comparing my weekly picks to inanimate objects, all I can say is thank goodness these Dries boots (which do not look unlike a sofa) are not in my size, because the first two things are gonna cost me a pretty penny.
You know that question that editors just love to ask during an interview: if you could live in one fashion era, which would it be? HA, I bet half of you just rolled your eyes. I'm not going to lie, I'm kind of with you on that one. A) because I'm the most indecisive person, so how the hell would I ever choose B) it's usually BS. I will say though, I'm kind of a sucker for suede skirts right now and this Chloé mini suits my fancy—you know, if I were ever to shell out the $1K plus for it. Give me a block heel in stitched tan leather any day and you can bet I'm adding these Aldo (no, not of the shoe company kind—c'mon, guys) amber sunnies to my growing collection. I guess you could say I'm into the '70s. Yup, I'll just go with that.
Emily Ramshaw
Senior Editor
I couldn't tell you Pre-Fall 2014, but 1970s inspiration is totally my thing, guys. All the deep-Vs, somewhat off-to-the-point-of-being-ugly colors, and flared pants make my heart sing. For those colors I'm talking about, consider this Shrimps coat exhibit A—but let's all just admit it, it's to die for. This bucket bag is pretty much perfect, because fringe. And the jeans? You honestly won't find me in another pair of pants all fall.
Alicia Cesaro
Editorial Assistant
You guys, this is really important, so maybe take notes. If you want to embrace this extra groovy, kind of groundbreaking '70s mood for autumn, just follow this easy guide.
Step one: source the longest and leanest flares you can possibly find. Then find them in velvety suede. Make that chocolate, velvety suede (and stretchy).
Step two: pull on your comfiest cashmere turtleneck—because turtlenecks and flares are the most '70s—make it black, as black turtlenecks are the one and only (Editor's Note: it does not have to be Gucci and half your rent payment).
Step three: put round frames over your eyes to truly emphasize just how much you're bringing 1970-something to 2015. And voilà, you're a walking, talking, All-American prep à la Ali MacGraw in Love Story.