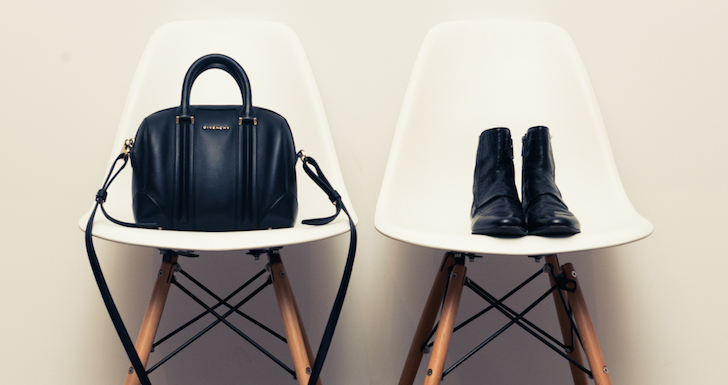 Editors' Picks: First of Fall
Summer is over. We're figuring out how to deal.
It's actually happening: the final days of summer are upon us. UGH. Excuse us while we wallow in our air-conditioning, mourning after-work cocktails on patios, lazy Sunday park days, and all-day craft beer festivals. Okay, okay, we digress. Fall isn't all that bad. For one, we don't have to shave our legs every damn day :raised_hands: and the re-introduction of uber-soft cashmere, velveteen suede and floppy brimmed hats into our wardrobes is always welcome. So what better way to get over our summertime sadness than with a little bit of retail therapy in preparation for the impending change of seasons? Nothing.
Meagan Wilson
Senior Editor & Social Media Manager
I'd like to think my fall picks are all about balance. JK! I actually only just realized that now, but doesn't it sound editor-y? Hear me out: if there's pastels and pony hair, I'm pretty much in. But this Proenza bag is sorta-kinda grounded by its black straps and camel leather exterior. At least that's how I'd hypothetically justify dropping just south of $1,600 on a bag that looks like it hails from the Sesame Street wardrobe department and will hold my phone and nothing else. Like everyone, I'm obsessed with all things Marques' Almeida, and despite this jacket's on-purpose fraying, totally looks like it belongs to someone who vaguely has their shit together. These Christopher Kane boots are bulky, strappy black patent leather with a chunky sole, but will blind you with its band of crystals before you can ask whether the wearer is indeed a construction worker. See? Opposites! Thus, balance!
Noah Lehava
Senior Editor
Fall is my favorite season. Partly because my birthday happens to fall right around the time leaves start changing color, which also means CAKE—partly okay because I get to wear more clothes. Yeah, my hot weather wardrobe strictly consists of one-item outfits—a.k.a dresses, other dresses, and rompers. That MO kind of seeps into the colder months, too (truthfully, I don't know how people do the whole layering thing), which means I have to choose each piece wisely. As in, they have to be as warm as this creamy knit cashmere sweater by Rosetta Getty. The rest is all about the accessories: a wool wide-brimmed hat (frost-bitten ears notwithstanding) and a brand spankin' new exotic skin Chloé bag (because sometimes you've got to just treat yo self). Amiright?
Emily Ramshaw
Senior Editor
I hate fall because it means the end of summer. But I love coats: they are my weakness. So perhaps I hate fall even more because there goes all my rent money until January, spent on way too many coats that aren't nearly warm enough for a Canadian winter. Other weaknesses: black boots (these Acne ones are my official goal-buy for fall) and black cross-body bags, because you know I need more of those. So, I guess, fall is just the season of sartorial weaknesses. It's good, because I need a replacement for my current problem of buying on-sale bathing suits.
Alicia Cesaro
Editorial Assistant
Fall? Pre-fall? Shearling lined anything? No. Just no. In case you couldn't tell, I'm not ready to embrace autumn anytime soon (it's still August, FYI). After the winter we had (still scarred) I'm extending the summer season in every way I can. Sartorially, this translates into suede on the bottom—bare legs all the way through October :pray:. With support from jewel-toned accessories (FALL-ish!) in the form of polished sandals for that wear now, wear... you know the drill. And this bag, because a fresh new bag = back to school season in every stage of life.
RenÉe Rodenkirchen
Videographer & Photographer
My friend has this mood ring I've been eyeing for a while now, so I thought I'd upstage her and find a fancy shmancy one. Pamela Love makes a goodie but sadly they are sold out and in my downward spiral of despair I came across this brown sapphire hunk of a ring that is definitely in the 'mood ring' vein. Do I win? Maybe not, but I'd say we're tied.
And you can't go wrong with a slick APC boot... Or mechanic coveralls. Am I right or am I right?