Career
Deskside: Richard Christiansen
Founder and Creative Director, Chandelier Creative. New York.
We're willing to wager our weight in Céline that you've experienced the genius of Richard Christiansen, founder and creative director of Chandelier Creative, and his insanely talented squad at some point over the past decade-plus their agency has been around. They've crafted brand narratives, reimagined identities, and dreamt up OTT concepts for companies from Givenchy, Nordstrom and Bergdorf Goodman to Target and Old Navy (uh, he made Julia Louis-Dreyfus happen for the latter—'nuff said) to music giants like Roc Nation. Oh, and he also conceived all the kaleidoscopic visuals and promotion for Aussie dance-pop deity Kylie Manogue's The Entertainer stadium tour. And those are just the brands we had time to talk about (because the list literally goes on and on and on) when we met with the top-tier creative in his penthouse SoHo office to talk about what really inspires his creativity, how faking it landed him his first deal, why he built a summer camp for his team, and how a pizza box got him noticed.
---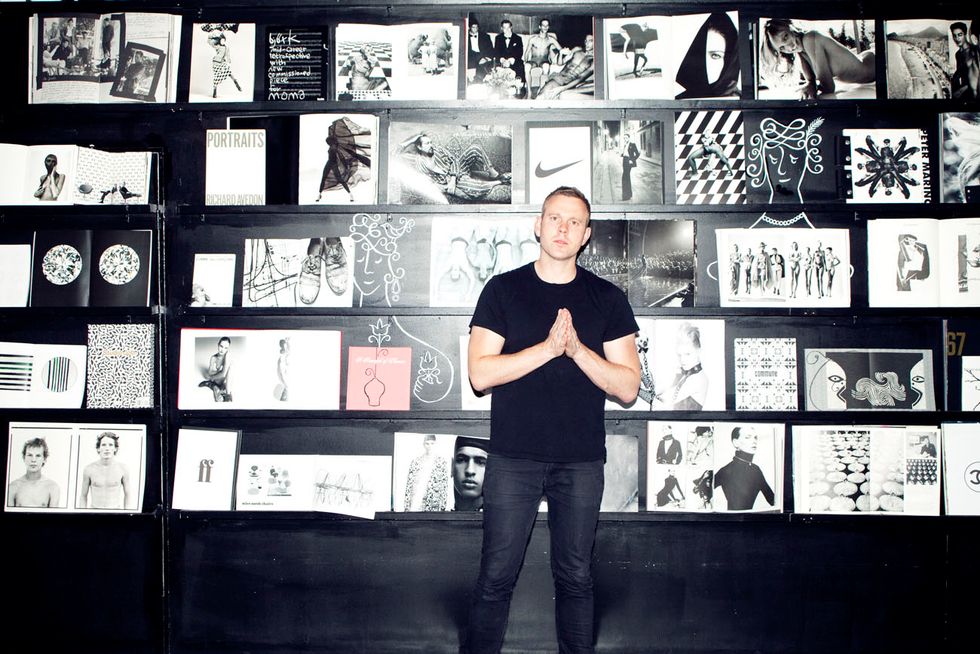 ON DISCOVERING HIS INTEREST IN ART DURING LAW SCHOOL:
"I grew up on a big farm in outback Australia—my mom and dad were farmers. I had a real, genuine thirst for magazines and entertainment, maybe because we didn't have a lot of it. I was always waiting by the mailbox for the monthly British magazines to come in. I was really, really interested in American entertainment and beauty entertainment, of which we didn't have a lot of there. I went to law school at a very, very young age and was a qualified lawyer before I was 21. Not because I'm very smart, but because I went to a country school where there were like twenty kids in the entire school. I went to London to finish my degree and while I was really curious about law and commerce, I always knew I was going to do something about creative work and creative expression. Truth be told, in university, I would spend most of my time making sure my presentations looked really nice; I paid more attention to the fonts than the words that were in them. I just had a natural curiosity for those arts."
ON HOW HIS RURAL BACKGROUND INFLUENCED HIS CREATIVITY:
"I'm very grateful that I had such an unusual background because it's really helped me. There was a real deficit in the farming industry in Australia and one of the ways farmers, like my mom and dad, would make money was to bring Japanese tourists to their farms. So, my mom and dad were always thinking of ways to entertain tourists. Every day was different. My mom and dad, really out of necessity, were very creative. I think because my very early childhood years were about creating entertainment, trying to get tourists to come in a very real, very fun, farmer way. That's sort of dovetailed as I became an adult. I guess my life is now about creating stories and entertaining people through my work, so it's been a nice continuation."
ON HIS VENTURE INTO CREATIVE WITH BENETTON:
"I went to work at Benetton when I was in my twenties in Italy. Oliviero Toscani who was the creative director of Benetton took me under his wing quite closely. I worked on a lot of really interesting stuff there—I got to run Colors Magazine, which is Benetton's magazine, to be their creative director. That was really an amazing time because I got to work in a foreign country, doing this work that at the time was really sensational and quite provocative. I thought there was a space in pop culture—this was almost twenty years ago—for a magazine that was equal parts Playboy, MTV meets George, meets Oprah, if you will. A sexy version of Oprah. The creative concepts of people that were my age at the time, in their twenties, was not fluffy; it was substantial. The big issues are really important, politics, activism and all of that stuff is really important, but so is a pair of shoes and a nice watch. You don't need to feel embarrassed that you like one or the other; you can do both. That really was sort of the fire in my belly. I was like, 'Oh, we can create beautiful work and we can own beautiful things but we can also care deeply about the world and the two things don't need to contradict each other.'"
ON NOTICING A NEED FOR CREATIVITY IN BRANDING AND MARKETING:
"I travelled to America with a magazine concept that I had. I arrived and was completely floored at how safe a lot of the creative work was and a lot of the brand work was. Remember, I had come from Benetton, which is really about controversy. Benetton was about viral marketing before we even had that word. It was about creating buzz. So to come and work for some retail brands and big agencies in New York, I was constantly underwhelmed. Things were so simple and people were so scared of doing interesting work. That was [what sparked] the original idea [of opening an agency]."
ON SELLING HIS APARTMENT TO FUND HIS START AND SERENDIPITOUS TIMING:
"I created a couple of magazines at Time Inc. with a team. When Time Inc. closed that magazine down, I said to the art department, 'I will sell my apartment and use that money to pay your salaries if you stick with me for six months and we'll start an agency.' We did sort of believe that the stuff we were doing dovetails really with the beginning of the Internet. This is pre-Instagram, pre-everything, except for Facebook. We were just really getting a feeling that this is about to change the way we do everything and we really wanted to sort of be in there as it happened. It was the perfect storm of good timing and just genuine dissatisfaction for a lot of the creative work that we were seeing in America at the time."
ON HOW FAKING IT GAVE THEM THEIR BIG BREAK:
"I didn't study anything creative, so I came as an outsider to the publishing world. I came into this agency really knowing almost nobody. In many ways, I always felt like we were the underdog. There's a lot of really, really good agencies in New York that I've come to respect like Laird, Wieden + Kennedy, Mother; there's a lot of brilliant work being done, but to a very big degree. I always thought we were the little engine that could. It took a long time and we were working out of my apartment for a little while. I guess there were two turning points. First, was for Nordstorm. It was this big, big job and they wanted to come and see our office and we didn't have an office. We were working in my kitchen at that time, just the three of us. We went and hired an office and got furniture from the flea market. We hired all of these people from Craigslist and all of our friends came and we made it look like we were a big booming company. We kind of faked it. We would've gone bankrupt—honestly, we spent every last penny we had getting ready for that meeting. That was sort of the first lucky break; we got that job, which paid for the office."
ON HOW A PIZZA BOX GOT THEM NOTICED:
"We sent out huge pizza boxes that had our work in it—we sent out 1000 of them. We did it when we first opened with the intent that it was not an email; someone had to read it and it sort of stuck on someone's desk. It was too big to sit on people's desk, so it was sort of this thing that people hung onto. Earlier, Oliviero at Benetton said to me, "Sometimes, you just need to throw bricks at someone's window." That was sort of our version of the brick. That landed on Jenny Ming's, former president of Old Navy, desk and she loved it. Not long after that, we were doing TV commercials, big TV commercials for Old Navy. That was sort of the beginning of a lot of stuff for us. We're very grateful for that and we still send out those boxes once or twice a year for the same reason. There was no special secret, it was just putting one foot in front of the other, shaking hands and kissing babies and just meeting as many different people as much as we could. I think it has sort of syndicated itself over the last ten years; the kind of work we're doing and the type of work we're doing is radically different. I'm really grateful that we continue to evolve it."
ON HOW HE STAYS RELEVANT IN THE CHANGING DIGITAL LANDSCAPE:
"[The industry] has changed and it hasn't. It has almost gone back to the beginning. We feel that we're entertaining people and not selling them stuff. The original TV commercials were called soap operas because they were produced by soap companies. Originally, it was about entertaining people and not selling them stuff. I think what we've done in the last ten years, not here but collectively. We really understood that we need to entertain people and not just sell them stuff. I travel a ton; I travel excessively. We're always curious, we're always just looking for stuff. I don't go to parties; I'm not a party person and I never have been. When I travel a lot, I try to meet people who are makers or doing interesting things in technology, who are designing something or young business people. Last weekend, I was in Hawaii and I went there just as a long weekend inspiration trip. I made a point to meet some really cool, interesting people. There were some amazing brands that are going on there; great designers—furniture designers, clothing designers—a couple of really good chefs. The last thing I want to do is sit on a beach. What I really wanted to do is sniff out new stuff and meet new people."
ON WHAT GOES INTO CREATING MAJOR AND EXCITING CAMPAIGNS:
"In the last 12 months we've been working with Virgin to help them create Virgin Cruises, the new cruise line. That's been about; What do people need to travel in the next few decades? What's the role of vacation in someone's life? Why do people think cruises are awful? How can we shake that industry up a bit? What do people need? Hopefully, that will ladder down. I'm hoping for a traditional campaign, but what about the other stuff that we need to think about to get there? That was one project. We did a stadium tour for Kylie Minogue for The Entertainer—we did something for her album, on the show, on the stage. We've been deeply, deeply, deeply committed to working to turnaround Old Navy as a brand. We just recently got that account and that's really interesting work, especially with digital and social. I think there's connective tissue in all of them."
ON THE SIMILARITIES AMONGST IT ALL:
"There's this understanding of truly, who is your customer? What do they really want to see and then how can we surprise them with something they haven't seen before? How do we strategically meet that? A lot of people think, oh your work is really enthusiastic and colorful and has a swank. I think what a lot of people often misunderstand is that that's a ton of really, solid, thoughtful research behind a lot of that stuff. It's really informed, has educated foundation and then pulling on the references where someone really over-the-top still really understands it."
ON HIS AVERAGE DAY:
"I do love some consistency. I'm up early—I go to the gym first thing, five or six days a week, every single morning at around 6:30AM. We have a really fun office, so I'm here all day long."
ON FINDING BALANCE WITH WORK AND LIFE:
"I genuinely like most of the people that I work with very much. I love spending the weekends with them, I love going out with them and having them up to the summer camp. I love to work on stuff on the weekend and my other creative director is my best friend and so, I love to work at her house in Los Angeles. I really think the thing is there's no divide. I really think it's under the same breath. I'm not curious in that mundane 9-to-5. What I'm curious about is creative things and meeting new people, thinking about all of the stuff that we don't know yet. I think curiosity is key."
ON THE BEST PART OF THE JOB:
"I think it's that we're never standing still. I love coming to work, I genuinely do, but I also love that we're working on a really wide variety of stuff, from TV ads to designing cruise ships to designing concerts to designing TV shows. I also know that in two years time, it will probably look nothing like what it does now, nothing like in five years time. Just like two years ago and five years ago, it looked nothing like what it does now. I love that we're in the middle of something that we're actively in the process of changing all the time. I've never ever felt stuck; I've always felt like we're on a bit of an adventure, which is great."
ON THE BEST CAREER ADVICE HE EVER RECEIVED:
"Early on in my career, someone said, "quitters don't quit, winners don't win." It was this idea of creative perseverance. I think Oliviero said to me, "The best way to get back up on the horse is to get back up on the horse." That idea of doing something now and just get on with it."
ON HIS OTT WORKSPACE AESTHETIC:  
"It's very curious, I have to say that. I would love to say we have a minimal office with black and streamlined, but it's not. It's because we're constantly on the go and we're constantly seeking out inspiration. There's stuff everywhere. It's very eclectic. We don't have a chandelier, actually, which is the most shocking thing when people come in here."
ON THE ORIGINS OF NAME CHANDELIER:
"The official version was this: a chandelier is an interconnected network of bright sparks working together to make the thing sparkle or a group of people that when you look at that network look like a chandelier. That's really not the real. When we were working at Time Inc., the finance people were forever yelling at me because they thought our shoots were too complicated, too layered with too many props and it was always too hard. I remember there was one girl who would approve the expenses and she would be like, 'you could squeeze a chandelier into a commercial about a football player, if you could do it.' Every time I would go up there, my head down with my expenses, the Time Inc. staff would be like, 'here's that chandelier guy.' When the original team and myself left Time Inc. to open the agency, the team said, 'what should we call it? We need a name.' I said, 'I don't want to call it Richard Christiansen because it's not about my ego. It never will be.' I said, 'what's a word that we all identify with?' And one of the girls said, 'why don't we just call it Chandelier? This is what everyone keeps giving us grief about all the time.' That's how it stuck. I have to say though, the phone rings every day for people looking for lighting. I kind of think, even though the horse is out of the gate and we can never turn back, I had my time over, I may have thought more judiciously about the name than I did. We're stuck with it now. We're making the most of it. [Laughs]"
ON HIS DREAM BRAND COLLABORATION:
"We work with a bunch of brands; high and low, mass brands, luxury brands. I think the connective tissue with all of those brands is that they had a bit of wit and I liked to have a bit of fun. The one brand I've always wanted to work with and haven't quite been able to get there is Hèrmes. I do think they're one of the few great luxury brands that really wraps their arms around a wink and a little smart humor. That's on my bucket list for sure."
ON WHAT'S NEXT:
"We just opened another office and we're in the process of building a studio in Los Angeles, which is a really big step for us. The end game with that—very short term—will be that we're certainly making television. I've left some of my old colleagues to pull it together; some really, really smart people. In 10 years time, when we're at the 20 year mark and when people are no longer making television commercials, what are we going to be doing? Instagrams and Snapchats, 10 years ago, none of that was around. We're always thinking about what's next."