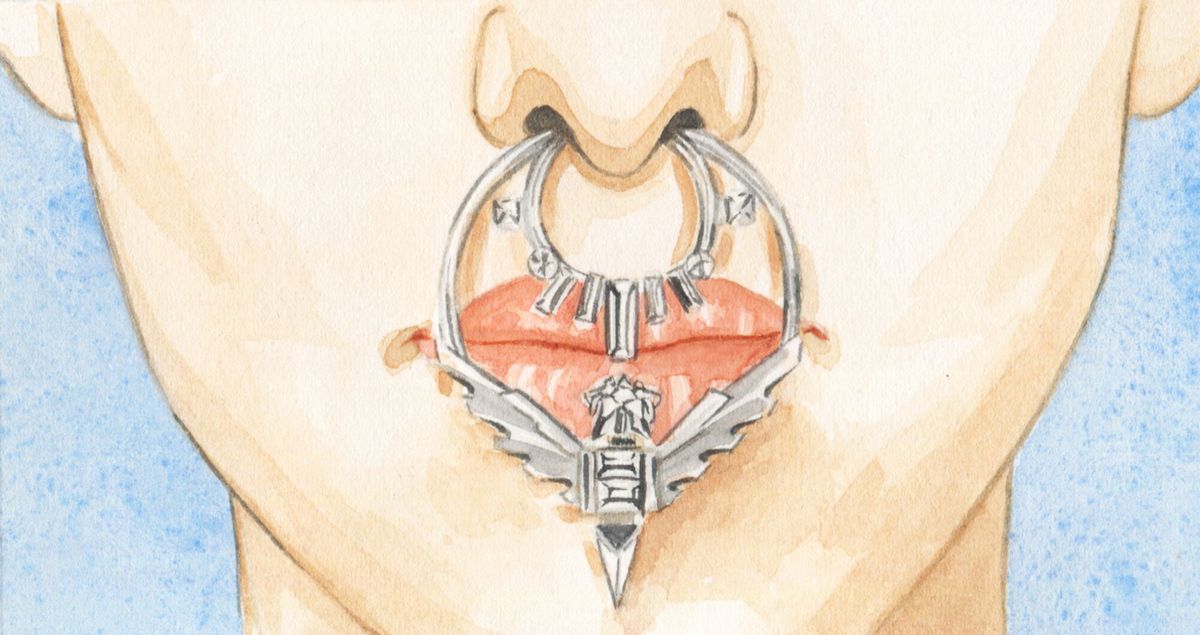 Fashion
Okay, so they were fake and we were pretty casual about the rules.
---
We're sure you've noticed, too: every girl worth their weight in Instagram-gold has one. The septum ring. And like contouring and 10-step Korean beauty regimens, we wanted in. Like now. Just call it good old journalistic curiosity.
This time, said curiosity led us directly to Etsy, where we spent a good inter-office meeting sesh looking into the myriad of nose rings available. We landed on a local seller who makes delicate wire rings that suited our not-to-out-there requirements for the jewelry we were so keen about putting on our face—and ended up ordering enough to outfit pretty much the entire office. Suffice it to say that when they finally arrived in the teeniest, tiniest little bag, there was a bit of a frenzy. Yeah—picture a whole office worth of women suddenly wearing identical septum rings and you pretty much have Cov HQ for the next week or so. Herein, we recap our feelings, from our enthusiasm to fool our better halves into believing that we'd actually gone through with the piercing, to the sudden impulse to suddenly pick our noses. We mean, would you try it?
---

 Panel Members:
Noah LeHava, Senior Editor
Emily Ramshaw, Senior Editor
Alicia Cesaro, Editorial Assistant
Renée Rodenkirchen, Photographer & Videographer
---

 

 
Noah Lehava: "I always thought they looked really good as long as they were well fitted and dainty. I like it on feminine girls."
Alicia Cesaro: "The rest of your outfit has to be really put together."
Emily Ramshaw: "Girls who wear it can otherwise dress in a really classic way and still look really cool. And on specific people the more decorative ones can look kind of amazing—like think about those Givenchy couture ones from seasons ago."
Noah: "Those were amazing! Those were my laptop background for a long time."
Renée Rodenkirchen: "I had a nose ring for five years, so a septum ring isn't so far off. I like how it looks! I wish they were called something else though… We don't call a nose ring a nostril ring, am I right? Let's call it a bull ring maybe? Or a nose hoop?"
Emily: "It's a very specific name… When the Etsy ones first arrived at the office, trying them on felt really weird."
Noah: "Just getting it in the right place—"
Alicia: "And then having to pinch it in your nose. And then you're scared it's going to fall."
Emily: "I kept randomly feeling it and grabbing at my nose because I thought it was snot…"
Alicia: "You're definitely touching your nose all the time."
Noah: "I also thought it was so cool how it looked so different on everyone, even though they were essentially the same."
Emily: "And they also still looked really good on everyone!"
Alicia: "On the first day we got them, I put it in, but it fell out. And then I really put it in there and tightened it. And then we went to the coffee shop that we go to every single day, and we passed these guys on the street and they were staring at us. I thought they were obviously staring at me because I have this thing in my nose. I thought everyone was looking at me because I had a nose ring—not even a normal one, a septum ring. At the coffee shop, too. It was all in my head, I'm sure."
Emily: "Didn't you get your stuck in your nose, too?"
Alicia: "Yeah, so that first day I went to my running group after work and I couldn't get it out, so I just left it in and went to running group, which I would never normally do. When I got there, one of my friends was taken aback and shocked that I would do that. She was like, 'You pierced your nose!' And asked if she liked it and she said no! Anyway, I ran with it and it didn't come out. And I went home that night and I couldn't get it out. I ended up having to really pull it out and wrecked the inside of my nose. It hurt!"
Noah: "I sent pictures of myself wearing it to my friends and they didn't believe me for a second. Even though, for a fake thing, a septum ring is pretty easy to get away with."
Emily: "You can't tell it's fake at all. I texted my boyfriend the day that we got them, saying 'I did something really crazy today! Wait, 'til you get home…' But as soon as he got home, I couldn't keep up the charade. I just looked at him and he obviously noticed right away—I just couldn't pretend it was real. He said he was into it, though. And then I wore it out when I saw a lot of my friends one night. My girlfriends, who are pretty, um, conscious of appearance, didn't even notice until well into the evening. The people that I got reactions from were my guy friends, who had lots of questions about whether it was real and when I had had it done. I ran with it with a few of them—they were pretty evasive for the most part when I asked them what they thought. One said he didn't like them on 'most girls,' but that it looked fine on me. I saw one of them a week or so later when I wasn't wearing the ring and he was like, 'I'm so glad that wasn't real. It was really bad.' I don't think it was that bad… But maybe it's one of those man repeller things."
Renée: "I honestly kind of dug how it looked. But after about 15 minutes it got itchy and for the next day I kept thinking I had something in my nose. Public nose pick alert. No, thank you. It also took most of my friends about half an hour to even notice it. But nobody seemed too offended by it."
Noah: "Same! I liked it! But the one thing is that I didn't think about is that I'm quite sensitive to non-precious metals, which I think added to its itchiness."
Alicia: "I agree. I was trying to be pretty hardcore about mine and wear it everyday, but then I had to take it out because I started getting a little irritation. But I Snapchatted it to my friends and no one believed me… My mom just laughed. I thought it looked pretty cool in photos."
Emily: "Yeah, I really liked how it looked."
Alicia: "Me too. But I would never get it permanently."
Noah: "But apparently they're not painful! I was with my friend when she got hers and it's a long process because they have to find something called the 'sweet spot,' where they stick the needle."
Emily: "I don't think I would get it permanently, either. I'm too afraid of fucking up my face."
Alicia: "And also when you're sick and stuff."
Emily: "Yes! How do you blow your nose? And even though I really liked how it looks a lot, whenever I put it on, but boyfriend would be like, 'Oh, so you're trying to look cool today, huh?' I do kind of think that it looks like you're trying a bit hard. It's like you're taking that extra little step to try to look edgy."
Alicia: "I especially notice now, walking around the city, that a lot of people have them now."
Emily: "It's the belly ring of 2015."
Renée: "I say, if you can handle the constant tickle without embarrassingly putting your finger in your nose, then go for it. Just don't actually get it pierced… this trend is pretty much post peak, no?"
Illustrated by Meghann Stephenson.