Career
Eleonora Carisi Takes Florence
And teaches us the only Italian phrases you ever really need to know (like how to order gelato). In collaboration with Luisaviaroma.
Renée Rodenkirchen
Emily Ramshaw
What's not to love about Italy? But seriously: pizza, Pinot Grigio and Prada. Yes please. We're fans. But that doesn't mean we get there all that often, so when concept store and e-commerce juggernaut Luisaviaroma invited us to Florence for the weekend, we adjusted our schedule accordingly and caught the next flight. Wouldn't you?
---
And who should run into upon our arrival? Why, Eleonora Carisi, of course, who we quickly persuaded to join us on a little exploratory adventure. And, okay, so Carisi isn't from Florence either, but she is Italian and, we quickly learned, up for just about anything. 
Cut to us rushing to keep up with the blogger and designer as she took us from a local juice bar, to a record store hidden above a pub, to a gelato shop, coaching us the whole time on how to do it all in Italian, too. (Click below to hear.)
Most special of all, though, were her rotating outfits, courtesy Luisaviaroma. We already knew about Carisi's partiality towards Valentino (she'd showed up for dinner the evening before in a rainbow dress complete with matched cross-body and sandals), and she wore just about the most perfect floral embroidered coat ever. And that was on top of her a Chloé denim pencil skirt, fox fur jacket and a perfect pair of Margiela denim trousers. 
All we can say is that the girl had the 1970s on her mind and she wore it well. 'Cause nothing really nipped our Florentine stereotypes (the aforementioned pizza and Pinot) like ordering a green juice and eating yogurt gelato with a Valentino-clad Italian—and we love the place even more now for it.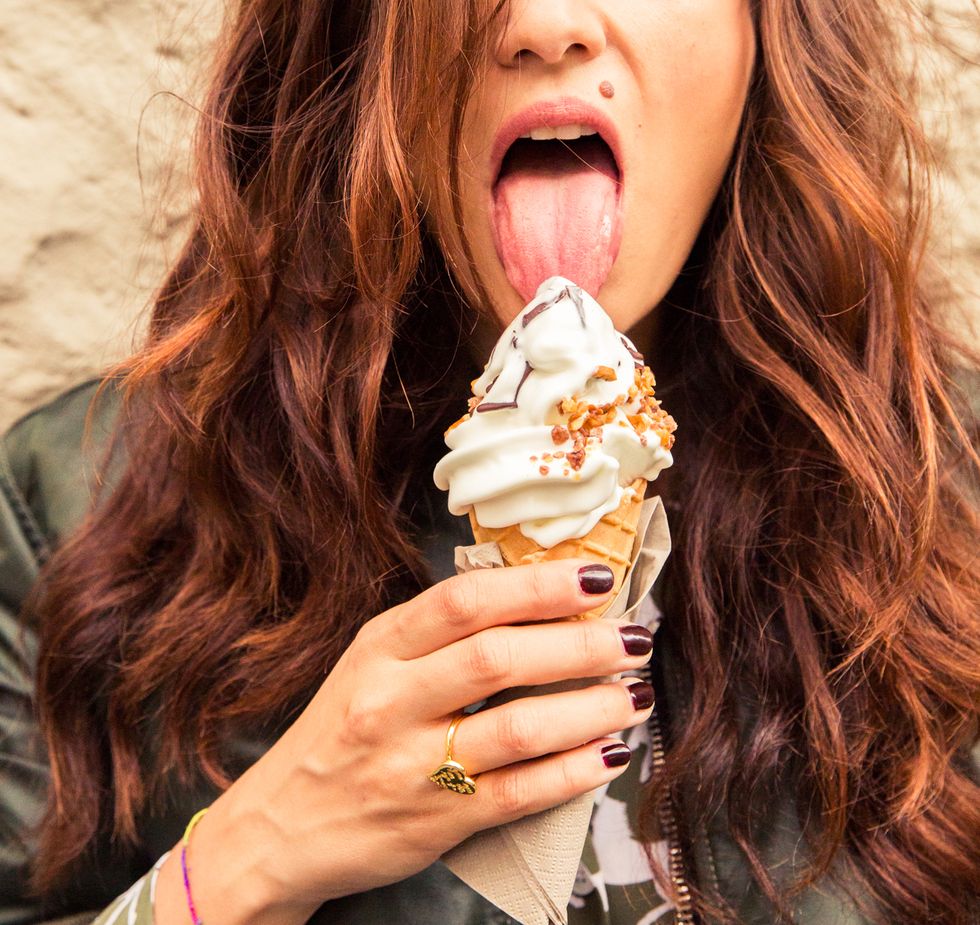 ENGLISH: Excuse me, can I have a frozen yogurt ice cream with nuts and Smarties, please.
ITALIAN: Scusi, posso avere un gelato allo yogurt con granella, smarties e un po di cioccolato fondente.
ENGLISH: Good Morning.  Could I have a juice, maybe peach?
ITALIAN: Buongiorno, vorrei un succo all'albicocca per favore, grazie.
ENGLISH: Do you have a post card from Florence?
ITALIAN: Vorrei una cartolina di Firenze, grazie.
ENGLISH: One of my favorite vinyl records is Bruce Springsteen's Tunnel of Love.
ITALIAN: Uno dei miei vinili preferiti è Bruce Springsteen, Tunnel of Love.
ENGLISH: Sorry, I need a taxi. I have to go to Luisa via Roma!
ITALIAN: Scusi vorrei un taxi per andare da Luisa Via Roma, grazie.