Top, Mara Hoffman
Travel
How to do Bermuda the Shiona Turini Way
Remember to pack your Valentino, guys.
How did you spend the long weekend? Hamptons? Upstate? Malibu? Stayed in the city? If you're globetrotting fashion consultant and Cov-alum Shiona Turini, to get the most of your summer Friday, you flew to Bermuda, maybe the most beautiful place we've ever seen pictures of (it's on our list to hit up very, very soon, mark our words), which also happens to be her home, uh, island. And while Turini regularly makes the flight to visit friends and family and to work on her fashion mentorship program there—an initiative where New York editors help six local designers to produce a collection—for the long weekend it was all about proverbial fun in the sun. And, again, if you're Turini, that means that while you're having said fun (aerial tours, bikini brunches, boat rides) you're fully decked out in Valentino, Jil Sander and Altuzarra. Let's just say that if you're planning on making the trip, we fully endorse doing Bermuda the Shiona Turini way.
---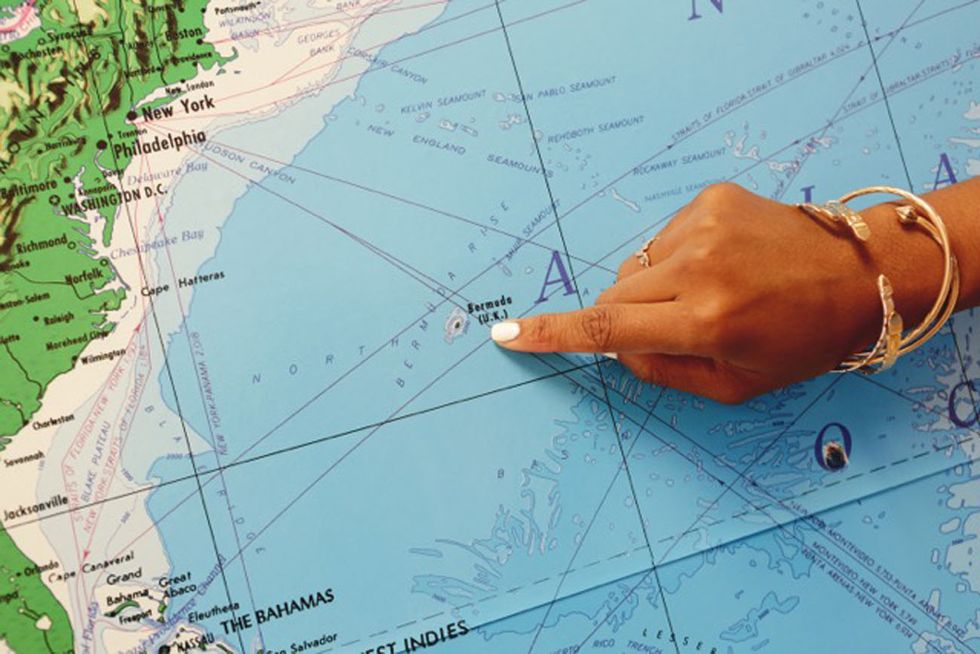 I like to take the Thursday night flight so that I can wake up on the island, but it's only an hour and 50 minute flight from New York, so even the early morning Friday flight gives you a full day at the beach. No joke, it's closer than the Hamptons, without all the crowds and traffic—and obviously has better beaches (I'm not bias, I swear!).
My friends and I never grew out of the teenage phase of dressing like your bestie. We like to coordinate or as we say, 'same story, but different look.'
 
Chaundre and I decided to be fancy and spend the day at Rosewood Tucker's Point Resort—they have the chicest pools and beach and lots of water sports. And obviously three different activities require three different looks.
 
When I pack for Bermuda my biggest challenge is editing the swimsuits. I'll pack a million and I'm not afraid of a midday swimsuit change. I definitely own more swimsuits than t-shirts, and they fill three drawers in my apartment. Repeating swimsuits in Bermuda is like a crime. Poolside suits are differently than beach suits and water sport suits are an entirely different thing.
A SPA in a CAVE—need I say more??
 
Bermuda has great little caves for swimming, diving and to get a massage. It's so beautiful, but it was impossible for me to photo my amazing outfit because the lighting was crazy.
The Big Chill at Elbow Beach
Friday nights it's all about The Big Chill at Elbow Beach. Elbow Beach is hands down one of my favorite hotels on the island (not to mention, it's just over the hill from my mom's house). They have live music on Friday nights, mixed in with a DJ, the food is great and you're right by the ocean… what could be better?
One of my favorite areas of Bermuda is St. Georges, the oldest town on the island. I always take friends visiting there, because, let's be honest, it's the best area for an Instagram pic.
 
We started at Sweet Saak Bakery allegedly to get coffee, and my entire diet went out the window. There was some sort of three-cheese bun… heaven (the owner said it has Jesus in the middle), but they are famous for their cinnamon rolls. I have a friend who used to stop there every single morning before heading to work, which is completely insane. But it was well worth breaking the diet.
 
I love visiting the Unfinished Church—it's spectacular, and sometimes you have to scale the walls to get in. They started building it in the 1800s and stopped for various reasons. But it's definitely one of the most beautiful historic sites on the island.
 
For lunch: Angie's is super local, not fancy, but one of the best burgers I've ever had. I would love to say that is has one of the best fish sandwiches, too, but they are always sold out by the time I get there.
Sweet Saak Bakery
This is new in Bermuda, but I've jumped out of planes, so I was happy we finally got aerial tours on the island with Blue Sky Flights. My friend Karlandra told me my Junya skirt was completely inappropriate, so I changed into Levi's and my Alessandra Rich lace jacket (because what else does one wear when viewing Bermuda by plane?).
 
I'm a born and raised Bermudian, and I've never seen the island like that. It made me so proud that I get to call this tiny island in the Atlantic my home. Also, that blue water?! I mean!
Balancing my time between work, friends and family gets hard when I'm on the island. But I'm a Daddy's girl and try to see my dad as much as I can. I can't tell you how many times I've jumped off or been thrown off Devil's Hole Dock in Harrington Sound—I basically grew up here. Every single Sunday my cousins and I swam here, this is where we left by boat for our week long camping trips every July, and, sadly, it's also where my dad's fishing boat sank this year in a tropical storm. On a side note, my dad loved my sequin Pucci jacket and thought it would attract more fish.
Full disclosure: I did not catch this fish. But I want to pretend that I did.
 
Have dinner at Breezes at Cambridge Beaches. It's one of the few restaurants where you can actually eat right next to the water on the beach and there's a garden right next to the restaurant that feels like a tropical jungle.
 
I roll with a squad of selfie-taking foodies in Bermuda, so we eat out A LOT. When you live on 21 miles, you could get bored really easily, but my friends experiment a lot with food and every time I'm back we try a new restaurant. And back to the fish: it was incredible.
Sunday in Bermuda is my favorite day of the week. The weekend may be almost over, but it's Boat Day in Bermuda.
 
But first… we brunch.
Tribe Road Kitchen
Bikinis as tops for brunch at Tribe Road Kitchen: a Mara Hoffman bikini top (that I ordered off of Amazon last minute so am #blessed that they arrived) paired with my Jil Sander pants that I've been waiting for an excuse to wear. I've had these Jil Sander pants for years and I've packed them for every trip I've been on the past few months. They never work out so I was determined to wear them in Bermuda!
Tribe Road Kitchen has a lot of Bermuda themed meals, but I went for it with the chicken and waffles. Typically I have codfish and potato for Sunday breakfast, which is a Bermuda tradition, but I put my summer body on pause for this bacon donut and chicken and waffles. Sacrifices.
Southlands Park
Southlands is a gorgeous park land in Warwick, which was kind of near the boat pick up location so just decided to take a quick picture, as one does.
Here I am putting my Ballet Beautiful moves to good use.
Most Bermudians learn how to swim by being thrown off of a boat by their parents. We're all raised on the water and grow up on boats. I don't know what I would do if I couldn't charter a boat in Bermuda. We can't all own luxury yachts (YET!), but you can certainly grab a group of friends and rent one (fake it till you make it??). On Sunday we chartered the boat 'Sanctuary' which had me at AIR CONDITIONED CABIN. Bermuda is humid and it was 90 degrees: a girl's gotta protect her hair (yes… even on the water!). And I switched into my very nautical Altuzarra dress, which just belongs on a boat, doesn't it?
Dinner is at Harbourfront Restaurant. Not a week goes by without me wearing these Ferragamo pants. And, thanks to the sale gods, I just got this Dries bandeau which I plan to put in heavy summer rotation.
 
Harbourfront is my favorite restaurant for sushi, especially the Bermuda Triangle roll (of course): spicy yellowtail wrapped in salmon, tuna and local Bermuda wahoo.