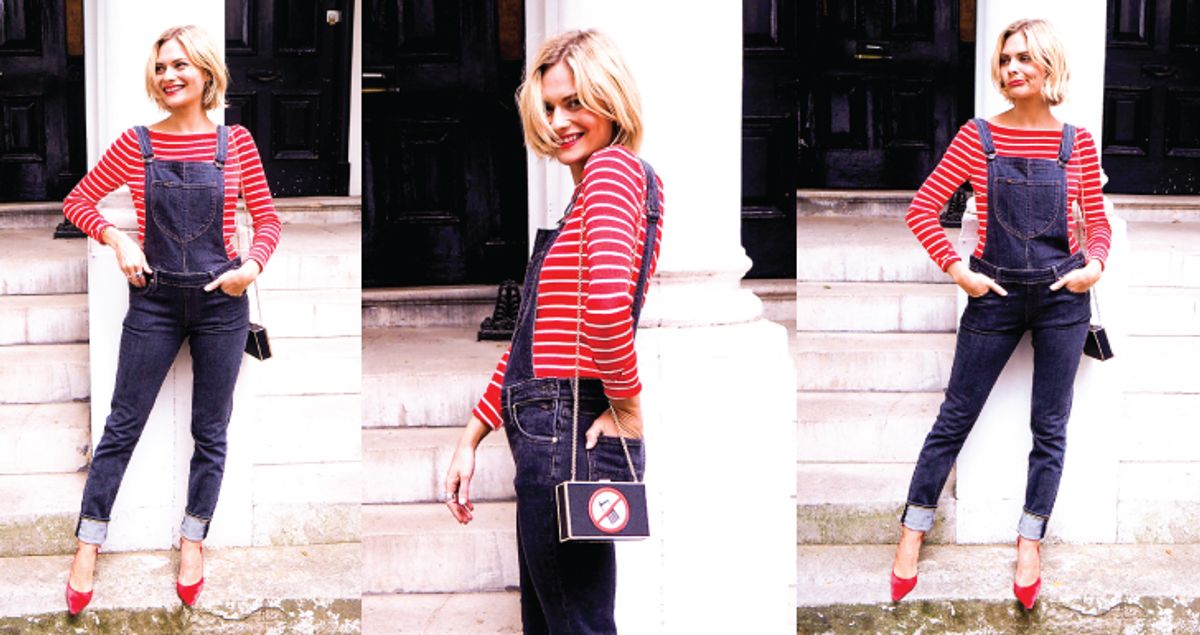 Fashion
London-based blogger and fashion editor Pandora Sykes deconstructs this somewhat confounding sartorial challenge.
---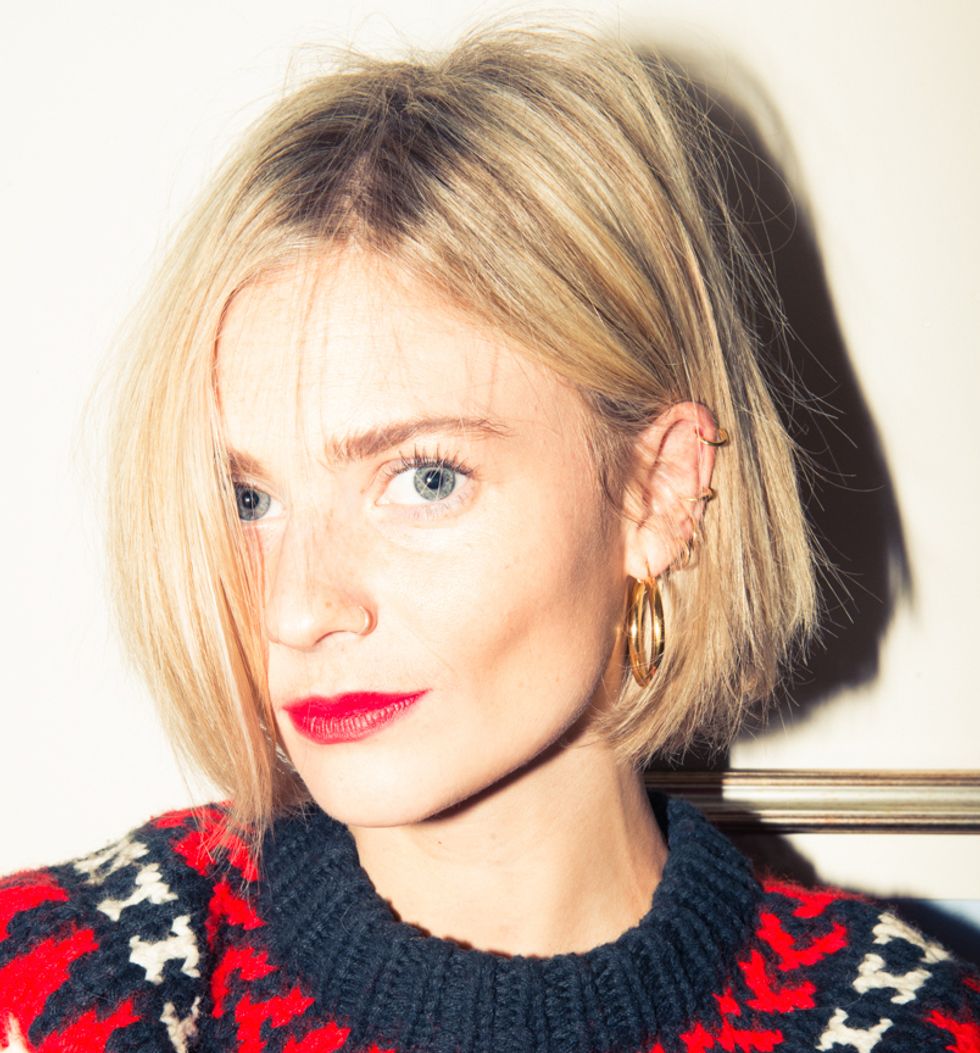 In this line of work we meet a fair number of people who could qualify as experts on the whole outfit advice front. See, we've been hung up on overalls as of late (and eyeing shorteralls as a possible candidate for our summer uniform), and when it came to exactly how one can figure out this somewhat discombobulating garment—from what brand works best with which body type to the best new fabrications (leather? suede?)—there was one person we wanted to hear from. After all, giving outfit advice is pretty much Pandora Sykes' job, seeing as the writer and stylist is fashion features editor and Wardrobe Mistress (A.K.A. she can break down just about any trend under the sun) for London's Sunday Times Style. Also (and importantly), we've seen her successfully wear more than one pair of dungarees on her addictive Instagram feed and blog. Long story short, we got in touch and had this Cov-alum turn Cov contributor. If overalls are on your wish list, consider this required reading.
I think every woman has a complex relationship with The Dungaree (if a lip or a pump can be singular, then so can a trousered overall.) Even Gisele, a.k.a. The Goddess of Humanity, must have experienced a few camel toes (perhaps you know it as 'cowboy crotch') in her time. My experience with dungarees oft reminds me of my friend's experience with her new swimsuit, when she showed it to her fiancee. "I love it!" he exclaimed. "But I'd like it more without the middle bit," he said, thus transforming the suit into a bikini. I would say my fiancee's approach, over the years, vis-a-vis dungarees, has been the same. "I love them!" he may proclaim with regularity, "but I'd like them more without the top bits." A pair of jeans, you mean?
Because dungarees are polarizing and more often that not, don't 100% flatter the wearer in the same way a pair of, say, tailored black trousers do. They're also very often not sexy, although joyously there have been developments of late that render them otherwise. In my time, I have experienced shorties that make me look like I'm stowing a diaper or five in my under carriage, flared ones so tight on my pudendum it looks like it's crying for mercy to get out (it feels like it is too) and 'over-sized' 'workman' overalls which have about as much business being in quotation marks as they do holstering my ass.
In short: it's impossible to find a one-piece-fits-all. They are dependant on the sum of your (body) parts: the length of the upper body, the width of the hips, the flaunt of the ass and the elongation of the leg. One part may fit better than a cat in a hat, whilst the other strains across the plain, like a hangry dog at its leash.
My 5 feet and 4 inches and size 4 hips may match your own body credentials, but you might have a long torso whereas I'm mostly leg. In dungaree land, this means that whilst they're fine on the leg, there's excess fabric bagging around my boobs. Tightening the straps to make them taut and the front pinafore is basically immediately under my chin and I'm essentially garrotting my ass cheeks. So I know from extensive field studies in The Land of The Overall, that every pair of dungarees is different. I'll share with you here what I've learnt from my quest.
Let's start with denim. My experience has taught me that for shorter torsos, Frame and Lee are the winners. They tend to run tight (Frame in particular are not for those who wish to hide lumps and bumps) and are not overly long. MiH and Citizens of Humanity are better for the longer lady, as they are pretty roomy with their dimensions. If you are tall then you don't necessarily have to be super lean to wear denim dungarees, though; you can carry a loose fit off more easily by dint of your height. If you're long in the torso but don't necessarily have super long legs, I'd recommend Alexa's for AG Denim Tennesee overalls which have an ankle-swingy rather than full-length leg—I tried and loved them but the top half was too big, making them perfect for the long bods. Baggy dungarees may not work on us shorties (specifically, me) but the bonus is that we can easily wear super-brief shortie dungarees like Anine Bing's, which run the risk of looking frankly gynaecological on someone tall. 
If dungarees make you feel dowdy—or one step too Osh Kosh b'Gosh—then what about an overall-inspired dress? For instance, I have (and love) the ASOS pinafore dress, which is all dungaree up top and skirt down bottom. If you're short but curvy, try an overall dress like Free People's Candy Striper Overall Dress which will skim rather than cling to your ass and make you look frankly adorable (but on my 6 foot 2 inch best friend, would look like Little Bo Peep in a tabard.)
For fall I'm really feeling 'alt'-overalls. Think rock 'n roll like Free People's low-scoop Corinne overalls. My dream dungarees—the next on my list, you could say—are a crushed blue, stiff-fabric velvet pair that I can wear with nothing underneath and Senso's elasticated sparkly red ankle boots, coming out for AW15. Now all that's left is for someone to make me some...
—Pandora Sykes