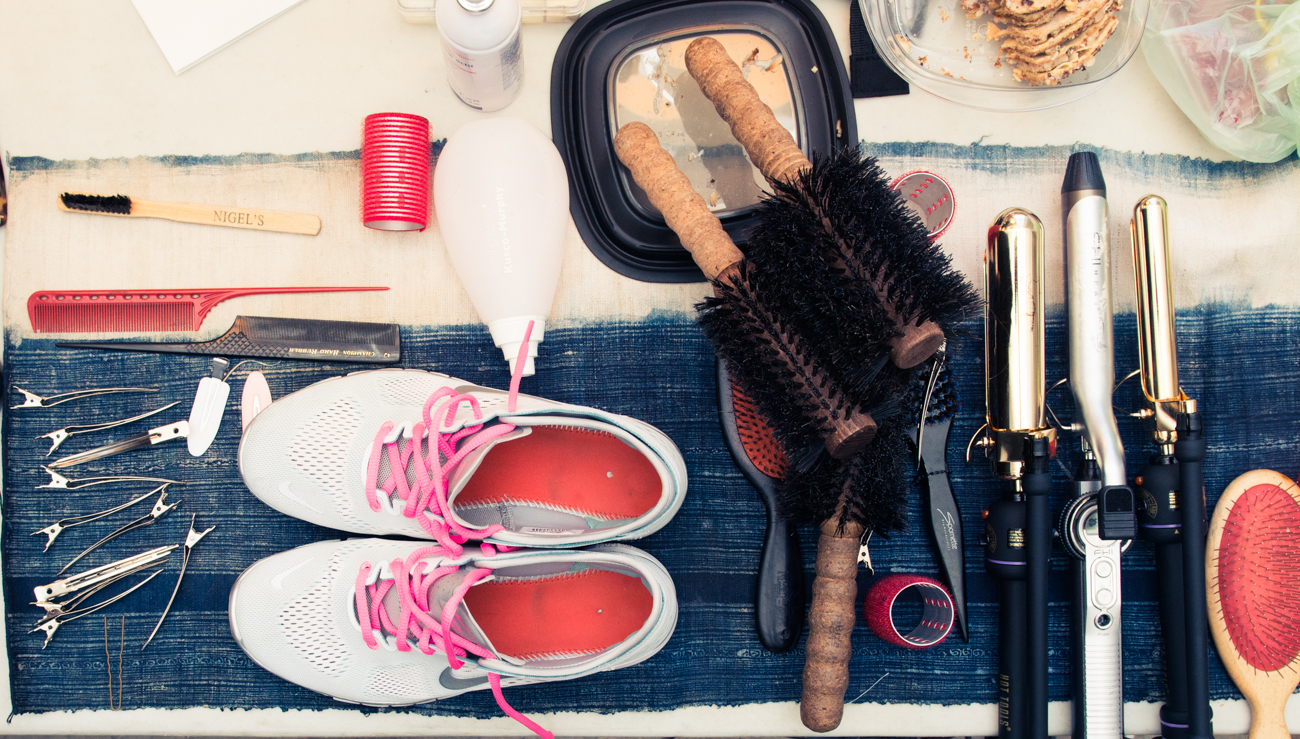 Editors' Picks: Working on our Fitness
What we're wearing in (and outside of) the gym.
Sure, we get a kick out of working out. Most of the time (occasionally). But the thing that gets us the most is the wide (and getting wider) selection of clothes we can wear while working out. The various printed leggings, criss-cross-strapped sports bras and neon Nikes are exactly the motivation we need to actually get our a$$ to the gym. To be fair, though, we've essentially taken to wearing these things in the office. At this point, it's the closest thing to our uniform and that's the truth.
Noah Lehava
Senior Editor
My MO when it comes to workout gear is all-black-everything…always. Okay, in truth I'll throw in a bright runner or tank here and there. But leggings, always black; let's be honest, no one needs to see you sweat from certain, er, places, especially when you're in a forward fold. Listen, though, black isn't always boring, just look at these awesome Private Party leggings. Simple and kinda badass IMO.
I'm going to pretend, for the sake of the story, that I have a six-pack and wear crop tops to workout. In my hypothetical uber-fit world, this Helmut Lang one-shoulder pseudo top will be what I wear for a gym sesh. As for these Nike Frees, they speak for themselves.
STEPHANIE MARK
Editor-in-Chief & Co-Founder
While they aren't large, I like to keep my ladies protected during my workouts (Lagree and boxing at Studio Ko are my current obsessions). It is hard enough to fight gravity as it is. I recently did Dr. Alejandro Unger's 21 day cleanse and I am not kidding you when I say it has changed my life. My energy is way up, I feel amazing, my digestion is way better and I even got compliments on my complexion! It has given me a great foundation to be able to make changes in my diet and lifestyle that I can (and want to) stick to. And as you may have heard, I am just not the kind of girl to wear heels during the day. I have tried (and failed), but have found sartorial relief with all the amazing sneakers available. The best part? I actually wear them to the gym right from the office. They are my version of a day to night shoe.
Alicia Cesaro
Editorial Assistant
First ever Canadian winters do a body good. Said. no. one. ever. After a Netflix and ketchup chip-filled winter that rarely saw me stepping a Nike'd toe into a gym, I've been more than ready to get back into the swing of things. And by the swing of things I mean full-on (almost) daily Lagree sessions—also known as pilates on crack—for "50 minutes of sweat, pain & hope." The best part about it (minus the six pack... JK) is the ease of it, just rock up barefoot and hop on the reformer machine. But my sneaker addiction is the realest as of late, so the LunarGlides in floral are completely necessary for before and after. I'm also a firm believer in all black everything for activewear but I'm making an exception for stripes because stripes make everything more appealing... even countless plank-to-squats. As for the sunglasses, they're semi-sporty looking and hide tired eyes so critical for the A.M. schelp to the gym (when it happens).
Emily Ramshaw
Senior Editor
This is a bit of a stretch for me because, uh, I'm not the biggest exerciser in the world. I'm one of those people who like to consider biking to work sufficient exercise. But I'm officially trying to get my act together (it's all about good habits, right?) and have started taking these dance-cum-Pilates-cum-yoga classes, and probably the most fun thing about the whole thing is the excuse to invest in a new wardrobe. Cue everything palm-printed. I mean, the cost of all these pieces is sure to be good motivation at the very least.
RENÉE RODENKIRCHEN
Photographer & Videographer
Treat. Yo. Self.
Ditch the treadmill and head to the beach, why don't ch'ya? Cropped rash guard? Check. Cute shower sandals? Check. Beach ping pong? Check.
Period.
Meagan Wilson
Senior Editor & Social Media Manager
Confession time! I might just be the only person (in this office, at least) who wholeheartedly disbelieves in the theory that if you wear cute gym clothes, you're more inclined to go to the gym. It's just not motivating for me—I'm a leggings, old sneakers and oversized tee kinda gal. Even so, I'm a sucker for a new pair of FlyKnits and anything made of scuba material; hence, my picks.