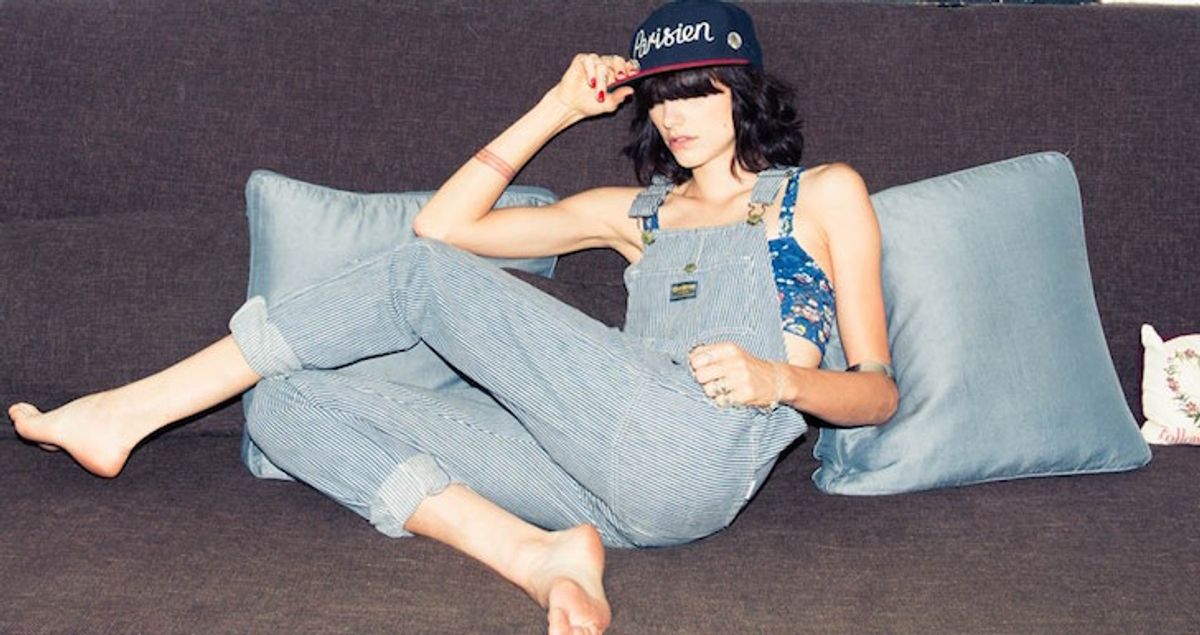 Fashion
And shorteralls and skirteralls. All the alls.
If we Venn Diagrammed everything we love most in this world (namely the nineties, summertime, Calvin Klein, lounging, Canada, cottages, denim, Coachella et al.) we're pretty sure the middle pocket of sameness would contain a worn-in pair of indigo overalls, faded just so.
 
Now that top-to-toe jean has had a solid couple of years to reintegrate into non-farm society (and we have a solid couple of years of onesie fun under our snap-straps), there are a few "how to style" rules we've come to dispel.
 
Myth: You have to wear them with heels to look like a self-respecting adult.
Myth: You can't wear them to work (we take your business casual and raise you The Blazerall).
Myth: They are horrible (they are perfect).
 
But what we have learned is that all overalls are not created equal—what works with your leather Acnes may not look so Alexa Chung paired with a patterned suspender dress. So we've broken them out into three of our most-worn subsets: The Skirterall, The Shorterall and The Classic Overall.
 
Here's how to wear them without looking like an overgrown toddler. Or like Justin Bieber on a special occasion.
 
---
THE SKIRTERALL
Or our ship name* for the union of two summertime staples, overalls and skirts.
 
To keep them from being too saccharine, pair a form-fitted skirterall with a well-loved vintage tee. Or, play with necklines (we love a sleeveless turtleneck under black denim). Pair with Charlotte Olympia loafers, flatform creepers or sleek leather mules.
 
Travel tip: The skirterall is also our go-to beach cover-up—snap on over a patterned bandeau bikini top and it's like you actually put some thought into it. 
 
*Not following enough teens on Twitter now, are we? A ship name is the combined title of two people in a relationship, as in Bennifer or Kimye or Brangelina.
THE SHORTERALL
If you're wondering why the eff you ever tossed the pair from your "risqué Minion" circa-2011 Halloween costume, you're not alone. Where they used to seem thoroughly inappropriate for every occasion, shorteralls are now the only things we want to wear.
 
Whether they're Acne leather, torn and tattered denim or the ever-so NYFW culotterall, we'll always love a striped long-sleeved tee tucked underneath, or going monochrome with a textured cream sweater under a milky-white pair. Top (er, bottom?) off with Converse for a music festival, black tights and heels for chilly summer nights or strappy flatforms for weekend wanders.
 
PS. Worried they're too short? Do the bend-over test before committing. We know from experience those wide cuffs can show a little more than just leg. 
THE OVERALL
Popularized by bloggers everywhere and also The Simple Life promo poster (lest we forget), we're partial to the true-blue denim overall, cuffed just above the ankle and never skin tight. In the words of Vogue denim editor (yes, they have that) Kelly Connor, "You don't want them to be too considered. To avoid looking hokey, or like you're in the third grade, the cut is key."
 
And from that, we'll infer the slightly less eloquent 'no saggy butts'. 
 
Our perfect pair would fit like a boyfriend jean with the bib hitting just above nipple-height (the scientific measurement, of course), and will always look best paired with anything crisp and white underneath, whether that's a collared shirt, sleeveless blouse or bustier crop top. As for footwear: espadrilles or Nikes for weekend errands, patterned pumps for night or 9 to 5.