Cocktail DIY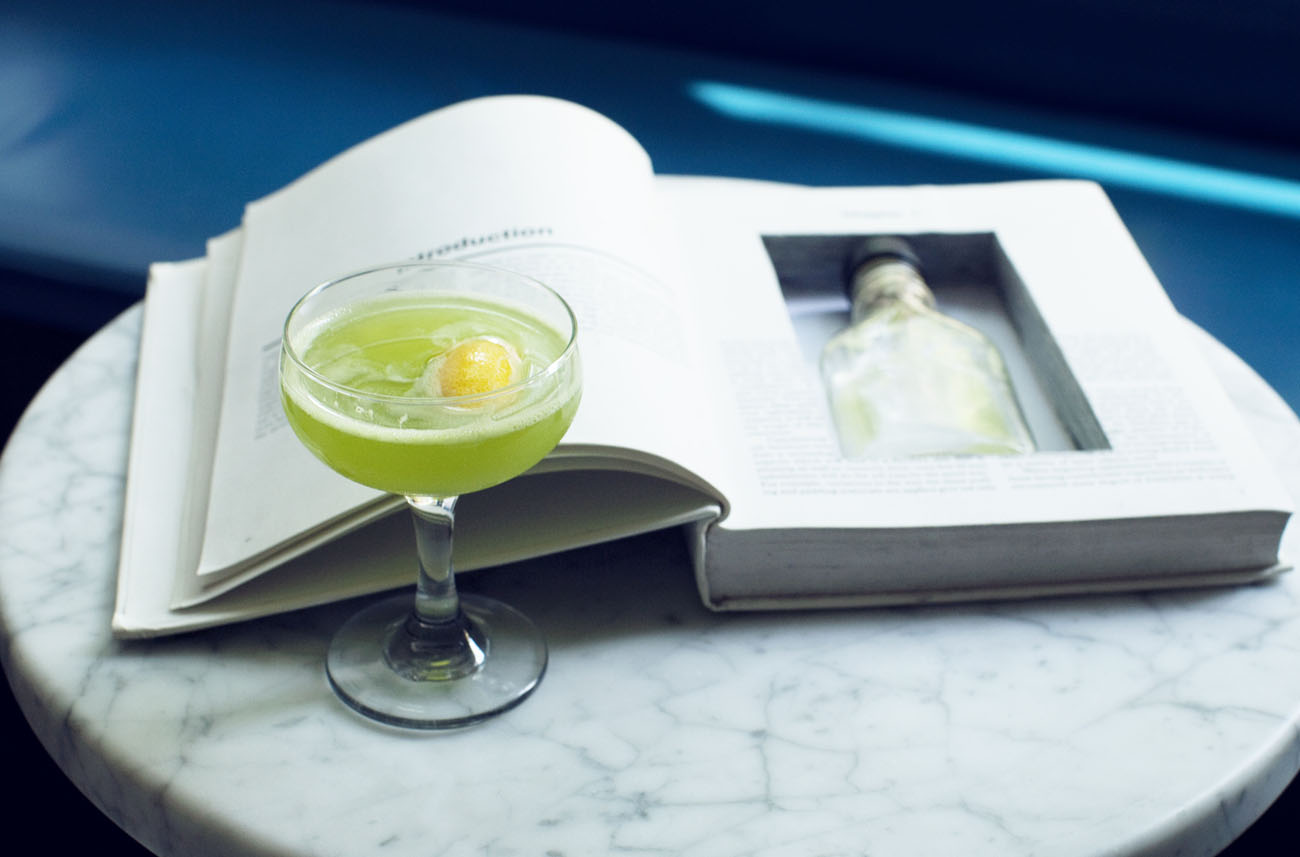 Day Drinking: The Owners Manual at Upholstery Store: Food & Wine
With Bartender Cody Goldstein. New York
Welcome to Day Drinking, our new series in which we'll be celebrating just that—the age-old tradition of getting tipsy during the daytime. We'll be spotlighting cocktails, bars and their respective bartenders every Friday—think of it as your digital pre-drink for the weekend ahead.
Drinking out of a flask typically conjures images of a) Marissa Cooper with her metal pocket of Stoli, or b) vacuumed water bottles of whiskey at Coachella (don't judge). Not so much an artisanal tequila cocktail expertly shaken at a West Village wine bar, seemingly incongruously named Upholstery Store. Much less that it's served in a blown glass flask surreptitiously stowed in a cut-out book. But then, this is downtown New York and we're getting creative. Plus, this extra refreshing drink is just really, really good. And now you can make it yourself, whether you have the props or not.
---
The Owner's Manual
1.5 oz. TRES AGAVE REPOSADO  
0.25 oz. LILLET  
0.5 oz. SUGAR SNAP PEAS 
0.5 oz. HONEY SYRUP 
0.75 oz. LEMON JUICE 
0.25 oz. GREEN CHARTREUSE RINSE 
one > Add all ingredients into a shaker and fill with ice. 
two > Shake for 5 seconds.  
three > Rinse a coup glass with green chartreuse, discard liquid and double strain cocktail into coup glass. 
four > Garnish with a lemon peel cut into a rectangle. 
---
FAVORITE DRINKING SOUNDTRACK? 
"I am really into Foxes, Tove Lo and Jack U right now. When I am setting up my bar I usually have one of those pandora stations on in my headphones. It's upbeat and catchy but not distracting. Most of the time I am too focused to even notice the music playing."
FAVORITE TOM CRUISE COCKTAIL-ERA BARTENDING TRICK? 
"I have always wanted to have another bartender who I could toss back and forth bottles and shakers with. I tried it once with a full shaker and needless to say that cocktail never made it into a glass."
LIQUOR OF CHOICE? 
"Peaty scotch or a great sipping tequila and I'm happy. For brunch it's sherry or Averna on rocks with a lemon." 
COCKTAIL OF CHOICE? 
"Depends on my mood. I am always looking for inspiration. If I trust the bartender I will order a ice cold Sazerac."
MOST MEMORABLE COCKTAIL?
"Negroni. I hated that cocktail when I first started bartending because it was way too bitter for my palate. I have come to appreciate the complexity of it. I think a great Negroni is the perfect balance of sweet, herbal, and bitter."
BEST HANGOVER CURE? 
"A bacon, egg and cheese with soda water with fresh ginger and angostura bitters."
PERSON YOU WOULD MOST LIKE TO DRINK WITH?
"My grandfather who is no longer with me."